Our law firm handles Roundup cancer lawsuits in all 50 states. Our lawyers continue to seek new Roundup lawsuits after the Roundup settlement.
Bayer/Monsanto reached an approximately $11 billion settlement with most plaintiffs. Approximately 80% of filed Roundup lawsuits have been settled. Some NHL victims have received settlement checks. Many others will receive their Roundup settlement money in 2023 as their Roundup settlement gets processed and Medicare lien issues get resolved, which should be soon for many. (Yes, it is taking too long.)
Can you bring one if you have not yet brought a Roundup cancer lawsuit? The answer is yes. The Roundup class action lawsuit continues, mainly in state courts nationwide. Call our Roundup lawyers today at 800-553-8082 or get a free online consultation.
Latest Roundup Lawsuit Update
If you have come for the latest Bayer Roundup news, this page is regularly revised with a new litigation and settlement Roundup lawsuit update.
September 23, 2023: One big issue in McCostlin is one we have not talked about much: the statute of limitations. Many of these claims are past the technical statute of limitations.
But under the discovery rule in most states, the clock for filing a lawsuit starts ticking not when an injury or harm occurs but when the injured party discovers or reasonably should have discovered that they suffered harm or injury due to someone else's actions or negligence. Essentially, it allows plaintiffs to file a lawsuit within a certain period after becoming aware of their injury rather than from the moment the injury happened.
In McCostlin, the plaintiff maintains that in 2019, they only began to understand the real cause of the non-Hodgkin's lymphoma when they contacted their attorneys. The defendant contends that the plaintiff saw a lawyer's Roundup TV advertisement during chemotherapy treatments in 2017 that should have set off the suspicion that Roundup caused his NHL.
This will be a question the jury will have to decide before it gets to the case's merits. Juries are generally willing to give victims the benefit of the doubt in disputes like this.
September 22, 2023: In the McCostilin Roundup cancer trial in Missouri, Monsanto's corporate representative conceded that studies indicating chromosome damage due to the weedkiller were predominantly carried out by independent researchers, yet research asserting the absence of chromosomal harm was primarily funded by the company. You never know, but this could be critical testimony for the jurors.
September 19, 2023: You can watch the latest St. Louis Roundup trial on Courtroom View Network. Yesterday, a toxicologist, Richard DeGrandchamp, from the University of Colorado, testified that multiple studies since 2015 have further affirmed the connection between Roundup and cancer, especially after glyphosate, a key ingredient, was labeled "a probable human carcinogen" by the International Agency for Research on Cancer (IARC). Since that time, new research has found more harmful effects. This includes changes in how DNA is fixed, how cells grow or die, how cells get their food, long-lasting swelling, and changes that affect our genes but are not in the genes themselves.
DeGrandchamp said on cross-examination that nearly all his income over the past three decades has been from serving as an expert witness for plaintiffs in litigation, earning him around $2 million in recent years. So that is not a good loo. But this is what so many experts do in 2023. Hopefully, the jury focuses on the science he is presenting, which is extremely strong.
September 18, 2023: In the coming months, two significant Monsanto Roundup trials are slated for hearing in St. Louis:
October 2, 2023: Barbara Allegrezza vs. Monsanto
January 23, 2024: David Griswold vs. Monsanto
Barbara Allegrezza claims her long-term use of Roundup resulted in non-Hodgkin lymphoma. Similarly, David Griswold alleges two decades of Roundup usage caused his non-Hodgkin lymphoma.
September 14, 2023:  The trial calendar for Philadelphia Courts of Common Pleas:
| Date | Plaintiff |
| --- | --- |
| October 5, 2023 | Caranci |
| November 7, 2023 | Sosnoski |
| January 23, 2024 | DiGiacomo |
| March 13, 2024 | Sopko |
| May 1, 2024 | Donohue |
| July 12, 2024 | DeAngelis |
| September 20, 2024 | DiNuzzo |
August 17, 2023: This week in Missouri, plaintiffs faced a setback in their Roundup lawsuits against Monsanto.
Monsanto sought to move five of the six cases to St. Louis County. None of these cases originated in Missouri. Why were they filed in St. Louis? The city is thought to be a good jurisdiction for plaintiffs.
The trial court declined Monsanto's venue change request. The Missouri Supreme Court, interpreting the state's venue statute, decided that five out of six cases should be moved. The court found that under Missouri law, in cases where the initial injury happened outside Missouri, the appropriate venue is where the defendant corporation's registered agent currently resides when the lawsuit is filed. Monsanto's registered agent was in St. Louis County at the time of filing. So the Supreme Court directed the venue to be St. Louis County.
This is not a death-knell defeat. But everyone knows plaintiffs would rather be in St. Louis City than St. Louis County.
August 2, 2023: Last month, Bayer agreed to a $6.9 million settlement to resolve a lawsuit by the New York State Attorney General claiming that the company misled consumers by marketing Roundup as environmentally safe. The lawsuit was based on the assertion that Roundup was not safe for the environment or users because the active ingredient, glyphosate, has been linked to cancer. It will be interesting to see if this settlement prompts other states to file similar cases.
July 18, 2023: Monsanto recently filed a motion to exclude opinions from one of the Roundup plaintiffs' key expert witnesses, Dr. Ron Schiff. Dr. Schiff has been a prominent expert in Roundup litigation, offering his expert medical opinion on the causal link between exposure to glyphosate and lymphoma. However, Monsanto claims that Dr. Schiff's opinions are based on flawed methodology and should be excluded as unreliable. Monsanto has previously sought to exclude expert testimony in the Roundup litigation with little success.
June 28, 2023: If you are looking for the tide to turn in the latest string of Roundup NHL trial losses, look to Philadelphia. The initial trials in Philadelphia's mass tort lawsuit involving Roundup will start this fall. According to a case management order filed earlier this week, seven trial dates are set to go.
This is a good system to avoid delay. Each trial date is ensured to have a backup, guaranteeing a trial unless an exceptional circumstance arises. The first case to be tried involves a plaintiff named Ernest Caranci, with jury selection set to commence on October 5th. If this case does not go to trial, another case on behalf of a plaintiff named Debra Purnell will take its place. The second backup was added after the defense moved the Caranci case to federal court.
There are nearly 200 cases in Philadelphia's Roundup mass tort, with many more on deck to be filed.
June 16, 2023: According to New York Attorney General Letitia James, Monsanto and Bayer have consented to a nearly $7 million settlement with New York over allegations of misleading advertising about the safety of their Roundup weedkiller products containing glyphosate. The claims violated state advertising laws and a previous settlement with Monsanto in the '90s concerning Roundup's safety. The settlement proceeds will mitigate the impact of harmful pesticides on pollinators and aquatic life.
June 12, 2023: The Arkansas Supreme Court last week rejected Monsanto's effort to reverse a Drew County judge's order requiring Werner Baumann, the former CEO of Bayer, to testify in a Roundup NHL lawsuit. In their ruling, the justices stated that Monsanto's request for a writ of certiorari is not an appropriate means to dispute a discovery order unless there's been a clear and gross abuse of discretion or a lack of jurisdiction.
The court's order for Baumann's testimony was based on the idea that, as the head of Bayer, he would have unique insights into the company's operations. While Monsanto argued this order misinterpreted the law, the Arkansas Supreme Court disagreed, rejecting Monsanto's request for other extraordinary writs and noting that discovery issues fall within a circuit court's jurisdiction.
June 1, 2023: Judge Brian H. May entered the final judgment, making the jury's verdict official in Gordon. It will be nice to see some Roundup trials somewhere other than Missouri's 21st Judicial Circuit, where we have not fared well.
May 24, 2023: Bayer won the Gordon trial. It is Bayer's seventh Roundup victory out of the last seven trials. The good news? There are three more Roundup NHL trials next month.
May 20, 2023: Bayer continued in its case in the Gordon trial on Friday, putting up its go-to witness, Donna Farmer to offer Bayer's position that Roundup does not cause NHL or any other cancers. She was cross-examined on her prior statement that you could not say Roundup does not cause cancer. She also faced questioning over the 2017 EPA registration of the product and the omission of explicit mention that Roundup isn't a carcinogen. She defended the registration process and insisted that any inference of Roundup's non-carcinogenicity wasn't merely a deduction made by Monsanto but was based on the evaluation of data by the EPA.
May 16, 2023: The Supreme Court has chosen not to review a $39 million class settlement involving Monsanto's Roundup. The settlement, which included a significant $14.4 million cy pres award, was contested by an objector who argued it unfairly diverted class members' compensation to third-party organizations. "Cy pres" refers to distributing unclaimed or non-distributable portions of a class action settlement. When it is impossible to distribute all the settlement funds to the class members, the remaining funds are distributed to an organization whose work is deemed to indirectly benefit the class members and align with the lawsuit's objectives, which is a little convoluted. 
The plaintiffs had accused Monsanto of deceiving consumers regarding the health risks of the weed killer. Despite the objection to the cy pres, the settlement was upheld by the district court and the US Court of Appeals for the Eighth Circuit.
May 15, 2023: The St. Louis County trial plaintiff has concluded her case. She testified Friday about her suffering from non-Hodgkin's lymphoma, a blood cancer she alleges was caused by using the company's herbicide Roundup, starting in the early 1990s. Gordon detailed her painful experiences with chemotherapy and experimental treatments, including two stem cell transplants. During her testimony, she insisted she would not have used the product had there been warnings about potential carcinogenicity. Monsanto maintains that neither Roundup nor its active ingredient, glyphosate, is proven to cause cancer. The trial continues today.
May 10, 2023: The Gordon trial continues in St. Louis County. Yesterday, the plaintiff's expert, Dr. Dennis Weisenburger, testified. Dr. Weisentburger has been an expert witness on behalf of Roundup lawsuit plaintiffs. He has testified about NHL generally and has expressed the belief that Roundup use more than two days per year doubles the risk of developing non-Hodgkin lymphoma.
April 28, 2023:  We are at a fork in the road in the post-settlement era in Roundup litigation, particularly for victims alleging non-commercial use of Roundup caused their NHL. The momentum has turned Bayer's way. Some of this is smoke and mirrors – Bayer only tries cases it thinks it can win. But we are where we are – Bayer has been winning, leading to lower expected settlement amounts for victims.
One solid punch can turn that momentum around. A new jury trial in a Roundup cancer case is underway in Missouri. The plaintiff, Sharlean Gordon, was diagnosed with non-Hodgkin's lymphoma at age 39 after being regularly exposed to Roundup during childhood. This makes Gordon somewhat unique because most of the Roundup plaintiffs were significantly older at the time of their diagnosis and alleged exposure during their adult years.
The Gordon case is the first of four Roundup cases set to go to trial over the next three months. The other three trials are scheduled to begin in June.
March 17, 2923: Monsanto is urging the full Eleventh Circuit to uphold the dismissal of a lawsuit claiming the company failed to warn about Roundup's health risks, citing federal pesticide labeling law as preempting the plaintiff's claims. Yes, this is the same argument the Supreme Court refused to hear. Bayer is nothing if not persistent.
The plaintiff, John Carson Sr., alleged he developed soft-tissue cancer from using the glyphosate-based weedkiller on his lawn. A district court initially dismissed his case. Bayer then paid Carson, a doctor in Georgia, to appeal the case, one of the most bizarre things you will ever see. The Circuit Court flipped the verdict, but the full Eleventh Circuit agreed to hear the case.
Monsanto argued that Carson's claims are preempted by the Federal Insecticide, Fungicide, and Rodenticide Act, which disallows state-law labeling or packaging requirements different from federal law.
February 27, 2023:  A professor at the State University of New York at Albany and a frequent expert witness for plaintiffs in several Roundup cases has been cleared and reinstated after Monsanto attempted to discredit him.
Professor David Carpenter is an expert in environmental toxins. After Professor Carpenter served as an expert witness for several Roundup plaintiffs, lawyers for Monsanto sent records requests to the University at Albany, which was aimed at discrediting his work. The University launched an investigation and put Carpenter on leave. Last week, however, the University announced that Carpenter had been cleared and can resume teaching. Monsanto had sought to use the investigation into Carpenter to its advantage in ongoing Roundup cases.
February 3, 2023: The Griswold Roundup lawsuit will begin on Monday in St. Louis before Judge Michael Mullen in the 22nd Judicial Circuit of Missouri.
As the Roundup litigation continues to drag on in the courts, yet another study has been released showing that the ingredient in Roundup (glyphosate) is linked to increased cancer risks. The study was published in the Journal of the National Cancer Institute, and it showed that farmers with occupational exposure to glyphosate displayed significantly higher biomarkers for cancer compared to a control group.
January 30, 2023: The Griswold trial has been postponed to March 6th.
January 21, 2023: The Griswold Roundup lawsuit will begin on Monday in St. Louis before Judge Michael Mullen in the 22nd Judicial Circuit of Missouri.
January 18, 2023: There are currently still 4,158 active cases pending in the Roundup class action MDL in the Northern District of California. Many of these lawsuits have been settled.   The MDL is still pending because the Court never approved a formal resolution before Bayer shifted its strategy and began settling large blocks of cases. Only a tiny handful of the cases pending in the MDL are newly filed. There were 4,100 pending cases in the MDL in July 2022.
January 11, 2023: A new Roundup jury trial is set to begin later this month in St. Louis. The case, Griswold v. Monsanto, was initially set for trial on January 9, 2023, but a 2-week postponement at the last minute pushed the date back to January 23, 2023. The last Roundup trial in St. Louis ended in a defense verdict. Meanwhile, Bayer avoided trial in 2 other Roundup cases by settling.
December 27, 2022: The 11th Circuit recently agreed to an en banc review of a decision by a 3-judge panel which rejected Bayer's federal preemption argument in the case of Carson v. Monsanto Co, 11th U.S. Circuit Court of Appeals, No. 21-10994. If you recall, this is the utterly goofy appeal that Bayer paid the plaintiff to bring.
In an en banc review, all of the 11th Circuit Judges will reconsider the appeal and evaluate if the original ruling was correct. Bayer already appealed this issue to the U.S. Supreme Court, which declined to hear the appeal.
Bayer seems pretty amped up about the news, but it is hard to understand why. Bayer has played the post-settlement well by offering reasonable settlement payouts for viable cases and getting some much-needed wins by letting weaker cases go to trial.
This has given Bayer some momentum going into the next round of settlements. These victories have sapped some of the excitement Roundup lawyers had at the beginning of the year. (Roundup lawsuit advertising has dropped a good deal lately.)  But the notion that the 11th Circuit ruling will be in their favor or that a favorable ruling would be a game-changer seems wishful.
December 14, 2022: Pied v. Monsanto, set to be tried in the Circuit Court of the Third Circuit of Hawaii, has been settled.

December 12, 2022: The Roundup trial that was supposed to get underway in San Francisco last month never happened because it was settled at the last minute.

The case, Langford v. Monsanto Co. et al. (CGC-21-592238), was in the Superior Court of California for San Francisco County, with a trial set for November 11, 2022. However, a few days before trial, the case was removed from the Court's calendar, with a notation in the docket entry indicating "Case settled October 7, 2022."

The settlement terms are confidential, so we don't know what the settlement amount was. This is an indication that Bayer is continuing to settle strong cases and only going to trial in weaker cases that it has a good chance of winning.

November 14, 2022: Yet another Roundup cancer trial in Missouri has ended with a defense verdict in favor of Monsanto. The latest trial featured plaintiff Stacey Moore and began on October 21, 2022, in St. Louis County Circuit Court. The jury found in favor of Monsanto on all counts. Ten more Roundup trials are scheduled to begin nationwide over the next few months.

The verdict marks the sixth consecutive Monsanto victory after three considerable defeats in the first three Roundup lawsuits. Did Bayer's lawyers figure out a magic formula with jurors? That is one theory. The more plausible theory is that Bayer makes fair settlement offers in good cases and lets weaker Roundup lawsuits go to trial.

November 11, 2022 Update: Jury selection begins today in Langford v. Monsanto, the latest Roundup cancer case to go to trial. This trial will be in the Superior Court of California in San Francisco. The plaintiff, Michael Langford, was diagnosed with non-Hodgkin's lymphoma in 2007 and was granted an expedited trial because of his rapidly failing health. This will be the first Roundup trial since the 3-plaintiff trial in St. Louis that Bayer won.

November 5, 2022 Update: The next Roundup trial starts on Monday in California. The plaintiff in this case was diagnosed with NHL in 2007. He has had 5 recurrences and has endured all of the sufferings that come with that. He used Roundup for 34 years.

November 1, 2022 Update: The scientific evidence regarding the dangers of Roundup just continues to accumulate. It seems like every month a new study comes out linking glyphosate exposure to a new health hazard. The latest study came from a research team in Brazil which found that prenatal exposure to Roundup can cause fetal liver damage and inflammation. The study was published in the most recent issue of the Journal of Toxicology and Applied Pharmacology.

October 19, 2022 Update: Another Roundup cancer case is set to go to trial in St. Louis County again. The case, Moore v. Monsanto, et al., is set for trial on October 21, 2022, and should last for 3 weeks. This is will be the second Roundup case to go before a jury in St. Louis in the last few months.

October 4, 2022 Update: A new study in a major medical journal found that exposure to glyphosate (the ingredient in Roundup) caused increased rates of thyroid cancer. The study was done by a research team from UCLA and looked at 29 different types of pesticides. It found that residential glyphosate exposure over 20 years increased the rate of thyroid cancer by 36%. Our lawyers are unaware of any thyroid cancer Roundup lawsuits and we not accepting these cases yet. But it is certainly something to keep an eye on to see if other studies replicate this finding.

October 2, 2022 Update: Trial dates coming up:

| | |
| --- | --- |
| 11/7/2022 | Langford v. Monsanto (California) |
| 11/29/2022 | Pied v. Monsanto (Hawaii) |
| 1/9/2023 | Griswold v. Monsanto (St. Louis) |
| 1/23/2023 | Freiwald v. Monsanto (California) |

September 20, 2022 Update: Bayer is now facing product liability lawsuits involving herbicide products other than Roundup. A federal court in Missouri recently denied a motion to dismiss claims against Bayer by a honeybee farm alleging damage caused when Bayer's dicamba herbicide products vaporized and drifted onto adjacent lands. The case claims that the migrated dicamba killed bees and reduced honey output.

September 7, 2022 Update: Plaintiffs score a win in Texas as a federal court in Texas denied a motion for summary judgment filed by Bayer in a Roundup lawsuit heading for trial. But it was not an unexpected win. Bayer's motion again pushed its federal preemption defense that was rejected by the 9th Circuit and which the Supreme Court declined to consider. We will continue to see more Roundup trials around the country that hopefully drive these claims toward a more global settlement.

September 2, 2022 Update: It is not fun reporting on the losses. We explain below why the recent Roundup losses are misleading. But they are still losses and we cannot run from that.

After a trial that lasted nearly a month and featured the claims of three plaintiffs (all in their 60s), a jury in St. Louis returned a defense verdict in favor of Bayer/Monsanto on all claims.

Back in 2018, the first handful of Roundup bellwether trials all resulted in massive verdicts for the plaintiffs, essentially forcing Bayer to waive the white flag and pursue a settlement strategy. Since then, however, Bayer has scored defense victories in a series of 5 state court jury trials in a row.

Again, and our lawyers think this cannot be underscored enough, this trend is somewhat misleading because, unlike the early bellwether trials, Bayer has been able to hand-pick many of the recent cases that have gone to trial. At least four of the last five defense verdicts have been in cases where there we fundamental holes that the classic Monsanto Roundup NHL lawsuit does not have.

August 25, 2022 Update: The St. Louis trial continues to slowly move forward. We are still in the plaintiffs' case so a verdict is still a ways off.

Marty Cox and Gary Gentile, two of the three individual plaintiffs in the Alesi Roundup trial in St. Louis, recently took the stand to testify. Gentile was diagnosed with high-grade-B-cell lymphoma after using Roundup for years to kill weeds. Gentile's wife also took the stand to testify about the emotional toll that her husband's disease has had. On cross, Bayer's lawyers pushed the narrative that none of Gentile's doctors even actually told him that Roundup caused his disease. Of course, that is not their job. The other plaintiff, Cheryl Davis, will take the stand next. Plaintiffs are expected to close their case after that testimony.

August 15, 2022 Update: The opening days of the Alesi Roundup trial in St. Louis featured testimony from Dr. Charles Benbrook and William Sawyer, both expert witnesses for the Plaintiffs. Dr. Benbrook is a prominent agricultural economist who has written books and been an expert witness in all of the Roundup trials. Benbrook's testimony lasted almost 2 full days. Next up on the stand was William Sawyer, the Plaintiffs' toxicology expert. Sawyer has been a witness in previous Monsanto lawsuits that have gone to trial, including the Pilliod trial which ended in a verdict of nearly $2 billion.

August 10, 2022 Update: The results of a new study now indicate that glyphosate, the active ingredient in Roundup that has been linked to non-Hodgkin's lymphoma, may also increase the risk of Parkinson's disease and other neurologic disorders. The study found that glyphosate can pass through the blood-brain barrier, which is a hallmark of many chemicals that are known to cause neurologic disorders such as Parkinson's. The study was published in this week's edition of the Journal of Neuroinflammation. Our lawyers are not taking Roundup Parkinson's lawsuits. But this is something to keep an eye on.

August 9, 2022 Update: Another new Roundup trial started last week in St. Louis in the case of Alesi, et al. v. Monsanto, et al. Despite objections by Bayer's defense team, the entire trial is being webcast by Courtroom View Network. The case features three plaintiffs (all of whom are over the age of 60) who allege that they developed lymphoma from years of regularly using Roundup. This will be the first Roundup trial in St. Louis County Circuit Court, a notoriously plaintiff-friendly venue. Back in April, Bayer settled a large block of cases just to avoid going to trial in St. Louis County. Bayer reportedly still has billions set aside to settle current and future Roundup cases.

July 21, 2022 Update: Glyphosate is the active chemical ingredient in Roundup that has been linked to lymphoma and is now considered a human carcinogen. The CDC released the surprising results of a study that found that 8 out of 10 people in the U.S. have glyphosate in their urine. The study tested urine samples from a group of participants designed to represent the U.S. population and found that 80% of the samples had trace amounts of glyphosate. The CDC indicated concern over the study results and suggested that additional research was needed. (If they are looking for a shortcut, there are many studies Roundup juries have seen that show the link between Roundup and NHL.)

July 8, 2022 Update: The prospect of future Roundup liabilities continues to cast a shadow on Bayer in the eyes of investors. On June 21st, the Supreme Court formally declined to hear Bayer's appeal that could have reversed the course of the Roundup litigation and ended any future liabilities. Since then, Bayer's stock is down about 12% as investors are once again very concerned about how much the continuing litigation may end up costing the company. Even though glyphosate-based Roundup will be taken off the retail market at the end of this year, there could be thousands of former Roundup users who will be diagnosed with NHL and become Roundup plaintiffs over the next decade.

July 4, 2022 Update: A unanimous Ninth Circuit panel told the EPA to reconsider its conclusion that the weedkiller Roundup is free from "unreasonable risk to man or the environment." The court agreed with environmental and food safety advocates that the EPA did not fully consider whether Roundup causes cancer. Importantly, the court pointed out that "most studies EPA examined indicated that human exposure to glyphosate is associated with an at least somewhat increased risk of developing NHL." This does not jive with the EPA's "not likely to cause cancer" conclusion.

Bayer's momentum from a few wins in recent Roundup lawsuits is now dead. History is not on the side of glyphosate.

June 23, 2022 Update: Bayer gets its fourth straight win in a Monsanto lawsuit in Oregon. Bayer's Roundup lawyers have made a lot of mistakes in this litigation. But this new "settle the hard Roundup cancer lawsuits and try the claims that are difficult for plaintiffs" is giving Bayer new, albeit artificial, momentum.

June 11, 2022 Update: Bad news. The jury found for Bayer in Shelton after 7 hours of deliberation yesterday. This is bad news. But, ultimately, it is important to keep in mind that Bayer is settling the cases it does not want to go to trial – like it did the last round of cases in St. Louis – and trying the cases that it should win. Even with that caveat, it is a tough loss for all plaintiffs with a pending Roundup lawsuit.

June 4, 2022 Update: An administrative judge in Philadelphia ordered that 100 pending Monsanto lawsuits be consolidated into a class action lawsuit. Judge Lysette Shirdon-Harris' order effectively creates a mini Roundup class action lawsuit in Pennsylvania.

How can Bayer/Monsanto be sued in state court? The Roundup lawsuit being filed in Pennsylvania named Philadelphia-based chemical maker Nouryon as a defendant. This is a very favorable jurisdiction for defendants, so much so that plaintiffs outside of Pennsylvania are joining this Roundup class action lawsuit

June 2, 2022 Update: Former Monsanto CEO Hugh Grant's much-awaited testimony was given in Shelton last week. The most important concession from Mr. Grant was that Monsanto never bothered to do their own tests to see if there was a connection between Roundup and NHL or CLL.

May 11, 2022 Update: Big Bayer Monsanto news yesterday. The Biden administration asked the U.S. Supreme Court to reject Bayer's appeal that argued every Roundup lawsuit because it is preempted by the Federal Insecticide, Fungicide, and Rodenticide Act. Solicitor General Elizabeth Prelogar wrote that the "EPA's approval of labeling that does not warn about particular chronic risks does not by itself preempt a state-law requirement to provide such warnings." The Supreme Court had asked the administration if it believed the Supreme Court should hear Bayer's appeal. This is a huge win for plaintiffs.

May 4, 2022 Update: If Shelton v. Monsanto does go to trial, former Monsanto CEO Hugh Grant will be required to testify, over Bayer's objections. This would be the first Monsanto lawsuit to go to trial outside of California.

April 29, 2022 Update: The Round MDL judge indicated that he is prepared to approve a proposed settlement of the Roundup consumer class action cases alleging that Monsanto illegally marketed Roundup without providing cancer warning labels. (Our lawyers talk more about his lawsuit in our February 3, 2022 update below.)

The pending settlement will establish a $45 million fund to resolve these class actions. However, Judge Chhabria stated that he will not give final approval unless steps are taken to ensure that the settlement does not confuse plaintiffs who may still file a Roundup cancer lawsuit if they develop NHL in the future. The judge fears victims will think accepting a Roundup settlement check for the consumer lawsuits will mean you cannot bring a claim if you later are diagnosed with cancer as the result of exposure to this pesticide.

Hopefully, this is a precursor to Bayer offering reasonable settlement payouts to the remaining victims to resolve the remaining glyphosate lawsuits.

April 13, 2022 Update: Bayer does not appear to be willing to let another Roundup lawsuit go to trial if the plaintiff has a reasonable claim. Last week, Bayer agreed to a settlement to resolve a group of Roundup lawsuits. This settlement allowed the company to avoid a trial set to start this week in Kansas City. Many of the remaining Roundup claims are pending in state court in Missouri.

April 10, 2022 Update: Much of the energy in the Roundup class action lawsuit is focused on whether the U.S. Supreme Court will hear Bayer's preemption appeal. The Supreme Court has asked the Biden administration to submit a brief with its position on whether the government believes every Roundup Monsanto lawsuit should be preempted by the Federal Insecticide, Fungicide, and Rodenticide Act. There is speculation that the Solicitor General will file a response in the late spring. The position the Biden administration will take is anyone's guess. But it is hard to imagine a scenario where the Environmental Protection Agency – which reviews a pesticide every 15 years – will want to serve as police, judge, and jury on every lawsuit involving a pesticide.

March 23, 2022 Update: Bayer has appealed another Roundup verdict to the U.S. Supreme Court. Bayer filed a 43-page writ of certiorari to our high court regurgitating its preemption argument that has yet to gain traction with other courts. The argument is essentially that because the EPA has found Roundup safe, any Roundup lawsuit alleging Roundup causes cancer is preempted by the Federal Insecticide, Fungicide, and Rodenticide Act, the federal statute that regulates herbicides and their labels. This appeal is off the $2 billion Roundup verdict that was later reduced to $86.7 million.

March 7, 2022 Update: There are now 4,005 cases remaining in the Roundup MDL. Increasingly, Roundup lawyers are bringing Roundup lawsuits in state court. Our Roundup cancer lawyers believe- and Bayer confirmed on an earnings call – there are approximately 31,000 Roundup lawsuits that have still not been settled. Some portion of these remaining Roundup cancer lawsuits may be time-barred by the statute of limitations. But many others are very viable lawsuits. Our lawyers continue to get new Roundup cases every week.

Bayer has set aside billions for Roundup settlements in the weed killer lawsuits that have not been settled. Hopefully, Bayer will come back with larger settlement offers this year to resolve more of these remaining claims.

February 22, 2022 Update: Roundup lawyers are increasingly looking to press forward with claims in state court. Roundup lawsuits are increasingly being filed in state courts and plaintiffs' attorneys have been asking Judge Vince Chhabria to remand more cases back to state court. Too many Roundup victims have been waiting too long to get a trial date. Hopefully, more Roundup cancer lawsuits in state court will bring more timely justice.

February 17, 2022 Update: It is satisfying that Bayer's investors are blaming Bayer in a new class action lawsuit for deceiving investors on the NHL risk associated with Roundup. While Bayer knew that Roundup was even more dangerous than glyphosate, Bayer's CEO said on a conference call with investors that "there is no difference" between glyphosate and the Roundup formulation. It is hard to get excited by the investor lawsuit that is not about Roundup causing cancer and killing people but instead is about Round causing cancer and killing people which costs the investors money. But the enemy of my enemy… This Roundup lawsuit could also take another crack at the pre-trial discovery of what Bayer knew about the harm caused by this weed killer.

February 3, 2022 Update: Bayer has reached a settlement on yet another Roundup class action lawsuit. Bayer agreed to a settlement amount between $23 million and $45 million to resolve a Roundup weed killer class action lawsuit that alleged that consumers have paid too much for Roundup because Bayer/Monsanto did not inform consumers of the cancer risk associated with this weed killer.

Why does this settlement matter? The payout is not large. But it is another sign that Bayer may be getting closer to throwing in the towel in the Roundup litigation and might be more amenable to a global settlement to resolve the remaining cancer lawsuits against it.

December 28, 2021 Update: Bayer stock has been falling in the past few years and the purchase of Monsanto. The liability in the Roundup lawsuits that led to an $11 billion settlement is the primary cause. In Germany, where class action lawsuits are rare, there is a new $1.1 billion lawsuit against Bayer making the same core complaint as Roundup victims: Bayer deceived plaintiffs about whether Roundup causes non-Hodgkin's lymphoma. This time, instead of NHL cancer victims, it is investors making the same argument. Had Bayer been honest about NHL and Roundup, plaintiffs claim they would have changed their investment decisions because of the cost the Roundup lawsuits have taken on the company. More than 250 investors have joined this new class action lawsuit against Bayer. This may be a necessary push to get Bayer to offer more reasonable Roundup settlement amounts in Phase 2 of this litigation.

December 18, 2021 Update: On Monday, the Supreme Court asked the Biden administration to "file a brief in this case expressing the views of the United States" in Bayer/Monsanto's appeal of a $25 million verdict in the Roundup lawsuits. Monsanto took this news with glee, announcing it was halting further Roundup settlements pending the outcome of the appeal.

Bayer's long-shot hope for avoiding future liability on Roundup cases has been this appeal to the U.S. Supreme Court in the Hardeman case. Hardeman was awarded $25 million in damages after one of the first Roundup trials. Bayer has subsequently appealed that verdict arguing that the Roundup lawsuits should be legally precluded because federal regulators approved the product label on Roundup which did not contain a cancer warning.

The Ninth Circuit Court of Appeals flatly rejected Bayer's federal preemption argument and upheld the Hardeman verdict. Now Bayer has filed a Cert. A petition asking the U.S. Supreme Court to hear the case and overrule the decision of the Ninth Circuit. The SCOTUS appeal is considered a legal long-shot, the odds of the court even agreeing to hear the case is small. Why do our Roundup lawyers believe the chance of Supreme Court review is small? The key Supreme Court case on whether the Federal Insecticide, Fungicide, and Rodenticide Act preempts state law failure-to-warn claims found that it does not.

So are we worried about a Supreme Court Roundup ruling? Lawyers worry about everything. But, again, the odds of the Supreme Court overturning this Roundup verdict is low.

December 13, 2021 Update: The 4th jury trial in the ongoing Roundup litigation ended last week in a defense verdict for Bayer. The trial in Donnetta Stephens v. Monsanto was tried via Zoom because of California's continuing COVID restrictions. The result was a disjointed and awkward proceeding that took nearly 3 months to complete. The trial was continuously plagued by technical difficulties. In the end, the jury found that the plaintiff's use of Roundup was not the cause of her cancer.

Our Roundup lawyers are admittedly disheartened by the first loss in a prototypical Roundup case where the victim claims her non-Hodgkin's lymphoma was caused by the pesticide. For sure, Bayer's lawyers will now think they now cracked the secret sauce to defend a Roundup NHL lawsuit. But this online trial is such a one-off it is hard to give much precedential value to this lawsuit in terms of calculating future settlement amounts for a Roundup lawsuit.

December 5, 2021 Update: Bayer's appeal of a $25 million Roundup payout is now on the United States Supreme Court's December 10, 2021 conference calendar. Bayer contends that the FIFRA preempts state law failure to warn of the risk of cancer claims. (The prediction here is that the Supreme Court refuses to hear the case.)

November 28, 2021 Update: The California Supreme Court court rejected last week Bayer's attempt to reverse an $86.2 million compensation award to a couple who both developed cancer after using Roundup. This is a big win that keeps the moment flowing with victims as the Roundup litigation continues to move into the post-settlement phase with new Roundup lawsuits being filed every week.

November 26, 2021 Update: Regulators, at least those in Europe, are starting to catch on to the idea that the literature supporting the safety of pesticides like Roundup is mostly garbage. Only two of eleven studies given to EU regulators were found to be reliable.

November 18, 2021 Update: Bayer won its first trial in Roundup in a case in California state court alleging that a child's rare form of non-Hodgkin's lymphoma was caused by his mother's use of Roundup in her garden. The jury found that the child's exposure to Roundup was not a substantial cause of his cancer. This is the 4th Roundup trial and the first time Bayer has won a defense verdict. (2023 Update: it is worth mentioning that even after Bayer won this case at trial, it paid a confidential settlement amount to the victim. Ironically, Bayer is willing to pay a settlement to secure its win.)

Does this change the expected Roundup settlement amounts for the 25,000 who opted out of the $10 billion Roundup settlement or newly filed Monsanto weed killer lawsuits? No. The child in this case tragically developed Burkitt's lymphoma, a rare form of non-Hodgkin's lymphoma. A tragic case but it was a stretch to argue that the mother's Roundup exposure was passed to the child.

Bayer is under attack from all sides. Last week, a federal judge in California gave the green light for a class action lawsuit against Bayer filed by pension funds that sued Bayer for failing to understand the litigation risks when it purchased Monsanto. Specifically, the lawsuit claims that Bayer lied about investigating the litigation risk associated with Roundup and simply "accepted at face value Monsanto's characterization of its litigation risk."
What If You Were Not in the Roundup Settlement?
The Roundup NHL lawsuits will not stop coming. Our lawyers are still working with victims every day.
There is a long delay – possibly a 15-year lag – from exposure to cancer. And Bayer is still, inexplicably, selling the pesticide.
Can you still find a Roundup cancer lawyer after the settlement? Why have many Roundup lawyers stopped taking these cases? What is holding up the Roundup NHL settlements?
Our lawyers answer these and many other questions below. If you have a potential Roundup claim and have not yet called an attorney, this page will dig deep into where these cancer lawsuits will go and what you should do to bring a claim.
But the short answer is to call an attorney today, and you can call us at 800-553-8082 or get a free, no-obligation online case review. Our law firm is taking calls from Roundup victims 24 hours a day. There are no attorneys' fees or costs unless you receive compensation.
Why the Roundup Cases Settled and What the Settlement Means for the Future
Let's talk for a second about the global Roundup settlement. First, why did Monsanto agree to a settlement? Bayer offered settlement amounts in thesecases because juries were loudly telling them that Monsanto Roundup weed killer is a carcinogen that can cause cancer.
Bayer stuck its chest out too long and probably trusted its outside lawyers too much. But, eventually, reason prevailed, and a global settlement was reached. But our Roundup lawyers continue to get calls from victims every day. Because the Roundup weed killer cancer lawsuits are far from over.
We are on to Round Two, which may, as we discuss below, yield higher Roundup settlement amounts.
What Is Roundup?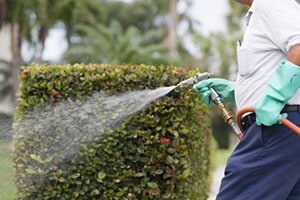 Roundup is the most widely used herbicide worldwide as a weed killer. It is used on lawns, gardens, parks, and playgrounds. More than $6 billion in revenue is generated annually for its manufacturer, Monsanto. Over 250 million pounds are sprayed each year by this weed and grass killer.
The problem with this weed killer is glyphosate, the main ingredient of this pesticide. Many scientists believe glyphosate causes an increased risk for developing certain forms of cancer, including non-Hodgkin's lymphoma (NHL) and hairy cell leukemia. The World Health Organization (WHO) declared it a "probable human carcinogen" due to glyphosate.
At first, the science behind this was unclear. Monsanto's lawyers hoped judges would seize on some scientists' belief that the long-term consequences of Roundup exposures are hard to quantify. The problem was that much of the conventional wisdom was science ghostwritten by Monsanto.
So many Roundup lawyers thought the Monsanto Roundup lawsuits might be a coin toss between Monsanto/Bayer and the victims. This was wrong. Dead wrong. Jurors awarded billions in the three cases that went to trial.
Jurors did not simply find for the plaintiff. They screamed that pesticides cause cancer, and Monsanto did nothing. Their punitive damage awards show they are mad the weed killer is even on the market.
What Are the Side Effects of Glyphosate Use?
The most severe side effect of exposure to glyphosate is cancer – non-Hodgkin's Lymphoma (NHL), leukemia, and B-cell lymphoma (mantle cell lymphoma or MCL).
Farmworkers are said to be the most at-risk class for developing NHL, a cancer that can start anywhere in the body from white blood cells in the immune system. (For context, the American Cancer Society expects 80,550 Americans to be diagnosed with NHL in 2023.)
Certainly, anyone using this product is potentially at risk. But landscapers, gardeners, groundskeepers, and farmers are most likely to have the most significant exposure to these pesticides.
Roundup Research
In September 2003, researchers studied 3,400 farmworkers in the Midwest. The Journal of Occupational and Environmental Medicine published an article questioning the safety of glyphosate, finding that higher rates of non-Hodgkin's lymphoma are associated with glyphosate exposure. That was 19 years ago.
A research article published in the International Journal of Environmental Research and Public Health focuses on systematic reviews and analysis of over 30 years of research on the relationship between NHL and occupational exposure to an agricultural pesticide. It found a "striking increase" in the incidence of non-Hodgkin lymphomas in the last 30 years.
Further, the article finds that farmers tend to have low overall mortality rates but high rates of some cancers, which the agrochemical exposure may explain. Most importantly, it confirms that glyphosate exposure is associated with a common sub-type of NHL, B-cell lymphoma.
In 2015, a report from the International Agency for Research on Cancer (IARC), a division of the WHO, finds glyphosate to be "probably carcinogenic" and causing cancer in lab tests on animals and damage to DNA in human cells.
Now keep in mind the source here. This is the WHO. It is not plaintiffs' lawyers with a financial incentive to blame these pesticides for cancer. The WHO has taken some hits for its handling of COVID. But it is still one of the most respected health organizations in the world.
How did Bayer respond to IARC's conclusion that Roundup causes cancer? Monsanto hatched a plot to influence regulators" and create "outcry" against IARC's decision. They got EPA employees to promise that glyphosate wasn't carcinogenic before the agency review. They also used their connections to get "key Democrats on the Hill" to pressure the EPA and delay other government regulatory agency reviews of glyphosate . Their goal was to "invalidate the relevance of IARC" and protect sales worldwide while providing litigation support. It is not hard to see why juries ignored the EPA's lack of regulatory action in awarding victims billions of dollars.
Monsanto Roundup Attorneys' Defense
In response, Monsanto/Bayer has trotted out Dr. Donna Farmer. Dr. Farmer has studied chemicals at Monsanto for over 20 years. She disagrees with these new findings on cancer risk and says that the chemical is safe. She accuses the WHO of cherry-picking the data and interpreting scientific studies differently than researchers who did the study. She might believe what she says. She is wrong.
Dr. Farmer says that glyphosate targets a particular enzyme in plants, which humans and animals don't have. Her long-term study shows that the chemical doesn't cause cancer.
Jurors in these cases overwhelmingly decided they did not believe Dr. Farmer's arguments adopted at trial by their experts.
That pesticides cause health complications is hardly a surprise. We are learning more about the harm these kinds of chemicals cause. The latest is Paraquat, a toxic chemical thought to cause Parkinson's disease.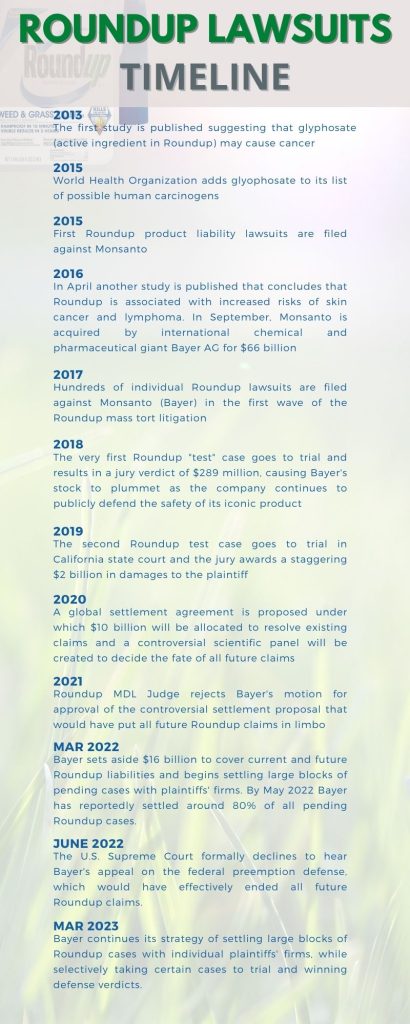 What Is the Status of Roundup Weed Killer Lawsuits in 2023?
The biggest Monsanto news is the $10 billion Roundup settlement. This much anticipated and much-delayed settlement – settlements with various lawyers was years in the making. Due to a complicated settlement process, many victims who have settled their lawsuits still have not been paid in 2023.   Victims are dealing with issues related to point allocations to determine the settlement amounts. The points system in the Roundup settlements is complicated, and you will not get clear answers about how the Roundup point system works online. (Talk to your lawyer to clear up any confusion you may have.)
In 2023, most Roundup lawsuits are proceeding in state court. Bayer has won six trials in a row as of January 2023. But it is only letting weak Roundup suits go to trial. Bayer offers fair settlement amounts to avoid a trial in stronger cases.
Is There Still a Roundup Class Action MDL Lawsuit After the Settlement?
The Monsanto Roundup MDL class action lawsuit is still in place even though most victims have already received or will receive their settlement checks. But, in 2023, most Bayer Monsanto lawsuits are being filed in state court.
Bayer's latest 5 Point Plan after the judge's ruling to decrease how much money it has to pay in Roundup settlements
Are the Victims Winning Roundup Cases?
Victims won and won big in the Roundup cases that have gone to trial in a way that exceeded even the most hopeful expectations. Juries are holding Monsanto accountable for their choices by awarding victims significant awards, including punitive damages. The settlement value of the Monsanto Roundup lawsuits surged because these test jury trials resulted in massive verdicts for victims.
These are the three big Roundup verdicts that led to the $11 billion settlement:
Johnson v Monsanto (2018) $289.2 million: A 46-year-old male groundskeeper for a San Francisco school district applied Roundup at school properties for years. He was diagnosed with non-Hodgkin's lymphoma. He called Monsanto after he was diagnosed with NHL with his concern that Roundup caused his cancer. He never got a return call. Following an 8-week trial in San Francisco County, the jury found that Monsanto was liable and awarded $289 million in total damages. The award included $250 million in punitive damages. The judge later capped the punitive damage award, reducing the total jury award down to $78.5 million.
Hardeman v Monsanto (2019) $80.2 million: This was the first federal court case from the Roundup MDL to go to trial. Plaintiff, a 70-year-old male, and his wife lived in Sonoma County, California, on 56 acres used as an exotic animal refuge. Plaintiff began using Roundup products on his property in the 1980s. Three years later, he was diagnosed with non-Hodgkin lymphoma. The jury found that the weed killer was defective and awarded $80 million. Like the Johnson case, the award included a whopping punitive damages award of $75 million.
Pilliod v Monsanto (2019) $2.055 billion: The plaintiffs were a husband and wife in their 70s from Livermore, California, who used regularly used Roundup products in their home and occasionally at other properties. The husband developed large B-cell non-Hodgkin lymphoma. the wife was diagnosed with central nervous system lymphoma that progressed to NHL. After weeks of trial in Alameda County, the jury entered a staggering verdict of $2,055,206,173, which included $2 billion in punitive damages.
How have things gone since these verdicts? Poorly. The plaintiffs have lost six in a row.
What happened? Bayer is not settling cases. So there were trials set for as recently as November 2022 that were settled because, again, Bayer is writing settlement checks on good cases and letting the weaker cases that are harder to prove go to trial. So these results are very misleading.
What Is the Expected Settlement Amount for an Unsettled Roundup Cancer Claim?
Anytime you get a class action MDL involving a product like Roundup, the outcomes of the first initial trial are often used to negotiate a global settlement of all future suits. The initial Roundup trials resulted in a series of massive verdicts for the plaintiffs, and that helped set the settlement amounts.
Let's look at the last Roundup settlement because the next round of settlements – if they happen – will likely take a similar path for larger settlement amounts.
The global Monsanto settlement has a tiered points system to determine settlement amounts. Each point in the settlement is worth a certain amount of money. The hope — which will prove impossible — is to distribute settlement proceeds among the victims as fairly as possible.
At the top tier of the point, scale to determine Roundup settlement amounts are NHL lawsuits in which the plaintiffs had extensive exposure to Roundup (e.g., landscapers, agricultural workers, and others who used Roundup every day for years) and were diagnosed with non-Hodgkins lymphoma.
At the lower end of the tiers will be cases where the plaintiffs had less exposure (e.g., homeowners who did not use Roundup every day) and other types of lymphoma or cancers less directly linked to Roundup. CLL settlements have mostly been in the lower tiers.
The average Roundup lawsuit payout for Round One settlements was in the $120,000 to $180,000 per person range. Again, we predict that new Roundup weed killer cancer lawsuits will have higher settlement compensation payouts.
Can You Still File a Roundup lawsuit After the Settlement?
There are two kinds of Roundup lawsuits that have not yet been filed in 2023:
Cases where the diagnosis of NHL or death was some time ago, and
Newly diagnosed NHL cases (last three years)
It will be harder to find a Roundup lawyer for cases diagnosed many years ago because of statute of limitations concerns. But we are reviewing cases where the injury or death occurred in the last 10 years.
Newly diagnosed Roundup cancer cases are very viable lawsuits.
Our Roundup lawyers believe new cases will probably have a much higher per-person settlement amount than the cases that settled. Why? Because Bayer will pay $11 billion to settle the case and then just keep on selling the product without a warning.
The Roundup settlement won't be admissible in future cases. But we all know the score. The optics are terrible for Bayer and juries will not change how they process this evidence. The sad reality is that Bayer probably makes more money continuing to sell Roundup and just paying off new claims.
The Bayer Roundup Lawsuit Will Continue
The take-home message is that newly diagnosed cancer cases from Roundup are viable claims even after this global settlement. But please, don't wait to take action. The statute of limitations may be closer than you think and you do not want to miss the deadline to file a Roundup lawsuit. If you have a claim, call a lawyer today. We would like you to call us, but, either way, call an attorney. Quick.
How Do I Get a Roundup Lawyer?
If you or a loved one has been newly diagnosed with cancer from these pesticides, call our Roundup attorneys today at 800-553-8082 or get a free, no-obligation online case review. Our lawyers can give you the legal advice you need and our lawyers will help you in any way that we can.