Our hernia mesh lawyers seek new clients suffering severe side effects from these defective products. Over 20,000 hernia mesh lawsuits have been filed.
Three hernia mesh device lawsuits have gone to trial. A settlement for Bard cases may be coming soon. Our hernia mesh lawyers provide the latest news and updates in the hernia mesh class actions below.
Hernia Mesh Class Action Lawsuit News and Updates
Before we get projected hernia mesh settlement amounts, let's get you up to speed on the latest developments in the hernia mesh lawsuits.
December 5, 2023: Georgia Settlement

Johnson & Johnson and its subsidiary Ethicon have reached a settlement in a Georgia multidistrict litigation that involves 224 cases. This settlement was confirmed through a joint motion to dismiss the claims, which was agreed upon by both parties and approved by U.S. District Judge Richard W. Story. In response to the settlement, Ethicon Inc. underscored that it accepts no real responsibility, claiming that the decision was taken to prevent a drawn-out legal process. Of course, we are long past preventing a drawn-out process in any of these hernia mesh lawsuits.

This recent agreement comes on the heels of a similar settlement about six months earlier, in which the companies resolved claims with 161 plaintiffs in MDL-2782.

December 4, 2023: New Bard Lawsuit

Bard lawsuits keep coming. On Friday, the wife of a now-deceased Oklahoma man who had the Ventralight ST filed a lawsuit directly in MDL-2846.  The lawsuit – which is not a wrongful death claim – makes the usual assertions of defective design, manufacturing defect and, most importantly, failure to warn.

This case was one of two Bard hernia mesh lawsuits filed Friday.

December 1, 2023:  Next Bard Trial in April

The fourth bellwether trial in the Bard hernia mesh lawsuit series is scheduled for April 8, 2024. This trial centers on the case of Jacob Bryan from Florida, who experienced severe complications due to the Bard 3DMax hernia mesh. Bryan's lawsuit contends that the mesh had design flaws that led to its failure, necessitating its surgical removal.

It is good to have a firm trial date. But these trials are so spaced out. A significant victory in a bellwether trial can provide leverage for plaintiffs in settlement negotiations. A lengthy gap before the next trial can diminish this leverage, as the immediacy and pressure on the defendant to settle can wane and they decide they have time to kick the settlement can down the road.  There is still hope, however, for a global hernia mesh settlement before the Bryan trial.

November 17, 2023: MDL Adds 400 New Cases

Another 400 new cases were added to the Bard hernia mesh MDL over the last 30 days. There are now 20,768 plaintiffs in this hernia mesh MDL. Since the start of 2023, the Bard hernia mesh MDL has averaged over 300 new cases each month.

November 13, 2023: More Bellwether Trials Set

What is next in the hernia mesh lawsuits?  Another trial. Scheduled for January 2024, the fourth/fifth bellwether trial involving Bard centers on plaintiff Jacob Bryan, who underwent a surgical procedure involving the use of a 3DMax hernia mesh for inguinal/groin hernia repair. Post-surgery, Mr. Bryan experienced severe complications, including mesh deformation and chronic pain, which have necessitated ongoing medical treatment and may lead to additional surgery.

Originally selected as a bellwether trial by the defendants years ago, there was an effort by them to remove Mr. Bryan's trial date. Their argument centered on the premise that Mr. Bryan's complications were more severe than initially expected, potentially skewing the representative nature of the bellwether trial. However, the motion to replace Mr. Bryan as a bellwether case was denied by the Judge Sargus.

The product at the center of this case, the 3DMax hernia mesh, is subject to similar allegations as other products in similar lawsuits. The plaintiff accuses Bard of failing to adequately warn both patients and healthcare providers about the significant risks and potential complications associated with the use of the 3DMax mesh. This includes not just an omission of known risks but also underrepresentation of the severity and frequency of possible adverse effects. Additionally, the lawsuit raises issues regarding the design and manufacturing of the 3DMax mesh. It is alleged that defects in the design and manufacturing process contributed to the complications suffered by patients like Mr. Bryan.

November 9, 2023: We got a verdict yesterday: $500,000.  

The jury found for Bard on design defect but found for the plaintiff on the failure to warn case.  All along, we have been saying this case is about failure to warn.  This verdict underscores that belief.

No punitive damages were awarded.

Let's recap the verdicts now:

| Plaintiff | Date | Venue | Award |
| --- | --- | --- | --- |
| Johns | July 2021 | MDL | $0 |
| Milanesi | April 2022 | MDL | $250,000 |
| Trevino | August 2022 | Rhode Island | $4,800,000 |
| Stinson | October 2023 | MDL | $500,000 |


November 8, 2023: On Day 14 of the Stinson bellwether hernia mesh trial, Bard called brought Dr. Stephen Badylak to the stand, a witness with a history of testifying for Bard in similar cases. In a move reflective of the parties confidence in a favorable outcome, both sides have jointly filed a motion advocating for the use of a single damages' verdict form, a measure in accordance with Maine law.   This is intended to minimize confusion among jurors and reduce the risk of potential appeals or retrials due to the issue of multiple recoveries for a single harm.

November 1, 2023: Yesterday was entirely focused on Dr. Pomerants' testimony, which included continued direct questioning, cross-examination, and then a redirect.

October 31, 2023: Plaintiff rested his case yesterday.

October 27, 2023: We said Dr. Grischkan was a key witness.  All day yesterday was spend on his continued testimony.

October 26, 2023: Today is Day 9 of the Stinson trial.  Yesterday, the plaintiff and David Grischkan provided testiomony.  Dr. Grischkan is a board certified general surgeon who specializes in the repair of abdominal wall and inguinal hernias.  He is a key plaintiff's expert on specific causation.

Let's take a second and recap the allegation in Stinson.  The main argument from the Plaintiff is that Bard was aware of the risks associated with its PerFix Plug device but still promoted and sold it without properly warning doctors and patients.

What was the problem?  Plaintiff design defect claim contends that the PerFix Plug breaks down after being implanted, leading to a prolonged inflammatory reaction in the body. So instead of putting a warning on the product giving doctors the information they need to do a risk/benefit analysis, Bard minimized the potential complications of the device, patients at an undue risk of severe and lasting harm.

Plaintiff's lawyers also argue that this inflammatory reaction is exacerbated by poor design choices in the device's shape, weight, and the size of its pores.

October 17, 2023: The size of the Bard hernia mesh MDL actually decreased over the last month from 20,405 to 20,369 pending cases. This is the first time ever that this class action MDL has posted a monthly decrease in pending cases. What does this mean? It is difficult to say until we see if the trend continues, but this could be a sign that we are running out of possible plaintiffs.

October 10, 2023:  The third bellwether trial is upcoming in the case of Stinson v. Davol, et al. The plaintiff in the case underwent a right inguinal hernia repair in 2015, during which he had a Bard Per-Fix Mesh implanted. For 2 years after the surgery, the plaintiff had chronic pain in the area. In 2017, he underwent exploratory surgery to determine if it was a recurrent hernia or nerve entrapment causing the pain. During this procedure, the surgeon found that the Bard mesh implant had curled up into a ball, causing major scarring on the internal tissue. The mesh was removed and replaced, but the plaintiff continued to have pain.

October 2, 2023: The third bellwether test trial is set to be in 2 weeks in the Stinson case. We could see this case settle before the trial actually happens, but in the meantime, the lawyers for both sides certainly appear to be gearing up for trial. Bard has filed numerous pretrial motions over the last 2 weeks, including a significant motion filed on September 29th seeking to limit the testimony of one of the plaintiffs' experts.

September 23, 2023: The federal judge overseeing all Covidien hernia mesh lawsuits across the federal court system has approved a proposal from the plaintiffs. This proposal involves the preparation of a set of six bellwether cases, with two trial cases to be selected in early 2025.  This litigation has moved slowly and 2025 is still a long way way. But this is progress.  Getting trial dates is the key to getting reasonable settlement offers.

There are 641 hernia mesh lawsuits in the Covident MDL class action lawsuuit. These lawsuits all contend that a faulty design in Covidien Parietex, Covidien Symbotex, and others, has led to unnecessary pain and suffering. In most of these cases, the plaintiff was required to get more surgery to fix the problems caused by the defect.

September 14, 2023: The pace of new cases in the Bard hernia mesh class action MDL has slowed somewhat this summer. There are currently 20,405 pending cases in the MDL. At the start of the summer there were 19,707 pending cases. 250 cases per month is still significant, but its way less than the monthly volume we were seeing in this class action earlier this year.

September 1, 2023: After a very long wait, it looks like the next bellwether test trial in the Bard hernia mesh MDL is finally going to happen. In a new Case Management Order issued yesterday, the MDL Judge confirmed that trial in the case of Stinson v. Davol, Inc., et al. (18-cv-1022) will begin on October 16, 2023. A fourth bellwether trial will be scheduled for early 2024 in the case of Bryan v. C.R. Bard Inc., et al. (18-cv-1440).

August 16, 2023: The Bard MDL has been frustratingly quiet in August. The MDL did add 191 new cases last month, increasing the total case count for the 3rd largest MDL in the country to added to 20,126 lawsuits.

August 10, 2023: The pivotal 3rd bellwether test trial is on track to begin on October 16, 2023 in the case of Stinson v. C.R. Bard, et al. (2:18-cv-01022). In preparation for that upcoming trial, the MDL Judge recently issued an Order setting last-minute discovery deadlines related to the plaintiff's post-operative treatment last month. The order gives the parties until August 14, 2023, to complete supplemental fact depositions and until September 27 to finish additional expert depositions. The short time frame of these deadlines suggests that the judge is committed to going to trial in October without further delays.

July 18, 2023:  As we inch closer to the long-anticipated 3rd bellwether trial, new hernia mesh lawsuits continue to get transferred into the C.R. Bard class action MDL. Over the last month, 228 new hernia mesh cases were added to the MDL. That brings the total number of pending cases up to 19,935, making MDL 2846 the 3rd biggest consolidated mass tort behind 3M earplugs and Talcum Powder.

July 15, 2023: No reasonable person can suggest that hernia mesh implants have not been wrought with controversy and complications. The FDA is trying to help guide patients and doctors about the benefits and risks of utilizing surgical mesh for hernia treatment.  This week, it put out a new guide that offers a detailed overview of the pros and cons of surgical mesh.

July 7, 2023: Plaintiff's lawyers withdrew its manufacturing defect claim in Stinson.  This narrows down the issues for trial. These cases will always be focused on the failure to warn.

June 30, 2023: This litigation is now focused on Stinson, as you can see from most of the recent updates.  Defendants filed a motion for summary judgment, making its usual arguments.  Plaintiff has until Wednesday, June 14, 2023, to file a response.

June 23, 2023: The MDL judge in the Bard hernia mesh class action lawsuit rejected what was a ridiculous request by the defense to replace two of the lawsuits currently selected for future bellwether test trials. (See the June 4th update below.)

Bard's defense team argued that the cases were "non longer representative" of other claims, but the motion was more likely motivated because Bard doesn't think it can win at trial in the cases. Meanwhile, we await the 3rd bellwether trial in the Stinson case.

June 16, 2023: 231 new hernia mesh lawsuits were added to the Bard class action MDL over the last month, bringing the total number of pending cases up to 19,707. Since the start of the year, 1,480 new cases have been added to the MDL, an average of 247 per month.

June 13, 2023: Judge Sargus ruled that the mesh used in Aaron Stinson's surgery did not come from the Puerto Rican factory and was manufactured four years later. So Stinson's lawyer cannot present what the court says is unrelated evidence to establish a general pattern of unsafe conduct, as per federal rules of evidence. Stinson alleges that the PerFix Plug mesh caused scarring, subsequent surgery, and ongoing complications.

Is this a big deal?  It is not. This is not a big part of the plaintiff's case in Stinson.

June 4, 2023: We have been telling you that Stinson's next bellwether trial is the best case yet for defendants. The first two bellwether trials were more challenging cases for plaintiffs, arguably not representative cases because of the weaknesses in those cases that came out throughout pretrial discovery.

Naturally, Bard now claims that Stinson's case has evolved medically to the point where he no longer represents the majority of the claims for bellwether purposes. Their fear is another significant verdict will escalate the settlement amounts Bard will have to pay in a global settlement. Conveniently, it ties in nicely with Bard's "delay, delay, delay" tactic: to hold on to their money as long as possible while hoping the endless delays force plaintiffs to take lower compensation payouts. If the judge agrees to delay Stinson, there would be more delay to get the next case ready for trial.

June 1, 2023: A state court judge in Rhode Island made an interesting ruling in the post-verdict motions in the Trevino case.  Justice Richard A. Licht of the Providence Superior Court remitted $250,000 of a disfigurement award while leaving $4.55 million intact.   It seems like an odd place to draw a line, right? More importantly, the ruling confirmed that Bard could be liable under Rhode Island's warning requirements, and there was sufficient evidence to support the failure-to-warn claim.

May 11, 2023: One issue the court wants to address in the Stinson trial is whether, under Maine law, manufacturers of medical devices hold an ongoing responsibility to inform patients (via their doctors) about any risks associated with a medical device that has already been implanted, especially if these risks are identified after the device has been implanted.

The parties are instructed to provide additional briefing by May 17, 2023.

May 5, 2023: The third MDL bellwether trial date, Stinson v. C.R. Bard, has now been rescheduled. The new date for the trial is set for October 18, 2023.

May 1, 2023: Settlement talk remains in the air, but losing the trial date in Stinson did not expedite settlement efforts.

March 22, 2023: The highly anticipated third bellwether test trial (Stinson v. C.R. Bard et al.) in the C.R. Bard hernia mesh class action MDL is now rescheduled for October 16, 2023. The trial was supposed to begin next month, but the MDL Judge granted a request by the defense to push the trial back. The first bellwether trial yielded a defense verdict, and the second test trial resulted in a modest $250,000 verdict. But in August 2022, a hernia mesh trial in Rhode Island state court ended in a $4.8 million verdict.

March 20, 2023: The third bellwether trial in the C.R. Bard hernia mesh MDL has been postponed. The case of Stinson v. C.R. Bard was supposed to go to trial on May 15, 2023, where it would serve as the third test case. Last week, the MDL judge denied a summary judgment motion by the defense, clearing the way for the Stinson case to proceed. Two days later, however, the Judge granted Bard's defense team a request to postpone the upcoming trial date. No new trial date has been set.

March 16, 2023: A Maine man's lawsuit against C.R. Bard and Davol, alleging that a defective hernia mesh product caused him pain and complications, will proceed to trial for most of the claims.

This case, as we discuss in more detail in the updates below,  is the third bellwether trial in multidistrict litigation involving over 18,000 cases against the two companies.

Typical hernia mesh lawsuit: The plaintiff argues that the polypropylene material used in the mesh is unsuitable for permanent implantation and results in complications. The judge ruled that the plaintiff could pursue his design defect claim at trial and seek punitive damages. Negligence and warranty claims were also cleared for trial, but judgment was granted for the companies on other claims.

Anything could happen, but it would surprise many people if Stinson goes to trial. A hernia mesh settlement makes more sense now than ever.  We will know more soon.

February 22, 2023: Over the last month, 410 new cases have been added to the ongoing hernia mesh class action MDL against C.R. Bard.  MDL 2846 averaged 282 new cases a month last year, and 400 is the highest monthly case volume for the Bard hernia mesh class action in over a year.

The MDL now has 18,813 pending cases, making it the country's third-largest mass tort.

February 9, 2023: The judge in the Bard hernia mesh class action lawsuit issued a pretrial schedule this week with a detailed schedule for the upcoming 3rd MDL bellwether trial featuring the claims of Plaintiff Robert Stinson Sr. The trial will be on May 15, 2023, with pretrial conferences set for earlier in the month. Each side will get a total of 32 hours to present their case. The trial is expected to last two weeks. Judge Sargus also issued a separate order requiring both sides to submit proposed dates for a fourth bellwether test trial later this year.

Of course, the biggest bellwether mesh trial was outside the MDL in state court in Rhode Island, where the jury awarded $4.8 million to a Bard mesh victim. If Stinson goes to trial and gets a similar payout, there will be a reset in settlement compensation for these claims.  So Bard will unlikely absorb that risk and let Stinson go to trial.

January 18, 2023: There were 176 new cases added to the C.R. Bard hernia mesh class action lawsuit over the last 30 days.  This brings the total number of pending cases in the MDL to 18,403. This was the most significant growth by the percentage of any of the mass tort MDLs during the last month.  As we continue to close in on the next bellwether trial set for May, settlement speculation/hope continues to swirl.

January 2, 2023:  While we wait for the Bard hernia mesh settlements to work out hopefully in early 2023, other hernia mesh class actions continue progressing.  A new plaintiff fact sheet was recently adopted in the Covidien hernia mesh MDL in the District of Massachusetts. All plaintiffs must complete and submit the new fact sheet to keep their case pending.

There are currently only 136 active cases in this MDL, but over 5,000 Covidien hernia mesh lawsuits are pending in Massachusetts state court. Those state court cases have been consolidated similarly to an MDL, and an effort is being made to coordinate the discovery in the state and federal proceedings.

December 28, 2022: As we get closer to the pivotal 3rd bellwether trial (recently postponed from February to May 2023), the size of the plaintiff filed in the C.R. Bard hernia mesh class action lawsuit continues to grow.

Over the last month, 273 new hernia mesh against Bard were added to the MDL, bringing the total number of pending cases up to 18,227. A total of 3,380 new cases were added to the Bard hernia mesh MDL during 2022, a growth increase of 23%. The Bard hernia mesh MDL is the second largest mass tort.

November 17, 2022: The C.R. Bard hernia mesh class action MDL continues to expand as we approach the next bellwether trial in February. 166 new hernia mesh lawsuits were transferred into the MDL over the last 30 days. This brings the current total number of pending cases to 17,954.

At the start of 2022, there were only 15,000 pending lawsuits in the MDL, so an average of around 200 new cases have been added each month. This continued growth will help increase the pressure on Bard's parent company, Beckton Dickson, to negotiate a global settlement.

October 28, 2022: One of the first status conferences in the Covidien hernia mesh MDL was held this week before Judge Patti Saris in the District of Massachusetts. The parties advised Judge Saris that about 170 Covidien hernia mesh lawsuits are pending in federal courts and another 5,700 cases are pending in Massachusetts state courts. The main topic of discussion at the conference was the defense proposal to coordinate the MDL with the state court cases. The plaintiffs' committee voiced strong objections to this proposal, noting that it would only allow the MDL plaintiffs less than one year to complete complex discovery.

October 14, 2022: We are all hoping for a hernia mesh settlement before the next trial. But if not, the next bellwether trial in the Bard hernia mesh class action is set for February.

What do we know about the facts of this case? The plaintiff in the case is Robert Stinson, Sr. Stinson is a resident of Maine who originally filed his lawsuit in federal court in Rhode Island. Stinson had the Bard Sepramesh IP implanted during a ventral hernia repair surgery in 2014.

This will be the first trial involving the Sepramesh, a permanent hernia mesh implant made from polypropylene with a protective "hydrogel coating."

Complications with the Sepramesh required Stinson to under multiple corrective surgeries.

October 2, 2022: The MDL judge in the Bard hernia mesh class action issued an order confirming the pre-trial and trial schedule for the upcoming 3rd bellwether test trial in the case of Stinson v. C.R. Bard, et al.

The trial will commence on February 21, 2023. Each side will be allowed a total of 35 hours of trial time, which should give us a trial of about 3 weeks. Final Daubert motions are due by October 7, 2022. After a defense verdict, a verdict, and a whopping verdict, Stinson is a big deal… unless it settles and the rest of the mesh lawsuits reach a settlement before February.

September 1, 2022: Evidence came into focus in the recent hernia mesh trial in Rhode Island state court that underscored that C.R. Bard may have knowingly used a type of plastic in its hernia mesh products that its supplier considered to be unfit for that purpose.

The evidence presented at trial indicates that C.R. Bard used a plastic resin called Pro-fax 5623 in its hernia mesh products despite warnings from the plastic supplier expressly prohibiting it from being used for that purpose.

Despite these warnings, Bard executives insisted on using the resin because it was the cheapest and strongest material available. This is a major new allegation.

A strong new angle with jury appeal and a new $4.8 million verdict in the trial has led us to revise our projected hernia mesh settlement amounts below.

August 29, 2022: Paul Trevino, a municipal worker from Hawaii, was awarded $4.8 million by a Bristol County Superior Court jury in Rhode Island. The jury found Bard/Davol's hernia mesh kit was defective and Bard failed to warn of that defect.

This is a huge verdict that will hover over hernia mesh settlement negotiations. The expected Bard hernia mesh settlement amounts are higher today than they were yesterday.

August 28, 2022: As we wait for news of the verdict in Rhode Island in Paul Trevino, et al. v. Davol/Bard, let's talk about the new Covidien class action lawsuit. Judge Patti B. Saris held her first monthly status conference with attorneys in the Covidien hernia mesh class action MDL. This two-month-old Massachusett-based class action already has almost 100 mesh lawsuits.

Over the next few weeks, Judge Saris will focus on making appointments of attorneys to serve on the plaintiffs' leadership committee. After that is done, the next agenda items will be a joint discovery plan and process for selecting bellwether test cases. The hope is that Bard settles soon and that creates a domino effect where reasonable settlement amounts are offered in these smaller class actions.

August 24, 2022: The judge in the C.R. Bard Hernia Mesh MDL appointed a settlement mediator to help facilitate negotiations on a global settlement of all remaining cases.

This is a significant development because the new settlement mediator was appointed under a joint agreement between the parties, a strong indication that global settlement amounts could soon be finalized. The class action judge also scheduled two more bellwether trials for February (Stinson, finally) and May of next year. This should give both sides extra incentive to get a settlement compensation deal done by the end of the year.

July 23, 2022: More hernia mesh lawyers are filing lawsuits that could be a harbinger of a global hernia mesh settlement. Why? Many lawyers close their doors to new lawsuits when a global settlement amount is reached.

The last monthly period saw another high volume of new hernia mesh lawsuits added to the C.R. Bard hernia mesh class action lawsuit in Ohio. Between June 15 and July 15, a total of 216 new hernia mesh lawsuits were transferred into the Bard MDL, bringing the total Bard mesh lawsuits in the class action to 17,195.

Are these filings evidence that there is merit to rumors that a global hernia mesh settlement agreement may soon be in the works? No. But if you are inclined to be optimistic, this gives you another reason to believe settlement amounts will soon be offered to victims.

July 16, 2022: In the updates below, we talk about how both sides appealed Antonio Milanesi's verdict. The judge in the C.R. Bard Hernia Mesh MDL denied motions filed by both sides seeking to undo the $225,000 verdict awarded in the 2nd bellwether trial back in April.

The verdict pleased no one. The defendants had filed a motion seeking to overturn the verdict because they claimed that the plaintiffs had failed to present adequate evidence of causation. The plaintiffs wanted a new trial because they didn't think the jury awarded enough damages.

Yet nothing will change. In a pair of orders, the Bard class action judge denied both motions. This means the bellwether verdict will stand unless overturned on appeal.

July 7, 2022: The Bard hernia mesh class action judge denied the defendant's request for a docket control order that we talked about in our last update. Such an order would have put pressure on plaintiffs to put marshal evidence to support their case, including possibly expert testimony. Plaintiffs' lawyers saw this as a wildly premature request that would put an undue burden on plaintiffs and their attorneys.

What Bard is doing here is likely a good sign that it may soon offer reasonable settlement amounts to resolve the hernia mesh cases. Why? Defendants do not want to pay plaintiffs who they cannot fully verify have suffered injuries that would warrant a settlement compensation payout. That is fair but there are far more reasonable ways to verify the victims' injuries. Settlement talks have stalled in the hernia mesh lawsuits with Bard. This makes little sense because Bard has already agreed to settlement payout amounts for a large number of hernia mesh lawsuits in Rhode Island.

July 1, 2022: As C.R. Bard seeks a docket control order in the ongoing hernia mesh MDL, new hernia mesh lawsuits against Bard continue getting filed around the country and transferred into the MDL. In the last week, 10 more Bard hernia mesh lawsuits were transferred into the MDL class action. Four of the new mesh lawsuits came from the District of Rhode Island and 6 from the District of Minnesota.

June 14, 2022: The defendants in the largest of the hernia mesh MDLs, C.R. Bard and Davol, are now asking the MDL judge to issue a "docket control order" that would reduce the number of new mesh lawsuits coming into the MDL. The C.R. Bard hernia mesh MDL was established in 2018 and has grown to include 16,803 pending cases by plaintiffs alleging that they suffered various injuries and complications from the defective design of Bard's mesh implants.

Bard claims that in the last few months, a large influx of new cases has been filed that involve "weaker" claims than those filed in previous phases. Bard argues that the docket control order is necessary to limit these meritless claims. The obvious response from the plaintiffs, however, will be that the order would curtail the rights of prospective plaintiffs.

If the docket control order is entered, it would require all plaintiffs to produce "proof of medical diagnosis or compensable injury" to avoid dismissal. This proof would be an affidavit from a qualified surgeon attesting that the plaintiff's injury is connected to the Bard mesh implant. The docket control order would also require the plaintiff's counsel in all cases to certify that certain screening criteria have been satisfied.

June 1, 2022: Lawyers for Plaintiff Antonio Milanesi filed a response in opposition to Bard's post-verdict JMOL motion. In that response, Milanesi points out that the JMOL simply restates the same arguments that the Court has previously rejected both at the summary judgment stage and again in Bard's pre-verdict JMOL. The response also asserts that Milanesi did, in fact, adequately prove that the VentraLex hernia mesh at issue was defective. Specifically, the response notes that the alleged defects in the mesh product were established with "competent expert testimony" as required under Florida law.

May 24, 2022: Neither side was entirely satisfied with the $250,000 verdict in the 2nd bellwether trial in the C.R. Bard hernia mesh MDL. Shortly after the verdict, both C.R. Bard and the plaintiffs filed motions challenging the outcome of the trial. C.R. Bard filed a post-verdict motion for judgment as a matter of law.

Bard's motion argues that judgment is warranted because the plaintiffs failed to prove design defect or causation under Florida law. The plaintiffs filed a motion for a new trial on damages (FRCP 59) arguing that the Court failed to properly instruct the jury that the defense had the burden of proof on their mitigation of damages argument. The plaintiffs assert that the jury's damages calculation was negatively impacted by this error.

May 23, 2022: The Ethicon hernia mesh litigation is continuing its slow winding-up phase following the global settlement that was recently brokered.

In the C.R. Bard MDL, as of last week, there are 16,803 cases pending and active. Frustratingly, but there has been almost no activity in the last month following the $250,000 verdict in the 2nd bellwether trial.

Finally, in the Atrium Hernia Mesh MDL in New Hampshire, there are now 3,267 pending cases as of May 16, but with little or no activity in the MDL.

May 2, 2022: Some of you have been a little annoyed by the lack of updates since the trial. We have not had any until now.

There is a global settlement that has been reached in the Ethicon Physiomesh hernia mesh lawsuit in the MDL. That MDL class action has 3,617 plaintiffs. So it is much small than the Bard class action which has nearly 17,000 plaintiffs in the MDL.

This is also an important development for anyone who has brought a C.R. Bard hernia mesh lawsuit or a lawsuit against any other mesh defendant. It creates more inertia toward settlement and, to some extent, helps set settlement amounts.

When is the next hernia mesh trial in the MDL class action? Our lawyers have been asked this question by chat and text frequently since Milanesi. There is no trial date set. If there is not a global Bard settlement, our attorneys would expect the next trial date would be in the fall.

April 15, 2022 #2: $250,000 verdict for Mr. Milanesi on his defective design claim; $5,000 to his wife for her loss of consortium case. Glad to get a win. The jury was likely divided and this is a compromise verdict.

April 13, 2022: The defendants rested their case yesterday after calling Dr. Kevin Gillian. Dr. Gillian plays a lead role in Bard's effort to blame the original surgeon that chose the large Ventralex. (Doctors should remember this and so should sales reps competing against Bard.) Dr. Gillian has a long history with Bard, who has been paying him in a consulting relationship for many years.

April 12, 2022: Defendants called Donna-Bea Tillman (FDA-related opinions) and Stephen Badylak (resorption of the ST hydrogel coating) yesterday. There is a dispute about whether the plaintiff's lawyers will be able to recall Dr. Jimmy Mays as a rebuttal witness regarding whether the Ventralex was a "state of the art" device. The court should rule on this dispute soon. If permitted, Dr. Mays would testify after the defendants close their case.

April 8, 2022: After finishing the videotape of Christopher Paolo's deposition, Bard called Kimberly Trautman, an expert on medical device regulations, to testify. Many were hoping to get a verdict today. It won't happen.

April 7, 2022: After Dr. Ciavalella's testimony was concluded, the plaintiff rested his case. Bard's first witness Maureen Reitman has a long history of testifying against hernia mesh victims. She testifies, among other things, that Bard's manufacturing process with the Ventralex was adequate. Bard also started the videotape deposition of Christopher Paolo.

In other hernia mesh news, a motion to create new hernia mesh lawsuit class action was denied in the Atrium ProLoop and Prolite suits. This might be more of a delay in creating a new class action, not a rejection of the eventual need for consolidated action. There are only 11 filed Atrium ProLoop and Prolite lawsuits at this point.

April 5, 2022: Dr. Beatrice's testimony concluded yesterday. Plaintiff's attorneys also played the videotaped deposition of another expert witness, Dr. David Ciavarella.

April 1, 2022: Yesterday, Dr. Gill (original surgeon) finished his testimony, and Dr. Michael Beatrice, Ph.D., testified. Dr. Beatrice testified about how Bard/Davol. Dr. Beatrice testified about the defendant's failure to track complaints involving the Ventralex device and controls and testing of the product.

March 31, 2022: Wednesday saw the completion of Mr. Darois' testimony, the testimony of Plaintiff's wife, and Dr. Karanbir Gill. Dr. Gill's testimony is particularly important because he is the surgeon that selected and utilized the Ventralex Hernia Patch to repair Plaintiff's umbilical hernia.

March 30, 2022: Yesterday was a full day of more testimony from Roger Darois.

March 29, 2022: Yesterday was the 6th day of the trial. Plaintiff's attorneys called Roger Darois, a hostile witness. Now a retired Bard vice-president, Mr. Darios is famous in the hernia mesh lawsuits for once writing as a Davol executive that suppliers like Chevron Phillips "will likely not be interested in a medical application due to product-liability concerns." A stunning thing to say. He asked for secrecy that Davol/Bard was using in humans, "It is likely they do not know of our implant application. Please do not mention Davol's name in any discussion with these manufacturers."

March 26, 2022: Two witnesses testified yesterday. Dr. Jimmy Hays' testimony is that the ST coating of the Ventralight ST reabsorbs far too quickly and that the exposure of bare polypropylene causes injuries like the plaintiff suffered. So plaintiff's attorneys have put on evidence through Dr. Krpata and Dr. Hays of specific and general causation. Plaintiffs also called Stephen Eldridge, a Senior Research and Development Manager at Davol/Bard. Eldridge's testimony is about what Bard knew and when they knew it.

March 24, 2022: Wednesday, Plaintiff's lawyers played more of Daniel LaFever's videotaped deposition and then called Dr. David Krpata from the Cleveland Clinic as an expert witness in hernia surgery. Dr. Krpata, who is well-published on hernia mesh surgery, showed the jury a Ventralex mesh device animation to help explain his expert opinions.

The core of Dr. Krpata's opinion is that Mr. Milanesi's recurrent hernias are due to the weakening of the abdominal wall as a result of the two surgeries. Dr. Krpata further opines that polypropylene mesh and implanted expanded polytetrafluoroethylene contract at different rates. This can cause bucking. The problem, according to Dr. Krpata and countless experts, is that the Ventralex's memory recoil ring does not have the rigidity to control the buckling which leads to complications.

March 23, 2022 Update: Hernia mesh lawyers on both sides gave opening statements that lasted less than 90 minutes each on Tuesday. Plaintiff's attorneys then called former Davol President Daniel LaFever by videotaped testimony.

March 22, 2022 Update: A jury was picked Monday in the next MDL class action lawsuit to go to trial. The jury that will hear Antonio Milanesi v. C.R. Bard was picked in three hours and sworn in by 1:40 p.m. Eight Ohio jurors will decide this hernia mesh lawsuit using Florida law. Opening statements from the attorneys will begin tomorrow morning.
Hernia Mesh Lawsuit Settlement Amounts
If you are a potential plaintiff, you want to know the expected average settlement amounts of the hernia mesh cases. Below, our hernia mesh lawyers look at statistics and data and try to give answers as to what the average hernia mesh payout might be.
This is a valuable exercise. These cases are ultimately about money to compensate victims for the harm done. But just keep in mind when it comes to ultimate settlement value and the expected average individual payout, our lawyers are merely speculating based on the facts and prior cases.
So what do we estimate for the average payout for a hernia mesh lawsuit? Certainly, this will depend on how successful the bellwether trials are in 2022. Yes, we lost the one surgical mesh lawsuit that went to trial this year. There will be others.
Prior verdicts and settlements from comparable cases suggest that hernia mesh claims will likely be worth $50,000 to $1 million, depending on individual circumstances. The likely range of a jury compensation payout should be in the $500,000 to $5 million range. (Our lawyers put this range before the $4.8 million verdict in Trevino in Rhode Island state court in August 2022.)
Yes, that is a big range. Keep reading. Our lawyers break down our thinking – and throw in the caveats – below.
Summary of Hernia Mesh Defects
A hernia is a very common medical condition that must be surgically repaired. Almost 1 million hernia repair surgeries are performed at hospitals in the U.S. every year, making hernia repairs the most common type of surgical procedure in modern medicine. Over the last 20-30 years, most hernia repairs have used a mesh or patch implant device. These devices most typically treat:
Incisional Hernia: weakness in the muscle of the abdomen
Ventral Hernia: weakness specifically in the abdominal wall muscles
Femoral Hernia: upper thigh or outer groin
Inguinal Hernia: inner groin
Umbilical Hernia: bulge that forms at the belly button
Hiatal Hernia: stomach bulges up into your chest
When performing hernia repair surgery, doctors tuck the protruding organ (usually an intestine) back into place and surgically repair the muscle wall that holds it in place.
A mesh or patch is like a tiny net or screen the surgeon implants in or around the repaired muscle tissue. The surgical mesh has biological materials. This allows connective tissue to develop that acts as structural support to strengthen and reinforce the repaired muscle wall at the hernia site. The muscle tissue regrows around the mesh or patch.
Because these devices are implants, they must be made out of inert materials that can exist inside the human body without triggering an immune system response. They also need to stay intact to not move or protrude into adjacent tissue after the surgery.
Most of the earlier mesh products were non-permanent/absorbable. They were made out of animal byproducts designed to be gradually absorbed by the body and disappear after implantation. These absorbable devices had a good safety record but did not provide permanent abdominal wall support.
In the early 2000s, a new wave of permanent hernia mesh devices from various manufacturers began to hit the market. These devices were made out of a particular type of plastic, surrounded by some type of inert coating material that was supposed to make them bio-compatible inside the body. Unfortunately, many of these new permanent mesh/patch implants had significant design flaws. These flaws led to chronic pain and other disastrous consequences for many patients, including a revision hernia mesh surgery.
Adverse event reports from healthcare professionals to the U.S. Food and Drug Administration grew. Eventually, and arguably belatedly, the FDA issued safety warnings and demanded product recalls.
The fundamental problem with this type of hernia mesh is its bio-compatibility inside the human body. Instead of being inert once implanted in the body, the permanent mesh devices had design or manufacturing issues that caused these synthetic materials to be incompatible with the human immune system.
Once implanted, the defective hernia mesh devices would trigger an immune system attack, resulting in inflammation and other complications. Another related problem is that their outer coating degraded too quickly, causing the mesh to become abnormally attached to internal organs or tissue.
Injuries Caused by Hernia Mesh Defects
The defective hernia mesh devices can cause internal injuries and/or health complications. The most common injuries linked to defective hernia mesh products:
Internal infections and pain
Bowel obstruction
Mesh detachment and migration
Puncture of adjacent tissue/organs
Fistula formation
Abscess formation
Adhesion to other organs or tissue from scar tissue formation
Many of these complications require additional surgery to repair or correct.
In some cases, hernia repair surgery patients started experiencing some of these complications within just a few days after the mesh was surgically implanted. For others, however, there was a substantial delay between the hernia surgery and the onset of symptoms related to defects in the hernia mesh device.
The Defective Hernia Mesh Products
The hernia mesh recalls, and lawsuits have primarily revolved around three hernia mesh product lines" Kugel Mesh, Ethicon Physiomesh, and Atrium C-Cur mesh. The table below lists the three companies and the names of their defective hernia mesh products.
Manufacturer Products Date Range
Our lawyers are also looking at LifeCell Strattice and Surgimesh's claims, which we discuss more below.
The product liability litigation involving the Kugel hernia mesh devices is hot with the next trial in the class action set for March 22, 2022 (rescheduled after a COVID delay.
We had a C-Qur trial date, but that case reached a settlement after U.S. District Judge Mary M. Rowland rejected Atrium Medical Corporation's summary judgment motion that sought to dismiss the plaintiff's C-Qur hernia mesh lawsuit. The judge dismissed the plaintiff's defective design claims. But she allowed his failure to warn and manufacturing defect claims to proceed. Ultimately, that is the critical argument hernia mesh lawyers are pushing: the failure to warn doctors and patients of the risk.
With Physiomesh, plaintiffs' lawyers have filed surgical mesh lawsuits alleging the multi-layer coating prevented adequate incorporation of the mesh. The result was victims coming in for a common type of hernia and having serious post-surgery complications because the polypropylene mesh portion of the Physiomesh could not withstand normal abdominal forces.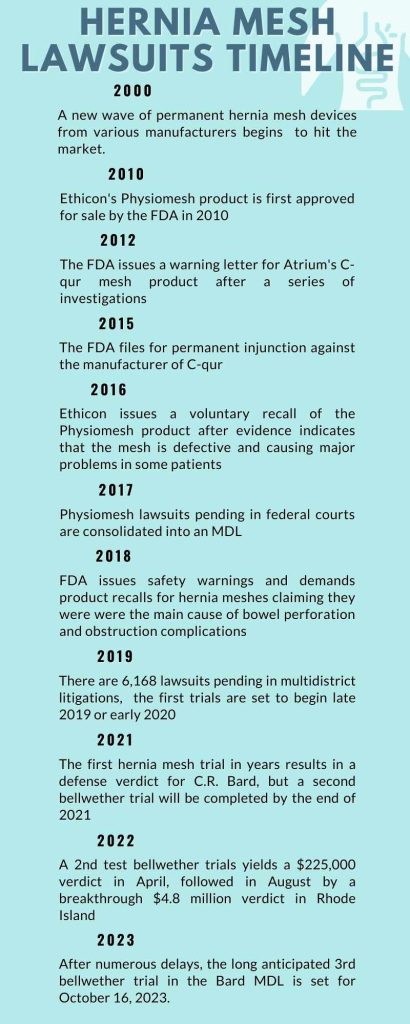 LifeCell Strattice Lawsuits
The LifeCell Strattice is the brand name for yet another hernia mesh implant that has caused several problems and prompted product liability lawsuits. LifeCell Corp., an Allergan Inc. subsidiary, manufactures the Strattice.
The Strattice was first released in the U.S. market in 2010 around 2010 and has been used in thousands of hernia repair surgeries over the last decade. The Strattice mesh implant is primarily used in parastomal and inguinal hernia repair surgeries and abdominal wall surgery.
The Strattice mesh implant is made from a synthetic material derived from pigskin. The material was designed to be "acellular" and biologically compatible inside the body.
Unfortunately, however, the Strattice suffered from many of the same problems as the polypropylene hernia mesh devices. Once implanted, the unique pigskin material of the Strattice tended to break down, causing the mesh to come apart rapidly.
The problems with the Strattice were so acute that in 2011, just a year after it was first released, the FDA issued a recall and blocked the Strattice from future use. Strattice became what our lawyers call a mini-class action in state court in New Jersey in 2021.
Surgimesh
Our lawyers are also looking at Surgimesh lawsuits. Surgimesh is a line of hernia mesh and general surgical mesh implants manufactured by a French company and distributed in the U.S. by BG Medical, LLC.
The Surgimesh is made from non-woven polypropylene fibers with one side coated with silicone to prevent abnormal tissue attachments. Surgimesh was first released in the U.S. in 2008 based on 501k FDA approval.
The Surgimesh appears to suffer from many of the same design flaws that have plagued other polypropylene hernia mesh implants. There have been four Surgimesh tort lawsuits filed against BG Medical since 2018. The lack of lawsuits is because Surgimesh is made by a French company that has a small market share in the U.S. But our attorneys expect to see more of these lawsuits.
How Much Are Expected Hernia Mesh Settlement Amounts?
In June 2017, the MDL Panel created MDL 2782 to coordinate all federal Physiomesh hernia mesh lawsuits alleging complications when implanted in patients, "including herniation through the mesh, recurrent hernia formation and/or rupture, and deformation of the mesh."
Three lawsuits have gone to trial, two in the MDL and one in state court. A fourth hernia mesh lawsuit goes to trial in February 2023. The average per-person verdict has been over $1.6 million. So we are getting a better idea of the trial value of these cases. From that, we can extrapolate settlement amounts. We can also look to Round 1 of the hernia mesh lawsuit saga that involved multi-district litigation of thousands of claims against C.R. Bard regarding defects with its Kugel hernia devices.
So let's make some predictions on the settlement value of the hernia mesh lawsuits. Our lawyers can estimate the likely value of round 2 hernia mesh cases based on the outcome of round 1, the settlement values in other surgical mesh lawsuits, and the three verdicts we have. It is just speculation, but it is a start. Let's begin by comparing these cases to previous hernia mesh suits.
Hernia Mesh Litigation Round #1
In round 1 of the hernia mesh litigation, C.R. Bard defended thousands of individual lawsuits by plaintiffs alleging injuries resulting from defects in the company's Kugel Hernia Mesh device. The Kugel implant had a design defect that causes a plastic ring on the mesh to break off inside the patient. When the Kugel ring broke off, it caused bowel obstruction or, in more severe cases, bowel perforation. Both results were excruciating and required surgical repair. The Kugel federal court cases were consolidated into an MDL in Rhode Island. A bellwether case, Thorpe v C.R. Bard Inc., was selected for the trial. The victim in Thorpe suffered some of the most severe injuries associated with the defective Kugel implant. When the ring on the mesh broke off inside him, it punctured and obstructed his bowel, and he had to undergo five surgeries to repair it. A federal jury in Rhode Island awarded Mr. Thorpe $1.5 million in damages. Based on the outcome in Thorpe, C.R. Bard eventually agreed to a global settlement of all pending Kugel cases in the class action lawsuit. C.R. Bard agreed to pay $184 million to settle over 2,000 pending Kugel lawsuits. Although this equated to only $70,000 per case, it does not mean that each mesh victim got $70,000. The 2,600 Kugel cases were divided into different tiers based mainly on how severe the injuries were and how strong their case was. Tier 1 plaintiffs with the most severe injuries probably got over $1 million. Plaintiffs in tier 2 with less severe injuries likely got $500,000-$900,000. Tier 3 plaintiffs probably received less than $100,000. Finally, claimants in the lowest tiers received some nominal amount or nothing at all.
Vaginal Mesh Settlements
The current round of hernia mesh lawsuits shares some similarities with the mass tort litigation involving defective transvaginal mesh devices. The vaginal mesh litigation involves many devices and manufacturers; many cases are still pending. Endo International agreed to pay out nearly $900 million in a global settlement agreement for 20,000 vaginal mesh lawsuits. This equates to roughly an average per-person settlement payout of $45,000 per case. Again, this does not mean that each vaginal mesh plaintiff received $45,000 per person for their claim. Why? The best cases got more, and the worst got fewer. As with any mass tort, the vaginal mesh claims were divided into separate tiers based on the severity of injury and strength of the case.
How Much for Average Hernia Lawsuit Settlement Payout?
Based on the prior litigation outcomes discussed above, our surgical mesh lawyers believe the average settlement amounts for top-tier hernia mesh claims may be around $250,000 to $1,000,000. These are the most severe injury and wrongful death cases.
Mesh lawsuits in the lower settlement tiers (those involving less serious injuries) will have a much lower value. There are cases with less serious and permanent injuries.  We do not think the average hernia mesh settlement amount for "single revision with no complication" cases will exceed $50,000.
But the bigger cases will be worth a lot more, and that will push the hernia mesh settlement average north. Our hernia mesh lawyers think the average settlement amounts in these cases will be $70,000 to $90,000, but, again, the more severe cases will have a higher average settlement amount. The reality is that most hernia mesh settlements will likely fall in this rage.
These estimations are based in some measure on the older hernia mesh cases that settled. Thankfully, the defendants this time (Atrium & Ethicon) are larger corporations with deep pockets. Atrium Medical is only somewhat bigger than C.R. Bard. Ethicon is a subsidiary of Johnson & Johnson, Inc., one of the largest drug/medical companies in the world.
Keep in mind a few things. First, this is all speculation. A hernia mesh lawyer cannot accurately project the average settlement amounts in these lawsuits. We have had three trials, and we just bumped up our expected per-person payouts after the $4.8 million verdict in August 2022, albeit not by a large amount of money.
So these hernia mesh settlement numbers could swing both ways depending on how future trials go.  The Stinson trial coming up this month (October 2023 is the time of this writing) could push average payouts north with a big compensation award.
Do I Qualify for a Hernia Mesh Lawsuit?
Our law firm is accepting new hernia mesh cases from anyone who meets the following basic criteria:
You had a hernia repair surgery sometime in the last 15 years, AND a hernia mesh device was implanted.
You experienced complications or injuries related to hernia mesh implant device defects.
If you or a family member meet these criteria, CONTACT US.
How Long Will It Take to Get a Hernia Mesh Settlement?
No one knows how long until a hernia mesh lawsuit settlement. But with the trial coming up this year, the timeline seems to be shrinking, and a settlement could be on the horizon. Still, hernia mesh plaintiffs are hopeful for an offer of settlement compensation in 2023.
How Do I Know If My Hernia Mesh Has Failed?
When a hernia mesh implant fails, it can trigger several acute physical symptoms, including
abdominal bloating or discomfort
constipation or bowel blockage
fever
nausea and vomiting
hernia recurrence
pain and swelling.
In most cases, these physical symptoms will be severe enough that the patient will seek medical attention. This is usually when the failure of the hernia mesh implant is identified.
Which Hernia Mesh Cases Are Your Lawyers Handling?
Our hernia mesh lawyers are handling mesh lawsuits involving products:
J&J/Ethicon – Physiomesh
Atrium – C-QUR – C-QUR Mosaic – C-QUR Edge – C-QUR TacShield – C-QUR Lite Mesh V-Patch – C-QUR Mesh V-Patch
Covidien – Parietene – ALL Parietex – SurgiPro – Symbotex
Bard – All 3D Max – Bard Mesh – All Composix – Flat Mesh
Monofilament – All Kugel – Marlex
Keyhole – Perfix Plug – Sepramesh – Spermatex – Ventralex – Ventralex ST – Ventrio – Ventrio ST – Ventralight ST – Visilex
Ventralex Hernia Mesh Claims
The Ventralex is under particular focus because it is the mesh product used in the second hernia mesh MDL class action trial in January 2022. The Ventralex was designed for patients needing umbilical or small ventral hernia repairs.
The Ventralex has two sides—one polypropylene mesh and one permanently expanded polytetrafluoroethylene ("ePTFE"). (The polypropylene mesh side faces the abdominal wall, encouraging the tissue to grow into the mesh and thus supporting the hernia repair. The ePTFE side faces the intestines and is designed to minimize tissue attachment, such as adhesions, to the intestines and other viscera. The Ventralex also has a monofilament memory coil ring. It is made of polyethylene terephthalate ("PET"). The ring is designed to help the patch "pop open" and then "lay flat" against the abdominal wall after the Ventralex is folded and inserted through the incision site during surgical hernia repair.
The Ventralex was pushed to market through the controversial FDA 510(k) premarket notification process that allows a shortened approval process if a medical device is similar to a previously approved product.
What previous product did Bard use in the 510(k) process? The Composix Kugel. This is the same device that Bard paid settlement amounts totaling $184 million to resolve hernia mesh lawsuits claiming that the mesh product was defective.
Don't Use This Material
What's more is, as we said earlier, the Ventralex hernia patch is constructed of two materials: one layer is made of polypropylene (PPE) and the other of expanded polytetrafluoroethylene (ePTFE). The manufacturing of the PPE component starts with a resin that is transformed into yarn by a third-party, which is then woven into a mesh.
For the Ventralex's PPE layer, Bard utilized Profax 6523, a resin produced by LyondellBasell. Instead of purchasing the resin directly from its manufacturer, Bard acquired it through Red Oak Sales, a supplier who procured the yarn. On May 8, 2006, LyondellBasell issued a Material Safety Data Sheet (MSDS) for the resin with a warning, noting that the mentioned grades are not advised for use in pharmaceutical/medical applications involving contact with human internal body fluids or tissues, for any duration.
Bard kept using it.  What was it defense? It says there is no evidence it saw the MSDS.  But while that is not a defense anyway, there has been able evidence produced in discovery that evidence clearly shows that Bard knew that LyondellBasell believed the resin should not used in medical devices for humans. From a litigation standpoint, this means exposure to punitive damages.
Physiomesh Mesh Lawsuits
The Physiomesh is a hernia repair product with a unique multi-layer design incorporating five distinct layers. The defendants represented and promoted the multi-layer coating to prevent or minimize adhesion and inflammation and to facilitate the incorporation of the mesh into the body, but it did not.
Instead, the multi-layer coating prevented adequate incorporation of the mesh into the body and caused or contributed to an intense inflammatory and chronic foreign body response, resulting in an adverse tissue reaction, including migration and damage to surrounding tissue. When implanted, the Physiomesh design unnecessarily increases the risk of mesh deformation, adhesion, erosion, fistula formation, and other injuries.
The multi-layer coating of the Physiomesh is not biocompatible, which causes or contributes to complications such as delayed wound healing, inflammation, foreign body response, rejection, infection, and other complications. Plaintiff's lawsuits allege that the defendants knew or should have known of the lack of biocompatibility of the multi-layer coating of the Physiomesh before introducing it into the stream of commerce.
In May 2016, the defendants issued an "Urgent: Field Safety Notice" relating to the Physiomesh and sent such notification to hospitals and medical providers in various countries worldwide. However, in the United States, the defendants failed to issue a nationwide recall, opting instead to simply remove the product from the market and cease further sale within the United States.
Hernia Mesh Lawsuits Medical Studies
The key to success for victims in the hernia mesh litigation at the settlement table and trial is the strength of the scientific and medical literature that underscores the risk of mesh implants. These are some of the critical studies at issue in the litigation.
Get a Lawyer for Your Hernia Mesh Lawsuit
If you have a potential hernia mesh implant lawsuit and want to discuss the potential value of your claim, contact a hernia mesh attorney at Miller & Zois for a free consultation. Three things to know:
You pay nothing unless you get compensation.
You will not get a hard sell from us. Just information and help if you want it.
Our law firm has spent the last 20 years fighting exclusively for injury and wrongful death victims.
Call a hernia mesh lawyer today at 800-553-8082 or submit an online contact form.