Our lawyers are handling Tepezza lawsuits throughout the country.
Tepezza is a drug used to treat the symptoms of thyroid eye disease (TED). Soon after Tepezza was released on the market it was discovered that Tepezza can cause permanent hearing damage and/or tinnitus (ringing in the ears) in some patients. Patients who received Tepezza and suffered hearing damage are now filing Tepezza lawsuits.
If you received Tepezza infusions and subsequently suffered a loss of hearing or other hearing issues, you may be able to file a product liability lawsuit and get financial compensation by a settlement or jury payout.  Our attorneys are currently seeking Tepezza hearing damage cases in all 50 states. Contact us today at 800-553-8082 or reach out to us online.
Tepazza Lawsuit Update
February 16, 2023: Nine Tepezza product liability lawsuits alleging that the drug caused hearing damage have been filed in federal courts since the start of 2023.
One of the most recently filed Tepezza cases is Diaz v. Horizon Therapeutics USA Inc. (1:23-cv-00896), which was filed on February 14, 2023, in the Northern District of Illinois. The plaintiff, Norma Diaz, is a resident of California who suffered from thyroid eye disease and Grave's disease. Diaz received a series of Tepezza infusions between November 2021 and April 2022. Diaz experienced a severe adverse reaction to the Tepezza infusions which caused permanent hearing loss and tinnitus.
The Complaint underscores that Horizon was fully aware of that Tepezza was causing hearing loss. In fact, the Complaint devotes ten pages to listing every single adverse event report to the FDA involving Tepezza and hearing lost. The Complaint asserts 4 separate causes of action, with the primary theory of liability being failure to warn.
February 14, 2023: Horizon Therapeutics is moving to dismiss the Tepezza hearing loss lawsuits filed against it based on the federal preemption doctrine. In a motion to dismiss filed last week in one of the pending Tepezza lawsuits, Horizon argued that the plaintiff's product liability claims are preempted by federal law because the contents of the warning label for Tepezza were regulated by the FDA. We see similar preemption motions in nearly all product liability mass torts involving failure to warn claims and the argument is rarely successful.
January 19, 2023: A group of Tepezza plaintiffs have filed a motion seeking consolidation of ten Tepezza hearing loss lawsuits pending in the Northern District of Illinois.
So we now have a Tepezza class action lawsuit?  Yes and no.  If granted, the motion would result in sort of a mini-MDL within the district in which the cases proceed before a single judge and discovery is consolidated.
Horizon filed a response last week stating that it is opposed to the consolidation request on the grounds that the cases involve substantially different facts. There are a handful of Tepezza cases pending in other federal districts.
January 18, 2023: Lawyers began looking to file Tepezza hearing loss lawsuits in earnest about four months ago.  What have we learned?
We have learned that there are not many Tepezza lawsuits out there.  We have a strong position in developing these cases and we have not had even 100 potential leads. No lawyer we have spoken to has a significant volume of Tepezza lawsuits to file.  This tells us the Tepezza litigation will be small.
But those same lawyers we have talked to universally agree these are strong claims that will have a high settlement value.  Smaller litigation is bad for lawyers but good for victims.  Horizon or Amgen will be able to pay the high settlement amounts a Tepezza claim should garner without
January 17, 2023:  Many victims are interested in knowing what a Tepazza settlement might look like.  We have written a new page projecting Tepazza settlement amounts we anticipate at the conclusion of this litigation.
January 9, 2023: Last month, biopharmaceutical giant Amgen announced a deal to acquire Horizon Therapeutics for $116.50 per share. One of the main goals of the acquisition was to increase Amgen's rare disease drug portfolio, which includes Tepezza.
Now, however, Amgen investors have filed suit seeking to block the acquisition due to concerns about the Tepezza litigation liabilities.
From a plaintiff's perspective, the Amgen acquisition would be a good thing because it would mean more resources available to make fair settlement payouts to victims.
Brief History of Tepezza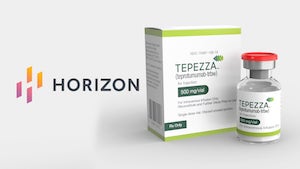 Tepezza (teprotumumab) is a new prescription drug that is used for the treatment of thyroid eye disease (TED) and a condition known as Graves' eye disease. TED is a condition in which the eye muscles, eyelids, tear glands and fatty tissue behind the eyes become inflamed. The inflammation is triggered by an abnormal autoimmune response and it can cause the eyes to swell and obstruct vision.
Tepezza was developed by Horizon Therapeutics and it is still under its original patent protection. Tepezza was formally approved by the Food and Drug Administration (FDA) in January 2020. It was the first medication approved for the treatment of thyroid eye disease. Tepezza blocks a specific protein that is believed to be responsible for the development of TED. Tepezza is administered by injection about every 3 weeks for around 5 months.
Horizon obtained FDA approval for Tepezza based on very limited testing and without determining the exact mechanism of action of the drug. The clinical trial which Horizon used for the FDA approval of Tepezza included less than 100 patients.
Study Links Tepezza to Serious Hearing Loss
During the FDA review and approval process for Tepezza, Horizon acknowledged that the drug presented some risk of hearing damage as a potential side effect. However, Horizon represented to the FDA that the hearing loss was "temporary and generally of limited duration," and claimed that this side effect occurred in less than 10% of patients.   But adverse event reports, the medical literature, and even Horizon's post-marketing studies suggested that Tepezza causes permanent hearing loss.
Soon after Tepezza was released on the U.S. market, reports of serious hearing damage from patients and doctors began coming in. In early 2021, the results of new research studies on Tepezza showed that not only did Horizon grossly understated the risk of hearing damage associated with Tepezza, it also undersold how serious that hearing damage could be.
In March 2021 the results of a major study were published in the Endocrine Society journal which found that 65% of patients who received Tepezza reported some level of hearing damage or ringing in the ears. This is over 6 times higher than the estimated risk of hearing loss disclosed by Horizon during the FDA approval process. Additional case reports about the risk of hearing loss associated with Tepezza followed.
Summary of Studies on Tepezza and Hearing Loss
Hearing Loss and Teprotumumab ,Journal of the Endocrine Society, Volume 5 Issue 1 – April-May 2021

This study was done to evaluate the incidence rate of hearing loss related to Tepezza. 46% of the study participants experienced hearing loss symptoms and sensorineural hearing loss. This was more than 4 times the incident rate reported by Horizon Therapeutics during clinical trials. The study concluded that hearing loss caused by Tepezza is a serious concern that providers should take into consideration before prescribing.

Hearing Dysfunction After Treatment With Teprotumumab for Thyroid Eye Disease, American Journal of Ophthalmology, Volume 240, August 2022
Study examined outcomes of 27 individuals who experienced hearing loss or tinnitus after received Tepezza. The study found that 45% of the participants who reported hearing loss after the infusions had no resolution or improvement 39 weeks later. The study concluded that hearing loss was a concerning side effect of the drug and further study was warranted.

Sensorineural Hearing Loss After Teprotumumab Therapy for Thyroid Eye Disease: A Case Report., Otology & Neurotology, Volume 43(2), February 2022

Case study report of a 77-year-old female who reported suffering hearing loss after Tepezza infusions. Hearing testing showed moderate to moderate-severe loss of hearing with word recognition scores of 64% in the right ear and 68% in the left ear. The authors strongly encouraged audiometric monitoring for patients undergoing treatment with Tepezza.

Teprotumumab and Hearing Loss: Case Series and Proposal for Audiologic Monitoring.

Ophthalmic Plastic and Reconstructive Surgery, Volume 38(1), January/February 2022

Study reported that Tepezza "may cause a spectrum of potentially irreversible hearing loss ranging from mild to severe, likely resulting from the inhibition of the insulin-like growth factor-1 and the insulin-like growth factor-1 receptor pathway." The authors recommended further investigations and studies on the connection between hearing loss and Tepezza.
Horizon's Failure to Warn About Tepezza and Hearing Loss
Horizon acknowledged to a limited extent in its warnings that hearing damage was a potential side effect of Tepezza infusions. However, the warning was grossly inadequate because it understated the level of risk and did not advise doctors (or patients) about the risk of permanent hearing damage or the need for monitoring. Horizon knew or should have reasonably known about this potential risk associated with Tepezza and warned doctors and patients accordingly.
Tepezza Hearing Loss Lawsuits
In summer 2022, patients who received Tepezza and subsequently suffered hearing damage or tinnitus began filing product liability lawsuits against Horizon. The Tepezza lawsuits allege that Horizon negligently failed to properly warn doctors and patients about the true level of hearing loss risk presented by Tepezza.
At least two Tepezza hearing damage lawsuits have been filed against Horizon in federal court so far. The cases were filed in August and September in the Northern District of Illinois which is where Horizon has its corporate headquarters.
The plaintiffs in these Tepezza lawsuits claim that suffered hearing damage as a result of receiving Tepezza infusions for the treatment of their TED. The lawsuits claim that the lack of an adequate warning about the risk of hearing damage from Tepezza left the plaintiffs and their doctors unaware of the potential harm that could be caused by the drug. The lawsuits bring claims based on negligent failure to warn and defective design.
Many more Tepezza hearing loss lawsuits are expected to be filed as more Tepezza patients suffer damage to their hearing. At this point, the Tepezza lawsuits have not been consolidated into a class action MDL. But if many more Tepezza lawsuits  get filed that could happen in the future (or some modified version of a class action lawsuit as we are now seeing in Illinois in January 2023).
So far, Horizon's defense strategy to every Tepezza lawsuit has been to seek dismissal because the plaintiffs' state law tort claims are preempted by federal law. The argument (which we see all the time in pharmaceutical tort cases) is that the warning labels on Tepezza are governed by federal law and regulations which preempt the state law tort claims.
Estimated Settlement Payout Value of Tepezza Hearing Lawsuits
There is no way of knowing for certain how much Tepezza hearing damage lawsuits could potentially be worth in settlement or at trial. The first Tepezza cases have only recently been filed and there are too many variables at this stage to know for certain whether these cases will be viable or not. The best we can do is provide a reasonable estimate of what a successful Tepezza hearing loss lawsuit could be worth in a settlement.
Our attorneys predict that Tepezza hearing loss cases with favorable facts may have a payout value at settlement of $140,000 to $250,000. The precise value of a specific case will depend on various factors, including the age of the plaintiff and whether they had any preexisting hearing issues. Cases involving a major, permanent hearing loss in relatively young plaintiffs could be worth much more.
Contact Us About a Tepezza Hearing Damage Lawsuit
Our firm is currently seeking Tepezza hearing damage lawsuits across the country. If you took Tepezza for treatment of TED and you subsequently suffered hearing damage, hearing loss, or permanent ringing in the ears (tinnitus) contact our office today for a free consultation at 800-553-8082 or contact our team online.  We want to help you.