Thousands of veterans and current military service members may be entitled to receive financial compensation in the 3M earplug lawsuit for hearing loss and tinnitus caused by defective earplugs.
Our lawyers are handling 3M earplug lawsuits in all 50 states. If you have a potential claim, do not delay. Call us at 800-553-8082 or get a free online consultation. 
Before we get to the meat of the 3M Combat Arms earplug lawsuits, our attorneys update you with the latest news in the 3M earplug litigation.
---
3M EARPLUG LAWSUIT UPDATES:
January 21, 2023 Update:  Mediators Christopher Sontchi and Randi Ellis updated the bankruptcy court in Indiana that they will have a settlement mediation in "early February."
This is after Judge Rodgers told us earlier in the week that there was a settlement impasse because 3M sought to resolve earplug lawsuits through the bankruptcy proceedings in Indiana, and the  plaintiffs' lawyers reject a "bankruptcy-only resolution." But the mediators report that they "respectfully disagree with the characterization of certain of the facts that underlie" Judge Rodgers' conclusion. You would not think these mediators – one who was also a mediator in the 3M MDL – would contradict a federal judge unless they had hoped a settlement was on the horizon.
What in the world is going on here?  3M has been saying all along that these claims should be resolved in bankruptcy court.  Plaintiffs have been saying all along they want a fair settlement.
Veterans are more than happy to settle these lawsuits in bankruptcy court, kangaroo court, or anywhere they can get reasonable compensation payouts for their injuries.  So a settlement in bankruptcy court might be the face-saving venue 3M needs.
January 20, 2023 Update:  MDL Judge M. Casey Rodgers issued an Order formally terminating the court-sponsored settlement mediation.
In her Order, Judge Rodgers explains that after years of efforts to mediate a settlement, 3M has recently advised the court that it is determined to force the claims to be settled in the Aearo bankruptcy and, therefore, "it has no desire to reach a global resolution in the MDL."  Talks are ongoing in the bankruptcy court.
So 3M is putting all of its eggs in the basket of a successful bankruptcy appeal and winning the successor liability appeal of the sanctions imposed by Judge Rodgers.  3M put all of its hopes in a contrived bankruptcy scheme that two federal judges have already rejected.  But this is the depressing part of the judge's order:
"Hopefully as the MDL, the bankruptcy, and the various appeals proceed, all of which undoubtedly will take years to run their course, the intransigence on both sides will give way to a genuine commitment to negotiate reasonably and meaningful compromises on both sides so that a just and mutually acceptable resolution of these matters may be achieved."
"Years to run their course" is a hard pill to swallow.  Hopefully that is not where we are.
January 8, 2023 Update:  In a brief supporting 3M's bankruptcy appeal, the Chamber of Commerce argues that allowing a Chapter 11 bankruptcy for Aearo to extend to 3M would provide the best mechanism for "determining the legitimacy of claims through claims estimation processes."
The only flaw in this method of settlement payout evaluation, the brief later contends, is that disposing of these cases through bankruptcy will make it easier for injured veterans to recover money for low-value claims – presumably tinnitus which 3m has never taken seriously – that "are difficult to prove in court."
Wait what? Does that mean the cases that deserve higher settlement compensation will get less?  They would not argue that. So they must be contending that they believe 3M will pay more through the bankruptcy process but it is necessary because it is more fair.  Really? Because bankruptcy is a more equitable system for valuing claims for settlement than the civil justice system we have had for hundreds of years in this country?
January 7, 2023 Update: 3M reports that it has spent $450 million in attorneys' fees defending the 3M earplug lawsuit.
Here is the money quote, quoting University of Richmond law professor Carl Tobias:
"$466 million is a lot of money to spend on lawyers and defense costs, not to mention the reputation harm they're doing to themselves with all these trial losses."
January 6, 2023 Update: This litigation is in limbo. But new lawsuits are not.  Twelve new 3M lawsuits were filed today; 30 were filed yesterday.
December 25, 2022 Update:  Just one more comment on Judge Rodgers' ruling this week.  The one thing that always stood out as the most hypocritical part of the bankruptcy effort was 3M's effort to reduce the punitive damage award in Wayman because there were not six defendants but just one because 3M "owns and controls 100% of the other five named defendants."
The hypocrisy is apparent but this affliction is seen with lawyers on our side of the aisle too, to be honest.  But what is striking is that 3M had the audacity to make this argument after the bankruptcy scheme was first concocted in the early spring of 2022.  You wonder how that could happen.
As we lean into 2023, 3M needs more cards to play in this litigation.
December 23, 2022 Update:  MDL Judge Casey Rodgers brought down a mighty hammer on 3M yesterday afternoon. Rogers issued an Order (3M Sanctions Order) imposing unprecedented sanctions on 3M for what she described as a "brazen abuse of the litigation process." The sanction expressly prohibits 3M from attempting to avoid any liability for the earplug claims by shifting blame to its Aearo Technologies subsidiary (which is now in bankruptcy). In other words, 3M has been barred from pursuing its strategy to force the earplug claims into bankruptcy. In her 22-page opinion, Judge Rogers explains how 3M actively litigated the earplug cases for 4 years during which it held itself out as the sole responsible party and never asserted that Aearo was the responsible party:
Scorched earth battle was waged against every theory of liability alleged in this litigation. Yet, there was nary a whisper that Aearo, and not 3M, was the only proper target, or even a target.  
Judge Rodgers points out that 3M had many opportunities over the last 4-years to assert the Aearo successor liability argument, but chose not to. Only after 3M was unhappy with the results of the bellwether trials that it shifted its strategy. The Order concludes by imposing full liability for the earplug claims on 3M and barring it from attempting to shift liability to Aearo. This ruling theoretically renders the Aearo bankruptcy appeal to the 3rd Circuit moot, as the MDL plaintiffs are now free to go after 3M separately. The only problem is that 3M will be able to file an immediate appeal of this ruling (which it certainly will), and the MDL cases will be stayed pending the outcome of that appeal.
December 17, 2022 Update:  3M filed its appellate brief in the 3rd Circuit asking the court to overrule Judge Graham's order that 3M cannot piggyback off of Aearo and stay earplug lawsuits again it.
The response broke no new ground.  The only thing of note to us is that it was less vitriolic against the judges who dared to rule against 3M than we have seen in previous motions.
December 1, 2022 Update: Ever since 3M had its subsidiary, Aearo Technologies, file bankruptcy, the proceedings in the 3M earplugs class action MDL have been frozen by an automatic stay.
Recently, however, a group of earplug plaintiffs filed a motion seeking to partially lift that stay with respect to all cases alleging injuries occurring after 3M acquired Aearo in 2008. The motion argues that the stay should not apply to these suits because they do not involve claims of direct liability against Aearo.
November 14, 2022 Update: The judge in the bankruptcy filed by 3M subsidiary Aero Technologies has ruled that 3M's law firm, Kirkland & Ellis, can continue to represent Aero in the bankruptcy. K&E has been the primary defense firm in the earplug MDL. This prompted lawyers for the MDL plaintiffs to argue that K&E could not simultaneously represent Aearo in its bankruptcy because it presented a conflict of interest. The bankruptcy judge was not persuaded. But he noted that a conflict could arise in the future and that K&E was "navigating a minefield."
November 1, 2022 Update: Judge Rodgers said last week that monthly settlement talks must resume. She also said she would allow an immediate appeal of her successor liability ruling, a strong signal she may rule for the plaintiffs. This is good. This ruling could knock the bankruptcy issue out of play. This will box 3M in a corner.
But she will allow an immediate appeal of her ruling. This is bad. Allowing an appeal will hold up new trials. Settlement talks without imminent trial dates will be spinning wheels with 3M.
October 25, 2022 Update: 3M asked Judge Rodgers permission to file another motion on the successor liability motion for summary judgment plaintiffs' lawyers filed in the Wave 1 cases. See October 11, 2022 update below. Yesterday, Judge Rodgers refused to grant 3M permission to file a sur-reply.
October 24, 2022 Update: 3M wants to pretend that Aearo is a separate company from 3M. But it can't muster the energy even to pretend. Aearo wanted to hire Kirkland & Ellis as bankruptcy counsel. But that same law firm represents 3M – an apparent conflict. So the U.S Trustee, the DOJ's bankruptcy watchdog, was forced to intervene. It asked the U.S. Bankruptcy Court for the Southern District of Indiana to deny Aearo's choice of Kirkland as its bankruptcy lawyers.
October 23, 2022 Update: 3M got some excellent news this week, albeit soft good news. In addition to agreeing to hear the 3M bankruptcy appeal on an expedited basis, the 11th Circuit also granted 3M's request to stay an order by earplug MDL Judge Casey Rodgers, which blocked 3M from challenging her MDL rulings in the Aero bankruptcy proceeding.
The request was granted partly because plaintiffs in 3M earplug cases pending in Minnesota state court were attempting to use the ruling by Judge Rodgers as a shield in their cases. 3M will now be free to argue issues in the Aero bankruptcy that have already been ruled on in the MDL. However, none of these issues will matter if the 11th Circuit rejects 3M's appeal of the bankruptcy court ruling.
October 14, 2022 Update: The U.S. Court of Appeals for the 7th Circuit has agreed to an expedited review of 3M's appeal of the bankruptcy court decision that effectively blocked 3M from pulling the 230,000 earplug lawsuits into bankruptcy.
A 3-judge panel from the 7th Circuit found that an expedited appeal was appropriate because the decision will impact many people and establish a significant precedent.
3M is most likely going to lose this appeal, and the sooner that happens, the sooner meaningful progress on a global settlement can occur. This ruling means that this appeal could be decided in a few months instead of taking over a year.
October 11, 2022 Update: The plaintiffs in the 3M earplugs MDL filed a motion seeking summary judgment on the issue of whether 3M is fully and independently liable for all injuries related to the earplugs.
The motion is an effort to block any remaining hope 3M may have of forcing the litigation into bankruptcy via its Aearo subsidiary.
This is the second time the earplug plaintiffs have asked the MDL Judge for a ruling that would preempt 3M's bankruptcy strategy. Judge Rodgers denied the previous motion because it was premature.
However, the most recent summary judgment motion has a much better chance of success. Meanwhile, 3M's appeal of the bankruptcy court ruling rejecting its strategy is on appeal to the 7th Circuit.
October 4, 2022 Update: Judge Rodgers pushed back the David George trial set for October 24, 2022, to February 13, 2023, in an order signed yesterday. The reason for the delay is not related to the litigation. This trial date was putting pressure on 3M to make a reasonable settlement offer and the delay will take away some of that exigency.
October 6, 2022 Update: 3M canceled the settlement talks set for October 6, 2022.
October 3, 2022 Update: 3M spokesman Sean Lynch: 3M hopes that the "parties and their attorneys will come together to negotiate a prompt resolution to this matter so that those veterans with eligible claims can be compensated sooner."
Veterans agree. It is just a question of how much money 3M will pay to settle these claims.
September 20, 2022 Update: The settlement news yesterday was good. But just before those settlement talks, 3M executives were making statements to investors and financial analysts indicating that they are still clinging to the belief that they can settle the litigation in the bankruptcy court.
Kevin Rhodes, 3M's Chief Legal Affairs Officer, gave a somewhat delusional presentation at the Conference last Wednesday on the status of the earplug lawsuits. The transcript – passed on to us by a veteran represented by another law firm – is depressing.
Rhodes casually brushed off the ruling by the Bankruptcy Court denying, which rejected 3M's bankruptcy strategy. Rhodes labeled the decision as "wrong" and noted that 3M's appeal has been sent directly to the 7th Circuit. Not mentioned: it has little chance of success.
Rhodes claimed that the proposed bankruptcy trust fund of $1 billion is a fair valuation for all earplugs claims. He also has a funny bit where he complains – forgetting for a moment that we are in America – that jury trials are not the appropriate way to handle this litigation. The unspoken part of most of 3M's arguments is that they have hurt so many people they should be given special treatment. 3M also complains that everyone is getting it wrong – multiple judges, juries, and financial analysts. Don't you have to look in the mirror at some point?
September 19, 2022 Update: There was no settlement from the settlement talks last week. Still, Judge Rodges deemed the mediation "worthwhile and productive…" The court-appointed mediator is scheduling another mediation session within the next 14 days. A confidentiality agreement concerning the details of the discussion binds the lawyers.
September 15, 2022 Update: The two-day settlement talks begin today. 3M has a choice. Settle these cases or start the next wave of trials next month – beginning with David George's trial – that could lead down a path where 3M has to declare a very different kind of bankruptcy this time.
September 6, 2022: Just days after the Bankruptcy Court denied 3M's motion to extend the automatic stay and effectively halt the 3M earplugs litigation, MDL Judge Casey Rodgers responded by issuing a new Order on Tuesday requiring 3M to take part in another settlement mediation. Judge Rodgers forced 3M to participate in a settlement mediation just over a month ago, and she was less than thrilled when 3M launched its bankruptcy strategy immediately after the mediation concluded.
Now that the bankruptcy play has failed, Judge Rodgers is pushing both sides to go back to the settlement table again. Plaintiffs have always wanted to settle these lawsuits. Now 3M might have a greater interest. Following the bankruptcy ruling, 3M is facing enormous external pressure from investors and financial analysts who tell them they have no choice but to capitulate by dropping all of the legal gamesmanship and offer reasonable settlement amounts to veterans who have suffered from these defective earplugs.
September 1, 2022: 3M noted its appeal of the bankruptcy ruling on Monday. Procedurally, 3M's appeal will either go to the U.S. District Court for Indiana or the Bankruptcy Appellate Panel. I do not think even 3M's lawyers believe it has much chance of success.
August 29, 2022: This Fortune article has a quote that is on point: "Like most things that sound too good to be true, [the bankruptcy option] was. Now it may be time for Plan B: a comprehensive, and still costly, settlement process for US soldiers who claim hearing damage."
August 27, 2022: We have a ruling. 3M loses. Again. The bankruptcy effort failed. Justice triumphs (this time). Judge Graham ruled that Aearo's bankruptcy should have no ruling on the earplug lawsuits pending against 3M.
Oh, and 3M stock is down 10% on the news, its worst day in three years. Corporations taking responsibility is a profitable path. But it is the road less taken in 2022.
Now is the moment for 3M to step up and offer veterans reasonable 3M earplug settlement amounts. 3M is a historically significant company, a piece of America. This litigation threatens to tarnish their legacy forever. Now is the time to do the right thing.
August 1, 2022: The automatic stay granted to 3M's subsidiary, Aearo Technologies, does not apply to 3M. This means that the proceedings in the earplug lawsuits can technically continue against 3M.
But, of course, 3M has already asked the bankruptcy judge to extend the automatic stay to protect 3M and Aearo. Because that was the point of this whole scheme to hide from juries behind the Bankruptcy Code.
July 30, 2022: In a recently filed brief, 3M argued that its new bankruptcy strategy was necessary and justified because it claims that the earplugs MDL proceeding is "broken beyond repair." 3M argued that the earplugs MDL is overrun with bogus claims by plaintiffs who are not being vetted and dismissed from the case.
The judge in the earplugs MDL, Casey Rodgers, harshly rebuked 3M and its lawyers at a hearing on Wednesday. Judge Rodgers stated that a "perfectly solvent defendant" such as 3M should not be entitled to bankruptcy protection simply because the MDL is not going the way it wants.
Rodgers dismissed 3M's claim that bogus plaintiffs are not being vetted, pointing out that 80,000 claimants have already been dismissed. Judge Rodgers concluded by announcing that she will be issuing a show cause order and holding a hearing to determine whether 3M acted in bad faith by filing bankruptcy immediately after participating in a settlement mediation.
July 26, 2022: 3M announced today that it will seek to resolve the earplug claims in bankruptcy. 3M's subsidiary, Aearo Technologies (which made the earplugs at the center of the litigation) filed a voluntary chapter 11 bankruptcy today and will seek to create a trust fund for settlement of the thousands of pending earplug claims.
If 3M is allowed to move forward with the bankruptcy, the current earplug lawsuits will be automatically stayed and the current plaintiffs will become "creditors." The bankruptcy court will appoint a plaintiffs' lawyer committee to negotiate with 3M on a global settlement of all claims.
So what exactly will this mean for 3M earplug plaintiffs? Ultimately, the earplug plaintiffs will get a global settlement one way or the other. The problem with bankruptcy, however, is that it will slow down the settlement process, and the amount of the settlement payouts will probably be lower. Currently, 3M is facing enormous pressure from the possibility of hundreds of trials next year.
The bankruptcy stay will immediately relieve that pressure and give 3M more leverage in the negotiations. 3M has already set aside $1.2 billion to fund the proposed bankruptcy trust for the settlement of the earplug claims. This insultingly low amount would net each plaintiff a mere $5,000.
July 25, 2022: The week after the mandatory settlement mediation ordered by MDL Judge Casey Rodgers, the parties filed motions to gear up for the next massive wave of trials. Lead counsel for the plaintiffs filed a major motion seeking to exclude or limit 3M's expert testimony and opinions going into Wave 3 of the earplug cases, which could involve thousands of plaintiffs going to trial in large blocks starting next year.
So when will the 3M earplug lawsuit settle? That is the question many veterans have asked our lawyers in the last week. The 3M earplug lawsuit will settle when 3M finally realizes that it cannot keep deferring the resolution of this litigation.
We do not think the stock market – still! – has not baked the cost of a 3M earplug settlement into 3M's stock price. Our thinking, and it is just our lawyers' speculation, is that 3M executives want to keep delaying taking that hit in the stock price and the pain that will come with that. So they keep kicking the can down the road while hoping for a miracle from the 11th Circuit.
July 18, 2022: There was no 3M earplug settlement from the mediation this weekend. We still believe the majority of these lawsuits will settle in 2022. But a settlement of this magnitude will be a complex endeavor.
July 15, 2022: The 3M earplug settlement talks began today and will go through the weekend in Florida. Just how likely is a 3M earplug settlement?
Progress toward an earplug settlement is probably likely. But a global 3M earplug settlement after three days of negotiations seems unlikely. Earplug victims are frustrated with the pace of settlement. Understandably. And a global 3M earplug settlement is not out of reach. But it is just not likely this weekend.
July 13, 2022: 3M filed a brief asking the court to extinguish judgments in the nine cases they lost. Why 3M's lawyers bother with this motion is anyone's guess. Judge Rodgers stuck the motion as improper, chastising 3M that the court docket is not a repository "for lawyers to preview future litigation strategies."
July 11, 2022: The one thing we do not want to do in a 3M earplug settlement is minimize the differences between the strength of the claims in the final settlement amounts. The fear of this kind of damage averaging is larger claims will get settlement offers that undervalue their claims.
This creates a problem not only for those more seriously injured but also for 3M. Why? If the best cases do not receive settlement offers commensurate with the harm done to them, those plaintiffs will just reject the settlement amounts offered and opt to go to trial.
The point of all of this is that lawyers have to measure twice and cut once before any 3M earplug settlement.
July 8, 2022: 3M wants to weed out every 3M earplug lawsuit that is not a viable claim. Judge Rodgers is helping their efforts. Judge Rodgers granted a defense motion requiring plaintiffs who have not complied with court orders to produce basic information to show cause why their case should not be dismissed.
This sounds like a bad thing. It is not. If you have a solid claim, you support this, too. We want to eliminate the claims that are not meritorious because that will facilitate a 3M earplug settlement that makes sense for all parties.
July 5, 2022: Settlement talks are now just ten days away. Our 3M earplug lawyers have not used these updates as a "call us" plug. But if there is a settlement, it will be tough to find a lawyer after a settlement is reached. So if you are sitting on the sidelines and have not brought a 3M earplug lawsuit but are considering it, now is the time to act. There are few of you out there who have yet to bring a lawsuit. But if you have yet to speak to a lawyer about your case, now is the time. You can call us at 800-553-8082 or reach out online for a free consultation.
June 29, 2022: Plaintiffs Luke Estes, Lewis Keefer, Stephen Hacker, and Lloyd Baker filed their response to 3M's 11th Circuit appeal this week. The battleground is the government contractor defense our earplug lawyers talked about from Day 1 of this litigation. Plaintiff's lawyers contend in this brief and throughout this litigation that 3M is not a government contractor entitled to protection under the Feres Doctrine. This is because 3M did not give precise specifications or even have a real contract with the military to provide these earplugs. Our lawyers believe 3M has a minimal chance of winning this appeal. Hopefully, 3M will offer reasonable settlement amounts to these plaintiffs and thousands next month before a ruling is needed.
June 28, 2022: On Sunday, the Wall Street Journal released a story entitled 3M Faces Billions in Liabilities Over $7.63 Earplugs. The WSJ article briefly explains the massive size of the 3M earplug lawsuit and how it could cost 3M billions. The article was prompted by news of the recent mandatory settlement mediation ordered by the MDL class action judge.
June 17, 2022: Judge Rodgers ordered in-person settlement negotiations on July 15, 2022. These settlement discussions must last at least three days. Judge Rodgers issued the order to force 3M lawyers on both sides to "engage in serious and good-faith efforts to resolve as many cases as possible."
To help push the settlement negotiations, Judge Rodgers appointed Randi S. Ellis as the special master for the mediation. Retired judge Mark Falk and veteran settlement negotiator Ellen Reisman will assist Ms. Ellis.
When will the 3M earplug lawsuit settle? These court-ordered settlement talks are the brightest glimmer of hope we have had for veterans to get reasonable settlement amounts in the foreseeable future.
May 20, 2022: $77.5 Million Verdict! The final 3M earplug bellwether trial concluded this afternoon and the result was the most significant amount awarded to a single plaintiff. After a 2-week trial, the federal jury in Pensacola awarded Army veteran James Beal a total of $77.5 million in damages for his claims that 3M's defective earplugs caused hearing loss and tinnitus. This award brings the total amount of damages in the bellwether trials to $300 million.
May 19, 2022: Day 8 of the trial featured live testimony from 3M expert witness Dr. John Casali from Virginia Tech University. Casali is 3M's go-to expert, a foremost authority in audiology, acoustics, and hearing protection. 3M has used him as an expert in all bellwether trials. In addition to Casali's testimony, 3M's lawyers presented the jury with clips of video deposition testimony from several witnesses, including the plaintiff's wife.
May 18, 2022: On Day 7 of the trial, 3M's defense team presented testimony from Eric Fallon and Dr. James Crawford. Fallon holds a doctorate in audiology and works for 3M as a Technical Senior Service Specialist. Dr. Crawford is an ENT doctor specializing in hearing protection. Both Fallon and Crawford also spent over 20 years in the Army.
May 17, 2022: Let's get you up to speed on what is happening in the Beal trial. The first two days of the trial featured nearly eight hours of testimony from the plaintiffs' leading expert witness, bioacoustics engineer Richard McKinley. McKinley has been a prominent witness in all of the previous bellwether trials.
On Day 3 of the trial, the plaintiffs presented testimony from Elliott Berger. Berger, as every reader of these updates knows, is a former 3M audiology scientist and head of the 3M Personal Safety Division. Berger was one of the people directly involved in the original design and testing of the 3M earplugs at issue in the lawsuits and he has been a critical witness in all of the cases.
On Day 4 of the trial, the plaintiff James Beal took the stand in the morning. Beal's testimony was followed in the afternoon by the plaintiff's expert Dr. Christopher Spankovich, a clinical audiologist at the University of Mississippi Medical Center.
On the 5th day of trial, the plaintiffs presented testimony from another expert, Dr. Mark Packer. Dr. Packer is an Ear, Nose & Throat specialist at Mercy Hospital in St. Louis. Dr. Packer was a key witness in the Sloan/Wayman bellwether trial that resulted in a $110 million verdict against 3M.
Day 6 of the trial featured a series of short video deposition clips and testimony from the plaintiff's wife, Heather Beal, and several other fact witnesses, including friends or family members of Mr. Beal.
May 17, 2022: In March, bellwether plaintiff Ronald Sloan was awarded $55 million on his earplug lawsuits against 3M, which included $15 million in compensatory and $40 million in punitive damages. 3M has appealed and has not paid the verdict. Sloan filed a motion asking for prejudgment interest on the $15 million in compensatory damages. Judge Rodgers denied that motion. Why? Sloan's claims are governed by Kentucky law. Judge Rodgers ruled that KY law does not allow prejudgment interest on awards for "bodily harm."
May 16, 2022: Just as the first week of the Beal bellwether trial was wrapping up on Friday, the MDL Judge issued a show cause order threatening to hit 3M's defense lawyers with sanctions for "willful abuse of the trial process." Judge Rodgers has had a long history of frustration with 3M's defense counsel dating back over two years. This latest admonishment came after 3M's lawyers sought to defy long-standing procedural rules regarding deposition designations.
This morning, 3M's lawyers filed a response to the show cause order attempting to justify their position. This ongoing dispute between Judge Rodgers and 3M's defense attorneys won't impact the outcome of the Beal trial. But 3M's lawyers are frustrated. There is often turmoil on losing teams. But it seems unwise to go out of your way to create enmity with the judge and the judge trying the Beal case. (Even more bizarrely, the judge trying Beal is the Zantac MDL judge, and this same law firm is defending Zantac lawsuits). It is inexplicable and it is not advancing 3M's interests. It is also a distraction from the path to a fair settlement that is in everyone's interest. 3M should focus on settlement talks as opposed to this nonsense.
May 11, 2022: Over 20,000 3M earplug lawsuits were dismissed from the 3M earplug class action lawsuit this week after the plaintiffs failed to file the necessary paperwork required to keep their case active. The missing paperwork that prompted most dismissals was the plaintiff's military service record (DD214).
We never like to see plaintiffs have their cases dismissed. But this might get us closer to a global settlement of the earplug lawsuits. One of the main obstacles to a 3M earplug settlement is the massive number of plaintiffs (around 270,000). 3M is convinced that not all of these plaintiffs have valid claims. Our lawyers and many soldiers we have talked to agree with 3M on this point. Getting this class action down to the soldiers who were truly harmed will advance an earplug settlement.
May 9, 2022: The last 3M earplug bellwether trial begins today for Army veteran James Beal. The trial is scheduled to last two weeks and will be conducted before Judge Robin L. Rosenberg at the federal courthouse in Pensacola. The trial is already off to a good start. Last week, the MDL judge granted a summary judgment motion by Beal, which effectively blocks 3M from presenting nearly all of their affirmative defenses, including contributory negligence.
One encouraging thing our 3M earplug lawyers saw over the weekend was an article by NBC News on the 3M earplug lawsuit. Getting the 3M litigation into the mainstream media has oddly been a struggle given there are 300,000 soldiers bringing claims. This unwanted attention might help grease the wheels for settlement talks and a global compensation payout for victims.
May 4, 2022: Yesterday, the 3M earplug MDL judge issued a new Case Management Order (CMO # 44) ordering 20,197 earplug lawsuits in the MDL to be moved from the administrative docket onto the active docket.
This appears to be the first initial step toward Phase 2 of the earplug bellwether trials. The plan is for these 20,197 earplug lawsuits to go through pretrial discovery – a daunting process with such a massive group of plaintiffs. The claims would then be sent to their home federal court districts for trial. Each trial will involve large blocks of consolidated plaintiffs.
The logistics of actually taking these cases to trial are hard to imagine. It is easy to forget that a sample size of one for an MDL class action of this size. This is the largest MDL in history.
The earplug bellwether trials with one plaintiff have required two weeks each. A consolidated trial involving 20 or 40 plaintiffs could last for months and would place 3M at a significant disadvantage, battling against that many soldiers and their families in a courtroom.
May 3, 2022: The 16th and last MDL trial will start Monday, May 9, 2022, for James Beal's injury claim against 3M for its defective earplugs. After this trial, Judge Rodgers will send these lawsuits around the country to be tried in waves. This is not a good dynamic for 3M who would rather not battle a group of soldiers in the courtroom. At the same time, the plaintiffs' brief in response to 3M's appeal is due in the 11th Circuit early next month.
If you follow the history of mass tort settlements, there is no question that this moment seems opportune for a global settlement deal in the 3M litigation. But there are no guarantees.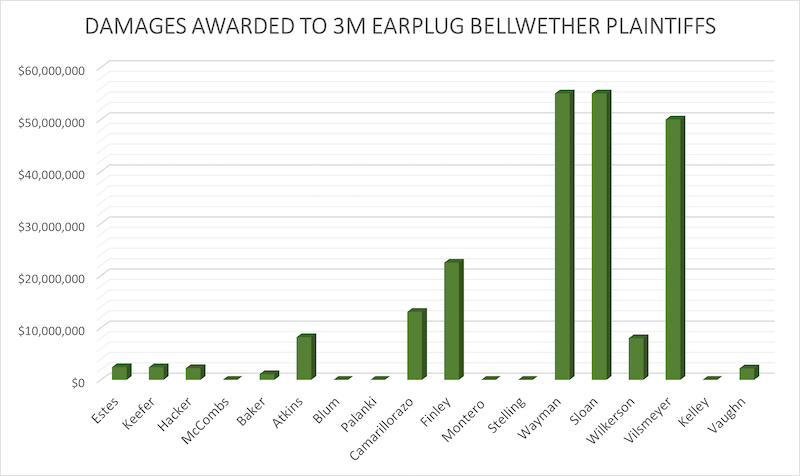 This will be the big test of 3M's government contractor defense. Our lawyers have always said 3M would be foolish to let the 11th Circuit rule on this before settling the lion's share of these lawsuits. Why? Because if it loses and the U.S. Supreme Court refuses to take the case, 3M will have fired the last arrow in its quiver. At that point, why not keep trying these cases when the average successful jury payout is around $20 million?
Failing to settle before that ruling would be an existential threat to 3M, a company founded 120 years ago. Hard to believe that would be a risk worth taking.
---
About the 3M Earplug Lawsuits
3M is the St. Paul-based manufacturer, and seller of an earplug called Combat Arms. These dark green and yellow earplugs were initially developed by Aearo Technologies, a company 3M bought in 2008. This makes 3M liable for conduct both before and after 2008.
Thousands of soldiers suffered complete or partial hearing loss and tinnitus because of faulty combat earplugs. Combat Arms Earplugs left veterans entirely unprotected from damaging high-level sounds. Our lawyers are handling these cases.
3M earplugs were standard-issue equipment intended to protect service members from hearing loss. 3M had an exclusive contract with the U.S. military via the U.S. Department of Defense. The company admitted, however, that the earplugs were defective and did nothing to protect soldiers from significant hearing loss, subjecting them to the risk of deafness.
Anyone who served in the military from 2003 to 2015 and suffered permanent hearing damage has a potential product liability lawsuit against the earplug manufacturer.
Where 3M Went Wrong with These Dual-Ended Earplugs
U.S. service members are often exposed to loud noises from aircraft, artillery, guns, and explosives. Without some ear protection, repeated exposure to these high-level noises will cause auditory ailments from internal damage to the eardrums.
The nonlinear dual-ended Combat Arms Earplug Version 2 ("CAEv2") was supposed to protect users by filtering peak-level noises. They were developed by Aearo Technologies, which eventually sold their company to 3M.
The design of these earplugs was a comedy of errors. One big problem was that they were too small for the Army's carrying case. They also made the fit of a soldier's helmet somewhat of a challenge.
So what did they do? They modified the design by shortening the earplugs. So now they fit. But the device did not go deeply into the ear. So the design flaw was that the earplug's stem needed longer for soldiers with large, or even average, ear canals.
3M Knew the Earplugs Were Defective
3M was aware that the dual-ended Combat Arms earplugs were a defective product but failed to disclose this to the military. Why? There were probably many reasons. But, usually, follow the money, right? These earplugs cost 85 cents to make. They were sold to the military for $7.63.
Most of those soldiers were not protected by the defective earplugs and suffered permanent hearing loss. These veterans can now sue 3M and demand financial compensation.
Many veterans who call us wonder if the 3M cases are legit or if this is some scam. We get it. There are no guarantees of success. But it is also true that there is no cost to bring a claim and no risk. It is all upside for you. And for the vast majority of plaintiffs, filing a claim requires minimal effort.
3M Earplugs Questions Our Lawyers Are Commonly Asked
3M Earplug Lawsuit How Much Money Will I Get?
Based on prior verdicts and settlements in cases involving hearing loss, we expect the trial value of 3M earplug cases to be somewhere between $25,000 and $300,000 per person (notwithstanding the over $2 million per person the plaintiffs received in the first hearing protection trials). The settlement payouts will likely be less.
Is this naked speculation? It is. No one knows, and the average value is impossible to estimate. Indeed, the expected average individual settlement amount is rising based on these three verdicts. If 3M foolishly continues to try these cases, the compensation payouts in this litigation will likely soar.
How much money veterans will ultimately be getting will depend on the severity of the hearing loss. Severe hearing damage lawsuits will be valued higher than tinnitus-only lawsuits.
How Do You Qualify For A Earplug Lawsuit?
Our law firm is reviewing claims that meet the following criteria:
You served in the military between 2003 to 2015
You wore military-issued earplugs during service
You were exposed to loud sounds during military service
You have been diagnosed with hearing loss/tinnitus
If you meet these criteria, you must contact our office to get your 3M earplug claim filed.
How Much Do You Pay A Lawyer For A 3M Lawsuit?
Most law firms, including ours, handle these cases on a contingency fee basis. So there is no upfront payment, fees, or expenses unless you recover money for your injuries.
How Much Longer Will 3M Earplug Lawsuit Take?
Our lawyers believe there could be a global settlement in 2023. Time will tell.
Has Anyone Received a Settlement In the 3M Earplug Lawsuit?
No. To date, no plaintiff has settled a 3M earplug lawsuit. Thousands of individual plaintiffs have filed claims against 3M in the defective earplugs lawsuits. As of January 2023, none of these claims have been settled.
But with these three trials completed, it is hard to say what will get 3M in more of a reasonable settlement posture. (It might just be hedge funds accessing the risk and shorting 3M stock on the litigation risk. At some point, someone will notice that the most significant mass tort in American history is averaging millions per verdict while 3M's stock price trudges along.)
Will Filing a 3M Earplug Lawsuit Affect My Disability?
Filing a lawsuit against 3M for hearing loss related to defective earplugs is unlikely to impact your eligibility for disability benefits. But this is something our lawyers will discuss with you.
What Is Going on Now With the 3M Earplug Lawsuit in January 2023?
Settlement talks are set for February 2023, as we explain in the January 20, 2023 update above.
Potential Settlement Value of 3M Combat Arms Lawsuits
Let's go back to the individual settlement value of these cases because all victims have a keen interest in claim value. Jury verdicts and reported settlement amounts in other tinnitus or hearing loss cases suggest an average individual settlement compensation from $50,000 to $300,000 in compensation.
Will this be the settlement value for the 3M lawsuits? The trial value could be in this range or even higher (much higher for the first three victims, as it turns out). The global settlement value – the resolution of almost all claims at one time – would likely be less because you rarely get trial value in a mass tort settlement.
The other factor is the sheer volume of these lawsuits. This 3M lawsuit is the largest mass tort in American history. 3M has maybe $35 billion in assets and is worth approximately $100 billion. Let's assume there are 200,000 legitimate cases, and the average settlement payout is $100,000 per person. That is $20 billion. So that is an issue that plaintiffs' lawyers have to deal with in these cases.
Little More 3M Litigation History to November 2022
Nearly four years ago, in January 2019, an earplug victim's attorney filed a motion asking the U.S. Judicial Panel on Multidistrict Litigation (JPML) to consolidate all defective earplug cases to a single federal court for coordinated pretrial proceedings.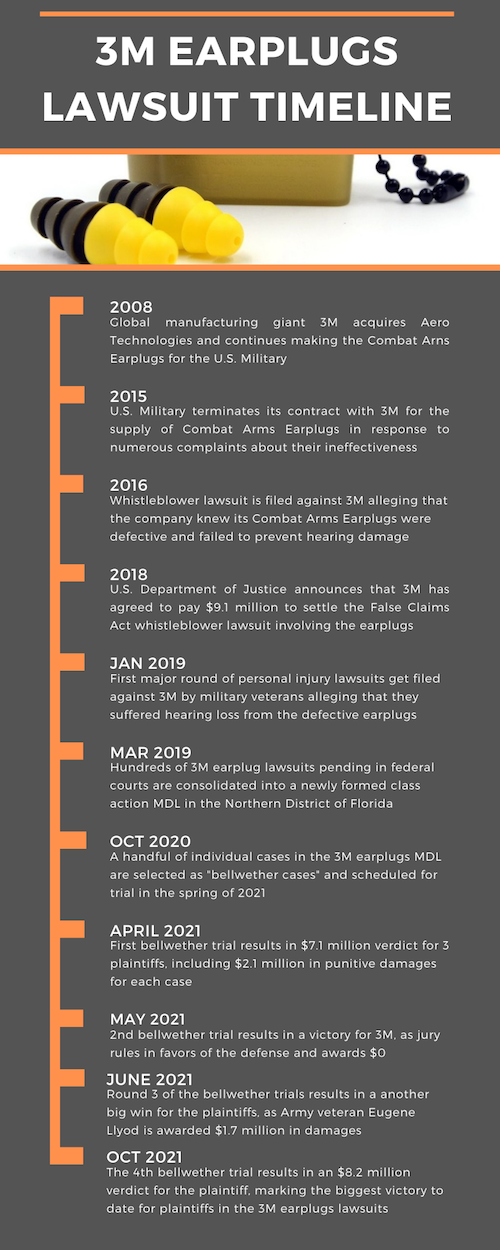 The cases were consolidated in the Northern District of Florida under Judge M. Casey Rodgers. This is called an MDL, which is like a class action lawsuit for pre-trial discovery purposes. This is the first step in the hopes of a favorable global military hearing protection settlement with 3M that would give most victims a reasonable amount of money without ever having to go to court.
What does it mean to you that the JPML consolidated all the federal earplug claims in Florida? It means that no matter where you are, your lawsuit will most likely be housed in Florida while these lawsuits proceed through the multidistrict litigation process.
All you need to do is provide a small bit of information. The hope is that 3M will come to its senses and offer settlement amounts that will encourage the victims to settle their cases out of court. But the per-person payouts must be high enough to entice victims to settle. We may know more after the October 2022 settlement talks.
3M's Defense
3M's big defense, that they seemed confident would succeed, to end these cases before they began was asserting that all claims are preempted by the "Feres" doctrine. Our lawyers looked at the applicable law and believed the plaintiffs would defeat this argument. We were right.
Using the Feres doctrine, the plan was to invoke the government contractor defense as a shield from state tort liability. This doctrine arose from the U.S. Supreme Court decision in Feres v. the United States. Specifically, the doctrine provides a guideline for when our servicemen and women may file a claim for personal injuries. The doctrine bars service members and civilian government employees from bringing claims against the U.S. government for injuries that arose out of or were sustained while engaged in activity "incident to service."
That does not sound good, right? But the Supreme Court decision in Boyle v. United Technologies Corp in 1988 updates Feres and made our attorneys confident we would prevail. This case lays out a three-part test that provides a claim is pre-empted if:
The U.S. approved reasonably precise specifications;
The equipment conformed to those precise specifications; and
The supplier warned the U.S. of the danger associated with the equipment that only the supplier knew of.
3M's preemption arguments failed. Judge Rodgers ruled that 3M "government contractor defense," which protects some defendants from liability when building products to the government's specifications, does not apply in this case. 3M cannot even make this argument to the jury, the court ruled, because no reasonable jury could conclude that the military made Aearo/3M do anything.
Getting a 3M Earplug Lawyer to Fight for You
If you used 3M's Combat Arms Earplugs in the military and have a severe hearing impairment, you may be entitled to financial compensation for your injury. Our 3M earplug lawsuit attorneys get calls and online inquiries about this litigation every single day. Because of the statute of limitations, you must reach out to a lawyer as soon as possible. This is not a deadline you can miss.
Contact us and we can investigate your case and tell you whether or not you may have a valid claim against 3M. There is not much required from you besides filling out a 3M earplug lawsuit claim form. There is no risk or cost.
We are contingency fee lawyers. Our attorneys only get a fee if you get compensation. If you need representation, call us at 800-553-8082 or get a free online consultation..