Montgomery Medical Center is located in Olney, Maryland. MMC is one of the entities owned by the non-profit MedStar Health. It was founded in 1920 by Dr. Jacob Wheeler Bird. Originally Montgomery County General Hospital, its named was changed by MedStar in 2012 as an effort to rebrand their network of health-related business.
MMC was initially created in response to an influenza epidemic and was the first acute care hospital in the country. The hospital grew from 28 to 171 beds and changed its rustic country origins to a state-of-the-art center.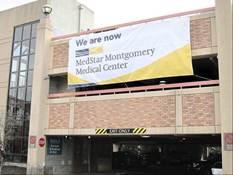 MMC offers a lot of services for a non-profit community-oriented hospital. Its ER has 41 beds with a separate stroke, pediatric, and chest pain center. Their Addiction and Mental Health Center has been building a strong reputation of success over the past 35 years. They now offer bariatric weight loss surgery and provide a diabetes and nutrition center. Additionally, MMC uses robotic surgery techniques including the DaVinci Robot Surgery System (which has had its fair share of problems).
As with all hospitals, this facility has faced negligence claims in the past, both as a defendant and tangentially involved in claims against its doctors. Here are a few of the cases either where the hospital was a defendant or where the alleged negligence occurred at the hospital:
Failure to adequately monitor a patient, leading to his avoidable dehydration and death. Our law firm handled this case against the doctor (not the hospital). $2,500,000 Verdict.
Failure to prevent negligent conditions that resulted in bed sores and infection. The jury determined that Montgomery General was negligent in its care of the patient, but the negligence was not a cause of the injuries. The jury further determined that a nursing home was negligent its care of the plaintiff and that negligence was the cause of her injury.$1,300,000 Verdict.
Failure to monitor a patient who was recovering from surgery– her blood pressure dipped into unsafe levels for hours, resulting in stroke and brain damage. This verdict was against the hospital itself. $1,097,000 Settlement
It is worth noting these are the winners. The defendant prevailed in most of the jury verdicts that involved this hospital.
Where to File Montgomery Medical Center Malpractice Lawsuits
Most cases against this hospital are going to be in Rockville. But if there is a chance to get venue in Baltimore City or Prince George's County because the doctors are in those jurisdictions or any other reason, you take that opportunity.
Suing a local hospital in their home count turf is a double-edged sword. Jurors often want to defend their own hospital from allegations of negligence. On the other hand, if the jurors might find themselves at that hospital getting treatment, they may be more inclined to raise the standards off the floor because they know they might find themselves in the same spot that the plaintiff once was: vulnerable and in desperate need of competent medical care.
2019 lawsuit against Montgomery Medical Center for failing to examine a patient's surgical incision after a procedure
2018 lawsuit brought against Montgomery Medical Center for failure to immobilize his spine for three days after a fall
2017 lawsuit filed against Montgomery Medical Center stemming from allegations that the hospital failed to correctly insert an IUD
Another 2017 lawsuit brought against Montgomery for negligent removal of a ureteral stone
Montgomery Medical Center Defense
This hospital has been defended by Gleason, Flynn, Emig & Fogleman, based in Rockville. An experienced team of lawyers, GFEF pride themselves for their defense of employers, insurers, and large self-insured claims in the Maryland and D.C. area. They also occasionally dabble in personal injury claims, representing plaintiffs in motor and construction accidents. GFEF is also known for their use of alternatives to traditional trials, such as mediation or arbitration. Can they be beaten? Of course. But you want to hire the best lawyer you can and have them bring their "A" game. (Note: we always do.)
Ordering Medical Records from This Hospital
If you believe you have a Montgomery Medical Center malpractice case, you can either order the medical records yourself, or your lawyers will do so. Hospital records can be obtained from:
18101 Prince Phillip Drive
Olney, Maryland 20832
Phone: 301-774-8600
Contact Us
If you believe that you have a medical mistake lawsuit, contact us at 1.800.553.8082, or send us a free internet request for consultation.