The Anne Arundel County Circuit Court House is the highest common law and equity court in its county and covers major civil cases and more serious criminal matters. It's located in the heart of Maryland's historic capital, Annapolis, and is comprised of one single building on Church Circle. The courthouse contains 12 sitting judges, along with an entire court administration department managing the non-judicial functions of the court. With a population of 573,235 in the entire county and 39,321 residents in Annapolis alone, the courthouse manages thousands of cases each year.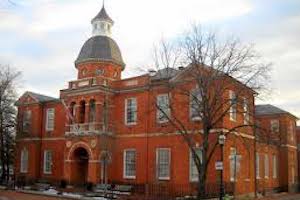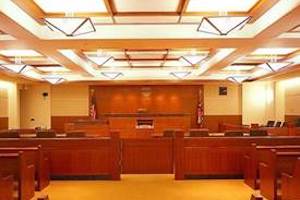 8 Church Circle
Annapolis, MD 21401
The courthouse is located directly in downtown Annapolis and is one of the most prominent buildings in the city, making it generally easy to find. However, streets in Annapolis are notoriously narrow and often congested during business hours, so proper timing should be a priority. The building is located directly adjacent to Anne Arundel County CASA, a social services organization.
If you're driving from Baltimore, the distance is approximately 30 miles and the ride takes about 45 minutes. On an average day, the best route to take is I-695 East towards Key Bridge/Glen Burnie, exiting onto I-97 South towards Annapolis, merging onto Route 50 East, and taking the exit for Route 70 Rowe Boulevard. From there you'll reach a road fork, which you should stay on the right side of. Head towards Northwest Street and follow it until you hit Church Circle, and then enter the traffic circle. The courthouse will be located on your right between Franklin and South Street.
If you're driving from the Eastern Shore, take Route 301 South and then proceed to merge with Route 50 heading towards the Bay Bridge. After crossing the Bay Bridge, continue on Route 50 until you enter the Annapolis area. Take the exit for Route 70 Row Boulevard, and head towards Northwest Street. Follow Northwest Street until it reaches Church Circle. Enter the traffic circle and the building will be on your right between Franklin and South Street.
For parking, there are four different Annapolis parking garages you can use.
Noah Hillman Garage
150 Gorman Street
Annapolis, MD 21401 Closest to the actual courthouse but tight and smaller
Gott's Court Garage
25 Calvert Street
Annapolis, MD 21401
MAP Spacious garage with a bathroom if you need it, but less accessible
Knighton Garage
1A Colonial Ave
Annapolis, MD 21401
MAPSlightly farther away but much easier to access and get to.
One great thing about parking for the Anne Arundel courthouse is a new Circulator Trolley that was initiated recently by the city. The trolley visits all four parking garages, runs every 10 minutes, and has several stops you can get off at.
Lafayette and West Street
Church Circle at South Street
Annapolis City Hall
Annapolis City Dock
Church Circle near Main Street
For the courthouse, get off at the second stop: Church Circle at South Street. One important thing to be mindful of is the price for parking in these garages. Each one has a different daily rate. For Park Place and Knighton Garage, it's $10 a day. Gott's is $16, and Hillman is $20 per day. Fortunately, there is no extra cost for using the Trolley while you're there.
History of Anne Arundel County Circuit Court
The history of this courthouse dates all the way back to the mid-1800s. In fact, the Anne Arundel County Court House is the third oldest courthouse still in use in Maryland. Planning for the courthouse began in 1821 after a fire in 1704 destroyed most of the county's records at the Maryland State House, prompting a need to have a new place for the courts to meet. The original blueprint for the building was T-shaped and planned to include a courtroom and offices for the Sheriff, Clerk, and Register of Wills. Special precautions were taken to use fire-proof construction features to avoid another fire that could destroy thousands of important documents.
The courthouse had a dramatic alteration in 1892 when projecting pavilions, an entrance tower, a cupola, and flanking wings were added to the building, creating a new H-shape. The courtroom was also moved from the first floor to the second floor, where it still is located today. Several more renovations happened in 1923, 1939, and 1994, generally expanding the building and adding new sections. Finally, in May of 2000, a ceremony was held to celebrate the opening of the full building, with all renovations completed.
Jury Duty Information
Residents who have been selected for jury duty will have to report to the courthouse building on Church Circle early enough to board the first trolley at 7:30am. Special parking for jurors is located at the Park Place Garage (1 Park Place, Annapolis). The parking fee is $2.00 but the trolley ride is free. The ride to the courthouse takes around 6-8 minutes and will drop you off right at the entrance.
Selected jurors can watch a juror orientation video on the Circuit Court's main website. It goes over in detail the entire process of being selected and the steps you need to take for preparing for trial.
Anne Arundel County Circuit Court Judges