BJ's Wholesale Club Personal Injury Claims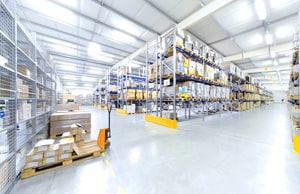 BJ's Wholesale Club is a chain of stores that operate like warehouses. They tend to offer products in bulk, which reduces the cost to the consumer in the long-run. Like other warehouse stores, shoppers have to obtain a membership before buying merchandise from a BJ's. There are currently ten BJ's warehouses located in Maryland. There are BJ's in Baltimore, Capital Heights, Pasadena, Westminster, Owings Mills, Columbia, Lexington Park, Bowie, Bel Air, and Waldorf.
BJ's was founded in 1984 and is named after one of its founder's daughters: Beverly Jean. The company has taken off, currently employing about 25,000 people across its 200 stores located in 15 states.
It is easy for plaintiffs' lawyers to take shots at places like BJ's because there are a lot of injuries in these stores that should not happen. But BJ's is by no means an evil corporation bent on making its stores unsafe. The nature of large warehouse-type stores such a BJ's means accidents come with the territory. You are combining a lot of people in huge stores laden with heavy machinery and merchandise and often inexperienced employees. Under the best case scenario, bad things are going to happen when you infuse these elements together.
Accidents at BJ's
BJ's stores are typically packed. While an abundance of people alone often makes aisles more dangerous, add in pallets of stacked merchandise and heavy machinery, and you literally have an accident waiting to happen. The problem often lies with how experienced and well trained the employees working there are. These are the kind of places that can make the numbers work if they pay for only the best-trained employees. There is a great deal of turnover. Again, this is not a formula for a safe environment.
Adding fuel to the fire, so much more is asked of BJ's employees than at your typical grocery or department store. BJ's employees are responsible for tending to intricately stacked displays, driving forklifts in tight spaces, and using ladders to reach high displays.
No matter how you slice it, BJ's is responsible for the negligent harm the company and its employees cause. One way to hold them accountable is to bring a lawsuit for premises liability.
Cases Against BJ's
The old adage "no one is perfect" applies to corporations as well. It is impossible to make a store 100% safe, but it is certainly possible to make a store reasonably safe for both customers and employees. This imposes a duty on BJ's to warn customers about potential hazards within their stores while doing their best to make sure that they don't create any in the first place. To win a case against BJ's an injured customer has to show that 1) they were injured on BJ's property; 2) they were injured because of a hazardous condition that was negligently created or should have been remedied by BJ's; 3) BJ's was negligent in their responsibility to keep them safe. BJ's is a big corporation, meaning you generally need a lawyer to effectively bring your claim.
Sample BJ's Cases
Below are sample verdicts and settlements against BJ's. There have been few Maryland claims that have gone to trial. Most reported lawsuits have ended in a confidential resolution. In one case that made it to Maryland's high court, a young boy fell from an elevated plastic play apparatus and suffering a serious brain injury. BJ's avoided responsibility for this tragic claim not because they were not negligent but because the parents signed a liability release. The take-home message – BJ's is going to fight like crazy to fight liability for the mistakes that it makes.
Keep in mind these are sample cases. They do not predict the value of future claims.
2019, New Jersey: $1,000,000 Verdict – A 58-year-old BJ's shopper slipped on water that leaked from a broken pipe. She suffered multiple injuries including annular disc tears, tarsal tunnel syndrome, an anterior talofibular ligament tear, and a rotator cuff tear. The woman could no longer work. She claimed BJ's failed to maintain safe premises and prevent dangerous conditions from occurring. The jury found BJ's 65 percent liable, its assistant manager 20 percent liable, and the woman 15 percent liable. They awarded $1,000,000.
2018, New Jersey: $18,500 Settlement – A minor girl slipped and fell at a BJ's. She suffered unspecified injuries. Her guardian claimed BJ's allowed dangerous conditions to exist and failed to fix them. This case settled for $18,500.
2017, New York: $9,000 Settlement – An 8-year-old girl's thumb because caught in a sharp metal rack at a BJ's. She suffered a right thumb laceration. Despite undergoing surgery, her right thumb was left permanently disfigured. Her mother alleged that the BJ's negligence resulted in her injuries. She claimed it permitted dangerous conditions to exist and failed to warn of them. BJ's denied negligence. This case settled for $9,000.
2017, Florida: $1,026,618 Verdict – A woman slipped and fell on a BJ's wet floor. She suffered severe injuries. The woman alleged that BJ's negligence caused them. She claimed they failed to clean the floor and failed to warn of hazardous conditions. The jury found the woman 34 at fault and BJ's 66 percent at fault. They awarded $1,026,618.
2016, New York: $30,000 Verdict – A 13-year-old girl tripped over a floor crack. She suffered a distal ulna and radius fracture. The girl required a cast. Her mother alleged that BJ's failure to maintain safe premises resulted in her injuries. The jury awarded a $30,000 verdict.
2015, New Jersey: $30,000 Settlement – A minor girl slipped and fell while at BJ's. She suffered facial lacerations. The girl was left with permanent scars. Her parents alleged that BJ's failure to maintain safe conditions resulted in her injuries. BJ's denied this claim. It argued comparative negligence. This case settled for $30,000.
2014, Florida: $2,181,573 Verdict – A postal clerk is shopping at BJ's when a train of shopping carts strikes her from behind. The cart is propelled by a motorized "mule," which is guided by an employee. She has to be transported via ambulance to the ER, where she undergoes X-Rays. Doctors diagnose her with a herniated disc, requiring an epidural and limiting her ability to work at the post office. She sues BJ's, alleging that the employee was negligent when driving the cart mule. Specifically, he overshot the cart area, which was preventable. The case goes to trial, and the jury finds BJ's negligent. They award the plaintiff $2,181,573.
2013, New York: $215,000 Settlement – A 38-year-old nurse is in the final trimester of a pregnancy when she stops in for a quick trip to BJ's. As she is walking through the aisles, she slips on a tomato that was left on the floor. She seeks no immediate care for herself, but goes to her OB/GYN to check on her unborn child. Six months after the accident, she goes to a doctor, who diagnoses her with ulnar nerve damage in
her right wrist and a right knee contusion. She then sues BJ's claiming that they had notice of the errant tomato slice and should have cleaned it up. She alleges that the injuries she suffered have prevented her from doing her job as a nurse. The defense suggests that the injuries are too far removed from the slip and fall to have been caused by it. The parties settle for $215,000.
2012, New Jersey: $910,000 Verdict – While shopping at a BJ's, a data entry clerk slips on grapes that were laying on the floor. She is treated for torn cartilage in her knees and a meniscus tear as well. She sues BJ's for negligence, claiming that the grapes constituted a dangerous condition that BJ's employees should have cleaned up. They deny negligence, insisting that there was no notice of the slippery floor and store polices were satisfied. At trial, the defense shows a video of the plaintiff walking and lifting packages after the injury, suggesting that it was fabricated. Regardless, the jury awards her $910,000.
Hiring a Maryland Lawyer for Your Claim
The attorneys at Miller & Zois have years of experience when it comes to premises liability cases. If you or a loved one has been injured due to BJ's negligence, call us at 800-553-8082 or get a free online consultation.