The beauty salon is a pretty dangerous place if people are not being careful  Scissors, blades, electrical components near water, and harsh chemicals are all over the place. COVID-19 makes it that much more dangerous.
The beauty salon industry is tightly regulated by the Maryland Department of Labor, Licensing, and Regulation, who oversees cosmetologists, salon workers, and other personal appearance workers.  They provide strict guidelines for licensing, sanitation, and training. However, no amount of governmental regulation can prevent a perfectly avoidable accident due to the result of a salon worker's negligence.
Personal appearance workers comprise a diverse group of
professionals
who work on their client's appearance, specifically their hair, nails, and skin. They include:
Barbers, who cut, trim, shampoo, and style hair for a primarily male clientele. They also fit hairpieces, provide scalp treatments, and facial shaving. Many states require licenses for barbers to color, bleach, or highlight hair. They use combs, scissors, straight razors, and clippers.

Hairstylists, who shampoo, cut, color, and style hair. They advise clients of all genders on proper home haircare. Their salons keep hair products such as hair color, shampoo, and conditioner. They use hairbrushes, scissors, blow dryers, curling and flat irons.

Cosmetologists, who offer scalp and facial treatments. They also offer makeup services. Some cosmetologists work with hairpieces. Many of them recommend hair care products.

Manicurists and pedicurists

, who work on hands and feet, respectively. They groom and treat fingernails and toenails. Manicurists and pedicurists also treat the skin on hands and feet.

Skincare

specialists, who work on the health and appearance of their client's skin. Services include recommending skincare products and removing unwanted hair.
 The Maryland Department of Labor, Licensing, and Regulation requirements for each occupation vary. However, there are similar requirements:
 

You must be at least 17 years of age and have completed 9

th

grade or have a GED

  

You must have trained for many hours at a

cosmetology

/

barber

school or as an apprentice at a beauty salon. This ranges between 250 hours of schooling for a nail technician to 2,250 hours for a barber apprentice.

 

Being an apprentice hairstylist/esthetician/nail technician requires a one-year original license that undergoes renewal within a year or two.
 Each of these requirements attempt to ensure that experienced and competent personal appearance workers. This should limit your injury risk while at a beauty salon or a barbershop. However, regulations can only do so much to prevent injuries.
What Types of Injuries Do Lawyers See from Hairdressers?
A trip to the hairdresser can result in various types of injuries including burns, lacerations, and infections. Burns are the injuries that most get the attention of personal injury lawyers in Maryland. Burns can come from a number of sources including the scalding hot curling iron sitting on the table next to you, the harsh chemicals sprayed into your hair, or a faulty straightener.
While most injuries are usually minor, a burn or laceration can lead to permanent scarring.  A perm gone wrong can even lead to permanent hair loss. Not to forget, beauty salons have now started to offer treatments such as laser hair removal, waxing,  and dermabrasion.
These types of treatments are fairly complex and require a little more expertise than an oatmeal bath with cucumber slices. Injuries sustained as a result of these procedures does not just affect you physically; they can affect you mentally as well. It's hard to imagine going to the salon to look better, only to leave scarred, disfigured, or in pain.
Plus, when a salon worker neglects to properly sanitize their tools, bacteria is literally sitting all over the place in a salon. This, of course, can lead to the spread of infection, disease, and illness. For example, if you're pedicurist fails to properly sanitize their instruments before your appointment, the spread of fungal infection is a real possibility. Dirty sinks and towels could also lead to you contracting a completely avoidable disease or infection.
Finally, beauty salons also have more than their fair share of sexual assault, stroke claims (often from head and neck positioning during beauty shop procedures), and  slip and fall claims.
Who Is Liable in Beauty Salon Injuries?
As with any personal injury case, you must show that the defendant is negligent. In order to do so in these types of cases, you would have to show that the beauty salon had a duty to you and breached that duty.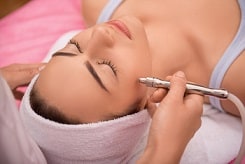 For example, a beauty salon has a duty to ensure that you will not be cut by an absent-minded hairstylist's scissors. Beauty shop operators also have a duty to ensure that the products that they use won't hurt you either. They should at least know how to apply them, but they should also ensure that you aren't allergic to the harsh chemicals that they use.
If you have been harmed as a result of beauty salon negligence, you're entitled to money damages. These can include the medical expenses that you may have incurred as a result of a cut or burn, or perhaps even mental anguish or emotional injury. If the salon wasn't properly licensed that only makes your claim stronger.
What Is the Settlement Value of Beauty SalonInjuries?
Naturally, the most common question victims have is how much their beauty salon case would be worth. Considering that money is the only thing that the legal system can give you, this is the right question.
There are a ton of factors that go into how much your claim will be worth, and it is impossible for us to pinpoint exactly how much your case is worth. These cases are decided by juries, which are made up of real people. Jurors have their own personal biases, which can factor into how much they will ultimately award.
Granted, jury bias does not always hurt you, and it can even help you, particularly if your lawyers know how to present a case to a jury.  Looking at jury verdicts alone cannot predict the value of your case, even if your claim and injuries are remarkably similar.  But you can use these verdicts along with other factors to help better understand the possible range of verdicts in your case and give some clarity as to what you should be shooting for to settle your legal claim.
2019, Washington – $23,970 Verdict:

A client developed a MRSA infection to her big left toe from a pedicure at a nail salon and spa. She visited the hospital two days later, where doctors gave her antibiotics and painkillers. Her condition failed to improve, and she underwent IV antibiotics the following day. Doctors gave her a 10-day antibiotic course. She continued to complain of pain a year later and underwent two surgeries. The woman claimed that her infection caused her to shift her weight to her second toe, causing joint complications. She alleged that her manicurist used a contaminated tool to remove her calluses and soaked her foot in a contaminated foot bath. The woman sued the establishment's owner for negligently failing to train the manicurist. The jury verdict amounted to $23,970.

 

2019, Arkansas – $10,000 Verdict:

A woman slipped on a salon's entrance map and fell on the concrete floor. She suffered knee, head, and hip injuries because of the fall. She and her husband sued the establishment for negligence. The establishment admitted liability. The jury awarded the woman $10,000.

 

2019, Georgia – $6,000 Verdict:

A woman visited a nail salon for a pedicure. She claimed that the establishment caused her bacterial infection, and an aggravated chronic fungal infection. After a four-day trial, the jury awarded her $6,000.

2017, Georgia – $700,000:

A beauty shop employee pours scalding water into basin prior to a pedicure cause second and third-degree burns to feet.

 

Recovery is complicated by plaintiff's diabetes.

 

Plaintiff has permanent contractures.

2010, Maryland – $1,000,000 Settlement:

A woman goes to the salon to get her nails done. An employee tells her to place her hands in a hot wax warmer that was filled with a flammable chemical. When the employee moves the warmer, an exposed wire ignites the chemical. The resulting flames cause severe burns to the plaintiff. She sues the salon and settled for $1,000,000.  This is a big case and many of these waxing cases are.  We have seen cases where the salon improperly applied the wax and pulled it off her labia, causing 15 stitches to her labia and vagina. 

2010, Virginia: $200,000 Settlement:

A 14-year-old girl goes into the salon to get highlights for her hair. Prior to starting the process, the stylist forgets to test a patch of the hair color product on the girl's hair. When the stylist dries the girl's hair, she feels a burning sensation. She suffers burns from her hair and has to undergo plastic surgery to repair her scalp. The parties settled for $200,000.

2009, Maryland – $20,085 Verdict: While the plaintiff was receiving a pedicure, she experiences a sharp pain and gash in her foot. The pedicurist had used an illegal razor and sliced a portion of the plaintiff's heel. The plaintiff sues the owner of the salon, who admits that she hired the pedicurist with the knowledge that he was unlicensed. The jury awards her $20,085, with $20,000 coming from pain and suffering.
2009, Maryland – $20,085 Verdict:

While the plaintiff was receiving a pedicure, she experiences a sharp pain and gash in her foot. The pedicurist had used an illegal razor and sliced a portion of the plaintiff's heel. The plaintiff sues the salon's owner who admits that she hired the pedicurist knowing that he was unlicensed. The jury awards her $20,085, with $20,000 coming from pain and suffering.

2006, Maryland: $227,267 Verdict:

Plaintiff goes into a nail salon to get a pedicure. During the pedicure, her toe is cut by a credo blade, causing bleeding. She seeks HIV/AIDS testing for 16 months, fearing that the blade was infected and claiming that the tool was kept in a crayon box. The salon alleges that she was never in danger of contracting AIDS and that the testing resulted from paranoia. Regardless, the jury awarded her $227,267.
Contact the Right Attorneys
If you have been injured as a result of a salon's negligence contact Miller & Zois at 800-553-8082 or get a
free online consultation.
Please keep in mind that our law firm handles only serious injury and death cases.  If your injuries are minor, we are still glad to help but most likely we will recommend another lawyer for you.