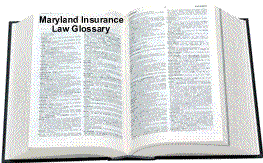 Below is a glossary defining common insurance terms. Some are dictionary definitions of insurance terms that would be the same in Maryland as in any other jurisdiction. Many of the definitions, particularly the auto insurance terms, are designed for Maryland lawyers and personal injury victims dealing with claims or litigation. These car insurance terms are often accompanied by the relevant Maryland case law and applicable Maryland statutes.
Because one of our attorneys, Ron Miller, teaches Maryland Insurance Law at the University of Baltimore School of Law, other terms are included beyond the automobile and medical and health insurance terms that would be helpful to Maryland lawyers or personal injury victims. Accordingly, this glossary of insurance terms includes life insurance terms, commercial insurance terms, and homeowner and title insurance.
Because we have noticed an increase in traffic to the insurance glossary portion of our site, we have been working vigorously of late to continue to make additions and provide more detailed information on the terms. If you believe that additional insurance terms you would like us to define, fill out a contact form.
This glossary is mainly focused on insurance related issues. If you are looking for an explanation of major personal injury definitions, you can find them here.
Glossary Term Jump Menu – A B C D E F G H I J K L M N O P Q R S T U V W X Y Z
— A —
Accelerated death benefits – a life insurance policy where policy proceeds are paid before to death if the insured is terminally ill. The insured has the option of getting his or her death benefit while still alive, and presumably during a time of need, instead of having the money paid out only after death to a beneficiary or the estate. Principal Mut. Life Ins. Co. v. United States , 26 Cl. Ct. 616 (1992).
Accident – under Maryland law, an accident is defined as a happening; an event that takes place without one's foresight or expectation; an event which proceeds from an unknown cause, or is an unusual effect from a known cause, and therefore not expected. Fister v. Allstate Life Ins. Co., 366 Md. 201, 215 (2001). See also Occurrence.
Accident frequency – the number of times accidents occur. Used by insurance companies in predicting losses upon they base the decision as to how of a premium to charge
Accidental death – coverage in the event of mortality due to an unplanned and unexpected event. Often, because accidental deaths can take a greater financial toll because they are unexpected, the benefits under a life insurance policy increase – often double – if the death is accidental.
Active malfunction – when a product, instead of bringing a benefit to the user, actually damages the user's property. An example is a wax that is applied to an automobile that damages the car.
Act of God – natural occurrence beyond human control or influence. Such acts of nature include hurricanes, earthquakes, and floods. While a blizzard is considered an act of God, driving in a blizzard is an act of the driver. Hurricane Katrina would be an example of an act of God.
Actuary – a professional trained in the mathematics of insurance and risk management. For example, GEICO has individuals who look at statistical data and analyze your driving record, where you live, your age and other risk factors, and calculated the amount of the premium that GEICO is willing to offer to you to provide automobile accident insurance.
Additional Insured or Additional Interest – A person or entity, other than the named insured or covered person, who is protected under the named insured's auto policy.
Add-ons – additional coverage to your basic policy. An example of an add-on that Miller & Zois recommends is additional PIP coverage.
Adjuster – a person employed by a property/casualty insurer to evaluate losses and settle claims.
Ambiguous – an insurance term is ambiguous is a reasonable layperson would infer two different meanings to a word or term from the context and the language used. Pacific Indem. Co. v. Interstate Fire & Cas. Co., 302 Md. 383, 389 (1985). In Maryland, the question of whether an insurance contract is ambiguous is a question for the judge.
Annuity – an agreement to make periodic payments for which the making or continuance of all or some of a series of the payments, or the amount of a payment, depends on the continuance of a human life. "Annuity" includes an additional benefit that operates to safeguard the contract from lapse or to provide a special surrender value, special benefit, or annuity in the event of the total and permanent disability of the holder. An annuity does not include life insurance. Md. Insurance Code Ann. § 1-101
Application – a signed statement by the insured person when applying for insurance, which becomes part of the insurance policy
Arbitration Clause – policy language that requires parties to arbitrate the dispute if insurance company and insured do not agree on whether the insurance company is obligated to make payment or the amount of that payment. Such a provision in a Maryland automobile insurance policy is invalid and unenforceable. Md. Insurance Code Ann. §19-509(j). Langston v. Allstate Ins. Co ., 40 Md. App. 414 (1978).
Assigned Risk – a poor risk that an insurance company is compelled to cover under state laws.
Auto insurance premium discounts – discounts offered to car drivers for such safeguards as air bags, seat belts, good driving record, anti-theft devices, multiple vehicles, etc.
Average Weekly Wage – A term used in Maryland Workers Compensation scheme. It is the basis for determining weekly benefits under such laws.
— B —
Basic Limits of Liability – the lowest amounts of liability coverage that you can legally buy. The basic limits very from state to state for insurance covering personal injuries from auto accidents. In Alaska and Maine, for example, there is a minimum of $50,000 per person and $100,000 per accident of liability insurance and $25,000 in property insurance (50/100/25). Most states have much lower basic minimums. In Maryland, it is now 30/60/15.
Beneficiary – designation by the holder of a life insurance policy indicating to whom the proceeds are to be paid upon the insured's death or when an endowment matures
Binder </ strong> – temporary insurance contract providing coverage until a permanent policy is issued
Blanket policy – a health insurance policy that protects all members of a group against a particular hazard
— C —
Cancellable policy – a policy that may be terminated by the company or the insured by proper notification sent to the other party according to the terms outlined in the policy
Carrier – another word for an insurance company
Cash surrender value – money the policyholder is entitled to receive from the insurance company upon surrendering a life insurance policy with cash value
Change in fund basis -a valuation basis under which the interest rate used to determine the minimum valuation standard applicable to each change in a fund held under an annuity or a guaranteed interest contract is the calendar year statutory valuation interest rate for the year of the change in the fund. Md. Insurance Code Ann. § 5-306.
Clause – a section or paragraph in an insurance policy that explains conditions of coverage
COBRA (Consolidated Omnibus Budget Reconciliation Act) – a federal law enacted in 1996 under which group health plans sponsored by employers with 20 or more employees must offer continuation of coverage to employees who leave their jobs, voluntarily or otherwise, and their dependents
COMAR – Maryland state agency regulations that cover, among other things, insurance
Collision insurance – coverage which that pays the fair market value for damage to the policyholder's car caused by an automobile accident.
Comprehensive insurance – additional coverage in automobile insurance providing protection in the event of theft of the insured car (or physical damages as the result of something other than an automobile accident)
Comprehensive major medical insurance – a health insurance policy that provides the protection offered by both a basic and major medical health insurance policy.
Continuous Coverage or Continuous Liability Insurance – t he length of time you have had your vehicle insured without a break in coverage (some insurers require at least six months.)
Co-payment – the portion of a medical bill or another bill that a patient or insured pays.
Coverage – the type and extent of benefits provided by an insurance policy
Credit insurance – an insurance policy that pays off an outstanding debt in the event of the policyholder's death or if insured is disabled
— D —
Death benefits – amount payable, as stated in a life insurance policy, upon the death of the insured
Declaration page – that page of the insurance policy which lists the insurance company, its address, name of the policyholder, starting and ending dates of coverage, and the actual coverage given in the contract, including the locations and amounts
Deductible – the amount of loss paid by the policyholder before the insurance policy benefits become payable
Defense clause – a provision in a casualty insurance policy that provides additional coverage for expenses of judicial assistance
Dental Insurance – coverage for dental services under a group or individual policy
Depreciation – a decrease in the original value of an item because of wear and tear, obsolescence, and deterioration
Disability insurance – a type of health insurance that pays a monthly income to the policyholder when he or she is unable to work because of illness or accident
Domestic insurance company – an insurer domiciled in this state
— E —
Earned premium – that part of the premium applicable to the expired part of the policy period, including the short-rate charge on cancellation.
Effective date – the date on which an insurance policy coverage starts
Elimination Period – This is the period between the date the disability commences and the beginning of the benefit payment period. It is the period during which an employee must be disabled before payment of benefits begins.
ERISA – a law that established rules and regulations to govern private pension plans. Most self-insured health plans are created under this act
Evidence of Insurability – Group disability coverage is typically sold as "guaranteed issue" which means that evidence of insurability is not required. However, under certain circumstances (e.g., late enrollment or a high benefit maximum), an employee must provide medical or financial information as proof to the insurance company that he or she is insurable.
Exclusions – specified hazards for which a policy will not provide benefit payments. They are often called exceptions
Experience – the record of claims made or paid within a specified period
Experience rating – determination of the premium rate for an individual risk, made partially or wholly on the basis of that risk's own past claim experience
— F —
Fee for service – the traditional model for health insurance, in which patients go to the doctor or hospital of their choice, and the insurer pays the largest portion of the bill
Fellow employee exclusion – clause in automobile insurance policies that states that auto insurance the there is no coverage for injuries to fellow employees of the insured arising out of her course of employment. This exclusion is enforceable in Maryland only up to the Basic Limits of Liability inMaryland under the Transportation Code § 17-103(b). Larimore v. American Ins. Co. , 314 Md. 617 (1989).
Fire insurance – coverage insuring property against losses caused by fire or lightning
Flat cancellation – the cancellation of an insurance policy as of the date of its start with no premium charge
Foreign insurance company – an insurer domiciled in another state
FR-19 – when you register or renew vehicle registration in Maryland , you must sign an insurance certification, called an FR-19, which acknowledges that the minimum vehicle liability insurance will be maintained throughout the registration period and the vehicle will not be driven without insurance. Called an SR-22 in many other jurisdictions.
— G —
Garaging Location – ZIP code where vehicle is parked or garaged when not in use.
Guaranteed renewable policy – a policy which the insured has the right to continue in force by the timely payment of premiums to a specified age. (usually, age 50) during which period the insurer has no right to make unilaterally any change in any provision of the policy while the policy is in force but may make changes in premium rates for the entire policyholder classification
Guarantee funds – all 50 states, the District of Columbia and Puerto Rico require licensed insurers to assume some of an insolvent insurance company's policyholder liabilities. These funds (life & health and property & casualty) are the mechanism by which solvent insurers, b
ail out the policyholders of companies that fail
— H —
Health insurance – protection against the costs of hospital and medical care or lost income arising from an illness or injury. Sometimes called Accident of Sickness Insurance, Accident and Health Insurance, or Disability Insurance.
Health maintenance organization (HMO) – an organization that provides health care for a monthly payment set in advance. In a traditional HMO, doctors and other providers are salaried employees and the facilities are owned by the organization. In recent years, however, other forms of HMOs have sprung up that contract with doctors and hospitals to care for members at set, negotiated fees. Many HMOs are hybrids, offering both kinds of care to members.
— I —
Industrial life insurance – life insurance provided by an individual policy with the term "industrial" printed on the policy as part of the brief description required by § 16-213 of the Maryland Insurance Code, and under which premiums are payable monthly or more frequently, if the face amount of the insurance provided by the policy does not exceed $ 1,000. Md. Insurance Code Ann. § 1-101
Insurance – a system to protect persons against the risks of financial loss by transferring the risks to a large group who share the financial losses
Insurer – the company offering protection through the sale of an insurance policy to an insured
Insured – the person whose risk is transferred and shared
Intensive care policy – a health insurance policy that provides benefits only for treatment received in the specifically designated facility of a hospital that provides the highest level of care and is restricted to patients who are physically and critically ill or injured. Md. Insurance Code Ann. § 15-104
Issue year basis – a valuation basis under which the interest rate used to determine the minimum valuation standard for the entire duration of the annuity or of the guaranteed interest contract is the calendar year statutory valuation interest rate for the year of issue or year of purchase of the annuity or guaranteed interest contract. Md. Insurance Code Ann. § 5-306.
— L —
Liability insurance – insurance for money the policyholder is legally obligated to pay because of bodily injury or property damage caused to another person and covered in the policy
Life insurance – insurance for which the probabilities of the duration of human life or the rate of mortality are an element or condition of the insurance. Md. Insurance Code Ann. § 1-101
Limit of Liability Clauses – auto insurance policies generally contain limit of liability clauses that preclude the intrapolicy "stacking" of coverages. Oarr v. GEICO , 39 Md. App. 122, 383 A.2d 1112, 1114 (1978). Stacking generally refers to plaintiffs adding all available policies together to create a larger pool from which to seek recovery for their personal injuries and/or property damage. See Md. Insurance Code Ann. §19-509(a) regarding issues related to stacking and UM coverage. No stacking in Maryland with uninsured motorist claim. Example: negligent driver has $20,000 GEICO policy. Injured party has $1,000,000 State Farm UM policy. Maximum recovery would be $1,000,000: $20,000 from GEICO, $980,000 from Allstate. The term stacking is misleading because it leads to implication of double dipping or duplication of benefits. Miller & Zois prefers the term aggregating or supplemental coverage, which is allowed in most jurisdictions, including Maryland, for PIP claims. But you cannot aggregate two PIP policies in Maryland. See Travelers Insurance Co. v. Benton, (278 Md. 542 (1976).
Long Term Care Insurance – covers the cost of long-term custodial care in a nursing facility or at home
Loss of use insurance – insurance against loss due to the insured's inability to use property, such as a vehicle or a store; includes additional living expense, business interruption, rent insurance, rental reimbursement, and rental value
— M —
Managed care – a health plan that places limits on which doctors and what kind of therapy and treatment a member may have and receive coverage. (Generally speaking, not the medical coverage most people want because it limits options.)
Malpractice insurance – a professional liability coverage that insures physicians, Lawyers and other specialists against suits alleging their negligence
Marine insurance – coverage for goods in transit, and for the vehicles that transport them, over waterways, over land and in air
Maryland Automobile Insurance Fund (MAIF) – a state agency created to provide automobile liability insurance for persons rejected by at least two private insurers. See Transportation Code 17-105(a).
Medicaid – a federal-state program that helps pay for health care for the needy, blind and disabled and for low-income families with children (often put liens on personal injury cases)
Medicare – a federal health care insurance program for people age 65 and over, and for people who are under 65 and disabled (often put liens on personal injury cases). For personal injury lawyers, it is often a real battle to reduce Medicare liens to enable the clients to get a meaningful recovery.
Medigap – because Medicare does not cover all expenses, private insurers sell 'Medigap' policies to supplement federal insurance benefits
Mortgage insurance – life insurance that pays the balance of a mortgage if the insured dies
— N —
Negotiate – to confer directly with or offer advice directly to a purchaser or prospective purchaser of a particular contract of insurance concerning any of the substantive benefits, terms, or conditions of the contract, provided that the person engaged in that act either sells insurance or obtains insurance from insurers for purchasers. Md. Insurance Code Ann. § 1-101
No Fault – a system in which each driver's auto insurance coverage pays for injuries and damage after an accident no matter who caused the accident. In Maryland, PIP is a form of no-fault insurance.
Non-cancellable or Non-cancellable and guaranteed renewable policy – a policy which the insured has the right to continue in force by the timely payment of premiums set forth in the policy to a specified age, (usually age 50) during which period the insurer has no night to make unilaterally any change in any provision of the policy while the policy is in force.
— O —
Ordinary life insurance – life insurance usually issued in amounts of $l,000 or more to an individual policyholder
Out-of-state-coverage extension – pursuant to a Maryland COMAR regulation, 10:22 Md. Reg. 1963 (1983), all automobile insurance policies issued in Maryland must contain an out-of-state coverage provision to afford Maryland drivers
UM and PIP coverage that would have been available had the accident occurred in Maryland
— P —
Paid-up insurance – life insurance policy under which all premiums have already been paid with no further premiums due
Personal injury protection (PIP) – coverage present in no-fault states which pays medical, loss of income, death and/or disability and loss of services incurred as a result of an automobile accident. In Maryland, all vehicles carry PIP insurance absent an express waiver from the insured.
Physical damage insurance – property damage coverage for a vehicle under the "collision insurance" and 'comprehensive insurance' sections of the policy
Pre-existing conditions – a physical condition of an insured person that existed before the insurance policy was issued
Premium – the payment for an insurance policy, usually paid periodically
Property damage liability insurance – coverage in the event that the negligent acts or omissions of an insured result in damage or destruction to another's property
Pro-rata – cancellation of an insurance contract by the insurance company, allowing the policyholder a share of the premium relating to the remainder of the time under the contract that bears to the total contract premium
— Q —
Qualified actuary – a member in good standing of the American Academy of Actuaries. Md. Insurance Code Ann. § 5-201
— R —
Reciprocal insurer – an unincorporated aggregation of subscribers that operate individually and collectively through an attorney in fact to provide reciprocal insurance. Md. Insurance Code Ann. § 1-101
Rebate – a reduction of a premium for any reason
Reinsurance – a form of insurance that insurance companies buy for their own protection
Rider – an endorsement to an insurance policy that modifies clauses and provisions of the policy, adding or excluding coverage
Risk – a term used to designate an insured or a peril insured against
— S —
Secondary Driver – a driver listed on your automobile insurance policy who's insured for driving an insured vehicle. The secondary driver is not a car's primary driver.
Short rate – cancellation of an insurance policy at the request of the policyholder with a refund of premiums to the policyholder of less than would be given under pro-rata consideration
Specified disease insurance – a policy that provides stated benefits, usually of large amounts, toward the expense of the treatment of the disease or diseases named in the policy
Subrogation – when an insurance company pays for a loss caused by another driver or other negligent party, the injured party's insurance company may have the right by law or policy provision to recover an amount of the loss from the other person or their insurer.
— T —
Term Insurance – life insurance issued for a stated temporary period of time
Title Insurance – indemnifies the owner of real estate in the event clear ownership of property is challenged by discovery of faults in the title
Twisting – an unfair trade practice, in insurance, whereby an agent or broker attempts to persuade a life insurance policyholder through misrepresentation to cancel one policy and buy a new one
— U —
Umbrella liability insurance – a liability policy that covers in excess of primary limits of the basic liability policy
Underwriting – a process that evaluates an applicant and their automobile(s) against pre-established criteria for insurability to determine whether the applicant will be rejected or accepted for coverage and whether at standard or modified rates.
Uninsured motorist coverage – endorsement to a personal auto policy that covers an insured involving personal injury cases in Maryland or property damage with a driver who does not have liability insurance. Maryland law provides that every policy of motor vehicle liability sold in the state of Maryland must have uninsured motorist coverage. Md. Insurance Code Ann. § 19-505. There are, however, many exceptions including, motorcycles, taxicabs, state owned vehicles, and off road vehicles.
Universal life insurance – a flexible premium policy that combines protection against premature death with a savings account that typically earns a money market rate of interest
— W —
Waiting Period – in order to become eligible for coverage under the policy, an individual must satisfy a certain number of continuous days of service as an active, full-time employee. This is known as the waiting period.
Waiver of Premium – When an individual becomes disabled and eligible for benefits, no further disability premium payments are required as long as benefits are being paid out.
Whole life insurance – life insurance payable to a beneficiary at the time of death of the insured whenever that occurs
Workers compensation insurance – pays for medical care and physical rehabilitation of injured workers and replaces their lost wages while they're unable to work