Without question, insurance companies would much prefer to arbitrate their personal injury cases in Maryland. Arbitrations require less time spent by the insurance companies lawyers and, if mandatory, would deprive Maryland personal injury auto accident victims the right to present their case to a jury of the victim's peers.
Accordingly, insurance companies have attempted to write into the insurance policy language an arbitration clause when the insured person needs to bring a claim with its own insurance company because of personal injuries suffered as the result of an uninsured or underinsured motorist.
Some states allow this. In fact, arbitration is required in uninsured motorist cases in Illinois, Colorado, California, and Massachusetts if the policy language requires arbitration. Texas is reportedly considering such a rule. But, in Maryland and 22 other states, insurance companies are prohibited from imposing arbitration. There is a statute – § 19-509 of the Maryland Insurance Code – that forbids insurance companies from inserting binding arbitration clauses in insurance contracts with their own insureds. In other words, Maryland public policy rewrites these contracts.
This is a good rule. Maryland's court system is a good one. It has well-established rules of evidence and procedural safeguards that plaintiffs are not going to get in arbitration, even with a fair and reasonable arbitrator because, by definition, the arbitration is a shortcut procedure to justice.
Does This Mean That Arbitration Is a Bad Idea in Car Accident Cases?
No. Mandatory arbitration is a bad idea. But arbitration can be a good path to reach a resolution in a car accident case. Our law firm arbitrates (and mediates) many personal injury car accident cases with insurance companies because it is often an effective means of resolving the dispute. But we do so on our terms without bowing to the insurance companies and their handpicked arbitrators.
What Is a High-Low in a Car Accident Arbitration?
Insurance companies will universally require a cap of the policy limits if the case goes to arbitration. So no matter what the arbitrator awards, the award is capped at the policy limits. But you get something in return for that. Usually what you get is an agreed-upon dollar amount (called a "low") so, no matter what the arbitrator's award is, you will receive that low from the insurance company even if the arbitrator's award is zero. The way it works is the arbitrator is not told what the high-low agreement is. So the arbitrator just gives an award and the amount of the award is conformed to the high-low.
When Is Arbitration a Good Idea in Car Accident Case?
An arbitration works for victims when the deal is right. The key is almost always a high-low agreement. But another important factor is who is selected as the arbitrator. The insurance company proposed a list of usual suspects that are invariably slanted to the insurer. You need an arbitrator who is fair and not financially or otherwise indebted to the insurance company.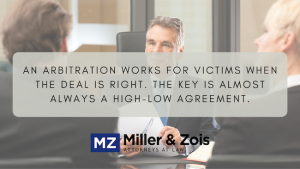 Law in Other States
These are a few states that require mandatory arbitration for uninsured motorist benefits and how the law in that state works.
California: Auto insurance policies providing for uninsured motorists coverage are required to provide that the determination as to whether the insured is legally entitled to recover damages, is to be made by agreement between the insured and the insurer, or, in the event of disagreement, by arbitration conducted by a single neutral arbitrator. If the insured makes a Section 998 settlement offer and that offer is not accepted, and the arbitration award is more than that offer, the victim is not precluded from recovering additional costs even if the final number exceeds the coverage limits.
Colorado: If the insurance policy contains language that requires arbitration before the insurer is obligated to pay uninsured motorist benefits, Colorado law will enforce this agreement. The insurance company is obligated to pay for the arbitrator.
Illinois: The Illinois Insurance Code requires that no motor vehicle insurance for uninsured motorist benefits can be renewed, delivered, or issued for delivery unless there is language that requires any dispute with respect to the coverage and monetary damages be submitted for arbitration to the American Arbitration Association.
Key Maryland Uninsured Motorist Cases
More Information on Maryland Uninsured Motorist Cases