Medical malpractice is when a physician, or other professional, renders substandard medical care resulting in harm to the patient.  Professional malpractice is a civil wrong or "tort" for which injured patients can be entitled to legal compensation.  The damages caused by medical malpractice can be very significant.
Poor medical care can easily result in debilitating physical harm and even death.  In fact, a recent study by Johns Hopkins estimated that medical errors are the 3rd leading cause of death in the U.S. each year.  Baltimore has some of the best hospitals and doctors in the entire country.  But medical malpractice occurs even at places like Johns Hopkins.
Everyone always talks about how fortunate we are to have such great hospitals in Baltimore.  I've said that myself and felt blessed to have the treatment options I have had.  Yet Maryland ranks 48th in hospital safety in Maryland, and Baltimore hospitals play a big role in that ranking.
When Do You Have a Valid Claim for Medical Malpractice?
If you are injured because of negligent medical treatment it will be up to you to do something about it.  No hospital or doctor will ever acknowledge that they made a mistake and they certainly will not volunteer any financial compensation.  If you want compensation for your injuries, you will need to act yourself.  The first critical step in this process is recognizing when you might have a claim for medical malpractice.  There are 2 basic elements to a claim for medical malpractice in Baltimore:
There was a breach of the accepted standard of medical care; and
The substandard medical care directly caused you injury or harm
Once you recognize that these 2 elements may be present you will need to actually prove them in order to succeed.  Proving that your doctor or hospital made a mistake or provided substandard care can be difficult and costly.  The first thing you need is an opinion from another doctor that the medical care you previously received was in fact negligent.  All medical malpractice suits in Baltimore must be backed up by an expert certification validating the merits of your claims.  Without this, the case will be summarily dismissed under Maryland law.  This is just the first of many procedural and evidentiary hurdles you will need to overcome.  The doctors or hospital that you sue will deny that they were at fault.  They will respond to your claims with opinions from their own experts. In some cases, this is all just for show and if you don't back down, you can hope to negotiate a settlement without going to trial.  In other cases, you will need to actually litigate your claims and possibly take the case to a jury.  Either way, medical malpractice claims in Baltimore require the support of an experienced and effective legal team.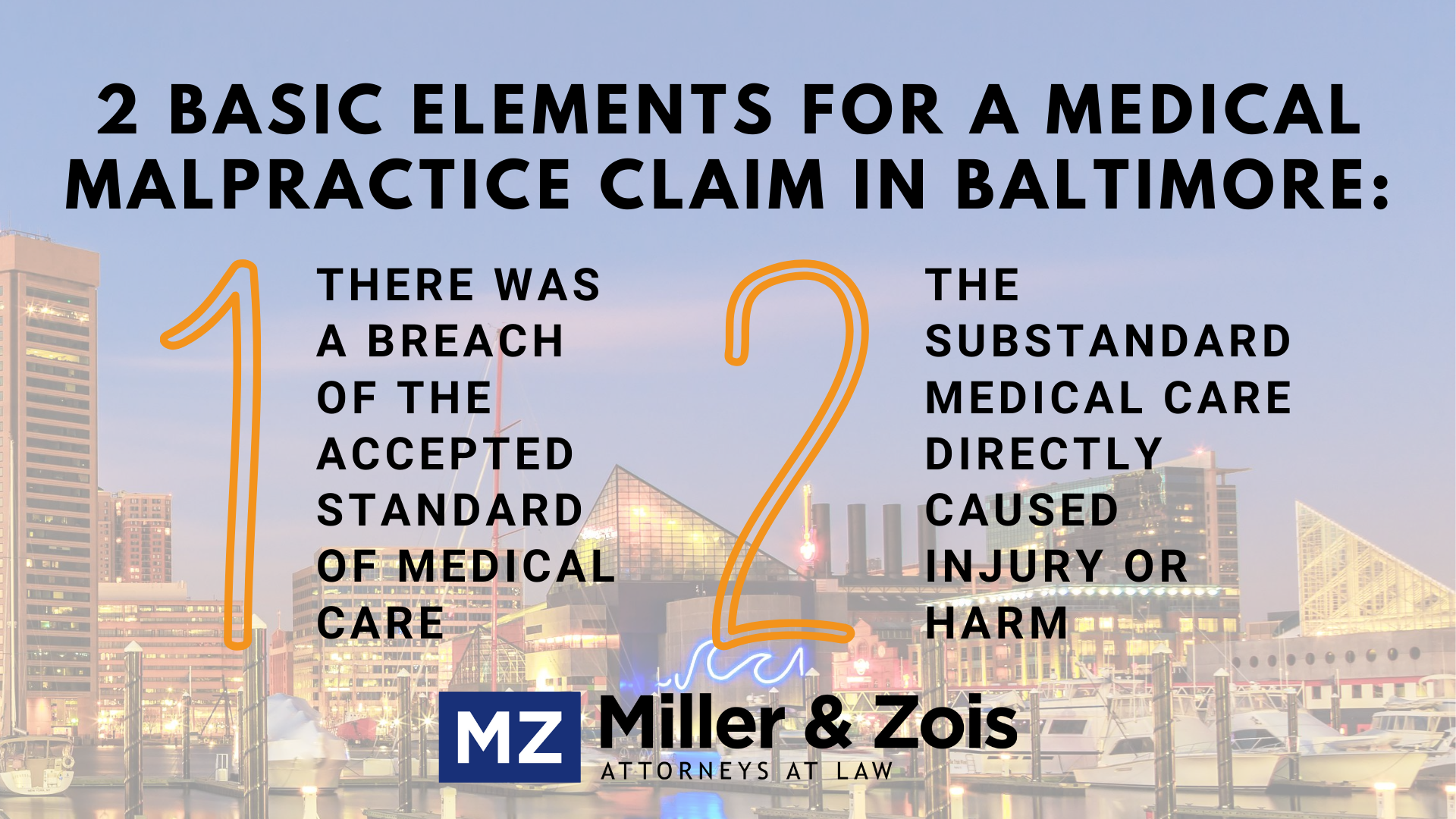 Common Types of Medical Malpractice
Claims for medical malpractice can arise out of almost any situation and take a variety of forms.  There are certain categories of medical malpractice in Baltimore that result in lawsuits on a regular basis.  Below is a list of the most common types of medical malpractice claims litigated in Baltimore:
The first step in any medical care is an accurate diagnosis of the medical condition.  In order to properly treat a patient, the doctor needs to correctly identify exactly what the problem is.  This is where good doctors need to utilize their skills and training the most.  If a doctor fails to diagnose a condition it means that the patient will go without treatment.  If a doctor misdiagnoses a condition as something else the patient will receive the wrong treatment that could actually make the condition worse.
Diagnostic errors occur fairly often and the impact of a failed or delay diagnosis can sometimes be devastating.  Misdiagnosis can also lead to a lot of anger and frustration directed at the doctor.  For these reasons misdiagnosis is the number one type of medical malpractice asserted in Baltimore.  Delay in diagnosis of cancer, specifically breast cancer and colon cancer, are the 2 most frequently filed types of diagnostic malpractice claims in Baltimore.
The second leading cause of medical malpractice claims in Baltimore is birth injuries.  The reason this area of medicine gives rise to so many malpractice claims is that most common birth injuries directly result from preventable medical errors.  Doctors in the labor and delivery room must respond quickly to a number of obstetric complications that frequently come up during delivery.  Some of the most common of these complications are shoulder dystocia; placental abruption; and uterine rupture.
OB/GYNs and hospital labor and delivery teams are trained to handle these complications.  Unfortunately, poor communication, lack of proper monitoring, and rushed decision making by doctors frequently result in substandard care.  Sadly, these errors often result in injury to the baby and sometimes to the mother.  There are several well-known birth injuries that are almost exclusively caused by medical negligence during delivery: Cerebral palsy; Erbs Palsy; Brachial plexus.
Claims based on negligent hospital care are the third most common type of medical malpractice in Baltimore.  Hospitals are required to ensure that all patients receive the appropriate standard of medical care.  Hospitals can also be vicariously liable for negligent care rendered by their agents and employees, which include nurses, doctors, and other staff.  So whenever a patient is injured at a hospital because of substandard medical treatment, the hospital can potentially be held liable for malpractice.
Malpractice attorneys in Baltimore generally consider hospitals to be better defendants than doctors for several reasons.  For starters, hospitals are much more eager to settle malpractice claims.  This is because hospitals are much more sensitive to the negative publicity generated by malpractice cases.  Individual doctors are usually more concerned about their malpractice insurance rates than they are about bad press.  A hospital will quickly settle a case more often and more willingly than a doctor.   Hospitals make good defendants because they get less credit with juries.  Jurors tend to view large hospitals (even prestigious ones like Johns Hopkins) with less admiration than individual doctors.  Juries are sometimes very reluctant to lay blame on individual, well-meaning doctors, but they have no such reservations for hospitals.
Baltimore is home to many large and prestigious hospitals.  For information about medical malpractice claims against specific hospitals in Baltimore use the following links:
Injuries resulting from medication errors are another common cause of malpractice claims in Baltimore.  Medication malpractice claims can involve doctors, pharmacists, nurses, and other professionals involved in administering, dispensing, and/or prescribing drugs.  Malpractice claims involving medication usually fall into one of the following categories:
Adverse Reactions / Combinations: When 2 or more drugs adversely interact and cause injury to the patient liability for malpractice can involve the prescribing doctor and/or the pharmacy.
Wrong Medication: In some cases, the prescribed medication is perfectly fine, but somehow the patient receives either a completely different medication or the wrong dosage of medication.  This frequently occurs when patients are in the hospitals and staff administers medication through an IV line and machine.  It can also occur when a pharmacy fills a prescription with the wrong drug.
Side-Effect Injuries: When medication side effects result in injury to the patient the prescribing doctor may be liable for malpractice if they failed to account for the potential side-effects.  Many of these cases involve allegations that the doctor should have prescribed a safer alternative medication.
Contact Miller & Zois About Medical Malpractice in Baltimore
Miller & Zois has established itself as one of Baltimore's top firms for medical malpractice claims. Compare our results of the last 5 years with any firm in Baltimore.  Call me today at 800-553-8082 or get a free online case evaluation.