On this page we will look at medical malpractice lawsuits against MedStar Union Memorial Hospital in Baltimore. Our Baltimore medical malpractice lawyers have extensive experience with hospital malpractice claims and a history of success against Union Memorial and MedStar.
About Union Memorial Hospital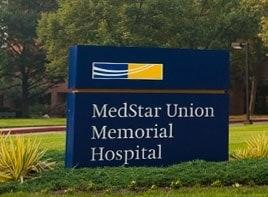 MedStar Union Memorial Hospital is a mid-size, non-profit, hospital located in the Charles Village neighborhood, just north of downtown Baltimore. Union Memorial was originally founded in 1854 as the "Union Protestant Infirmary" with just 20 beds. In 1920 the facility changed its name to Union Memorial Hospital and since then it has steadily grown and expanded.
Since 2012, Union Memorial has been owned and operated by MedStar Health. MedStart is a large non-profit hospital and health system that operates 10 hospitals in Maryland and Washington, DC. MedStar has brought sophisticated, corporate structure and administration to Union Memorial resulting in many improvements.
Union Memorial Hospital is a medium sized hospital with 223 staffed beds. The hospital (through MedStar) employs about 650 physicians and over 2,500 professional and non-professional staff. Union Memorial is mostly known for its orthopedics – which has some of the best doctors in the world – and cardiac care departments. It also has a general surgery department and emergency medicine services.
The hospital sees over 58,000 emergency room visits per year and brings in over $400 million in revenue. Recently, Union Memorial opened a helipad for transport of emergency trauma patients which is obviously a big deal in getting serious injury patients treated quickly.
Medical Malpractice at Union Memorial Hospital
Union Memorial is one of the lower-rated hospitals in Baltimore when it comes to the quality of patient care and patient safety. Over the last several years, Union Memorial has consistently received low grades from hospital safety watchdog Leapfrog. In the most recent hospital safety report from The Leapfrog Group, Union Memorial received a letter grade of C. According to the Leapfrog survey, Union Memorial receive below average ratings for infections and surgical errors.
Like any other busy urban hospital, medical mistakes and negligent care are a regular problem at Union Memorial. This is inevitable when you have thousands of patient admissions each year. Even at the very best hospitals, medical malpractice is a regular occurrence. As a result, Union Memorial hospital gets named as a defendant in at least a half dozen major medical malpractice cases in Maryland every year. Our firm has sued Union Memorial in a number of hospital malpractice cases and we have had a great deal of success against them.
Where to File Union Memorial Hospital Medical Malpractice Lawsuits
Union Memorial Hospital is located in Baltimore City, so malpractice cases against Union Memorial get filed in the Circuit Court for Baltimore City. Baltimore City is a preferred venue for Maryland medical malpractice lawsuits. Juries in the City consistently side with plaintiffs and are known for awarding large verdicts. Sometimes pre-lawsuit negotiations can be fruitful, but if a lawsuit is necessary, Baltimore City Circuit Court typically offers a good pool of jurors. Our firm has had a lot of success with malpractice and other tort claims in this jurisdiction.
To serve Union Memorial Hospital, you serve:
Union Memorial Hospital
201 E. University Parkway
Baltimore, Maryland 21218-2829

Serve On:
Resident Agent
The Corporation Trust Incorporated
351 West Camden Street
Baltimore, Maryland 21201
Union Memorial Hospital's Defense Strategy in Malpractice Cases
When you sue Union Memorial you are suing its parent company MedStar Health. Most hospitals are highly motivated to settle medical malpractice claims to avoid negative press that might harm the hospital's public image. MedStar is a little more willing to challenge plaintiffs and take cases to trial, but they are still more likely to settle a valid claim compared to a doctor. MedStar is self-insured so they have the freedom to settle cases without any approval from an insurance carrier or concern with how a settlement will impact their malpractice rates.
As part of the MedStar system, Union Memorial Hospital is usually defended by Goodell, DeVries, Leech & Dann, one of the premier medical malpractice defense firms in Maryland. It has also been defended by lawyers from the Rockville firm of Gleason, Flynn, Emig & Fogleman; and Wharton Levin Ehrmantraut & Klein in Annapolis.
Recent Malpractice Claims Against Union Memorial
Below are recently filed lawsuits against Union Memorial and a summary of the allegations in the claims.
2019: Rocklin v. Union Memorial Hospital – failure to administer blood thinners to patient, leading to pulmonary embolism and death
2019: Stein v. Union Memorial Hospital – failure to diagnose carotid stenosis, leading to stroke and permanent damage
2016: Moyer v. Union Memorial Hospital – failure to perform mitral valve surgery causing wrongful death
2016: Peaks v. Union Memorial Hospital – detained patient without cause
2016: Murray v. Union Memorial Hospital – failure to address patient's condition resulting in foot amputation
Ordering Medical Records from Union Memorial
The first step in determining whether you have a medical malpractice case is for you or your lawyer to obtain your medical records. Hospital records from Union Memorial can be retrieved from:
Union Memorial Hospital Medical Records Department
201 E. University Parkway, Room B32
Baltimore, Maryland 21218
410.554.2528
FAQs: Union Memorial Malpractice Cases
Does Union Memorial Hospital Get Sued for Malpractice Often?
Just like any busy, urban hospital, Union Memorial gets named as a defendant in a number of medical malpractice cases every year. Union Memorial does not get sued for malpractice more frequently compared to other hospitals of comparable size.
</di v>
How Many Hospitals Does MedStar Operate?
MedStar, a not-for-profit health system that currently owns and operates 10 hospitals. 8 of MedStar's Hospitals are in Maryland and 2 are located in Washington, DC. MedStar health also has a number of outpatient facilities in the Maryland and DC area.
Is MedStar Difficult to Deal with In Medical Malpractice Cases?
In our experience, MedStar is a little more willing to be aggressive in defending questionable malpractice cases than other hospitals. However, just like most hospitals, MedStar is concerned about public image and is eager to settle valid cases to avoid negative publicity from a large verdict.
Does Union Memorial Have In-House Attorneys?
Union Memorial is part of MedStar Health. MedStar has an in-house counsel department with a handful of lawyers. In-house attorneys at MedStar do not defend medical malpractice cases themselves. They hire and supervise outside counsel to defend them in malpractice cases.
Contact Us About Union Memorial Medical Malpractice
If you believe that you have a medical malpractice lawsuit against Baltimore's Union Memorial Hospital or any other hospital in Maryland, contact our medmal lawyers at 1.800.553.8082, or send us a free internet request for consultation.
Medical Malpractice in Other Maryland Hospitals
Hospital Specific Malpractice
Emergency Room Malpractice