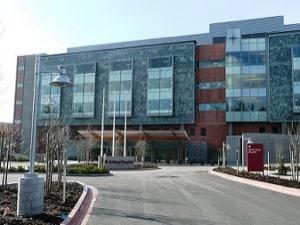 Harbor Hospital, owned by MedStar, is located in Baltimore City, Maryland overlooking the Patapsco River. It has 179 hospital beds, and is a teaching hospital, with much of the care being provided by internal medicine residents (doctors who have completed medical school, but who are learning about a particular specialty).
The hospital has a particular focus on internal medicine (including primary care), orthopedics – they are the official medical team of the Baltimore Ravens – cancer care and women's services (including gynecology and labor & delivery), but it does have a very busy ER as every hospital downtown does.
Where To File Harbor Hospital Medical Malpractice Lawsuits
Because the hospital is located in Baltimore City, the majority of Harbor Hospital medical malpractice cases are filed in Baltimore City Circuit Court. Baltimore City has a good reputation for fair jury verdicts, and plaintiffs' lawyers often choose Baltimore City, even when other venues are available.
Verdicts and Reported Cases
Harbor Hospital was subject to a $21 million Baltimore City jury verdict in July 2012 in a birth injury mistake case. Plaintiff in that lawsuit alleged that failures on the part of the delivery team was the cause of a child's severe cerebral palsy.
On May 31, 2019 a medical malpractice lawsuit was filed after a woman needed to have all extremities amputated due to misdiagnosis and doctors deciding to intubate the patient without an anesthesiologist or anesthesia.
In another cerebral palsy case in 2021, an Anne Arundel County family was awarded nearly $35 million by a Baltimore jury, who found that MedStar Harbor Hospital neglected to properly treat a newborn's dropping oxygen levels, causing severe brain injuries and permanent disability. The hospital failed to handle the deteriorating condition of Jordan Biggs. Specifically, the jury found that hospital staff mishandled initial signs of Biggs' condition and did not properly contact the on-call pediatrician. Now 16 years old, Biggs has been diagnosed with cerebral palsy and requires round-the-clock care. This case is still on appeal.
Harbor Hospital's Defense Team
As part of the MedStar system, Harbor Hospital is typically defended in medical malpractice lawsuits by attorneys Goodell, DeVries, Leech & Dann (Donald DeVries), or Armstrong, Donohue, Ceppos, Vaughan & Rhoades (Benjamin Vaughan). These firms have very good medical malpractice reputations. When you have a serious malpractice case against one of these firms, you need to bring your "A" game.
Ordering Records from Harbor Hospital
Every medical malpractice case begins with a review of the medical records. Any medical malpractice lawyer will tell you that they have seen many potential claims that appeared to be obvious malpractice, only later to find reasonable explanations for the care in the medical records. Conversely, sometimes what seems to be a questionable case becomes much stronger by seeing what the doctors did – or did not do – for the patient.
To collect medical records from Suburban Hospital, send correspondence to:
Harbor Hospital
Attention: Medical Records Department
3001 S. Hanover Street
Baltimore, Maryland 21225
Lawsuits Against Harbor Hospital
Below are medical malpractice lawsuits that have been filed against the hospital and a summary of the allegations in the case.
2017: Evans v. MedStar – Group B Strep passed to a child causing permanent birth injures
2016: Sinsky v. Harbor Hospital – failure to recognize a bowel injury during a hysterectomy
2015: Fogler v. Harbor Hospital – bowel perforation during the procedure, leading to septic shock and death
2015: Wing v. Harbor Hospital – failure to properly treat cancer, leading to permanent radiation toxicity
2015: Peterson v. Harbor Hospital – perforation of patient's colon during colonoscopy
2015: Richmond v. Harbor Hospital – failure to diagnose and treat infant following delivery
2014: Butler v. Harbor Hospital – failure to promptly triage and treat patient resulting in death by cardiac arrest
2014: Dennison v. Harbor Hospital – failure to properly review brain scan, resulting in wrongful death
What is the Average Settlement Value of a Harbor Hospital Malpractice Case?
The typical settlement value of a medical malpractice case against Harbor hospital is around $505,000 to $705,000. This is slightly above the national average for settlements in hospital malpractice cases, which is $425,000. The average value of a jury verdict in a Harbor malpractice case is also higher than the national average for verdicts in hospital malpractice cases, which is just over $1 million.
What are My Chances of Winning a Malpractice Case Against Harbor Hospital?
3 out of every 4 plaintiffs who file bring a medical malpractice case against Harbor Hospital end up getting some money either in a settlement or a jury verdict. The chances of winning or getting a settlement in a hospital malpractice case are higher than cases against doctors or other healthcare professionals. Hospitals, like Harbor, are much more motivated to settle valid medical malpractice cases compared to individual doctors. Unlike doctors, Harbor does not get benefit from jury sympathy and they prefer to avoid the bad press associated with big malpractice verdicts.
Does Harbor Get Sued for Malpractice Frequently?
Yes. Harbor is one of the biggest hospitals in Montgomery County with around $500 million in annual revenues. Harbor (which is now part of the Johns Hopkins network) gets named as a defendant in a handful of Maryland medical malpractice lawsuits every year. The most common types of medical malpractice claims against Harbor hospital include: surgical error, misdiagnosis and birth injury.
What Impacts the Value of a Harbor Hospital Malpractice Case?
The primary factor that drives the potential settlement value of a malpractice case against Harbor Hospital is how badly the victim was injured. If the medical negligence at Harbor results in serious, life altering injuries, the case will have a much higher settlement value.
What Maryland Defense Lawyers Does Harbor Use?
When Harbor hospital gets sued for medical malpractice in Maryland they are almost always defended by the Annapolis law firm of Wharton, Levin, Ehrmantraut & Klein.
Contact Us
If you were injured at Harbor Hospital or any other hospital in Maryland, contact our medical malpractice lawyers at 1.800.553.8082, or send us a free internet request for consultation.We have worked with medical experts in every specialty, and we can help you determine whether you qualify for a lawsuit.
Hospital-Specific Malpractice
Emergency Room Malpractice