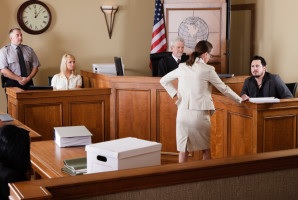 The most important part of a personal injury trial is the plaintiff's testimony.  Specifically, the most critical part of a trial is the personal injury plaintiff's direct examination.  If it doesn't go well when you are in total control of the process and the facts, it will be nearly impossible to get a favorable damages award. We believe in thoroughly preparing the plaintiff to testify, both on direct and cross-examination.  I would not be surprised to learn that our firm spends more time on direct examination preparation that any firm in Maryland.
Witness preparation is a broad term that covers any communication between a lawyer and a prospective witness done to get the most favorable possible substance or presentation of trial testimony.  It also helps the lawyer know precisely what the witness is going to say on direct examination.
By the time the trial draws near, most experienced personal injury lawyers will have a pretty good idea of what's out there as far as potential cross-examination material. This comes from a variety of sources: interrogatory answers, medical records, deposition testimony, prior medical history, etc.  But you really do not know what someone is going to say until the tell you what they are going to say.  And, as experienced trial lawyers know, even then you are still not entirely sure what will come out of the witness' mouth.