Dealing with this Baltimore hospital on malpractice claims
Sinai Hospital is a part of LifeBridge Health. LifeBridge Health also runs other medical facilities, including Northwest Hospital, Levindale Hebrew Geriatric Center and Hospital, Courtland Gardens Nursing & Rehabilitation Center, and LifeBridge Health & Fitness.
Founded in 1866, Sinai has 467 beds. It is located in Baltimore City and serves as a teaching hospital in the areas of Obstetrics & Gynecology, Pediatrics, Internal Medicine, Ophthalmology and Physical Medicine and Rehabilitation. Other departments include Emergency Medicine, Orthopedics, Psychiatry, and Urology.
Where to File Sinai Hospital Malpractice Lawsuits
The location of a lawsuit has a significant impact on the value of the case. Sinai Hospital is in Baltimore City. Plaintiffs' lawyers will almost invariably file medical malpractice cases in Baltimore because of a conscientious jury pool that historically gives alleged victims a fair shake and quality judges.
If you wish to serve Sinai Hospital, you would serve:
Serve On:
Joel I. Suldan, Resident Agent
2401 West Belvedere Avenue
Baltimore, Maryland 21215
Types of Lawsuits Filed Against Sinai
This is a sampling of some of the claims brought against Sinai in the last few years:
Failure to detect signs of early loosening of acetabular cup resulting in revised hip replacement surgery
Orthopedic malpractice during bilateral knee replacement
Negligent monitoring in the ICU which caused patient to self-extubate (usually caused by lack of proper sedation or improper use of restraints)
Failure to properly treat bedsores
Perforation of small intestine during laparoscopic bilateral tubal ligation.
Hospital fall
Delay in diagnosis of a ruptured disk at L2-3 leading to paralysis.
Complications following foot surgery for Achilles tendon rupture
Mismanagement of hernia repair
Cardiac catheterization complications leading to death
Infection
Sinai Hospital's Medical Center's Defense Team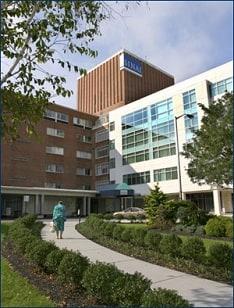 Sinai is often defended by Francis "Skip" Leary of Chason, Rosner, Leary & Marshall, LLC, a lawyer who has worked for both plaintiffs and defendants. It has also been defended by Thomas Monahan of Goodell, DeVries, Leech & Dann, LLP, and Michael J. Baxter of Baxter, Baker, Sidle, Conn & Jones, P.A.
Even good malpractice claims are hard to settle without filing a lawsuit. But, by reputation, Sinai is one of the hospitals where might be useful to open Sinai settlement discussions before filing a lawsuit assuming your case has real merit.
Ordering Medical Records from Sinai Hospital
The first step in determining whether you have a medical malpractice case is for you or your lawyer to order medical records. Sinai Hospital records can be obtained from:
Sinai Hospital of Baltimore Medical Records Department
2401 West Belvedere Avenue Baltimore, Maryland 21215-5271
Recently Filed Cases Against Sinai
Below is a list of lawsuits in Maryland recently filed against Sinai along with plaintiff's allegations in the lawsuit.
Moffet v. Sinai (2019): misdiagnosis of chronic liver disease
Cole v. Sinai (2019): failure to provide care in a timely manner
Shuman v. Sinai (2019): failure to properly monitor
White v. Sinai (2018): negligent postoperative care leads to a stroke
Laughin v. Sinai (2018): failure to perform genetic testing
Fergurson v. Sinai Hospital (2018): orthopedic surgery error
Haischer v. Sinai (2017): back surgery lawsuit after a laminectomy ends with a bad result
Jones v. Sinai (2017): cut ulnar nerve during cubital tunnel release surgery
Weinberg v. Sinai (2017): infection from negligent follow-up care after hip surgery
Henry v. Sinai (2017): unnecessary surgery
Haischer v .Sinai (2017): pro se complaint filed claiming unnecessary disc surgery against a neurosurgeon and Sinai
Coleman v. Sinai (2016): false positive tuberculosis test caused victim to stay in hospital isolation for eleven days
Stapleton v. Sinai (2016): failure to properly monitor oxygen levels of 15 month-old girl, resulting in brain damage
Harrington v. Sinai (2016): Lap chole da Vinci robot surgical error lawsuit.
Ferguson v. Sinai (2016): Respiratory and cardiac arrest status after a thyroidectomy (presumably from an airway obstruction after a procedure to remove thyroid glands).
Newman v. Sinai (2016): Plaintiff's allegations in this case were not reported.
St. Clair v. Sinai (2016): Misdiagnosis of a perforated bowel during knee surgery.
Fellerman v. Sinai (2015): Wrongful death from misdiagnosis of abdominal compartment syndrome.
Fink v. Sinai (2015): Morcellation of endometrial cancer after hysterectomy.
Contact Us
If you believe that you have a potential suit against a Maryland medical facility, contact us at 1.800.553.8082, or send us a free internet request for consultation.