Below is a sample legal malpractice demand letter.  This was a catastrophic injury cases that resulted in a seven-figure settlement.  The legal malpractice was half of the claim.  The other half was a premises/product liability claim.
David G. Onassis, Esquire
Forest & Mason
36 S. Charles Street
Baltimore, Maryland 21202
Re: Witte v. Madison, et al.
Case No. 24-C-06-000633
Dear Dave:
You have requested a demand in the above reference case set for trial in Baltimore City in two weeks against Madison.
On August 12, 2020, Plaintiff Dennis Witte was a 24-year-old structural engineer job for a company called Crasano. He was crushed and pinned underneath a two thousand pound steel metal truss.
The truss fell as a result of the negligence of the truck driver hauling the load, Arthur Anderson, and as result of the negligence of the fabricating company for failing to properly secure and package the load, Defendant Madison. Plaintiff Witte sustained serious and permanent injuries as a result of the accident. He has two cases pending: a third party liability case pending in Baltimore City Circuit Court and a workers' compensation case.
Liability Facts of the Accident
In August 2020, Crasano was hired to erect overhead signs at the Wilkes Interchange in Pennsylvania. At the time of the accident, there were four Crasano employees on the job responsible for the unloading process of the metal trusses. The foreman, Defendant Joseph Fontanna, two groundsmen, Plaintiff Witte and Defendant Leroy Nottingham, and the crane operator, Defendant Chris Eronson. The goal for the day was to unload two separate trucks hauling the trusses and hardware for the erection of two overhead signs.
On the date of the accident, two different drivers were hauling two separate trucks with metal trusses and fixtures for the erection of two overhead sign structures. The overhead sign structures were fabricated and packaged for transport by Defendant Madison. Truck #1 was driven by Jim Lane, who is not a party to this case, and was unloaded without event. Truck #2 was driven by Arthur Anderson, a resident of Missouri, who should be a defendant in this case but was not sued in time in the proper venue before the statute of limitations had passed by Plaintiffs' previous attorneys.
Negligence of Defendant Madison
The metal trusses are each approximately 35 feet long, 2,205 pounds, and shaped like triangles. The metal trusses are placed on a flat bed trailer side by side with one truss on its point. Truck #1 was loaded with only two trusses. The trusses were placed side-by-side to one another with one truss on its point The two trusses were like-sized and were banded together with steel banding at four separate points by Defendant Madison.
Truck #2 had four trusses on it, three of which were like-size. The bottom two trusses were of like-sizes and were banded together, just as Defendant Madison did with Truck #1. The top two trusses were of different sizes and were not banded together. See attached hereto Exhibits "A" and "B", loading documents from Defendant Madison as to how the trusses may have been loaded. Defendant Madison's' representative has testified that they have no documentation as to how the load was packaged, they can only speculate as to how it should have been loaded.
Of the four trusses on Truck #2, the largest truss, unlike the other three may have been loaded standing on its point, leaning into the right. Defendant Madison has testified that they would not have banded the top two trusses together because they were different sizes. The oddly shaped truss was the truss that fell on Plaintiff Witte.
It is Plaintiff Witte's contention that the trusses were not loaded properly by Defendant Madison and that its negligence was a substantial contributing cause to the accident. See attached hereto Plaintiffs' expert report from Barry Rope and Defendant Madison's expert report from Sam Deeder as Exhibits "C" and "D." Plaintiff Witte alleges that the trusses on the load should have been secured by metal banding and additional packaging materials and they were not safely secured for transport. Defendant Madison admits that they did not band the top two metal trusses together. Their own expert's report, however, assumes that the top two trusses were bound together.
Negligence of Arthur Anderson, the Truck Driver
The unloading process of these trucks was supposed to be as follows: The truck driver pulls the load up in line with an overhead crane which will lift off the metal trusses. Cargo straps are to remain on the load, connecting the load to the trailer. Once the crane is in place, the groundsmen go to opposite sides of the load with a web sling. The trusses are removed in pairs. Each groundsman takes a web sling and ties a noose around one end of the two trusses to be removed. Once the trusses are noosed and secured at one end, the other end of the sling has an eye that is connected to the hook in the crane. The crane operator then gets tension with the web slings and, at that point, the cargo straps are released by the truck driver.
Truck #1 was unloaded without incident in the above fashion.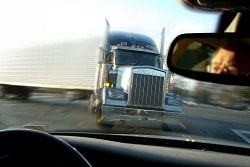 While the Crasano crew was unloading Truck #1, all of the witnesses agree that the driver of Truck #2, Arthur Anderson, un-strapped his load leaving only one strap securing four metal trusses to his trailer. By all accounts, Arthur Anderson appeared agitated, hurried and impatient. He was reprimanded by the foreman, Defendant Joseph Fontana, for unstrapping the load before it could be secured by the web sling and the crane, but Defendant Fontana decided to proceed with the unloading process in the same way.
It is alleged that Plaintiff Witte was told to stand clear of the site and let one groundsman proceed with the unloading; however, it is Plaintiff Witte's contention that he was told to unload the truck in the same manner as Truck #1. While walking towards the front of the passenger side of the trailer, the oddly shaped steel metal truss fell off the truck onto Plaintiff Witte, pinning him to the ground. The allegation is that the truck driver
, Arthur Anderson, removed the last strap as Plaintiff Witte was walking next to the truck, releasing the truss.
Arthur Anderson was negligent in failing to inspect his cargo; failing to make adjustments necessary to secure his cargo, and unstrapping his load when it was not safe to do so. It was his responsibility to properly secure the cargo, even if it was not properly secured by Defendant Madison. See Expert Report of Lewis Davis attached hereto as Exhibit "E."
Negligence of the Attorney Defendants
The statute of limitations in Pennsylvania is two years. At the time of the accident, Plaintiff Witte was represented by two different law firms. From the beginning of his case, he retained a local attorney, Steven F. Ballard with Stevens & Ballard in Catonsville.
Mr. Ballard handled Plaintiff Witte's worker's compensation claim and began handling his third-party liability claim. Realizing the amount and the complexity of the work involved, Mr. Ballard contacted the law firm of Saton and Monger, PC, which is a law firm located in Philadelphia, Pennsylvania.
Plaintiff Witte met with attorneys David Saton. and Steven Duffy with that firm and they agreed to assist Mr. Ballard with the case. The suit was drafted by the Saton and Monger firm, but filed by the local attorney, Mr. Ballard, in Baltimore City, Maryland.
Defendant Art Anderson filed a motion to dismiss, which was granted based on lack of personal jurisdiction. As of the date of the expiration of the statute of limitations, both firms were involved in the handling of Plaintiff Witte's case. Our firm attempted to save the case by filing suit in Missouri; however, Missouri has a borrowing statute and dismissed the case after applying the Pennsylvania Statute of limitations.
As it stands, the Defendant Attorneys filed a Motion to Stay and Sever, which has been granted by the Baltimore City Circuit Court. The Attorney Defendants have an incentive to settle this matter while there is still a joint tortfeasor available to contribute to the settlement of the claim and to avoid any additional litigation.
Medical Summary of Treatment
Plaintiff Witte was pinned under the metal truss for approximately ten minutes before the crew was able to remove the truss with the crane. After the truss was lifted off of him, he asked his crew members to move him out from underneath the dangling crane. They refused, so Plaintiff Witte dragged himself without any help, 10 feet over to the side of the road so as not to be lying under the dangling truss. He was taken by ambulance to INOVA Fairfax Hospital where he was admitted for eleven days.
The injuries he sustained include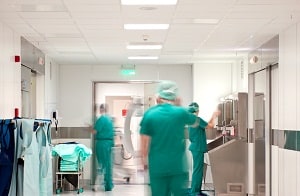 Left tibia fracture resulting in a closed reduction, external fixation surgery;
Left foot fracture resulting in the following three surgeries:

open reduction, internal fixation, with bone grafting;
IM nailing; and
arthrodesis of the subtalar joint and neurolysis of the superficial peroneal nerve.

Left shoulder injury resulting in decompression and debridement surgery;
Left knee injury, resulting in potential future surgery;
Deviation of his nasal septum resulting in surgery;
Lower back fractures at L1 and L2, resulting in potential future surgery;
Thoracic Spine Fractures at T10, T11 and T12, resulting in potential future surgery;
Lacerations to his face; and
Physiological injuries, including depression.
Fairfax Hospital – August 12-23, 2020
Plaintiff Witte's initial exam revealed a laceration to his lip and a left knee effusion. An x-ray of his lower back showed L1, L2 transverse process fractures. X-rays of the left tibia showed a highly comminuted fracture. The tibial plateau itself had a split centrally without displacement in the intra-articular region. X-rays of his left foot revealed a displaced talar neck fracture.
Plaintiff Witte was taken to the operating room for urgent closed reduction, external fixation of left tibia fracture as well as open reduction, internal fixation of talar neck fracture with bone grafting.
Following surgery, Plaintiff Witte was medicated with Morphine via a PCA pump. During his initial hospital stay, he continued to have severe pain and objective signs of infection. He continued to have excessive bleeding, drainage and an elevated fever during his admittance to Fairfax Hospital. Despite Plaintiff Witte's ongoing fever and signs of infection at the surgical sites, he was discharged to home by ambulance on August 23, 2020.
Home Healthcare – August 23, 2020
Plaintiff Witte was discharged to home health care via ambulance. Prior to an initial assessment by the Interim PT Home Health Nurse on August 23, 2020, he stated that he needed inpatient care and that he was discharged from the hospital too soon. The Home Health Nurse was unable to notify a physician as there was no Maryland physician to notify. At the time of her exam, his temperature was 103 degrees. His left leg was double the size of the right leg. The Home Health Nurse consulted with Mercy Hospital Emergency Room and it was decided to have Plaintiff Witte transported via ambulance to Mercy.
Mercy Medical Center – August 23-24, 2020
At or about midnight on August 23, 2020, Plaintiff Witte's pain scale was at 10. University of Maryland Shock Trauma was contacted for a transfer because a polytrauma patient was too complex for Mercy. Shock Trauma could not take a non-emergency patient because of staffing issues. After reviewing the history of Plaintiff Witte, Shock Trauma recommended that he would be better served at the primary institution, INOVA Fairfax. Plaintiff Witte was evaluated by the Chairman of Surgery at Mercy, who felt that admission was warranted for further care of his lower extremity injury due to infection, and Plaintiff Witte was transported back to INOVA Fairfax Hospital on August 25, 2020.
INOVA Fairfax – August 25-28, 2020
At 1:30 a.m. on August 25, 2020, Plaintiff Witte arrived at INOVA Fairfax for evaluation. His chief complaint was pain to his left lower extremity at the left ankle and the left tib/fib fracture sites. Yellow pus was noted at the pin exit sites and an antibiotic was administered. There was increasing leg swelling and he complained of severe, excruciating pain. On August 26, 2020, it was agreed that Plaintiff Witte needed skilled nursing facility care. On August 28, 2020, Plaintiff Witte was discharged to Cameron Glen Center.
Treatment Following Discharge
On August 28, 2020, Plaintiff Witte was admitted for pain management and rehab to Cameron Glen Center, a skilled nursing facility. He was admitted from August 28, 2020, through September 5, 2020.
Plaintiff Witte continued to have in-home care from a nursing facility through September 30, 2020. He began to develop problems tolerating the external fixation device and he had a pin-track infection again. His orthopedic surgeon determined that the frame needed to come off and a long leg case placement would be more appropriate. Plaintiff Witte was admitted to INOVA for one day and the external fixator was removed and his leg was casted
Dr. Vitek, Commonwealth Orthopedic & Rehabilitation, P.C.
Plaintiff Witte's orthopedic treatment was through Dr. Stan Rosenhouse. Three months after the accident, his cast was removed, he was placed in a weight-bearing cast and began physical therapy. Four months post-accident he was off of narcotics and taking ibuprofen and Tylenol. He was taken out of the weight-bearing cast and was given a cam-walker boot. Five months after the accident, and three and one-half months after his external fixator was removed, Plaintiff Witte was doing reasonably well but was still in pain when he would bear weight. He also continued to complain of lower back pain and left knee pain.
Plaintiff Witte was ordered to have a CT scan of his foot and ankle when he was seen again on January 16, 2021. His tibia showed virtually no healing at the distal segment, proximally, however, it had healed. He was given the options of having another external fixator or having plates installed. On February 11, 2021 surgery was performed because the most distal segment had gone to non-union and they proceeded with an IM nailing. Plaintiff Witte had moderate pain for approximately two days and post-operatively he spiked a fever of 104.3. He was discharged five days later on February 16, 2021.
At his follow-up visit with Dr. Rosenhouse on February 20, 2021, he was back on pain medication. He was advised to start out-patient physical therapy. Seven months after his original injury and five weeks after the IM nailing, he was still having a fair amount of discomfort in his foot. He was advised to continue therapy, including aqua therapy and he was to remain out of work.
As of July 12, 2018, Plaintiff Witte was eleven months out from his injury. The pain he had before his IM nailing and instability was gone. He still had discomfort when he tried to bear weight, but most of it was through his foot and ankle. He was still in physical therapy and water rehabilitation and strengthening. He still had some complaints of numbness around his leg, which has not gone away. Plaintiff Witte was still having left knee complaints and significantly decreased range of motion in his left ankle. He was advised to continue physical therapy for at least the next two months.
As of December 27, 2021, Plaintiff Witte was seen again by Dr. Rosenhouse and was complaining of knee instability, left foot pain and difficulty getting on shoes because of swelling in his left foot.
Dr. Richard Y. Hinton – Left Shoulder Greater Chesapeake Orthopedic Associates
Plaintiff Witte was first seen by Dr. Minton on November 5, 2020, for his left shoulder. Dr. Minton's impression was that Plaintiff Witte either had a rotator cuff strain or a possible tear. On November 19, 2020, Dr. Hinton reviewed Plaintiff Witte's MRI, which showed fluid in the subacromial, but no tear of the rotator cuff. He was to start physical therapy and was ordered to come back in six weeks. As of November 31, 2020, Plaintiff Witte was diagnosed as having an injury consistent with traumatic cuff tendonitis. His subacromial space was injected and he was sent for out-patient physical therapy.
On February 25, 2021, physical therapy was discontinued due to its aggravating his left leg injury and difficulty getting around. As of May 26, 2021, Plaintiff Witte was continuing to have left shoulder complaints. He was diagnosed with impingement syndrome. On July 24, 2021, Plaintiff Witte had his left shoulder surgery, including decompression and debridement. He was seen for a follow-up on August 2, 2021, and was doing well. He was again advised to start with out-patient physical therapy. On October 14, 2021, Plaintiff Witte was seen again by Dr. Minton regarding his shoulder and had minimal positive impingement signs, which correlated with his complaints of numbness into his fourth and fifth fingers.
Harbor Orthopedic Institute
On March 1, 2021, Plaintiff Witte was seen by Dr. Shelton Stone to be evaluated for his mid and lower back problems. X-rays of the thoracic lumbar spine revealed there was a healed fracture at T11 with minimal compression and possibly a small amount of compression of T10 and T12. Plaintiff Witte was currently undergoing physical therapy for his leg, so he was given a prescription for the therapy to include his back as well.
As of June 29, 2021, Plaintiff Witte still had pain in his lower back that radiated down into his left leg. As of July 19, 2018, he had improved with the aqua therapy but was still having difficulty when leaning over the sink to brush his teeth and things of that nature. As of September 27, 2021, he was continuing to have discomfort in his lower back and mid back. It would bother him when he would take a deep breath or if he would stand for a long period of time. At this point, the pain was not traveling down either leg. He was given a referral to see Dr. Wardson, a pain management specialist.
Dr. Sellman
Plaintiff Witte was seen by Dr. Rose on March 30, 2021. He was seen for a neurological evaluation. He had post-traumatic headaches. Dr. Rose prescribed medication, Fioricet.
On December 20, 2021, Plaintiff Witte had a nerve conduction study test done, which revealed an abnormal study indicating at least one problem. The prominent finding was that he had moderate slowing of sensory and motor conduction and a left peroneal region in the region of the fibular head. Findings indicate the presence of a left peroneal neuropathy and explained the complaints of numbness that he has.
On December 23, 2021,  Plaintiff Witte had reoccurring headaches. He reported that he was depressed and had tenderness to the back of his neck and low back. He walked with a limp and had difficulty weight bearing his left foot. Dr. Selman was concerned with drug interactions so he ordered a follow-up appointment after Plaintiff Witte produced a list of his medications.
Seton Pain & Rehabilitation Center
Plaintiff Witte has treated on and off with Dr. Waxon and Felton Pain Management for his orthopedic complaints from October of 2021 through the present. He is currently in physical therapy with Felton Pain Management to strengthen his knee and continues to treat with Dr. Waxon. It is anticipated that Plaintiff Witte will be making a claim for future medical expenses associated with his continued need for pain management and ongoing physical therapy.
Nose & Throat Associates
On September 18, 2021, Plaintiff Witte went to an ENT because of nasal complaints since the accident. He did have a history of nasal trauma with a deviation of the nasal septum. Surgery was discussed as a way to improve his condition. He is expected to undergo nasal and sinus surgery on October 9, 2021.
Dr. David Davies
In August 2021, Plaintiff Witte came under the care of Dr. David Davies for his ongoing complaints of pain in his left foot, left knee and ongoing orthopedic problems. Initially, Dr. Davies attempted to resolve Plaintiff Witte's left foot pain and instability with an orthotic shoe; however, Plaintiff Witte ultimately underwent arthrodesis of the subtalar joint and neurolysis of the superficial peroneal nerve. He was casted for three months and began physical therapy in September of 2021. Plaintiff Witte continues to be treated by Dr. Davies for ongoing problems; Dr. Davies has told Plaintiff Witte that he may need a knee surgery in the future, and may need back surgery in the future.
Damages
Past Medical Expenses to Date: $ 512,440.67
Future Medical Expenses: $ TBD
Past Lost Wages for Lab Tech: $ 111,150.00
(13 an hour, 45 hours a week, 190 weeks)
Past Lost Wages for Security Job: $ 28,500.00
10 an hour, 15 hours a week, 190 weeks
Future Lost Wages for Structural Engineer: $ 1,676,480
31 more years at $60,840 a year
Future Lost Wages for Security Job: $ 241,800.00
31 more years at 7,800 a year
Pain & Suffering Cap as of August 12, 2021 (if Maryland law applied) $ 620,000.00
Future Vocational Rehabilitation Costs $ TBD
TOTAL CLAIM FOR SPECIALS $3,190,370.60
Conclusion
As a result of the accident, Plaintiff Witte has a pending Workers' Compensation Claim with Crasano. He has not been rated to date. He has a current Workers Compensation Lien in the amount of $303,016.52. The attorneys involved in the Workers' Compensation portion of the case will be attending the Mediation. Plaintiff's counsel for the Worker's Compensation Claim is Mark Sensor.
The lien holder, RFB, is represented by John Monton, and the defense attorney is Bill Bason. If the case was to settle, this portion of Plaintiff Witte's claim would be dramatically affected, which is why they have to be involved in any settlement discussions.
As you can see, we can put over $3.5 million on the board at trial in this case in hard Maryland numbers. As you know, we do not believe the cap on pain and suffering applies to this case because we do not believe that Maryland's cap will control this case. I will ask the jury for damages in excess of $10,000,000 against the legal malpractice defendants. But in an effort to resolve this case, my client is willing to reduce his demand and resolve this claim against all of the defendants $3.25 million. With respect to your client alone, if that is your preference, the Plaintiff's demand is $2.6 million.
I look forward to seeing you next week Dr. Davison's videotape trial deposition.
Very truly yours,
Laura G. Zois