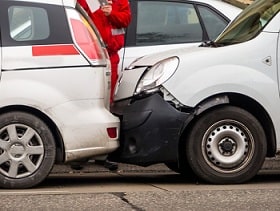 Fatal car accidents claim the lives of thousands of people every year in Maryland and throughout the country. Last year, there were more than 38,000 fatal car accidents which claimed the lives of over 42,000 people in this country. In Maryland, we lost 649 people in car crashes. Incredibly, there were 122 fatal car accident in Prince George's County alone, followed by 86 in Baltimore County, 66 in Anne Arundel County, 51 in Montgomery County, and Baltimore City with 36 (Baltimore City is relatively low on this unfortunate list, which is most likely attributable to a dearth of highway driving within the city limits, particularly the lack of large big rig commericial trucks).
Fatal car and truck accidents in Maryland are the leading cause of death for young people between the ages of eight and eighteen-years-old. Frontal impacts are the cause of death in approximately forty percent of all fatal crashes. Side impacts account for thirty percent of all fatal car accidents. Drunk drivers naturally contribute to the fatalities. Alcohol was involved in approximately 30% of our state's car accident deaths. Speed was also a factor in 30% of the fatal car accidents in Maryland.
Foundation of Wrongful Death Law in Maryland
When people are killed in fatal car and truck crashes, their family and loved ones have the legal right to seek compensation for their damages and suffering from the party who was responsible for the accident. Historically, wrongful death in Maryland was not recognized under the common law. Under the common law, when a person was killed as a result of the negligence of someone else, any personal injury claim that could be made for the accident terminated with the victim's death and the family could not make a claim. Today, Maryland, like every state, has a statute that allows for the family to recover in event of a wrongful death. So in fatal car accidents or fatal truck accidents, our Maryland accident attorneys seeks compensation on behalf of the victim's family.
Maximum Recovery in Maryland for a Wrongful Death
If there is more than one wrongful death beneficiary, for example in a case where a parent with children, the maximum award for noneconomic damages for a car or truck accident that happens today is $1,775,000. This is because there is a cap on non-economic damages in a survival action in Maryland of $710,000. This is also the maximum cap on any non-medical malpractice wrongful death case if there is only one claimant.
The wrongful death cap with two or more beneficiaries in a non-medical malpractice case is now $1,065,000. If there is only one plaintiff, the maximum recovery for non-economic damages would be $1.42 million ($710,000 for the survival action and $710,000 for the wrongful death action). (For the purposes of this illustration, we have assumed that the accident occurred today; click here to see the damage caps for other dates of death).
What Is the Statute of Limitations for a Wrongful Death Claim?
Originally, the statute of limitations in a wrongful death claim was one year. Maryland's current wrongful death statute, now codified at MARYLAND CODE ANNOTATED, COURTS AND JUDICIAL PROCEEDINGS § 3-904, states that a wrongful death claim must be filed "withhin three years after the death of an injured person." So the limitations period is generally three years but you really want to confirm with a lawyer because their are exceptions that push that limit up or down.
What to Do If You Have Lost a Loved One from a Wrongful Death Accident in Maryland
Our firm has handled a large number of wrongful death car accident claims in Maryland. If you live in the Baltimore Washington area and believe you have a family member that was killed that you believe was by the negligence by another in a car accident, truck accident or motorcycle accident, click here for a free no obligation consultation with a Maryland wrongful death lawyer or call us at 800-553-8082.