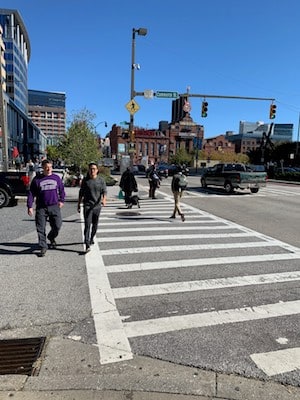 Baltimore is a pedestrian town. In recent years, there are times I could run the same mile much faster than sitting in traffic. If you are driving towards Harbor East during rush hour, you could crawl down Pratt Street and get there faster.
Pedestrian death in Maryland are on the rise.  The victim is a pedestrian in one in five fatal motor accidents in Maryland. Many of these deaths occur in Baltimore, the "pedestrian capital" of Maryland. In 2018, about half of the 133 pedestrians and six bicyclists deaths in Maryland were in the Baltimore region.
There are very few experiences as terrifying as a car coming at you as a pedestrian. We have all had that fear at one point of thinking a motor vehicle might hit us. It is terrifying. Cars outweigh human beings by hundreds of pounds and when traveling at high speeds may cause serious injuries to unsuspecting pedestrians. These accidents can happen in a variety of ways, but one common theme to remember is that the pedestrian almost always has the right of way.
So, if you are a pedestrian and you have been struck by a vehicle whether in the crosswalk, sidewalk or elsewhere, the odds are that it was the driver's fault. The following article will cover when and how an injured pedestrian can bring a lawsuit against an accident-causing driver.
This article will address:
How Dangerous and Common Are Pedestrian Accidents?
Pedestrian/motor vehicle accidents are both dangerous and common. The NHTSA reports that about 4,500 pedestrians are killed every year.  But things are getting worse.  The 2019 data is not in yet but 2018 was a brutal year for pedestrians: 6,227 deaths.  These deaths, not surprisingly, are much more common in urban areas like Baltimore, making up almost 75% of pedestrian accidents.
Also not surprising is that the majority of these accidents occur between 8:00 p.m. and 11:59 p.m. when the sun is down and visibility is low. Sadly, many involve children under 10 who are walking to and from school and people over 64.  (The driver and the victim are usually male.) Almost every year, the total cost of death and injury among  pedestrians totals $5.2 billion. Pedestrian accidents are a major problem in terms of cost and human suffering.
Settlements and Verdicts in Pedestrian Crash Cases in Maryland
The settlement value of pedestrian accident cases in Maryland is higher than most other types of accident cases.  Why?  The injures are more severe.  Most of the pedestrian accident cases our lawyers see involve very serious injury or death and they typically involve men.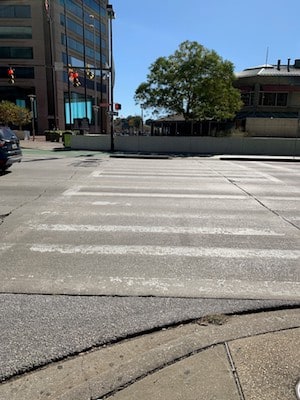 $1,000,000 Settlement. A young woman is pushing her small child in a stroller on a sidewalk in Baltimore County and is struck by a pickup truck that missed his U-turn but decided to take it anyway. The woman was killed. Before she was hit, she pushed her child to safety. Allstate argued that the client's immigration status would adversely impact the value of the case and made us file suit. Miller & Zois' attorneys sued them in Baltimore City. Allstate tried to move the case to Baltimore County but we won the motions battle on venue. The case settled shortly thereafter for $1 million, the full amount of Allstate's insurance policy.
$663,000 Verdict. An 18 year-old woman is hit by a car driving whose driver was distracted by a text message he was sending. The defendant, a State Farm insured admits liability but argues the woman was not really hurt. To be blunt, they pretty much accused her of being a liar. But the jury believed her and her doctors and awarded $663,000. Miller & Zois took this case to trial when State Farm refused to pay her the compensation she deserved.
Miller & Zois Knows These Cases
If you or one of your loved ones were involved in a Baltimore pedestrian accident, we may be able to help you get the compensation you deserve. We fight relentlessly to get you as much money as possible for what you have been through. Call us at 800-553-8082 or you can get a free case evaluation online.
More Pedestrian Accident Information