Many of us have had parking lot accidents. It is the most common place to have an accident and in the vast majority of cases, the injuries are not significant.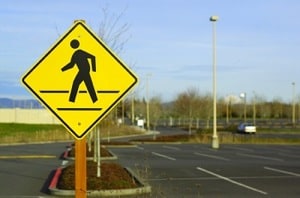 But there are wrongful death cases in parking lots every year in Maryland. These are mostly involving pedestrians walking around shopping center and strip mall parking lots who are utterly defenseless against motor vehicles. The occupants of those vehicles are often more interested in finding a good space than they are in being careful. It is therefore not uncommon for pedestrians to be backed into or even hit head on by a distracted, perfect-parking-space-seeking motorist. We also see – and have taken to trial – the "million-to-one" parking lot accident where a vehicle collision causes serious injury or death (see below).
This article addresses:
The Serious Risk Posed by Parking Lot Pedestrian Crashes
Often, the speed of the motorist is not the only factor in making certain accidents dangerous to the occupants and even fatal in some instances. This is especially true in the case of parking lot accidents. Although most of these accidents do not occur at high speeds, they are still dangerous because they involve unsuspecting pedestrians and motorists. It is when one is unsuspecting that they are least on guard and most susceptible to an accident. A distracted shopper eager to get to Black Friday sales, for example, might not see the commercial vehicle backing out of the loading area and over her leg.
For obvious reasons, the risk of injury is highest when a pedestrian is hit by a moving motor vehicle, yet the risk of injury exists elsewhere as well. It is not uncommon for a motorist to curve around the bend in a parking lot looking for a space and collide head on with another motorist who came around the bend in the opposite direction. Neither driver could see the other until the last minute and likely would be unable to apply the brakes and maneuver so as to avoid a collision. Other types of accidents might include motorists backing out of spots, failing to see that a car was behind them, and striking that car.
Most Common Road Parking Lot Accident Claims
The great majority of the parking lot claims we bring involve pedestrians. Why? The very reason you think: the injuries are not usually significant in a parking lot because the victims are protected by steel in relatively low speed collisions.
The following are common types of accidents involving parking lot incidents:
A pedestrian is struck by a motorist who, while looking for a parking space, fails to keep a proper lookout for the safety of others. This is a small minority of the total cases, thankfully, but a large majority of the serious injury claims
Two motor vehicles make a sharp turn into each other and collide head on
A motorist backs out of a parking space, fails to look in the rear view mirror, and cuts off a passing car, causing a collision.
Example Case that Illustrates the Issues in Lost Temper Crashes
It is the first day of summer and everyone is headed to the beach in Ocean City for a weekend of fun. Two friends, Sherry and Sam, head out to Ocean City to join in the fun and sun. As soon as they arrive at their destination, they immediately head to their favorite beach which is adjacent to Parking Lot 17. As they enter the parking lot, it is immediately clear to them that there are not many open spots. They circle the parking lot a few times, but they still haven't found anything. Undeterred, Sam and Sherry decide to sit in their car at the edge of the lot and wait for someone to move.
As they sit in the car for what seems like forever, they finally see a family of 3, with beach bags and towels, heading towards their car. Sam taps Sherry who is behind the wheel and alerts her to the open spot. They know they have to hurry, because there is another car currently circling the lot that would likely pounce on this open spot in a minute. To avoid that, Sherry throws the car in drive and stomps on the gas pedal as she re-enters the parking lot and heads for the now-open space. She spins around the first corner of the lot at 25 MPH, which is 15 MPH over the parking lot speed limit.
At the same time, John is heading back to his car in the same parking lot. He has just run a mile in the sand and can't wait to get back into his car and throw on the air conditioning. He is just about to reach his vehicle when he hears the sounds of tires screeching behind him. Before he even has a chance to turn around, he feels a sharp pain in the back of his legs. Boom! Before he knows it, John is face first on the cement, writhing in pain and shouting for help. An ambulance is called and John is airlifted to Maryland Shock Trauma where his right leg is amputated.
Of course, it was Sherry who was speeding through the lot to get the open space, who hit John in the back with her car. Since Sherry was so focused on securing a good parking space, she failed to keep a proper lookout for pedestrians on foot. As such, her negligence caused John's horrific injuries and she should, we would argue, be held liable for those injuries.
Who Pays for the Settlements and Verdicts in these Cases?
The most important question to anyone considering the pursuit of legal action is to know how much their case is worth. Well, this is a difficult question but there are a few important factors to keep in mind.
First, the other driver must be somehow at fault, in that they were careless or negligent in their operation of their vehicle. In the above example, there can be no doubt that Sherry was negligent. Also, if the victim was also irresponsible by, for example, failing to pay attention, then the doctrine of contributory negligence prevents any recovery.
Second, the amount of damages awarded usually reflect the severity of the injuries suffered. If an injury requires little to no medical attention, there is little basis for the jury to award someone a large sum of money. If, on the other hand, a victim is seriously injured and requires expensive medical care and time off from work, then he or she might be entitled to a large award. When it comes time to pay the victim of a negligent motorist, it is almost always the motorist's insurance carrier who pays the settlement or verdict.
To dig into this issue further, you can learn here about the values of specific types of injuries.
Example Parking Lot Crash Verdicts and Settlements
2014: Maryland: $135,000 Settlement: Another Miller & Zois parking lot crash case. In this one, a 76 year old church member was walking through the parking lot in Baltimore County when a fellow church member rounded a blind corner and struck the Plaintiff. Plaintiff sustained a displaced bicondylar fracture of the right knee, and later developed a MRSA infection. Plaint
iff, who had been very socially active, found it difficult to recover from and suffered a great loss to her quality of life. Defendant denied any contact between her vehicle and Plaintiff. The parties chose to take the case to mediation where they agreed on a $135,000 settlement.
2014: Maryland: $79,501.86 Verdict. The plaintiff left a bar/lounge at 2 a.m. and was walking across the parking lot and was reportedly hit by a car. The vehicle was allegedly moving backwards at the time of the collision. The plaintiff said the car stopped just before the tires ran over him. The plaintiff claimed the owner negligently entrusted the vehicle to the driver. Davis asserted the collision caused him to sustain injuries to his head, neck and shoulders as well as medical expenses.
May 2014, Maryland: $50,829 Verdict: A 43 year-old store manager was walking in the Giant grocery store parking lot in Westminster when he was struck on the left hand side by an SUV. He visited a local emergency room the following day with complaints of knee, neck and shoulder injuries. He later sought orthopaedic treatment, pain management and physical therapy. He was ultimately diagnosed with having a cervical disc protrusion with radiating pain. The man sued the driver for failing to yield the right of way to a pedestrian. Plaintiff alleged Defendant also failed to keep a proper look-out. Defendant admitted liability, but contended the extent of Plaintiff's injuries. The matter proceeded to trial where a Carroll County jury rendered a $50,829 for the Plaintiff.
Get more parking lot verdicts and settlements in Maryland and around the country.
Looking at the outcomes of other cases is educational for victims and other attorneys that have a seemingly similar case. But be careful, too. The results of one case does not predict the results of another.
Getting a Lawyer for Your Claim
We have a long history of success in all types of traffic injury case. If you have been seriously hurt, you need an advocate on your side. Call us toll free at 800-553-8082 or get a free, no obligation case evaluation online.
More Information