Below are some updated 2023 car accident statistics for Maryland and the United States. While some statistics are current for 2023, others are from 2021 which is the most recent year with complete data available. Elsewhere, we provide the settlement value of car and truck accident claims in Maryland drunk driving statistics, and texting accident statistics.
The following car accident statistics are offered just to give a context of the scope of the problem and to highlight some of the points we have been making:
Smaller, more efficient vehicles offer less protection to occupants in a collision.
Distracted driving has become one of the biggest dangers on the road today thanks to smartphones and in-car technology.
With that in mind, we offer the following car crash statistics:
National Accident Statistics
Total Car Accidents
There were a total of 6,756,000 police-reported car accidents in the United States and an additional 10 million estimated auto accidents that were not reported according to the National Highway Traffic Safety Administration.
There were a total of 1,916,000 medically consulted injuries resulting from auto accidents  – causing a total estimated loss of $413 billion (which includes lost earnings, medical expenses, property damage, and employer costs).
Car Accident Fatalities
Car accident deaths are down in the first quarter of 2023 and in the second quarter
33,244 people were killed in car accidents in based on NHTSA data (which sometimes differs from other estimates).
This represents a small decrease in car accident fatalities (33,919).
The total number of accident fatalities is not a very insightful statistic for evaluating car accident safety trends. Deaths per cars on the road and deaths per miles driven are much more accurate measures of highway safety. Both of these analytical tools show that motor vehicles are comparatively safer now than ever before:

In 1913 there were 33 fatalities for every 10,000 registered vehicles. In 2019 there were only 1.5 deaths for every 10,000 registered vehicles. This represents a decrease of 95%.
Deaths per total vehicle miles driven has decreased by a factor of 16 since 1920.

The fatality rate per 100 million vehicle miles traveled (VMT) was 1.5 in 2021. This is up from 1.11 in 2019 and 1.14 in 2018. In 1980 the VMT was 3.3.
Maryland Accident Statistics
Below are the most currently available car accidents statistics for Maryland as of 2023. Some of these numbers are from the current year (2023), while others are from 2021, which is the most recent year for which complete data is available.
Total Car Accidents in Maryland
Car Accident Fatalities in Maryland
Accident Causes:
Maryland Historical Traffic Fatalities: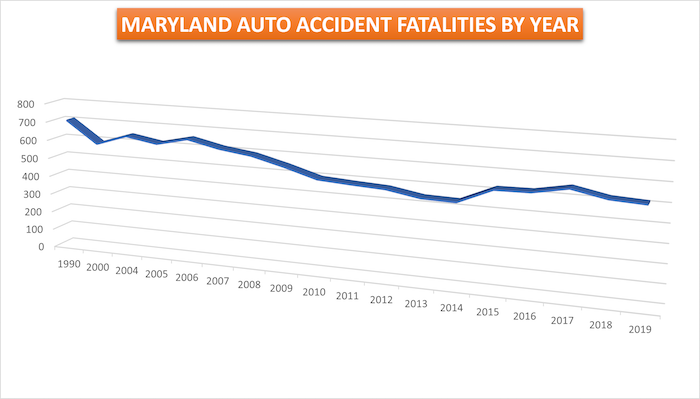 Tips on Each Insurance Company
What to Do If You Need a Lawyer
Experienced counsel can help you to get the compensation you deserve for your injuries. Our firm has the experience and the resources to dig through these complicated issues and stand up to the insurance companies to fight for equitable compensation.
If you or someone you know has been injured in a motor vehicle collision, select here for a free consultation or call 1-800-553-8082 to speak with an attorney who can help you figure out what the best path is for you.
Dealing with the Insurance Company