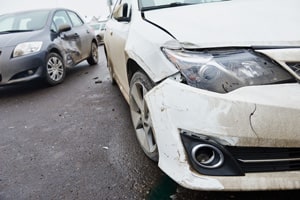 Any time that police are called out and respond to the scene of an accident, a formal police report must be prepared and filed. This is actually true of any incident, including auto accidents, criminal incidents, and any others. When it comes to car accidents, the same standard police report form is filed in every jurisdiction.
Maryland uses what is called the State of Maryland Motor Vehicle Crash Report. For our purposes, we will refer to these as "accident reports." The point of accident reports is for responding officers to collect statements from the drivers involved and any potential witnesses as well as any physical evidence such as skid marks, the location of the vehicles, where the vehicular damage is located, and so forth
Officers are also supposed to collect other types of crucial information like driver names, insurance information and to provide a drawn "diagram" of the scene. All of this information is supposed to form part of the factual narrative of what most likely occurred. In some cases, officers may include in the report a determination of who was at fault for the accident and they might even issue citations on the scene if appropriate.
Accident Reports in Auto Tort Cases
If you are pursuing a claim for injuries sustained in a car accident, the police accident report will always be a critical piece of the puzzle. In Maryland, police accident reports are NOT directly admissible at trial. However, the accident report still carries significant weight and influence, especially during settlement negotiations with insurance adjusters. If the accident report determines that the other driver was at fault, that is often all you need to conclusively prove liability to the adjuster.
As critical as police accident reports are, they tend to be hit or miss. Sometimes, the level of detail and information provided by the officer may not be very informing or thorough, and this is particularly common with minor, less serious accidents. No matter the detail, however, you still want to get a copy of the report because it can often help a lot more than you may think.
How to Obtain my Accident Report in Montgomery County?
You can find detailed instructions provided by the Montgomery County Police Department on their website regarding how you can obtain incident reports, including accident reports. The means of obtaining accident reports across Maryland differs from each jurisdiction and department. In Montgomery County, there are two ways you can get a copy of your accident report.
All Montgomery County Police District Stations provide accident reports 24 hours every day of the week. It does, however, usually take around three to five days following the accident for the department to process the report. It's a good idea for you to give your district station a phone call ahead of time to make sure they have the report ready before you go there to pick it up. 
The reports cost $10, and the district stations will accept cash, checks, or money orders. Just a side note, most jurisdictions in Maryland do not accept cash for accident reports.
If you do not want to obtain your accident report from a Montgomery County Police District Station, then you also can go to the Montgomery County Police Headquarters Information Management and Technology Division. This office is located at:
Montgomery County Police Headquarters
100 Edison Park Drive
Gaithersburg, MD. 20878
This office is open Monday through Friday from 8 am until 4 pm. They also ask that you call ahead of time, at 240-773-5330, to ensure the report is ready. The cost of the report is the same as from the district stations of $10 and payable by cash, check, or money order.
For either way of obtaining your report, they advise that you have the 8-digit report number ready if you have it, as it can help to save time in finding the report and getting it to you quickly. For any check or money order, you must make it payable to Montgomery County Government, Maryland. Additionally, you must provide them with a valid photo ID.
Montgomery County does not allow you to purchase an accident report online at this time. They explain that the department is required to make sure the person requesting and receiving the report was an involved party of the incident and that the Maryland Public Information Act requires certain information to be redacted from reports prior to issuing it to a person. As a result, in order to comply with Maryland law, Montgomery County does not allow incident reports to be purchased online.
How do I File a Police Report in an Accident Case in Montgomery County?
If the police do not come to the scene, you can file an accident report by calling 301-279-8000.
Getting a Lawyer for Your Injury Claim
If you have been in a car accident in Maryland and have suffered significant injuries, you should contact an attorney immediately. Do you need to hire a lawyer? Maybe. But you should certainly talk to an attorney. You may have as little as 180 days to take the legal steps necessary to preserve your claim. To learn how our Maryland car accident lawyers may be able to help you get compensation, complete our free case review form today or call 800-553-8082.