The discovery of a carcinogenic chemical in the popular heartburn drug Zantac prompted thousands of Zantac lawsuits around the country. The Zantac lawsuits in federal courts have been consolidated into a "class-action" MDL before Judge Robin Rosenberg in the Southern District of Florida.
Today, Judge Rosenberg is meeting with counsel for both sides to hammer out the details for how individual cases will be selected for "bellwether" trials, which are set to begin a little over a year from now. Bellwether cases are expected to be selected based on the type of cancer involved. The outcome of these initial test trials will be critically important in determining whether the Zantac lawsuits get resolved in a global settlement.
Zantac Lawsuits
If you are reading this post, chances are you already know about the Zantac backstory. This section will give a brief backstory for those that are not familiar already.  Zantac (ranitidine) is a heartburn medication that first came out in the 1980s and was approved for both prescription and over-the-counter forms. Zantac was originally developed and brought to market by GlaxoSmithKline, but the patent expired years ago and it was widely available in generic versions manufactured by various companies.
As of 2017, an estimated 15 million people in the U.S. used Zantac on a regular basis. A large percentage of these Zantac users took the drug every day for extended time periods under the assumption that it was entirely safe.
NDMA in Zantac
In 2018, the perception of Zantac as completely safe changed forever.  An independent consumer testing laboratory performed random quality testing and found that Zantac contained very high levels of a chemical called NDMA (N-Nitrosodimethylamine). NDMA a known human carcinogen that is very toxic. The levels of NDMA found in the testing of Zantac were high enough to prompt the FDA to issue a public safety warning.  Shortly after, Zantac was pulled off retail shelves across the country.
The FDA safety announcement and recall of Zantac made national headlines and led to a wave of Zantac lawsuits by individuals alleging that their exposure to NDMA in Zantac caused them to develop cancer. Over 70,000 Zantac lawsuits have been filed and consolidated into a Zantac MDL in the Southern District of Florida.
Selection of Zantac Cases for Bellwether Trials
The bellwether trials in the Zantac MDL are scheduled to begin in January 2023. In an MDL, bellwether trials are like test cases. They are designed to give both sides an idea of how juries are likely to respond to evidence and testimony that will be presented in all cases. The results of the bellwether test trials can be critically important because they can facilitate a global settlement of all remaining cases.
The selection of individual cases for bellwether trials is done under the direction of the MDL judge. Last month, plaintiffs and defendants submitted a joint proposal to Judge Rosenberg for the selection of bellwether trials. The plan proposes that all the initial bellwether cases be selected from Florida cases so that the trials can be held in Miami and subject to Judge Rosenberg's subpoena power.
Which Type of Cancers Are Most Common in Zantac Lawsuits?
Under the plan, Florida Zantac cases will be categorized according to the type of cancer alleged by the plaintiff. Then 25 cases will be randomly selected from each cancer type group.
The pending Zantac cases in Florida allege 10 different types of cancer. Below is a breakdown of the number of Florida Zantac claims by cancer type.
| | |
| --- | --- |
| Bladder Cancer | 805 |
| Breast Cancer | 1408 |
| Colon Cancer | 971 |
| Esophageal Cancer | 395 |
| Gastric Cancer | 421 |
| Kidney Cancer | 796 |
| Liver Cancer | 305 |
| Lung Cancer | 368 |
| Pancreatic Cancer | 316 |
| Prostate Cancer | 1550 |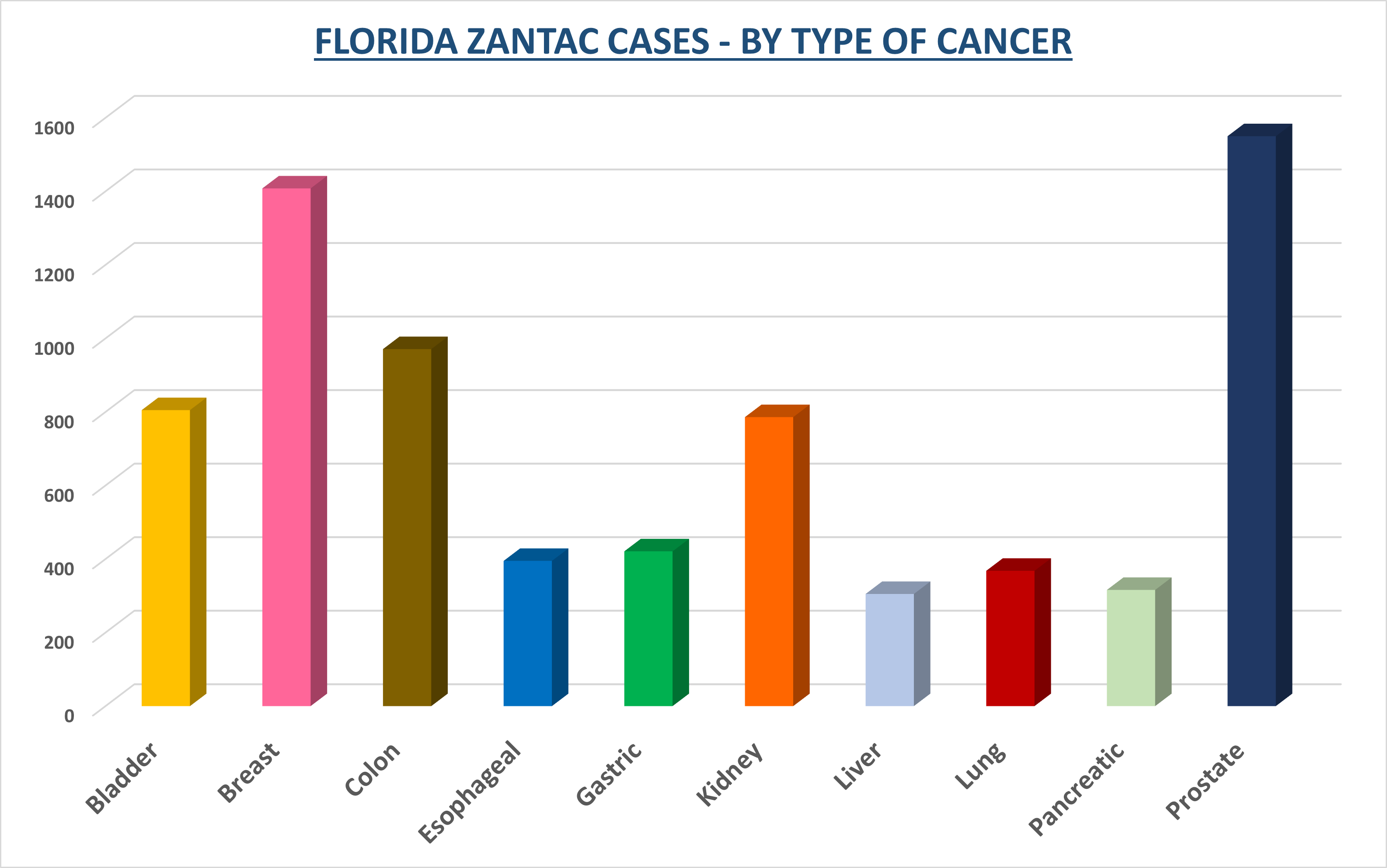 How Will the Zantac Bellwether Class Action Cases Be Selected?
Random selection of 25 cases from each cancer type group will result in a pool of 250 cases. Thereafter, the parties will jointly decide on which two cancer types have the strongest link to Zantac and are the most common and impactful.
From this group, six cases will be selected for round 1 of the bellwether trials. 2 additional cancer types will then be selected and six cases will be chosen from this group for the second round of bellwether trials.
Judge Rosenberg is expected to adopt this proposed plan, with only a few minor additions or changes. A few details will still need to be worked out, such as the selection of the 2 "primary" types of cancer associated with Zantac. The types of cancer that have the strongest causal link to Zantac are stomach (gastric) and esophageal cancer, but these are the 2 of the least common cancer types represented in the Florida Zantac cases.
Zantac Cancer Lawsuits Attorneys
Our Zantac attorneys are currently evaluating new Zantac cancer lawsuits. If you used Zantac and were diagnosed with cancer we can give you private and free legal advice and explain your options for seeking compensation. Contact our Zantac class action lawyers at 800-553-8082 or fill out this contact form online for a free case evaluation.