Pattern Jury Instructions
Non-pattern Jury Instructions with Analysis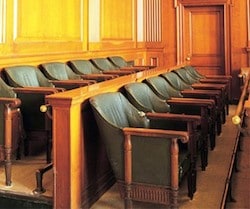 In personal injury cases, the judge instructs the jury as to the applicable law in the case after the close of evidence and before the lawyers' closing arguments. The role of judges in applying the negligence standard is rather limited. When a negligence case is tried to a jury, the only role a judge has is to define the negligence standard is the instructions to the jury. Most states define negligence as the failure to exercise "ordinary care" and define "ordinary care" as the conduct of a reasonably careful or reasonably prudent person. Maryland Civil Pattern Jury Instruction 19:1 defines uses "reasonable care" instead of "ordinary care" and defines "reasonable care" as the "caution, attention or skill a reasonable person would use under similar circumstances." Accordingly, in a medical malpractice case for example, the question is whether the doctor used reasonable care in treating a plaintiff.
In auto accident personal injury cases, there are also some relevant instructions based on the Maryland Transportation Code or case law that define a driver's obligations that a plaintiffs' personal injury lawyer must request if the defendant driver's negligence is in dispute. Some of the instructions our lawyers regularly request are listed above.
The judge will read to the jury the law applicable to the case. Typically, these quickly read instructions are all the jury is given to make their decision. If the jury asks for a further explanation of the instructions, most judges in Maryland will simply reread the instruction. The reason for this is that no judge wants to be reversed by the Court of Special Appeals. Judge are rarely reversed for answering a jury's question by repeating the jury instruction. Judges who step out on a limb and try to offer more information are often reversed (or at least more frequently). Accordingly, it is the personal injury lawyer that is required to painstakingly explain how the law is to be applied to the case in closing arguments.
Interesting, while the idea that a judge decides what the law is and the jury applies that law to the facts is presumed to be the core of our judicial system, it is not true. Judges in most states, including Maryland, did not always instruct jurors on the law. Instead, they were asked to simply apply common sense. As society became more complex, the need for standardized law and consistency in outcomes became manifest. Starting in the 1930s in California, states began to adopt pattern jury instructions, which 48 states have today.
Below is more information and other sample jury instructions. Other lawyers have gratuitously made suggests of other links which have been incorporated below. If you have any suggestions, let us know.