What is the Difference Between Workers Comp and Personal Injury in Maryland?
Personal injury involves a claim seeking monetary damages against a 3rd party who is potentially "at fault" or legally responsible for the cause of the plaintiff's injury. Workers comp is a claim for worker compensation benefits that employees can file against their employer when they are injured on the job. There are 2 primary differences between personal injury vs. workers comp claims: (1) workers comp claims are only between employee-employer; and (2) personal injury claims are based on fault whereas fault is not required for workers comp claims. As we discuss below, in some cases, you can have both a workers comp claim and a personal injury claims.
What are the Requirements for a Worker's Compensation Claim in Maryland?
Every state requires employers to carry worker's compensation insurance for their employees. If a worker is injured on the job – even if the event was due to that worker's own negligence – that individual is eligible to file a worker's compensation claim.
According to the Maryland Worker's Compensation Commission, "in order for an injury to be covered, the harm suffered by the employee must have been caused by an 'accidental personal injury arising out of and in the course of employment.'" One key word of this statute is "accidental" as, "an accidental injury is one that happens 'by chance or without design, taking place unexpectedly or unintentionally.'" An employee is not eligible to recover damages if the injury was sustained as the result of an intentional act by the employee. Maryland's worker's compensation statute also provides that a genuine employee/employer relationship must exist and that the incident must occur during the course of the employment.
Workers Compensation as Safety Net
The most distinctive feature of workers comp claims are that they can only be filed against an employer. Every state has laws which require most employers to carry some form of workers compensation insurance. The workers compensation insurance is intended to provide benefits to employees when they are injured on the job. The main purpose of workers comp is to insure that employees who get injured on the job are able to get quick, reliable, monetary compensation without having to litigate claims. Workers comp essentially requires employers to provide a safety net for injured employees.
In exchange for providing this safety net, employers are given a certain amount of protection under workers compensation laws. First, workers compensation laws impose limits on the amount of monetary benefits an injured employee can receive. Personal injury claims allow plaintiffs to recover damages for pain and suffering and other non-economic losses. By contrast, workers compensation benefits are strictly limited to medical expenses and economic damages such as lost income. For a detailed discussion of how much your workers compensation claim might be worth, visit our page on Valuing Your Workers Comp Claim.
Second, and more importantly, injured employee are prohibited from suing their employers for personal injury damages. When an employee is injured on the job, they cannot file a personal injury lawsuit against their employer. An injured employee's exclusive remedy for a work-related injury is usually a workers compensation claim against their employer.
What are the Benefits Paid Through Worker's Comp?
Although each state requires some form of worker's compensation, the laws vary from state to state. In Maryland, worker's compensation insurance covers several benefits including medical benefits, lost wages, partial disability benefits, permanent disability benefits, vocational benefits, and funeral and death benefits.
If a worker has suffered an injury at work, worker's compensation medical benefits cover emergency room visits, hospital services and stays, doctor's office visits, surgical procedures, medications and medical devices, physical and occupational therapies.
If an injured party is unable to work while recovering from a workplace injury, worker's compensation will compensate for lost wages due to time spent recovering from the injury, time spent seeing a physician or the time attending a worker's compensation commission hearing. A worker may also be eligible for future lost wages if he or she loses earning potential due to a disability.
What are the Disability Classes for Maryland Worker's Comp?
In Maryland, there are several classes of disability benefits that can be paid to an injured worker beginning with Temporary Partial Disability Benefits. Temporary Partial Disability can be paid to an injured worker not totally disabled. This type of benefit is intended to be temporary and applies when the worker can perform limited or part-time duties and loses wages.
According to the Maryland Worker's Compensation Commission, if a worker is temporarily disabled the employer or its insurer generally pays the employee two-thirds of his or her average weekly salary.
In Maryland, a worker is considered permanently or totally disabled if the injured worker loses both arms, both eyes, both feet, both hands, both legs; or a combination of any two of the following: an arm, eye, foot, hand or leg.
In some cases, a worker's injuries are not so severe as to leave a worker permanently or totally disabled but may still result in some permanent impairment; this is called permanent partial disability.
Fault not Required for Workers Comp Claims
Another key difference between workers comp claims vs. personal injury claims is the element of fault. Workers compensation is a "no-fault" claim system. This basically means that an injured employee is entitled to workers compensation benefits regardless of who was at fault for his or her accident. The injured employee does not need to prove that his employer was actually responsible for the accident. Even if the employee themselves was entirely to blame for the accident, they would still be entitled to workers comp benefits.
By contrast, in a personal injury claim fault is a mandatory element. In order to hold a defendant liable for damages in a personal injury suit, a plaintiff must actually prove that the defendant was at-fault. Fault in a personal injury claim is usually based on negligence. Plaintiffs in personal injury cases typically establish that the defendant is at fault because they acted negligently.
When can an Employee Sue His or Her Employer?
There are other instances where an injured worker may sue the employer in addition to the worker's compensation claim. An example of this is if the injury was the result of the employer's, or one of their agent's, actions such as in the case of an assault or battery.
Additionally, an injured worker may be able to sue the employer if the employer failed to provide the required worker's compensation insurance. In this case, an injured worker would have to file a claim with the Maryland Uninsured Employer's Fund to receive the benefits.
Can you Have Both a Comp Claim and a Personal Injury Claim?
However, injured workers can file personal injury suits against 3rd parties who may have some liability, but not their employer. For example, let's say a factor worker seriously injures his hand on the job when a machine malfunctions. The factory worker cannot sue his employer for using faulty equipment. His only recourse against his employer is a workers compensation claim. In addition to his workers comp claim, however, the factor workers can file a product liability suit against the company that manufactured the fault equipment. If the factor workers ends up winning his product liability suit, his employer may be entitled to reimbursement for the cost of his workers comp claim.
Example Scenario
Let's go back to our earlier example involving the factory worker who gets his hand crushed by a machine at work. This time let's say the machine did not malfunction, but rather the accident happened because the factory worker was texting on his phone while operating the machine. Texting and using the machine was strictly prohibited by the employer's safety rules. The factory worker will still be entitled to workers compensation benefits. The fact that he was clearly at fault does not matter in his workers comp claim against his employer. However, if the factory worker brings a personal injury lawsuit against the manufacturer of the machine he will need to show that the manufacturer was at fault. Now the employee's negligence will definitely matter. Maryland follows the rule of contributory negligence. Under this rule, when a plaintiff's own negligence is a contributing cause of the accident they are legally precluded from getting damages. This means that the factory worker's personal injury suit against the manufacturer of the machine would not succeed. Contributory negligence does not apply to workers comp claims, however, so he would still be entitled to workers compensation benefits.
Can You get Pain & Suffering Damages With Workers Compensation?
Like most states, Maryland law does not allow recovery of pain & suffering damages for workers compensation claims. This is part of the trade-off built into the workers compensation system. In exchange for a faster, no-fault claim system, workers comp does not pay for non-economic damages such as pain & suffering. This can sometimes be a significant limitation because serious injury cases, pain & suffering are often the biggest category of damages.
Can You Sue if You Accept Workers Compensation?
If you accept workers compensation benefits for a workplace injury, you are generally barred from suing your employer. In fact, workers comp is usual an injured worker's exclusive remedy against an employer. There are a few instances where a claim can be brought directly against the employer, but they are very uncommon. However, if your injury was caused by the negligence of some other 3rd party (i.e., not your employer or a co-worker) accepting workers comp benefits will not prevent you from separately suing that 3rd party.
Do You Get a Settlement From Workers Comp?
Yes. In fact, settlements are very common with workers compensation claims. If you are injured on the job and want to get workers comp benefits, you will typically start by submitting a claim to your employer's workers comp insurance carrier. If you qualify, you will be legally entitled to receive a certain amount of benefits on a continuing basis. For example, you will be entitled to 2/3 of your weekly pay, coverage of medical expenses, and possibly disability. For more information about the potential settlement value of your workers comp claim, visit our page on Workers Compensation Settlement Values. These benefits can continue until you are able to return to work or you can chose to settle your workers comp claim for a lump sum. If you agree to settle your claim, you will accept the payment amount and waive your entitlement to continuing benefits. Workers comp settlements must be submitted to the Maryland Workers' Compensation Commission for approval.
WCC Claim Settlement Form
How Long Does it Take to Settle a Workman's Comp Case?
The amount of time it takes to settle a worker's comp claim will vary depending on the circumstances of your case. Simple cases involving comparatively minor injuries will usually take less time to resolve. Settlement of a worker's comp claim is entirely voluntarily, so it will be up to you if and when you want to seek a settlement. In some cases, it might make sense to try to settle your claim before your recover from your injuries. In other situations, you may want to wait until you have mostly recovered before settlement.
Do You get Paid if You Get Hurt at Work?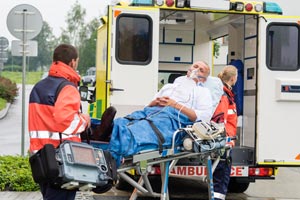 Yes. Workers compensation is designed to act as a financial safety net for workers when they get injured at work. Workers compensation is set up to ensure that injured employees have access to reliable, fair compensation regardless of fault.
Maryland Workers Comp Attorneys
If you or a family member has been injured on the job and needs advice on filing a workers comp claim or possibly a personal injury claim, the attorneys at Miller & Zois can definitely help. Call us at 1.800.553.8082 or submit a request for a free consultation.
Additional Information About Workers Compensation Claims