In a legal malpractice case in Maryland against a lawyer, a plaintiff needs to show these three elements:
(1) the attorney's employment as your lawyer (usually, as we discuss below)
(2) the attorney's neglect of a reasonable duty
(3) loss to the client proximately caused by that neglect of duty.
In other words, you have a legal malpractice claim in Maryland if your lawyer fails to do for the client what a reasonable prudent lawyer would have done in the same situation, and damage results as a result of the failure to do what a reasonable prudent lawyer would do.
Accordingly, to recover in a legal malpractice case, you must be able to prove that the legal malpractice occurred and that you would have received a favorable outcome if not for the lawyer's legal malpractice.
The latter requirement is usually the most difficult to prove. Often legal malpractice is easy to establish. Demonstrating that some harm occurred as a result is often more problematic. Legal malpractice lawyers call this the "case within the case." Accordingly, a lawyer bringing a legal malpractice claim on your behalf must demonstrate that you would have prevailed in the original case.
The great irony of legal malpractice cases is that the attorney defendant assumes the defenses available in the underlying case. So, understandably, but still ironically, the defendant attorney in the legal malpractice claim makes the same arguments his lawyer/client was bitterly fighting in the underlying lawsuit.
Types of Legal Malpractice
Legal malpractice can occur for a variety of reasons missing the statute of limitations, failure to offer expert testimony on a critical element of proof, missing a filing deadline during litigation, just to name a few. Obviously, if you go beyond the personal injury lawyer context there are scores of other types of legal malpractice, such as failure to perform due diligence in a business transaction, flawed title searches in real estate sales, and so forth.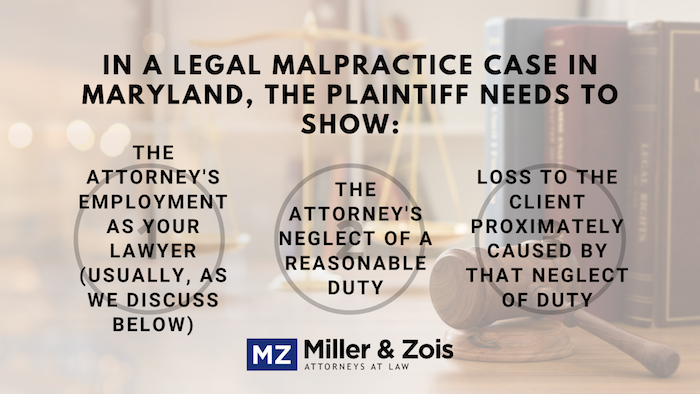 Our law firm handles legal malpractice cases. In fact, one of our lawyers serves as an expert witness in legal malpractice cases (for plaintiffs and defendants) in and outside of Maryland. Recently, our lawyers obtained a seven figure settlement in a personal injury case that was predominantly a legal malpractice case. But our lawyers handle only legal malpractice cases that are derivative of personal injury cases. In other words, the underlying negligence must have been in a serious personal injury case.
Legal Malpractice Statute of Limitations
In Maryland, a three-year statute of limitations applies to most legal malpractice actions. But there are a number of exceptions to the statute of limitations that apply with increased frequency in legal malpractice cases. There are also real questions about when the statute of limitations begins to run. For example, under Maryland law, a legal malpractice claim begins to accrue at the time of the verdict, not when the court's ruling is affirmed on appeal.
If you would have a legal malpractice case in the Baltimore Washington area that you want to discuss with one of our lawyers, call us for a free consultation at 800-553-8082 or get a free no obligation online consultation.
Recent Maryland Legal Malpractice Cases of Note
More Maryland Legal Malpractice Information