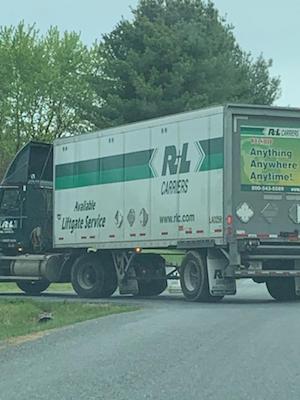 R+L Carriers is a trucking company based in Wilmington, Ohio. R+L Carriers is one of the largest commercial trucking transportation carriers in the U.S. today. Like many of today's leading commercial trucking companies, R+L Carriers started from the humblest beginnings, with one man and a truck. In 1965 a teenager named Ralph L. "Larry" Roberts started the company in Ohio with just a single truck which he used to deliver furniture. The company would soon become R+L Carries and over the next 3 decades it would rapidly expand through acquisition and natural growth.
Today R+L Carriers is global company, servicing all of North and South America. R+L Carriers is still owned by the Roberts family. R+L has a fleet of over 13,000 tractors and trailers operated by over 7,000 company drivers. R+L Carriers has 2 separately branded operating divisions: R+L Global Logistics and R+L Truckload Services.
R+L is primarily a less than truckload (LTL) carrier. In the trucking industry, LTL carriers like R+L occupy a middle ground between full truckload carriers on one end and parcel carriers on the other. Full truckload (FTL) carriers only transport entire trailers or shipping containers. At the opposite end of the spectrum are parcel companies (like UPS) who ship smaller individual parcels. LTL carriers like R+L transport cargo that is bigger than parcel size but less than a full trailer or container.
R+L Carriers Truck Accidents
LTL carriers tend to make shorter trips with more stops so they get involved in more accidents compared to FTL carriers, but less than parcel carriers like UPS. Drivers for R+L Carriers travel just under 400,000,000 miles a year. With this type of mileage accidents are going to happen on a regular basis.
According to FMSCA data, Between May 2018 and May 2020, R+L Carriers trucks were involved in a total of 473 reported accidents. That is a rate of approximately 1 R+L truck accident per 1.2 million miles traveled. 28% of these accidents (135) resulted in some type of serious injury and 3% (16) resulted in one or more fatalities. These accident numbers are comparable to other commercial truck companies.
Employer review data on indeed.com, indicates that R+L Carriers is at the higher end of the pay scale for commercial truck drivers. Drivers for R+L are paid above the national average and 69% report being satisfied with their compensation level, a very high score for the trucking industry. However, R+L drivers appear to be under a lot of pressure to meet performance deadlines and have a very negative view toward management.
R+L Carriers primarily employs company drivers, which means that their truck drivers are actual employees of the company as opposed to independent contractors. When the driver is a company employee, it means that the trucking company has direct liability for their accidents.
Why R+L Carriers Accident Cases Have a Higher Settlement Value
Accident cases against big trucking companies, like R+L Carriers, have a higher average settlement value than normal auto accident cases. There are several reasons for this. First, R+L trucks are bigger and much heavier than a typical vehicle. As a result, R+L trucks tend to cause a lot more damage when they hit things on the road. This means that claims adjusters for R+L are more accustomed to dealing in large dollar amounts when they resolve claims.
Another reason that R+L Carriers truck accident cases have a higher settlement value is that big trucking companies, like R+L, do not get the advantage of jury sympathy. The identity of the defendant is not supposed to impact the value of a case, but in reality who the defendant is makes a big difference on how much juries are willing to award in damages.
When the defendant in an auto accident case is an individual person, jurors tend to have a lot of sympathy and concern for them. This sympathy makes juries reluctant to award big dollar verdicts. However, when the defendant is a big trucking company with deep pockets, juries have little or no sympathy and are far more willing to award more damages to the plaintiff. The end result is that trial verdicts against R+L and other big trucking companies tend to be much higher, which forces them into higher settlement offers.
How a Good Truck Accident Lawyer Can Help
If you have claim against R+L Carriers, hiring a good truck accident lawyer is very important. Personal injury lawsuits against big trucking companies like R+L are a lot different than a regular auto tort case. Big truck cases are more complex to litigate and settle compared to normal car accident cases. For starters, big trucks are subject to a complex web of federal and state regulations. Many personal injury attorneys may be entirely unfamiliar with these laws and regulations.
Another major distinction with big rig cases is the complexity of discoverable information that can be used if liability is disputed. Most R+L trucks have "black box" systems that can provide key information about the accident. Driver employment histories or safety and compliance records can also be used to establish fault. These can be very valuable weapons for a plaintiff in litigation, but only if your attorney knows how to get them in discovery and how to effectively use them.
R+L Carriers Verdicts & Settlements
Listed below are summaries of truck accident cases against R+L Carriers that resulted in a verdict or a publicly reported settlement. These results are provided for informational purposes only.
2019 Mississippi: $4,170,172 Award. A woman suffered a multi-level disc injury after an R+L owned truck rear-ended her vehicle. She had a spinal cord stimulator installed to treat her condition. The case's disputes concerned whether she traveled too slowly or braked hard right before impact. The Mississippi federal jury awarded her $4,170,172, which was reduced to $2,936,138.19 based on apportioned liability.
2018 Oregon: $90,000 Settlement. A R+L-owned truck struck a vehicle twice, causing the vehicle to hit a concrete barrier where it stopped. The driver suffered soft-tissue jaw, arm, neck, back, and shoulder injuries. She also suffered post-concussion syndrome, post-traumatic stress disorder, and a sleep disorder. The case settled for $90,000.
2016 Louisiana: $30,438,225 Verdict. An adult man became paralyzed from the waist down after a R+L-owned vehicle struck his pickup truck. He alleged that the truck failed to yield right-of-way at a highway intersection. R+L and the truck driver denied liability and contended that the intersection was dangerous. The jury found the truck driver was 65 percent liable and R+L was 35 percent liable. They awarded the man $30,438,225 in damages. The judge reduced it to $26,438,225 based on credit that favored R+L and their employee.
2014 Texas: $4,138,669 Verdict. A woman alleged that an R+L-employed truck driver's neg
ligence resulted in a collision with her vehicle. She was diagnosed with multiple herniated discs and a mild traumatic brain injury. Doctors performed a double cervical fusion on her to treat her herniated discs. Both R+L and the truck driver denied rear-ending the plaintiff, arguing that the truck hit her vehicle's side after she pulled out in front of him. The jury ruled in favor of the woman and awarded her $4,138,669 in damages.
Contact Miller & Zois About R+L Carriers Accident Cases
Miller & Zois has a track record of success in big truck accident cases. We have recovered millions on behalf of clients in truck accident cases. If you have a potential case against R+L Carriers call us today for a free consultation.