What should Baltimore police do in a when pursuing a suspect?
This is the Baltimore City rule — rarely followed – on the proper protocol for chasing a suspect.
Policy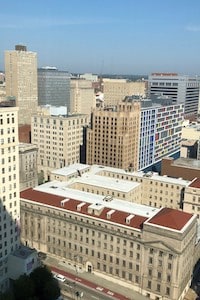 Members of this Department shall operate departmental vehicles with utmost care and caution, comply with all traffic laws and SHALL NOT BECOME ENGAGED IN HIGH–SPEED PURSUIT DRIVING, except under EXIGENT circumstances. Exigent circumstances consist of:
Instances where the officer determines that immediate action is necessary; and
Insufficient time exists to resort to other alternatives; and
Failure to pursue may result in grave injury or death.
The Department recognizes it is better to allow a criminal to temporarily escape apprehension than to jeopardize the safety of citizens and its officers in a high speed pursuit.
General
The City of Baltimore is a highly congested urban area which necessitates driving a motor vehicles in a safe manner. In order for a departmental vehicle to be considered operating in an EMERGENCY MODE, BOTH ROOF MOUNTED EMERGENCY LIGHTS AND ELECTRIC SIREN MUST BE ACTIVATED. . . . RESPONSIBILITIES
* * *
When assigned as Primary and Secondary Units for dispatched calls and responding in an emergency mode:
SLOW DOWN AT ALL INTERSECTIONS, ensure the intersection is safe to enter and then proceed cautiously.
When crossing against any traffic control device, BRING YOUR VEHICLE TO A FULL STOP and ensure the intersection is safe to enter before proceeding.
Ensure that your VEHICLE SPEED IS BOTH SAFE AND REASONABLE under the prevailing roadway and environmental conditions.
* * *
COMMUNICATION OF DIRECTIVE
Commanding officers and supervisors shall communicate the contents of this directive to their subordinates and ensure compliance. This directive is effective on the date of publication.
Maryland Police Chases Law
Mayor and City Council of Baltimore v. Hart, 395 Md. 394, 910 A.2d 463 (2006)
Boyer v. State, 323 Md. 558, 594 A.2d 121 (1991)
Taylor v. Mayor and City Council of Baltimore, 314 Md. 125, 549 A.2d 749 (1988)
Sullivan v. Costanza, 258 Md. 672, 267 A.2d 87 (1970)
§ 19-103(b) of the Transportation Article.
§ 21-106(d) of the Transportation Article.
§21-405(f) of the Transportation Article.
§21-510(c) of the Transportation Article.
§ 5-639(b) of the Courts and Judicial Proceedings Article.
§ 5-639(c) of the Courts and Judicial Proceedings Article.
Can You Sue the Police for an Accident Caused by a Police Chase?
Under § 19-103 of the Maryland Transportation Article and § 5-639 of the Maryland Courts and Judicial Proceeding Article, police officers engaged in a police chase or any emergency situation are liable only if they are grossly negligent.
How Does Maryland Define Gross Negligence?
Gross negligence is defined under Maryland law as an intentional failure to perform a manifest duty in reckless disregard of the consequences of the impact on the life or property of another. Gross negligence implies a thoughtless disregard of the possible consequences without any real effort to avoid those consequences.
Another way of describing gross negligence is when someone acts wantonly and willfully only when he inflicts injury intentionally or is so indifferent to the rights of others that he acts as if such rights did not exist.
In the real world, there is a thin line between negligence and gross negligence. Whether an act rises to the level of gross negligence is often up to a jury.
Is It an Emergency If the Police Do Not Activate a Siren?
Under Maryland law, activation of the emergency vehicle's lights and sirens is not required as a matter of law for "emergency status." So if, for example, a police officer pursues a suspected intoxicated driver road with traffic withouta siren, the police officer is still acting in a emergency capacity (even if she is in violation of police procedures in doing so).
Police Chase Law