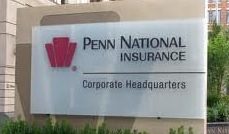 Penn National Insurance is a property and casualty insurance company based in Harrisburg, Pennsylvania. The company was founded in 1919 as a mutual insurance company serving farmers in Pennsylvania.
In its early years, Penn National Insurance focused primarily on providing coverage for rural farmers. In the 1950s, the company expanded its offerings to include coverage for small businesses and individuals. Throughout the 1960s and 1970s, Penn National Insurance continued to grow, expanding its footprint to other states in the Northeast region of the United States.
In 1982, Penn National Insurance became a publicly traded company and continued to expand its offerings to include coverage for larger businesses and commercial entities. The company also began to invest in technology and data analytics, allowing it to understand better and respond to emerging trends in the insurance industry.
In the 1990s, Penn National Insurance grew through strategic acquisitions, purchasing several smaller insurance companies to expand its market share and geographic reach. By the early 2000s, the company had become one of the largest insurance providers in the Northeast, serving clients in Pennsylvania, Maryland, New Jersey, Virginia, Delaware, and Ohio.
In 2023, Penn National Insurance provides insurance for businesses, personal automobiles, and homeowners. Penn National ranks as the 23rd private automobile insurance company with a market share of 0.3% and $11,182,520 in premiums. To put this number in context, GEICO writes premiums in Maryland are about $1 billion. So, while not as ubiquitous as Allstate, State Farm, or GEICO, we still regularly run into Penn National.
Penn National does an excellent job of keeping insurance rates down while other companies are raising rates. As our lawyers will discuss below, Penn National is pretty reasonable in handling personal injury claims, particularly after a lawsuit has been filed. But it is amazing how under the radar Penn National stays. They have a very low public profile, and there is little talk of this insurance company one way or the other in legal circles.
Penn National's Operating Territory
Penn National sells insurance in ten states: Maryland, Pennsylvania (where it is based), Virginia, Delaware, New Jersey, North Carolina, South Carolina, Tennessee, Alabama, and Wisconsin.
Penn National Insurance Claims Process
As a property and casualty insurance company, Penn National Insurance provides coverage for personal injury claims against its clients in various contexts, including auto accidents, slip and fall accidents, and other types of accidents and injuries. Our lawyers mostly see Penn National Insurance in the car and truck accident claims.
The claims process with Penn National Insurance is not unique. This is how it typically works:
Investigation: Once you have retained a lawyer, they will investigate your claim. This may involve gathering evidence, interviewing witnesses if there is a liability dispute, and collecting and organizing your medical records. In severe injury cases, our lawyers will talk to your doctor early in the process to determine how strong your case will be at trial.
Demand Letter: After the investigation, your lawyer will send a demand letter to the insurance company outlining the details of your claim and the compensation you seek. The demand letter will include supporting documentation such as medical bills and records, witness statements, and police reports. We will not make a demand to Penn National unless your case is arguably worth the insurance policy limits. Instead, we will let the insurer make the first settlement offer.
Settlement Negotiation: The insurance company will review your demand letter and may respond with a settlement offer. If Penn National Insurance determines that you are entitled to compensation for your injuries, they will typically offer you a settlement amount, and it will do so fairly quickly, usually within 30 days. You can then decide whether to accept the settlement and negotiate for a higher amount. It would be a very rare case where it would be wise to accept the first settlement offer. So your lawyer will continue to negotiate on your behalf to maximize your settlement offer to fully compensate you for your injuries and damages. When you get this final settlement payout offer, your lawyer gives you advice. But you decide whether to accept the final settlement amount that has been offered or file a lawsuit.
Lawsuit: If a settlement cannot be reached, your lawyer may file a lawsuit against the insurance company. The litigation process can be lengthy and complex, but your lawyer will guide you through each step and represent you in court.
Settlement of Penn National Accident Claims
Penn National's adjusters are a little better than average–they work to settle cases most of the time. But in some cases, they stick with unreasonable numbers. This can necessitate lawsuits to obtain the fair value of our clients' claims.
Once a lawsuit is filed, Penn National hires good lawyers and will work hard to defend the case. So if a settlement is not possible or reasonable, the lawsuits are often defended in Maryland by the Law Offices of Frank F. Daily, P.A. Still, you do not see much if you look for settlements and verdicts involving Penn National. It is fair to say that Penn National is reluctant to take personal injury cases to trial, particularly cases with significant upside for the plaintiff.
An exception to this rule happened a few years ago when our Maryland car accident lawyers had a great win against Penn National on behalf of a really nice client in Frederick, Maryland. In that case, Penn National was the underinsured motorist carrier, and they argued that they should not be identified to the jury because of fears that the jury would hold it against them for being a big insurance company. You can see our response to their motion here. In any event, we won the motion… and the trial. Penn National does have a few high-profile cases that went up to the Maryland appellate courts. (You can get more information about the Maurer v. Pennsylvania National case here.)
Our Lawyers Can Help You With Your Accident Claim Against Penn National
We have settled personal injury claims quickly with Penn National. We have also taken them to trial and won. Our lawyers fight to maximize insurance claim payouts, by settlement or at trial. If you've been involved in an automobile collision with a Penn National driver, or if Penn National is denying your PIP claim or UM/UIM claim, contact us at 800-553-8082 or online for a fast and free consultation. (For claims outside of Maryland, go here.) We can help advise you about your accident, settle it if appropriate, and file a lawsuit if that is in your best interests.
Automobile Insurance Companies: A Comparison
More Required Reading on Insurance Companies and Settlement Amounts