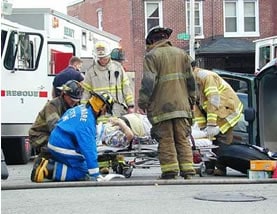 Encompass Insurance is essentially Allstate. Encompass is just the marketing name for a division of Allstate that sells personal property-casualty insurance products by independent agents. Same "good hands" product just in a different package. Encompass has over 1 million customers in 42 states.
Encompass Insurance History
Like many insurance companies, Encompass has a long history with an evolution toward car insurance. Encompass Insurance's roots can be traced back to 1897, founded as the "Caledonian Insurance Company" in New York City. The company primarily focused on offering fire insurance during its early years. Over time, it expanded its product portfolio to include other types of insurance coverage, including car insurance, as motor vehicles emerged.
In 1969, Caledonian Insurance was acquired by the Continental Corporation, a prominent insurance provider of that era. The Continental Corporation continued to operate Caledonian as a separate entity with its own product offerings and brand identity.  CNA Financial, a large insurance and financial services company, acquired Continental Corporation. CNA Financial consolidated its various insurance businesses following the acquisition under a single brand. In 1999, the company introduced the "Encompass Insurance" brand, which combined several insurance operations, including the former Caledonian Insurance Company.
In 2000, Allstate, one of the largest insurance providers in the United States, acquired the personal lines insurance business of CNA Financial, including the Encompass Insurance brand. The acquisition expanded Allstate's product offerings and customer base, and Encompass became a wholly-owned subsidiary of Allstate.
Encompass Insurance in Maryland
In Maryland, three different Encompass Insurance companies rank 22nd, 24th, and 26th in market share in Maryland. Add those together; Encompass Insurance by itself is one of the ten largest car insurance companies in Maryland.
If you file a lawsuit against an Encompass insured in Maryland, the defense lawyers will most likely be Allstate's in-house lawyers. Allstate has two house counsel offices in Maryland, one at 400 East Pratt Street in Baltimore and another at 6411 Ivy Lane in Greenbelt. They also used McCarthy Wilson in a case that went to trial a few years back.
Because talking about claims against this company is essentially the same as claims against Allstate, to analyze how this insurer treats car accident claims, visit our discussion of Allstate claims.
If you have been injured in an automobile accident in Maryland where Encompass insures the at-fault driver or if you are filing an uninsured motorist claim against Encompass, and you have a question about your claim, call us at 800-553-8082 or get free online consultation for your car accident case.
Personal Injury Verdicts Involving Encompass
Below are settlement amounts and jury payouts in car accident lawsuits involving Encompass Insurance.
2022, Maryland: $850,000 Settlement. Our client's husband was killed after an Encompass insured ran through a red light, struck another vehicle, and drove into a parking where he worked as a paver. Although Brian attempted to run out of the way. After digging into the case, we discovered the driver was running an errand for a company she owned.  The battle to maximize our client's settlement amount in this tragic case was finding all the relevant insurance policies that could apply to the case and then working out a settlement amount not just with the insurance company but getting an agreement with other the other victims of the crash how the money should be distributed.
2021, Washington: $23,609 Verdict. An Encompass-insured driver rear-ended a woman. She injured her neck, back, and shoulder. The woman also sustained headaches, chest pain, and finger tingling. She alleged negligence against the at-fault driver. The woman claimed he excessively sped and failed to timely brake. A jury awarded $23,609.
2021, Washington: $343,192 Verdict. An Encompass-insured driver struck a 70-something pedestrian. She suffered pelvic fractures, multiple scalp lacerations, deep vein thrombosis, and a concussion. The woman's scalp lacerations required staples. She also came under a nursing facility's care. The woman alleged that the at-fault driver's failure to watch for pedestrians caused her injuries. She received $343,192.
2021, District of Columbia: $55,000 Verdict. An 80-something man was rear-ended. He suffered a torn rotator cuff. The man underwent a shoulder repair. His injuries became permanent. The man alleged negligence against the at-fault driver. He claimed he failed to avoid the collision. The man also made a UIM claim against Encompass. He received $55,000.
2021, New York: $150,000 Verdict. An Encompass-insured driver rear-ended an 11-year-old boy passenger. He sustained a concussion, suboccipital headaches, and the exacerbation of his pre-existing Chiari malformation. The boy's parents alleged negligence against the at-fault driver. He claimed she tailgated and ignored the road. The jury awarded $150,000.
2020, New York: $20,000 Settlement. An Encompass-insured driver t-boned a 10-year-old passenger. He suffered a collarbone fracture. The boy's parents alleged negligence against the at-fault driver. They claimed she failed to maintain an appropriate lookout. This case settled for $20,000.
2019, Ohio: $10,000 Verdict. A woman was rear-ended. She tore her right hip labrum. The woman sustained impingement and bursitis. She made a UIM claim against Encompass. The jury awarded her $10,000.
2019, Wisconsin: $34,500 Verdict. An Encompass-insured driver rear-ended a man. He suffered cervical, lumbar, thoracic, and sacroiliac sprains. The man underwent physical therapy. He alleged negligence against the at-fault driver. The man claimed she failed to safely operate her vehicle. A jury awarded $34,500.
2019, Maryland: $120,000 Verdict. A woman drove her three children along Route 108. They were struck. The four suffered personal injuries. The woman alleged negligence against the at-fault driver. She claimed he drove unsafely. The woman also made a UIM claim with Encompass. She received a $120,000 verdict.
Sample settlements and verdicts can provide valuable insights into how claims similar to yours have been valued in the past.  But examples of other personal injury claims cannot directly predict the expected settlement payout for your case.  It is trite but true – each personal injury case is unique, with its own circumstances, facts, and contributing factors. As such, settlement amounts and verdicts can vary widely, even between cases that may appear unbelievably similar on the surface.
But our lawyers still provide these for you because sample settlements compensation and jury verdicts can serve as a helpful starting point for understanding the potential value of a claim like yours. They can offer some context regarding how insurance companies like Encompass – and juries  – have assessed the damages in cases involving similar injuries, liability issues, and other relevant factors. This information can be valuable when trying to estimate the value of your own claim and can assist, along with other information, in setting expectations for the negotiation process.
However, it's crucial to recognize that your case's specific details will ultimately determine the value of your claim. Factors such as the severity of your injuries, the extent of your medical expenses, your level of pain and suffering, the degree of negligence involved, and the jurisdiction where your case is being heard can all significantly impact the final settlement amount or verdict.
More Information Dealing with Encompass
Required Reading for Your Claim Against Allstate or an Allstate Insured
Hiring a Maryland Lawyer to Fight Encompass
Our Maryland car accident attorneys have fought and won against Encompass Insurance.  Many times. Call us today at 800-553-8082 for a free consultation or reach out to our accident lawyers online for a free case evaluation.