New scientific research has linked cow-milk-based infant formulas such as Similac and Enfamil to a dangerous neonatal medical condition known as necrotizing enterocolitis (NEC). A growing number of parents of infants who were fed with these I baby formulas and subsequently developed NEC are filing NEC formula lawsuits against the manufacturers (Abbott Laboratories and Mead Johnson Nutrition Co.). The lawsuits allege that Abbott and Meade had a duty to warn about the risks of NEC and their baby formula products, but deliberately failed to include any such warning while continuing to market their products as safe.
Example of a Recent NEC Infant Formula Lawsuit
The case of Grosshuhesch, et al. v. Mead Johnson Nutrition Company, et al., is one of the many Enfamil NEC infant formula lawsuits filed over the last half of 2021. The plaintiff, Abigail Grosshuhesch, brought the lawsuit on behalf of herself and on behalf of her deceased daughter, Isabella. Their Complaint was originally filed in Illinois State court against Mead Johnson Nutrition Company. On November 19, 2021, however, Mead Johnson removed the case to federal court (Southern District of Illinois).
Baby Isabella was born on October 13, 2013. She was born preterm at just 30 weeks and weighed 3 pounds. Despite being preterm, Isabella was healthy and was doing well on her mother's breastmilk. Ten days after her birth, however, Isabella was fed Enfamil Liquid Human Milk Fortifier, a cow's milk-based formula. Isabella did not tolerate the Enfamil very well and had trouble keeping it down.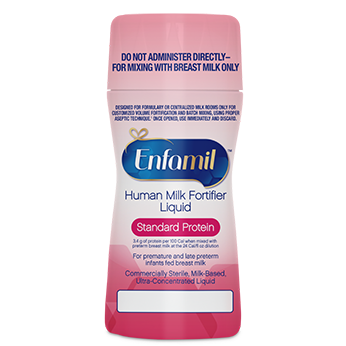 On October 30, 2013, just 10 days after starting the Enfamil HMF, Isabella had a bloody stool and was diagnosed with Necrotizing Enterocolitis (NEC). The next morning, Isabella underwent emergency surgery and a large section of her small intestine had to be removed. After several hours of aggressive medical intervention, Isabella's parents made the difficult decision to withdraw further life-saving measures. Isabella died the following day.
Grosshuhesch's Complaint asserts that Isabella developed NEC and died as a direct result of the Enfamil HMF formula. The Complaint identifies extensive scientific evidence showing that cow-milk formulas, such as the Enfamil HMF, are known to cause NEC in premature infants. In light of this scientific evidence, the lawsuit contends that Mead Johnson knew or should have known that its Enfamil formula product "caused and/or significantly increased the likelihood that a preterm baby will develop NEC."
Lawsuit Highlights "Practice of Silence" by Enfamil Manufacturer
The lawsuit accuses Mead Johnson of deliberately ignoring the known risks of its Enfamil formulas to preterm babies:
Mead was aware of the significantly increased risk of NEC, devastating injuries, and/or death associated with its cow's milk-based products, and instead of warning of the dangers, providing instructions for safe use, conducting a scientifically-based risk-benefit analysis, or removing the products from market altogether, Mead has continued to use cow's milk as the foundation of its products.
According to the Complaint, not only has Mead Johnson ignored the evidence about the risk its formula poses to preterm infants, the company has falsely marketed Enfamil as a safe and healthy alternative to breast milk for all babies:
Mead has aggressively marketed its Enfamil cow's milk-based products as both medically endorsed and as a nutritionally equivalent alternative to human milk, including prior to Baby Isabella's birth.

***

Mead has designed a powerful misleading marketing campaign to deceive parents into believing that: (1) cow's milk-based products are safe, including for preterm infants; (2) cow's milk-based products are equal, or even superior, substitutes to breast milk; (3) cow's milk-based products are necessary for proper growth and development of preterm infants; and (4) physicians consider their brand's cow's milk-based products a first choice.

This marketing scheme is employed despite Mead knowing of and failing to warn of the extreme risk of NEC and death that cow's milk-based products pose to preterm infants.

Mead's pervasive marketing over decades has caused parents in general, and Abigail Grosshuesch in particular, as well as hospitals, doctors, nurses, and medical staff to believe that Enfamil is safe for premature infants.
After detailing Mead Johnson's misleading marketing efforts, the next section of the Complaint explains that company failed to provide any sort of warning about the risk of NEC on its product labeling or package.
Mead has known that its Enfamil products are significantly increasing the risk of NEC, devastating injuries, and/or death in preterm infants, and is aware that there are safer alternatives to its cow's milk-based formulas, such as human milk-based products, that would reduce the risk of NEC, devastating injuries, and/or death, yet Mead chose to continue to promote, market, and sell its cow's milk-based products, with no warnings, safety measures, or alerts, which results in the Enfamil products continuing to be fed to preterm infants, causing thousands of babies to be exposed to an unnecessary risk, many of whom will suffer from NEC and/or die.
The Grosshuesch Complaint asserts 11 individual causes of action against Mead Johnson. The primary tort theories are: (1) Strict Liability for Design Defect, (2) Strict Liability for Failure to Warn, and (3) General Negligence.