Our Enfamil baby formula lawyers are investigating necrotizing enterocolitis (NEC) lawsuits throughout the country. Our NEC attorneys provide information on:
the grave NEC risk to premature babies that Enfamil (and Similac) pose
the latest update on the Enfamil NEC lawsuits in September 2023 and where this litigation is heading, and
our formula lawyers' predictions for eventual settlement compensation payouts for these claims.
This page provides the latest updates on the Enfamil baby formula lawsuits. The last update was on September 14, 2023.
September 2023 Enfamil Lawsuit Update
The NEC class action lawsuits in state court and federal court are moving forward at a leisurely pace.  But progress is being made.  Plaintiffs' think the good cases are strong but there may not be as many good case as attorneys originally expected.
As of September 2023, the multidistrict litigation (MDL) in the Northern District of Illinois has seen over 200 cases registered. Judge Rebecca Pallmeyer is overseeing the consolidation and coordination of these cases. Many more cases have been filed in state court.
The inaugural bellwether trials for the NEC MDL are slated for 2024. Legal professionals and the general public will be observing these trials keenly. The results from these trials could greatly influence the trajectory of the NEC lawsuits.  But a more likely outcome may be NEC baby formula settlement offers that will end the litigation for many.
Enfamil Lawsuits
Enfamil lawsuits allege this popular baby formula has caused many premature infants to develop a serious gastrointestinal infection called necrotizing enterocolitis (NEC).
Our law firm is currently looking into potential Enfamil lawsuits against the company that manufactures Enfamil, Mead Johnson, based on its failure to warn about the risks of NEC. There is an Enfamil NEC class action lawsuit now pending in federal court.
NEC is a serious condition that can result in permanent injury or death. Families who bring successful baby formula NEC lawsuits could receive a significant financial compensation payout for the awful harm their babies endured.
Our Enfamil NEC baby formula lawyers explore here the expected settlement compensation payouts in the Enfamil litigation. Our attorneys also explore how to determine if your family is eligible for compensation and the deadline to sue.
New Enfamil Lawsuits
New Enfamil baby formula suits continue to be filed. An example of a recent NEC infant formula case is Lucas v. Mead Johnson & Company, LLC (2:23-cv-00121), which was filed this year  in the NEC class action MDL in the Eastern District of Louisiana. It is a wrongful death case brought by the parents who lost their child.
Their son was born premature (30 weeks) with a birth weight of 1150 grams. Shortly after his birth, the boy was admitted to the NICU and fed with Enfamil Human Milk Fortifier. After being on Enfamil for a month, he was diagnosed with NEC. Sadly, the baby died just 3 days later from multiple system failures caused by NEC.
The NEC lawsuit alleges that the child's death was a direct result of Mead Johnson's negligent failure to warn about the risk of NEC associated with its cow-milk-based formulas.
What Is NEC and Why Is It So Dangerous?
NEC is a gastrointestinal bacterial infection that can cause rapid death of tissue in the inner intestinal walls of an infant. NEC usually occurs in premature babies (born 37 weeks or earlier) and the infection can develop in the large or small intestine. The necrotizing infection starts in the inner intestinal wall lining and gradually spreads to the entire thickness of the intestine.
Cases of NEC tend to range in severity. In some infants, NEC may be very mild and only cause discomfort from inflammation of the bowels. In other cases, NEC can be very serious and potentially fatal for the baby. Severe cases of NEC that are not immediately and effectively treated can cause a hole (perforation) to develop in the intestinal wall as the tissue decays and dies. This can lead to short bowel syndrome, a condition the child will carry for the rest of her life.
When perforation of the intestine occurs with NEC it creates a potentially life-threatening and very dangerous situation. The hole in the intestine wall enables harmful bacteria to escape the digestive system and invade the abdominal cavity. This can quickly lead to a system-wide infection and eventually progress into the deadly bloodstream infection called sepsis.
Enfamil Increases the Risk of NEC in Premature Infants
Enfamil has infant formulas made from cow milk. This baby formula is given to newborn babies as a substitute for human breast milk. A growing body of scientific evidence has proven cow milk formulas like Enfamil significantly increase the risk of a life-threatening bowel infection called necrotizing enterocolitis for already vulnerable premature infants.
The Link Between Enfamil and NEC
The earliest medical evidence establishing a causal link be cow-milk formulas like Enfamil and higher rates of NEC dates back to the early 1990s. More recent scientific studies have definitively proven that when Enfamil (or other cow-milk formulas) is fed to premature infants, it significantly increases their risk of developing NEC compared to preemies that are given human breast milk.
If a premature infant is fed exclusively with Enfamil or another cow-milk formula, studies have shown that they are ten times more likely to develop NEC than babies fed with breast milk. Digest that. Ten times. Incredible.
The evidence linking cow-milk formula to NEC in preemies is so strong that the American Academy of Pediatrics, the U.S. Surgeon General (in 2010), and many health organizations have strongly advocated against feeding Enfamil with cow milk to premature infants.
So the medical literature is telling you that your product might cause an illness in which harmful bacteria might grow and breach the walls of the newborn baby's intestine. This is a baby who is already struggling with premature birth. How do you not warn doctors and parents of that risk?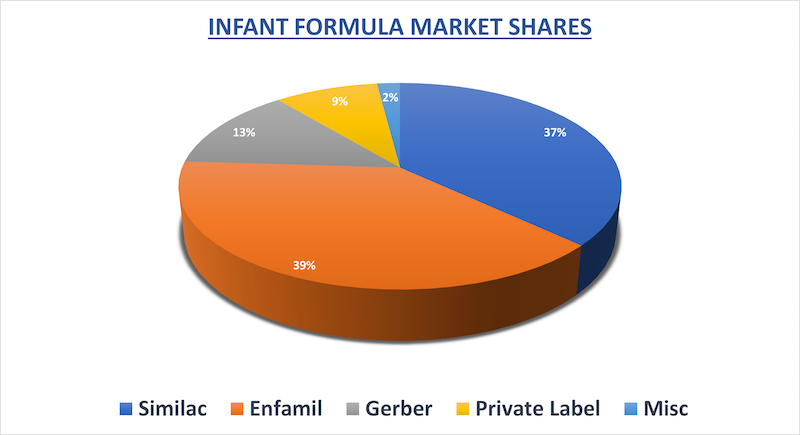 Enfamil's Manufacturer Deliberately Failed to Warn About the Risk of NEC
Enfamil is manufactured and sold by Mead Johnson Nutrition ("Mead Johnson"). For years, Mead Johnson knew about the overwhelming scientific evidence and clinical studies showing that Enfamil puts premature babies at higher risk for NEC.
Despite having this evidence, Mead Johnson has repeatedly declined to include a warning label on its Enfamil packaging cautioning consumers and doctors about the risk of NEC.
This is a knowing choice that Mead Johnson continues to make into 2022. It is not like a warning never occurred to their executives. Enfamil lawyers in this litigation will seek documents where a warning was discussed. You know they talked about it.
But Mead knows they will lose money with a warning that its cow milk-based formula product is dangerous to premature infants because of the NEC risk. Mead would lose even more money if Abbott did not follow suit with its Similac baby formula.
Product manufacturers like Mead Johnson have a legal duty to warn consumers about known hazards associated with their products. Mead Johnson had an obligation to warn that Enfamil put premature infants at high risk for NEC. Mead ignored that obligation to maintain the marketability of its product. This negligence failure to warn about the risk of NEC for premature infants is the basis of Enfamil NEC lawsuits being filed against Mead Johnson.
Enfamil Formula Recall
On February 19, 2023, two large batches of Enfamil ProSobee infant formula were recalled. The recall of the ProSobee Simply Plant-Based Powder formula was issued as a cautionary measure to address potential bacteria contamination in the batches. The recalled batches were manufactured between August 2022 and September 2022. The suspected contamination involved Cronobacter sakazakii, the same bacteria that caused a shutdown of a Similar plant in Michigan in 2022.
It should be clarified that this recall was not related to any possible link between Enfamil formula and NEC. No Enfamil formula products have ever been recalled due to a connection to NEC as the manufacturers.
Enfamil Cow Milk Products
Mead Johnson markets for "premature and low weight" babies on its website:
Enfamil Premature 20 Cal
Enfamil Premature 24 Cal
Enfamil Premature 24 Cal/fl oz HP
Enfamil Premature 30 Cal
Enfamil Human Milk Fortifier Liquid High Protein
Enfamil Human Milk Fortifier Acidified Liquid
Enfamil Human Milk Fortifier Powder
Enfamil 24 DHA & ARA Supplement
Enfamil Milk Fortifier Liquid Standard Protein
Enfamil NeuroPro Enfacare
But Mead leaves ambiguous which products have cow-based milk. Enfamil NEC lawsuits allege Mead failed to warn doctors and parents that its cow-based formula increases the risk that a premature or low birth weight infant will develop NEC.
Status of Enfamil Lawsuit
The Enfamil NEC litigation is still in its infancy with two NEC lawsuits – one in federal court and one in state court – that house most of the baby formula lawsuits that have been filed in the United States.
New necrotizing enterocolitis lawsuits involving Enfamil and failure to warn about the increased risk of NEC for premature infants are being filed against Mead Johnson around the country every month. Every Enfamil lawsuit alleges product liability claims against Mead Johnson for negligent failure to warn, strict product liability, and breach of warranty.
We now have a federal NEC formula class action lawsuit that will be housed in the Northern District of Illinois. More plaintiffs with pending formula NEC lawsuits are being added to the newly formed MDL class action lawsuit – MDL No. 3026 – in the Northern District of Illinois. These NEC lawsuits focus on Abbott and Mead Johnson, who made Enfamil.
A mass tort MDL is similar to a traditional class action, except that the individual plaintiffs and their cases remain separate but are consolidated together for pretrial discovery.
Enfamil Lawsuits Settlement
The Enfamil NEC litigation is just starting to gain momentum at this point. No Enfamil NEC lawsuit against Mead Johnson has gone to trial or been settled yet. As a result, it is impossible to know exactly how much Enfamil lawsuits will be worth in a verdict or settlement.
Our lawyers make an educated guess at their potential settlement value by making a comparative analysis of settlements and verdicts in recent medical malpractice lawsuits in which NEC in a premature infant was the primary injury.
What Is Your Expected Settlement Compensation Payout in the Enfamil NEC Lawsuits?
Our attorneys collected settlement and verdict amounts from seven medical malpractice lawsuits around the country in which NEC in a preemie was the primary alleged injury. The average compensation in these NEC cases was around $3.5 million. The median compensation payout for NEC in these seven lawsuits was $1.3 million.
Our baby formula lawyers' view of these NEC payout statistics is that the trial value of infant formula lawsuits is probably higher than medical malpractice lawsuits alleging the same injuries.
Why? The defendants in the NEC medical malpractice cases are sympathetic doctors or nurses. If a jury thinks they made a mistake caused, they will award a verdict. But jurors are far less likely to be angry with a doctor who tried her best but made a mistake as opposed to a big corporation like Mead Johnson. Juror anger leads to higher compensatory damages and, in many cases, punitive damages.
So we think the range of average settlement compensation for a meritorious Enfamil infant formula lawsuit will be between $300,000 to $600,000 with some claims going deep into the millions. This settlement prediction could be on the light side when you consider the treatment for moderate NEC is $500,000.
This is a global settlement payout estimate, not a prediction of trial value. The trial value of an NEC claim will be a great deal higher.
Is There a Difference Between Trial and Settlement Value in the Baby Formula Lawsuits?
There is a big difference between the trial and settlement value of an Enfamil baby formula lawsuit. The average jury compensation payout could be over $5 million in these cases if successful. But, again, the average individual NEC lawsuit settlement will not approach that number. A settlement is a compromise so the typical amounts are much less.
The Risk of Punitive Damages Is Real
Put yourself in the shoes of a jury. Let's say you find for the plaintiff. This would mean that you found that Mead knew there was a significantly increased risk of NEC with the use of its cow's milk-based products in preterm and low birth weight infants. So instead of providing a warning, Enfamil's website boasted that
Enfamil is backed by decades of breast milk research and multiple clinical studies… "to create [the] best formulas, [Mead] collaborated on some of the most extensive breast milk studies to date…[Enfamil is] clinically shown to promote catch-up growth similar to full-term breastfed infants."
They are pushing premature babies to take a baby formula that can cause NEC. It would be hard to see how a rational jury could see how Mead promoted these formulas while keeping quiet on the risk of NEC with the Enfamil baby formula and not award punitive damages.
Deadline to File an Enfamil Baby Formula Lawsuit
The statute of limitations in an Enfamil baby formula is complicated. This is why you want to call a lawyer – hopefully, us, but any lawyer – today. The deadline to sue varies from state to state.
But for baby formula lawsuits, there is the added complexity of the discovery rule – which may extend the time to sue – and potentially different statutes of limitations for the parents and the child and also sometimes different in wrongful death claims. Our attorneys are accepting Enfamil formula lawsuit clients in cases where the NEC occurred in the last 21 years. The best Enfamil lawsuits will be claims after 2011 because the knowledge of the risk of these formulas is particularly hard to dispute after that time.
Contact Our Enfamil NEC Lawyers Today
The infant formula lawyers at Miller & Zois are actively seeking Enfamil NEC lawsuits from parents of premature infants who were fed with Enfamil (or another cow milk-based formula) and subsequently developed NEC. Call our lawyers today at 800-553-8082 or contact us online.