While Bayer continues to settle large blocks of Roundup lawsuits, another Roundup jury trial is currently underway in California. Following a COVID delay, the trial in the case of plaintiff Donnetta Stephens has now converted to a virtual proceeding, making it one of the first "trials by zoom" in U.S. history.
This post, written on October 26, 2021, and updated on December 20, 2021, offers a snapshot of the latest Roundup lawsuit and its impact on settlement amounts in Phase Two (post-settlement) of the Roundup litigation.
[December 10, 2021 Update:  The 4th Roundup lawsuit to go trial resulted in a defense verdict for Bayer this week in the case of Donnetta Stephens v. Monsanto.  Stephens was a woman in her 70s who claimed that she used Roundup regularly in her garden for years and was subsequently diagnosed with lymphoma. The trial, as we discuss below, had to be held entirely by Zoom video conferencing (one of the first-ever "Zoom trials") because of continuing COVID restrictions in California.
That is just an impossible way to conduct a Roundup trial and I bet it will the last.  This case, and I predicted it in the last line of this original post, is ripe for appeal.  More importantly in the big scheme of things, it is hard to put much stock in a trial conducted online.  The jury's ability to understand the evidence is really compromised online.  And, of course, and the emotion is completely sucked out hearing testimony on a computer screen.  Bayer may change their settlement compensation projections after getting a win. But that would be Bayer making the same mistake it made before and it would similarly backfire.]
4th Roundup Case Goes to Trial
Plaintiff Donnetta Stephens filed her Roundup lawsuit against Monsanto in August 2020 in the Superior Court of California for Alameda County. Stephens was an avid home-gardener and regularly used Roundup to spray weeds in her yard over a 20-year period. In her early 70s, Stephens was diagnosed with High-Grade B-Cell Lymphoma.
Following her diagnosis, Ms. Stephens' health rapidly deteriorated. Due to her advanced age and fragile medical condition, Stephens requested an expedited trial on her claims. Her motion for an expedited, preferential trial was granted. A jury trial in Ms. Stephens' case began in August 2021 in San Bernardino County Superior Court (venue change was necessary to accommodate the expedited trial request).
When Ms. Stephens' trial began, it became only the fourth Roundup lawsuit to find its way in front of a jury. The previous 3 Roundup jury trials resulted in massive verdicts for the plaintiffs that forced Bayer to alter its defense strategy and enter into settlement negotiations.
On the opening day of the Stephens' trial, the jury heard from one of the key plaintiff's experts Dr. Christopher Portier. Dr. Portier, a former high-level scientist with the CDC, testified regarding numerous studies which show that glyphosate (the active agent in Roundup) causes lymphoma.
On cross-exam, defense lawyers questioned Dr. Portier's credibility and tried to paint him as a "hired gun" expert.
Plaintiffs also called toxicologist William Sawyer who testified on Monday, October 25, 2021, that Ms. Stephens' Roundup exposure more than doubled her NHL risk.
Donna Farmer's Testimony Goes as Donna Farmers' Testimony Goes
This week, Donna Farmer testified.  Dr. Farmer is a Roundup zealot who has been a toxicologist for Monsanto for nearly 30 years.  She is an otherwise charming, likable woman who presents well in front of a jury.  I suspect truly believes that Roundup does not cause cancer.  Bayer/Monsanto has been enlisting her help in defending Roundup lawsuits.

Dr. Farmer testified this week, defending the infamous "Monsanto Papers" that plaintiffs have alleged were efforts to put out false information and suppress the concern about the connection between Roundup and NHL.  She also testified that she uses Roundup regularly and recommends the product to her family and friends.
It is easy to vilify Dr. Farmer as a defense shrill.  But if you see her testify, she seems like a nice enough woman that believes in the product she has dedicated her life to promoting and defending. (There are videos on YouTube if you want to see them for yourself.)  She is just plain wrong.
COVID Forces Trial to Go Virtual
Dr. Portier's testimony concluded on Monday, August 23. More experts were scheduled for the following day, but then several people involved in the court proceedings tested positive for COVID-19.
This prompted an immediate stay in the trial proceedings. The trial remained in limbo until the Judge announced that it would resume on Monday of the following week, but in a virtual format. The remainder of the trial would be done via Zoom video conference. It would be the first trial of its kind.
Not surprisingly, the "Zoom trial" got off to a very shaky start when it resumed on August 30. Lawyers for Ms. Stephens attempted to present testimony from another expert witness, former National Academy of Sciences Director Charles Benbrook who is considered an important witness.  Unfortunately, the presentation of his testimony was plagued with "technical difficulties." If you have ever take a case to trial, you understand that this makes it harder for the jury to absorb the witness's testimony.  Jurors are humans. We are all easily distracted.
Jurors had difficulty turning their cameras on for the Zoom call (which was required by the judge). The court reported repeatedly could not hear and transcribe the audio and had to interrupt the testimony on each occasion.
Even the trial judge had difficulties with his audio feed and had to pause the trial in order to move to another room. By mid-afternoon, the judge called it a day and told the jurors to "leave their computers on."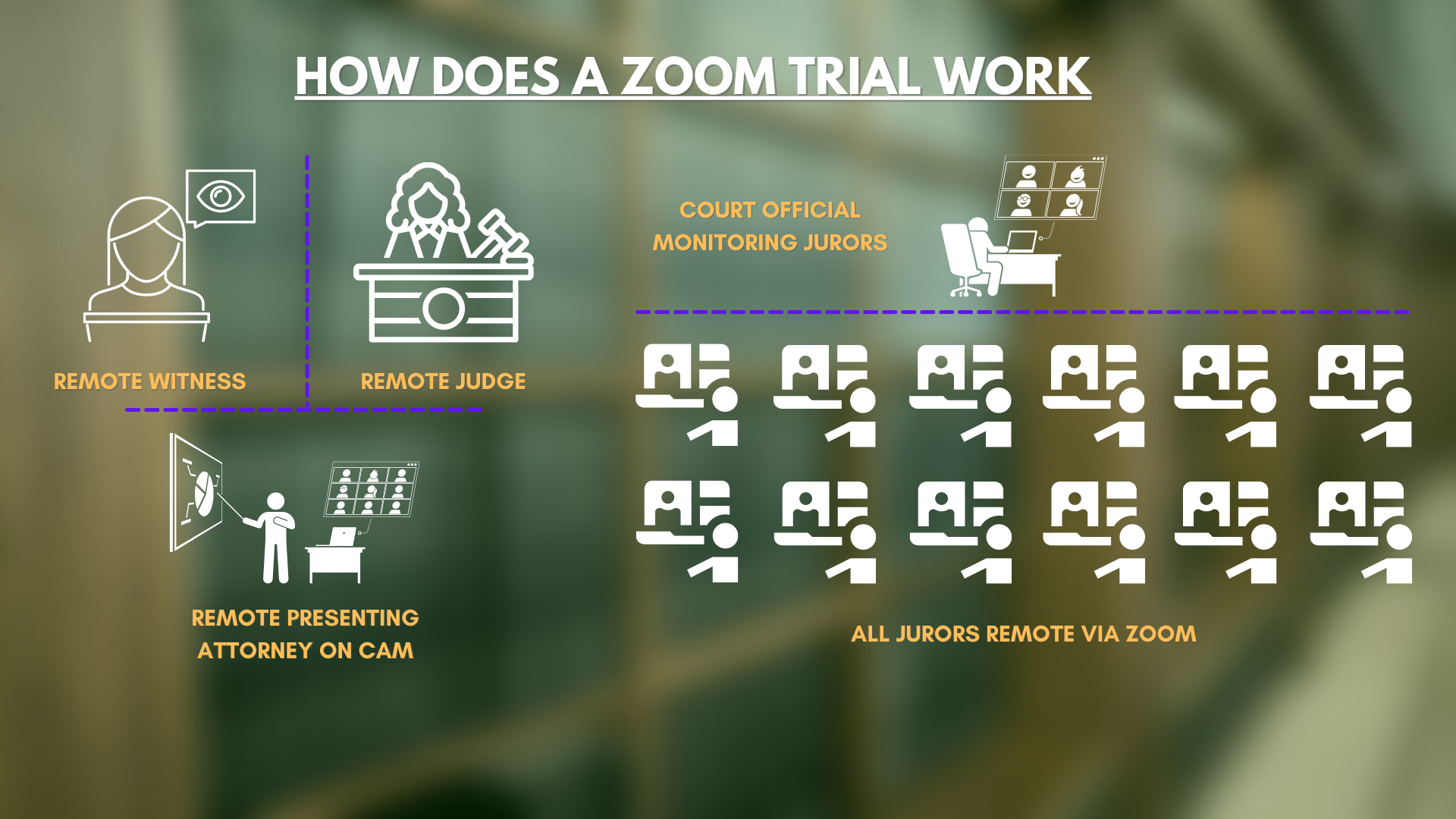 Son Testifies About Mother's Cancer from Roundup
Even the technical issues of a "Zoom trial" could not dampen the emotion in the testimony of Ms. Stephens' son on Tuesday, September 14. David Stephens testified that his mother used Roundup in the yard all the time throughout his childhood and adulthood and often sprayed the product with shorts and no sleeves.
Stephens fought back tears as he recalled the day when his mother told the family that she had been diagnosed with non-Hodgkin lymphoma.
He described in painful detail the exhausting series of medical treatments that his mother had to endure and complications that landed her in the hospital numerous times and near death. Mr. Stephens recalled taking what he thought would be a final picture of his mother before she passed.
Although Ms. Stephens is now in remission, David explained that she is not the same at all. The cancer treatments took a major toll on his mother, and she now suffers from memory loss and has difficulty moving. Ms. Stephens also suffers from continuous pain.
Cross-Examination of Plaintiff and Her Husband
When it came time for defense lawyers to cross-examine Mr. Stephens, however, technical difficulties once again derailed the proceedings. Shortly into the cross-exam, one of the jurors lost their audio feed connection and another juror became disconnected from the Zoom call. The proceedings once again came to an abrupt and untimely halt.
The cross-examination of Ms. Stephens involved a lot of questions about the fact that Ms. Stephens initially told her lawyers she had used Roundup for 14 years.  Later, her family reminded her that she had used it much longer and she amended her testimony.   Hard to imagine the jury will doubt Ms. Stephens used Roundup regularly.  They would have to conclude that she, her husband, and her son are liars.
Fourteen years or thirty years?  Does it really matter?  What matters is she used Roundup and has suffered from NHL.
There was also – insanely – questions about how close the plaintiff was to her children.  She says she was close to her children.  But at another time she said she was not.
Seriously? Human relationships are complicated.  She has a back-and-forth relationship with some of her children.  Bayer's Roundup lawyers are, I suspect, reaching for straws because they do not like the merits of their case.
Roundup Zoom Trial Could Drag on and Raise Issue on Appeal
All the prior Roundup trials took at least a month, but they were regular in-person proceedings. The technical issues have dramatically slowed everything down in the present trial. As a result, we probably won't see a verdict in the Stephens case until well into October. Regardless of when the trial eventually concludes, it seems pretty obvious that the losing side is going to have a pretty good argument on appeal based on the interruptions and glitches.