At Miller & Zois, our bus accident attorneys advocate for victims that have been harmed in bus crashes. We have regularly and successfully brought claims against the bus companies in Baltimore and local Maryland municipalities where the bus company or its driver are responsible for our clients' injuries.
Like trucks, buses are dangerous instrumentalities on our roads. These bus companies and buses are entrusted with the safety of their riders and, of greater concern from a safety standpoint, the rest of us who are sharing the roads with the buses. In relative terms, bus passengers are relatively safe. The greatest risk is to other vehicles and pedestrians who are sharing our roads with a 30,000-pound bus.
Miller & Zois handles claims on behalf of bus passengers. But the vast majority of our claims involve pedestrians and the occupants of other vehicles and their families who have been hit by a bus in Baltimore.
Types and Causes of Bus Accidents
Most serious bus accident cases fall into one of three categories: (1) "Garden variety negligence" which means the same type of accidents other motor vehicle drivers make, (2) overpass clearance errors, (3) rollover crashes.
Bus accidents are commonly caused by unqualified or poorly trained drivers to handle what can be a complex instrument, bad weather, including failure to use snow tires or chains, lane changes without adequate visibility or attention, and, with increasing frequency in 2020, driver distraction. Another big culprit is left-hand turns.
A recent Federal Transit Administration study of bus crashes found bus drivers do not "re-scan" crosswalks, particularly during wide arcing left-turns. Some bus companies have gone as far as to ban left-hand turns because of the risks, making for a more circuitous path but certainly safer.
Bus Stop Accidents
Thankfully, there are not many school bus stop pedestrian accident cases. But they are noteworthy because while few in numbers, the scope of the injury in these cases is high. There are too many wrongful death school bus stop cases in Baltimore.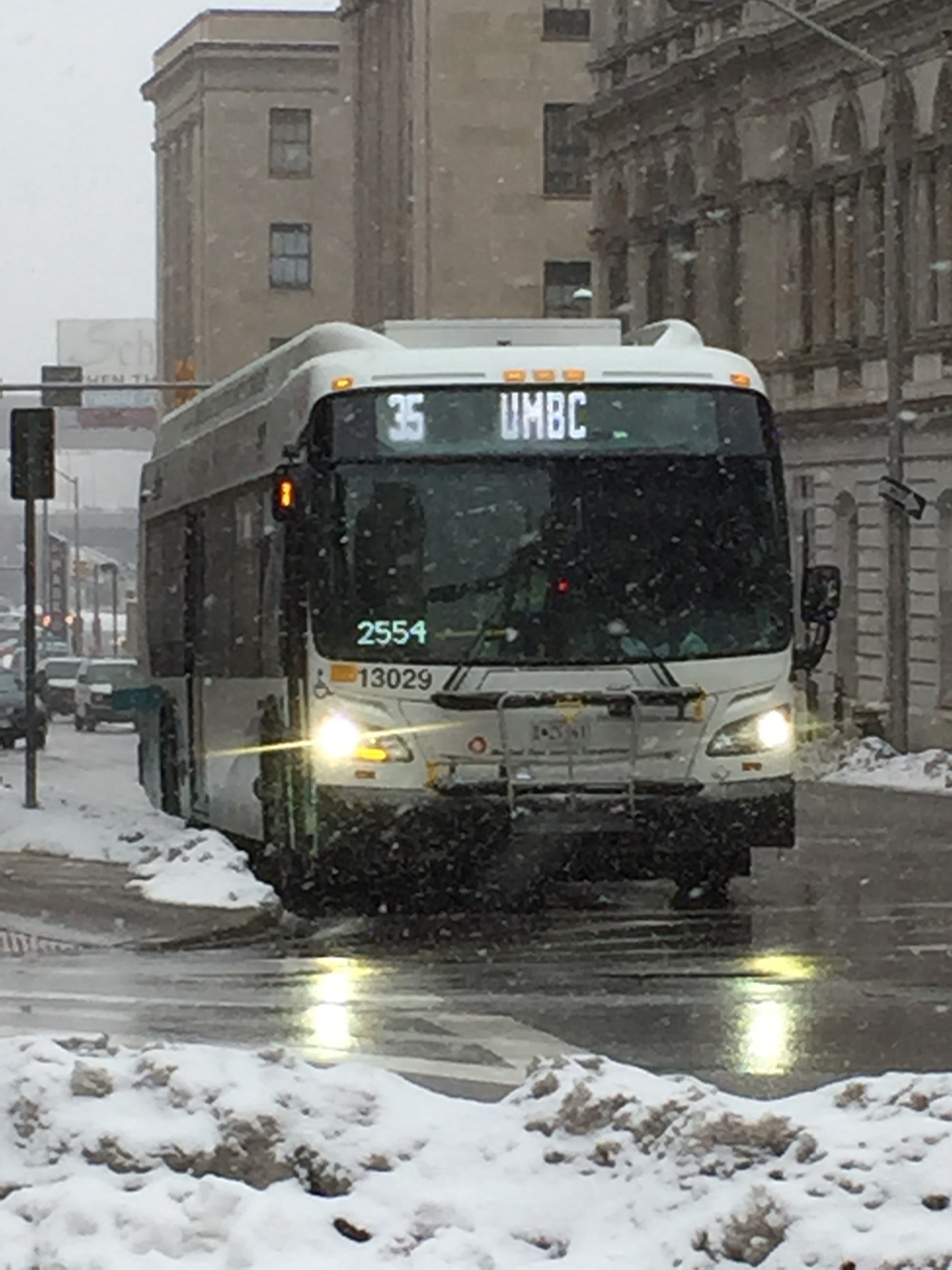 It is incumbent upon bus drivers to follow Maryland law and local statutory and administrative law in following fundamental safety instructions, like activating the bus's stop bar and warning lights before letting students exit the bus, keeping the students within the driver's view at all times until they have reached safety, and requiring students to cross in front of the bus.
The question in many of these cases is whether there is civil liability of the bus driver and his employer (usually the school) for the death or injuries to a child who was struck by a car while in the street going to or from the child's school bus.
Clearly, the school bus driver has to provide children with a reasonably safe place to board and depart the bus. Maryland has clear law on this. Education Article 7-801(b) imposes upon the state and county board of education the obligation to provide safe transportation students, requiring that the county (or Baltimore City) provide for the transportation for public school students. Assuming this burden, the law also recognizes the obligation to do what can reasonably be done to keep these children safe. Maryland regulations say that the prime consideration is the safety of the students on these buses. See COMAR 13(A).06.07.13(A).
One of the big risks for students is crossing the road to get on or off the bus. Busy road and intersections compound this concern. Maryland law requires that on four-lane highways "students shall be picked up and discharged on the side of the roadway where they reside." See COMAR 13(A).06.07.13(C).
There are also other pick-up and drop off area questions where the bus driver and the school system will be held to a reasonableness standard under Maryland law. Is it reasonable to subject the children to the risk of where they were dropped off given the age of the children, the traffic at the stop, and all of the other safety considerations? That is the key question in determining liability.
To determine whether there is liability, our lawyers look at the entire picture. Sometimes, what does not seem like negligence at first glance is the result of the bus driver's error after you dig through all of the facts of the case. Is the bus stop in the correct location? Did the driver stop at the wrong bus stop, thus creating circumstances leading to the accident? These are all the questions that have to be asked.
Defeating the "Blind Spot" Defense
The lawyers for bus companies and their drivers have a knee jerk reflex in many bus accident cases: there was a blind spot. This argument carries no weight. In 2015, there are no blind spots for a professional driver on a bus that is properly equipped.
Today, we have better mirrors, cameras, and radar that can reduce a blind spot to zero. A blind spot can only be the result of a bus company that did not deliver modern technology to the driver or a bus driver that did not use it (or does not know how to use the equipment).
One Thing You MUST Remember in Bus Accident Cases
If the negligent party is a governmental actor, there may be a short time frame to file a notice of the claim in Maryland (and in many other states), including claims against the City of Baltimore exactly as required by Maryland law. If you take nothing else from this article, please make sure you contact a Baltimore bus accident lawyer just to make sure you appreciate any procedural obligations you may have to protect your claim.
What Kind of Bus Accident Cases Have a High Settlement Value?
The most successful bus accident cases with the highest settlement value are cases where there is a serious objective injury from the accident and the victim had no similar injuries before the crash.
What Kind of Bus Accident Cases Have a Low Settlement Value?
Bus accident cases that have a low settlement value involve bus occupants that are injured in a car without any serious objective injuries. Perhaps the lowest payouts in bus accident cases come from victims who were injured because the bus hit and bump or went off the road.
Are Bus Accident Cases Against the Maryland Transit Administration in Baltimore Successful?
As you will see below, there are many successful cases again the MTA in Baltimore. The common thread of bus accident cases with large settlements or verdicts is a serious injury that can be demonstrated with objective medical evidence or a wrongful death case.
Who Do You Sue in Bus Accident Case?
You sue both the driver and the bus company in a bus accident injury or death case.
Bus Accident Settlements and Verdicts
Below are bus accident stories that went to trial. Most of these stories are from Baltimore City but we threw in one from the D.C. suburbs as well. These verdicts help you better understand how bus accident cases are valued. But you cannot assume that because any case turned out one way, it means there will be a similar outcome in your bus accident claim. Why? Because no two cases are the same.
2019, Baltimore City: $1,200,000 Verdict. A Maryland Transit Administration bus struck a female pedestrian. She suffered leg and ankle fractures. The woman underwent hardware placements. She alleged that the bus driver's failure to look before turning right on a red light caused her injuries. The woman also made vicarious liability and respondeat superior claims against the MTA. A Baltimore City jury awarded her $1,200,000.
2018, Baltimore City: $616,000 Verdict. An MTA bus struck a man. He suffered a left knee fracture. The man was left with limited knee mobility. He could no longer work and required daily knee brace use. The man claimed the bus driver failed to yield the right-of-way before turning left and failed to control the bus's speed. A Baltimore City jury awarded the man $616,000.
2018, Baltimore City: $102,400 Verdict. An MTA bus struck a light pole. As a result, a male passenger suffered permanent left foot and throat injuries. He claimed the bus driver failed to properly control the vehicle and failed to avoid a collision. The MTA admitted fault for the accident but disputed the injury claims. A jury awarded a $102,400 verdict.
2017, Montgomery County: $10,879 Verdict. A Montgomery County bus T-boned a 24-year-old man in a Germantown intersection. The man suffered neck and back injuries. He alleged that the bus driver's failure to yield the right-of-way and maintain a proper lookout caused his injuries. Montgomery County disputed liability. It argued that the man was speeding right before the collision. The jury ruled in the man's favor and awarded $10,879. This is the rare bus accident case outside of Baltimore. Almost all of the bus accident cases our attorneys see come from Baltimore but we do see cases in Prince George's County and Montgomery County on occasion.
Contact Us
If you or a loved one has been injured in a bus crash, you need the experience of a Baltimore bus accident attorney that knows how to handle these cases. Our attorneys know the procedural roadblocks as well as the know-how and resources to fight on your behalf to get you what you deserve. Contact us at 800.553.8082 or get a free case evaluation online.