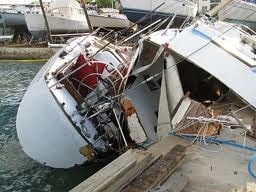 The boat accident lawyers at Miller & Zois represent victims who have been seriously injured in a boating accident. We get victims maximum financial compensation for their boat accident lawsuit.
Boating Accidents in Maryland
With the Chesapeake and its tributaries, Maryland has almost 3,000 square miles of water area within its borders and most of it is considered navigable. Thousands of us embark on boats, kayaks, and jet skis to fish or simply spend a summer day out on the water. With all this activity on the water, boating accidents are inevitable.
Maryland ranks in the 10 top states in the country for the number of boating accidents each year. Over the last five years, Maryland has had an average of 139 boating accidents annually. These accidents resulted in about 14 deaths per year, and many more injuries.
Most boat accident deaths could be prevented if those involved had followed basic safety rules like wearing lifejackets and only operating a boat when sober. Just like driving a car, operating a boat is a responsibility that must be taken seriously.
Boating Injury Statistics
Most boat accident injuries are the result of collisions. Collisions on the water can occur with another boat, a fixed object, or accidental grounding. Boating collisions cause injuries and drowning from impact, falling overboard, and water flooding the boat. Other boating-related injuries include things like carbon monoxide poisoning from an engine or generator, water sports, fires, electric shock, and injuries associated with a boat's machinery and operation, such as being struck by a propeller.
According to data from the US Coast Guard, 4,168 boating accidents resulting in 613 deaths and 2,559 injuries in 2019. (2020 data is not yet available.) These recreational boating accidents accounted for $46 million of property damage. Almost all of the boat accident fatalities were the result of drowning by individuals who were not wearing lifejackets. Open motorboats, canoes, and kayaks were the most dangerous types of vessels. Additionally, operator inattention, improper look out, operator inexperience, machinery failure, and excessive speed were top contributors to accidents.
Maryland Recreational Boating laws
The Maryland Department of Natural Resources requires that all children younger than thirteen wear a personal flotation device-a lifejacket-while aboard a vessel less than twenty-one feet in length. Additionally, anybody being pulled behind a boat, such as a water-skier, must wear a life jacket. All recreational boats must be equipped with a lifejacket for every person on board in the correct size. Boats longer than sixteen feet must also carry a throwable flotation device, either a ring buoy or a cushion.
When boating on waters that are more than two miles wide, vessels are required to carry visual distress signals. Flares, flags, and lights are examples of signals that can alert passers-by and authorities that a vessel is in distress. Smaller, paddled boats must always have a flashlight and a whistle on board. Certain vessels are required to carry fire extinguishers.
Boats with inboard engines, closed living spaces, fuel tanks, and closed compartments that store flammable materials must carry fire extinguishers. These must be inspected monthly to make sure they still work. Boats powered by gasoline must have effective ventilation systems and flame arrestors.
Boats are required to be able to make certain noises, lights, and signals to communicate with other users of a waterway. They must also adhere to navigational rules, just like cars have to obey traffic lights and lanes on the road.
Proving Fault in Boat Accident Cases
To get financial compensation for injuries in a boat accident you will need to prove that someone else was "at-fault" or legally responsible for the accident. Just like in auto accident cases, a defendant will be legally responsible if the plaintiff can establish the legal elements of negligence: (1) Duty; (3) Breach; (3) Causation; and (4) Damages.
(1) Duty
A plaintiff in a negligence claim must establish that the defendant owed him a duty of care under the circumstances. On the waterways, all boat and watercraft operators owe a duty of care to operate their vessel in a reasonably safe manner to avoid harm to others. This means the operator has to follow all the applicable boating safety rules and look out for other vessels. This is very similar to the duty of a motor vehicle driver to follow traffic rules.
Recreational boat owners may also owe to keep passengers and guests safe by maintaining their vessel in a safe condition, providing lifejackets, making sure guardrails are secured, and following other safety requirements. A boat owner's duty to maintain a safe vessel is very similar to the duty of a property or store owner in premises liability cases.
(2) Breach
After establishing that the defendant owed a duty of care, the plaintiff must prove that the defendant breached that duty of care. For example, the plaintiff would need to prove that the defendant failed to follow boat safety rules (e.g., failing to signal properly, not having required lighting at night, operating while intoxicated, etc.). So if a boat operator is passed out drunk below deck when he runs into a group of people on jet skis, there would be a breach of his duty to operate his boat safely.
(3) Causation
To establish causation, the plaintiff must show that the defendant's breach of his duty of care was actually what caused the accident. The plaintiff must prove that the accident would not have had occurred were it not for the defendant's breach. The plaintiff will also need to establish that the accident resulting from the defendant's breach was what caused his or her alleged injuries.
(4) Damages
Finally, the plaintiff must prove that he or she was injured and incurred damages. Damages recoverable in boat accident cases are the same as they are for other personal injury cases: medical expenses, lost wages, and pain and suffering.  This is the battlefield where our personal injury lawyers shine: demonstrating the harms and losses suffered both to the defense attorneys during the litigation and to the jury at trial.
Cruise Ship Injury Lawsuits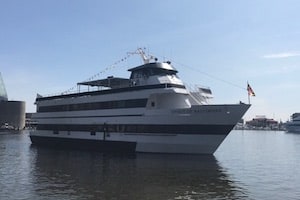 Cruise lines have the challenge of providing for the seaworthiness of an enormous vessel while also providing for the safety of passengers and crew members on long journeys. Cruise ship emergency systems, as well as living accommodations, have to be reasonably sufficient to prevent injury to their passengers. Common injuries that occur aboard cruises included swimming pool accidents, elevator or stair accidents, food poisoning, drowning, and assault by other passengers or crew members. Many cruise lines have fine print requiring civil suits to be filed within six months of when an injury occurred.
Boat Accident Verdicts and Settlements
There have not been a lot of reported boat accident settlements in Maryland. Why don't we report our settlements? These companies settle with confidentiality clauses that make you practically give up your first-born child if you breach the confidentiality. Here are settlements in other jurisdictions to give some appreciation of the settlement value of these cases.
January 2020, California, $45,000 Settlement: Three individuals, two minors and an adult, were on a rented boat. They suffered multiple injuries including hand and leg lacerations after the boat's windshield shattered. The three alleged that the rental company's failure to adequately maintain their boats caused these injuries. This case settled for $45,000.
October 2019, Maine, $30,000 Settlement: A dockmaster employed by a company that sells and services boats is instructed by his employer to take a client's vessel to a different dock. The client wants his boat moved to keep it from being damaged by incoming inclement weather. To reach the client's vessel, the dockmaster has to take another boat. The only boat available to him is a right-hulled inflatable boat, a type of inflatable motorized boat, which he has never been trained on. He and a coworker take the inflatable boat and moor the client's boat without any trouble. On the return journey, the weather deteriorates. The dockmaster's coworker drives the boat, and the dockmaster himself rides as a passenger. There is no place for him to sit securely in the boat, and he ends up sitting on the inflatable edge of the boat, where he has good handholds. When they arrive back at the dock, a wave throws the dockmaster into the air and he lands on the dock. This causes injuries to his shoulder and knee, and he files a claim against his employer. They should have never sent him out in poor weather in an unfamiliar vessel, he argues. A $30,000 settlement is reached.
August 2019, Washington, $4,300,000 Verdict: A man worked as an electrician aboard naval ships. While working at a shipyard in Seattle, Washington in the early 1970s, he was exposed to asbestos. The asbestos came from the insulation used on the ships. Years later, now retired, he is diagnosed with malignant mesothelioma. He and his wife file a claim against the insulation manufacturer. The husband receives compensation for his suffering and the wife for the loss of her husband's companionship (loss of consortium).
July 2019, New York, $400,000 Settlement: A 13-year-old boy is riding on a sailboat as a part of a class taught by a sailing school. An adult in charge of the boat tells him to stand by the edge of the boat as they are pulling into the dock so that he can brace the boat against the impact. When the boat hits the dock, the boy slips, and his leg is caught between the boat and the wall of the dock. The impact breaks his leg, and he needs surgery to fix multiple fractures. His mother files a lawsuit against the school. Telling her son to stand on the edge of the boat was negligent, she claims. The school denies liability, stating that the risk associated with sailing is obvious and that the injury was an unavoidable accident. However, they settled for $400,000.
May 2019, Louisiana, $170,000 Verdict: An employee of a towboat operating off the coast of Alaska is told by the ship's captain to replace the towing rope. The rope, attached to the rear of the ship, had become frayed. As he is switching out the old rope for a new one, the employee accidentally steps on the rope and injures his foot and ankle. The movement of the boat due to waves and wind contribute to his misplaced step. The injuries to his foot and ankle require surgery. He becomes disabled and cannot go back to his job. The employee claims that the working conditions on the boat presented a risk to his safety. The shop's owners maintain that injuries like the ones that the man suffered are common on that type of ship and that the employee should have been more cautious. The court determines that the owners and the employee are equally at fault for the incident. Therefore, the $340,000 in damages that the employee is owed are cut in half, and the man is awarded $170,000.
May 2019, California, $500,000 Verdict: A seaman works aboard a shipping vessel. He is made by his employers to climb up and down ladders in and out of ballast tanks in extreme heat. The heat, the pace at which he is required to climb, and the weight he must carry are all excessive. He asks that other employees be allowed to help him with this task, but is ignored. He slips on his knee, causing significant injury requiring medical attention. The court awards damages for lost income as well as past and future pain and suffering.
February 2019, Florida, $2,000,000 Verdict: A middle-aged man from Trinidad & Tobago goes on a cruise with his wife to Miami. He visits the ship's infirmary because he has continuous chest pain and nausea. Medics there think that he may have had a minor heart attack but tell him that it was not serious enough to justify emergency evacuation to a hospital. The husband and wife inform the medics that they have insurance and that he could be taken to a hospital if necessary. They assure the couple that he will be fine until they land in Miami in two days. Once they arrive and go to a hospital, the man is already in cardiogenic shock. This is a potentially fatal condition in which the heart is unable to pump enough blood to the body's organs. He needs emergency surgery to repair severe damage to his heart, including the implantation of four tubes. The man sues the cruise line for failing to diagnose his condition properly and not coordinating his evacuation to a hospital. The verdict includes compensation for past and future medical expenses, past lost wages, future loss of earning capacity, and future loss of services.
January 2019, Virginia, $175,000 Settlement: A boy onboard a recreational boat is injured when it collides with a tugboat pulling two barges. His father files a claim against the towing company, which agrees to pay his medical and legal costs.
October 2018, Idaho, $600,000 Verdict: Three young adults are aboard a small pleasure boat. Their boat is anchored in a lake after dark with its navigation lights turned off. A man operates a high-performance boat across the lake carrying three passengers. He runs into the anchored boat. The collision sends his boat airborne, throwing two of his passengers from his boat. He and the passengers on his boat survive. The collision, however, kills the three passengers in the stationary boat. The top of their boat is ripped off, and they are thrown into the water where they either die from their injuries or from drowning. The parents of the three young adults sue the operator of the other boat. The defendants argue, somewhat convincingly, that the plaintiffs should not have been drifting along the lake without their navigation lights on. However, the defendant was intoxicated when the incident occurred, and the court finds him to be 70% at fault for the crash.
February 2018, South Carolina, $1,000,000 Verdict: A sailor invites a woman to join him and his crew on their ship during a sailboat race. During the race, the captain of the boat swings a sail across the boat to change direction. He hits the woman in the head, causing her to fall on the deck. They
continue with the race, despite her injury. Days later, after she goes to the hospital with body pain, nausea, and headaches, doctors determine that she suffered a permanent traumatic brain injury. During the trial, an expert maritime safety and boating consultant testifies that the captain should have looked to see that nobody was in the way before he swung the sail. This testimony is especially relevant because the woman had never been on a sailboat before and was not informed before embarking that she had to watch out for the sail.
November 2017, Missouri, $9,000,000 Settlement: A male college student, aged twenty, is approached by a Missouri State Highway Patrol Trooper while idling his boat on a lake in the Ozarks. The stop was made, he later alleged, because he saw the student littering. The trooper requests that the student board his boat for sobriety testing. There is an effort underway by local authorities to reduce the incidence of boating while intoxicated. After the sobriety test, the trooper places the student under arrest. He handcuffs the student and then puts a lifejacket on him completely improperly. The lifejacket is the wrong size, and the trooper neither puts the young man's arms through the straps nor secures the lower strap. The trooper proceeds to take the student to a state office for processing. He operates his boat exceedingly fast on choppy water, and the young student is ejected from the boat. His lifejacket, of course, comes off, and he struggles to keep his head above the water. After five to seven minutes, the police officer has still not succeeded in his rescue attempts-he is a poor swimmer-and the young man drowns. The officer was motivated by a desire to set a record number of arrests. The young man's parents are awarded $9 million in a settlement.
June 2017, Texas, $200,000 Settlement: A man is a passenger in a boat driven by another man. The driver is drunk and drives so fast that he accidentally capsizes the boat. The passenger dies in the crash and is survived by a young daughter. The daughter, represented by an adult she knows, files a lawsuit against the driver of the boat and his wife, who owned the boat. The wife, they contend, entrusted the boat to her husband knowing that he was an unsafe driver. The driver himself, they argue, failed to drive the motorboat at a safe speed and drove while intoxicated.
Does Contributory Negligence Apply in Boat Accident Cases?
Maryland's contributory negligence and assumption of risk doctrines do not apply if maritime law is applied to the case. Instead, a Maryland federal or state court hearing a maritime case would apply the doctrine of pure comparative negligence.
Is a Boat Accident Case Like Any Other Personal Injury Case?
Boat accident injury and wrongful death cases are very different from other personal injury cases. Attorneys handling boat accident cases in Maryland must understand the nuances of boating to understand the nuances of the crash. Boat accident lawyers also need to deal with the sometimes complex interplay between federal maritime law and Maryland law.
Is There an Obligation to Report a Boat Accident in Maryland?
Any boating accident in Maryland that results in the death, disappearance, or injury of any person or in property damage of $2,000 or more must be reported to the Department of Natural Resources under MD NAT RES § 8-724.
Is There a Cap on Non-Economic Damages in Boat Accident Cases?
That has no cap on non-economic damages application under maritime law. Maryland law does cap non-economic damages. But if federal maritime law is applied to the case, there is no cap on damages for an injury or wrongful death case.
Boat Accident Injury Lawyers
Those who operate or manage boats are responsible for doing so in a safe manner. When someone is injured because of another's unsafe boating practices, they may be able to seek compensation for the cost of their medical care, property damage, and other hardships.
Our Maryland law firm handle cases involving recreational boating accidents, maritime workers, and injuries on cruise ships and naval vessels. To speak with one of our lawyers, call us at 800-553-8082, or get a free, no-obligation consultation online.