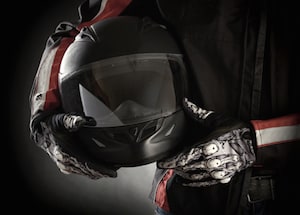 All motor vehicle operators must be properly licensed to drive on Maryland public roadways. Motorcyclists are no exception.
A Class M Motorcycle License is a stand-alone license that must be acquired separately from the standard Class C noncommercial driver's license. It is not enough to drive a motorcycle with only a standard driver's license, and operating a motorcycle without a Class M license may result in consequences including a fine, suspension of your driver's license, points added to your driving record, and your motorcycle being towed.
But it is not hard to get a Maryland motorcycle license (although COVID-19 is making it more of a challenge). There are several different ways to obtain a motorcycle license in Maryland, and licensing requirements can vary based on different conditions such as age, prior licensing, and experience.
Maryland Licensing Requirements
If you already have a valid Maryland driver's license, the simplest way to obtain a motorcycle license is to complete a Motorcycle Safety Program course. All licensed drivers who pass an MVA-approved motorcycle safety course can present their certificate of completion to receive a Class M endorsement on their license.
Although a Maryland Motorcycle Safety Program course is highly recommended for all motorcyclists, it is not a requirement for motorcycle license applicants over the age of 18. Maryland licensed drivers over the age of 18 may obtain a Class M endorsement if they can read road signs and pass the vision, knowledge, and driving skill tests. All Maryland drivers must have a minimum of 20/40 corrected vision in each eye, field vision of at least 140 degrees, and binocular vision.
The knowledge test will check for awareness of traffic laws, rules of the road, and safe driving practices. All of the information from the knowledge test can be found in the Motor Vehicle Administration's Motorcycle Operator Manual, and applicants should familiarize themselves with the manual before seeking their Class M license. An on-cycle rider skill test will check that applicants can demonstrate a left "U" turn, sharp right turn from a stop, cone weave, normal stop, quick stop, obstacle swerve, and overall control of the motorcycle.
New Maryland residents can exchange their valid out-of-state motorcycle license for a Maryland Class M license if they meet the minimum vision requirements. If an out-of-state license has been expired for one year or more, the knowledge and rider skill tests are required in addition to the vision test.
Let's get deeper in the weeds and look a the specific law at issue. A "Class M" license is defined in section 16-104.1 of the Transportation Article:
(d)(1) A Class M driver's license authorizes the licensee to drive motorcycles.

(2) An individual who is a Class M driver's license under this subsection may not drive or attempt to drive a motor vehicle on any highway in this State unless a Class M driver's license authorizes the individual to drive a vehicle of the class that the individual is driving or attempting to drive.

(f) This section applies to any license issued or renewed on or after January 1, 1990.
See Md. Code Ann. Transp. § 16-104.1. This has been Maryland law for nearly 30 years.
How much money is as a Maryland motorcycle license? The fee for a Class M license is $72. There is also a $9 annual fee.
Fast Track Licensing
Many people choose to operate a motorcycle without the proper license or any formal training, so the Motor Vehicle Administration has relaxed some of its logistical requirements to incentivize all motorcyclists to obtain the appropriate license. The MVA's fast track program is designed to make motorcycle licensing quick and stress-free for bikers who already have on-street experience.
Fast track license applicants can take the knowledge and skills tests on the same day. There is no learner's permit required, and no fourteen-day waiting period between the knowledge and the skills tests. If fast track applicants fail the knowledge test on the first try, they will be coached on the correct answers and may re-take the test on the same day.
After passing the knowledge test, applicants will take the on-cycle rider skill test using a street-legal motorcycle. The applicant's motorcycle must be insured, registered, tagged, have working lights, and no equipment violations, and it must be transported legally to the testing location.
New Drivers and Applicants Under 18
A driver education course, including thirty hours of classroom instruction and six hours of behind-the-wheel training, is required for all applicants younger than 18 and all new drivers regardless of age. Also, Class M applicants under 18 must complete a motorcycle safety course from an approved safety program.
Although applicants over age 18 do not have to take a safety course if Class M is their first driver's license they must follow the same graduated licensing system in place for standard driver's licenses. After taking the knowledge test, applicants are given a learner's permit and allowed to drive while accompanied by someone who is at least 21 years of age and has been Class M licensed for a minimum of three years.
After passing the on-cycle rider skill test, applicants are given a provisional license and must maintain a clean driving record for eighteen months before receiving a full Maryland driver's license. Provisional drivers under the age of 18 are subject to additional restrictions.  A Class M learner's permit and the standard Class C learner's permits may be obtained at the same time as long as the applicant passes both the Class M and the Class C knowledge tests.
Maryland Motorcycle Safety Program
At least one safety course is recommended for all motorcyclists, and required for Class M license applicants under age 18. Even though Maryland's Motorcycle Safety Program is largely optional, it teaches essential techniques and mental strategies that could make life-and-death differences on the road. Motorcycle riding requires even more skill and concentration than driving a car, so it's no surprise that more than 90 percent of motorcycle crashes involve riders with no formal training.
Consequently, the best strategy for avoiding motorcycle crashes is to take an approved safety course. Different courses are available for motorcyclists with varying skill levels. These courses are offered at 20 approved training centers across Maryland. You can consult individual training centers' websites to determine course availability and cost. The Maryland Motor Vehicle Administration does not accept motorcycle safety programs from other states, and safety program completion certificates are valid for six months.
All beginner safety program courses require participants to possess a valid driver's license, a Class M learner's permit, or learner's permit eligibility. The courses will proceed regardless of weather conditions, and students are also responsible for bringing their protective gear. Without the proper helmet, eye protection, jacket, long pants, full-fingered gloves, and over-the-ankle footwear, students will not be permitted to participate in the on-cycle portion of any course.
Novice courses offer practice motorcycles, but students may choo
se to ride their motorcycles during the on-cycle training. If students bring their bikes they must be transported to the training location legally and pass a safety inspection.
Course administrators are not liable for any damage to personal motorcycles, a fact they will make crystal clear to you as you might suspect.  Perfect attendance and successful completion of the knowledge and skill tests and the end of the following courses will satisfy the safety program requirement for obtaining a Class M license.
New Basic Rider Course (BRC-u) is designed for riders with little or no experience. Before the course, participants must complete an online eCourse at home. The eCourse replaces six hours of fast-paced classroom instruction, so participants must present their certificate of eCourse completion to the instructor before the first riding session. In addition to the eCourse, the BRC-u includes between four and five hours of formal classroom instruction and ten hours of riding instruction. The classroom training covers rider perception and decision making, while the on-cycle training covers clutch-throttle control, stopping, turning, shifting, and basic crash avoidance skills.
Alternate Basic Rider Course (ABRC) is a less time-intensive option for an individual with some beginning riding experience. To participate, students must have some prior knowledge, including how to use the clutch and throttle to get their motorcycle in motion, stopping properly in a designated area, making gradual and tight turns, shifting smoothly, and riding at a speed of at least 25 mph. The course does not include any formal classroom training, but topics such as preparation, road management, and advanced riding techniques are discussed at the riding range.
Three-Wheel Basic Rider Course (3WBRC) includes instruction similar to the New Basic Rider Course, but on three-wheeled motorcycles including traditional trikes and reverse trikes. The training includes six hours in the classroom and eight hours at the riding range. Riders who complete only the 3WBRC will receive a Class M license with a "J" restriction, permitting holders to operate only the type of vehicle they tested on.
Courses for experienced motorcyclists expect participants to have their Maryland motorcycle licenses before the start of the class. Students must provide a motorcycle, as well as appropriate helmets, eyewear, gloves, boots, and clothing.
Bikers are evaluated during the initial on-cycle activities to make sure they can demonstrate the minimum riding proficiency necessary for the course. Advanced courses are optional. But if you are worried about your insurance rates with your motorcycle, some insurance companies may offer discounted motorcycle premiums to those who complete these courses.
Basic Rider Course 2 (BRC2) known previously as the Experienced Rider Course (ERC), this course expands upon the skills learned in the New Basic Rider Course over six hours of on-cycle instruction. Designed as a refresher for the licensed rider, or for someone who has recently graduated from the BRC-u, the course includes nine different exercises, eight of which are enhanced versions of BRC-u exercises. There is no formal examination component of this course.
Advanced Rider Course (ARC) is the civilian version of the military's Motorcycle Safety Foundation sport bike course. Building further on the skills learned in earlier rider courses, the ARC emphasizes self-assessment, risk management, rider behavior, riding strategies, and holistic skill development in the areas of braking, cornering, and swerving. The riding portion of the class will be rescheduled if the riding surface is wet, due to the high level of traction required for the on-cycle activities. A 20-question knowledge test will be administered at the end of the classroom session. To complete the course, riders must pass the knowledge test and meet the objectives of the on-cycle training.
How Long Does it Take to Get a Motorcycle License in Maryland?
The process of getting a Class M license in Maryland differs for applicants under and over 18 years of age.
If you are under 18, you must complete the following:
At least 30 hours of classroom instruction.
At least 6 hours of behind-the-wheel training.
An approved motorcycle safety course provided at a training center operated by the Maryland Motorcycle Safety Program.
If you are over 18 and have some experience operating motorcycles, you will not need to take a safety course. However, you will still need to get your learner's permit and pass the skills and knowledge tests before you are eligible for a Class M license.
If you have an out-of-state motorcycle license, you can exchange it for a Maryland license. It cannot be revoked, canceled, or suspended. However, if it has been expired for over one year, you will need to take the required tests.
How Fast Can You Get a Motorcycle License in Maryland?
If you already have a driver's license, the Motor Vehicle Administration has a "fast track" program that allows applicants to take the knowledge and skills tests on the same day. You are not required to have a learner's permit or to wait for 14-days between the knowledge and skills tests.
Even if you fail the knowledge test on your first try, you can be advised on the right answers and re-take it the same day. You will then take the skills test with a properly registered motorcycle. Successful test takers may eventually leave with a Class M license.
Do you Need a Motorcycle License to Drive a Trike in Maryland?
Yes. In Maryland, you will need a "Class M" motorcycle license to drive a trike in Maryland. During the skills test, you may choose to take the test with either a two-wheel or three- wheel motorcycle.
Can You Get a Motorcycle License Without a Driver's License in Maryland?
If you do not already have a Maryland driver's license, you will need to pass a Class C Maryland knowledge test before you can obtain a motorcycle license.
Safety First
While taking a rider course and obtaining a Class M license are essential steps to operating a motorcycle safely and legally in Maryland, the first step is gearing up. Maryland's Motorcycle Helmet Laws dictate that every motorcycle rider must wear Department of Transportation approved eye- and head-wear.
For more information about the history and specifications of the helmet law, visit our website's page about the motorcycle helmet laws in Maryland. This page talks about how to choose a motorcycle helmet and what Maryland law (and federal law by extension) requires.
Helmets and eyewear are the minimum protective gear required by law, but the Motor Vehicle Administration also recommends that motorcyclists wear a thick jac
ket and pants, full-fingered gloves, and sturdy over-the-ankle boots with a heel.
Do You Need a Motorcycle License to Make a Claim?
We are motorcycle accident lawyers in Maryland so many people ask us whether not having a motorcycle license forfeits your right to bring a personal injury claim. It does not. We have represented many accident victims in motorcycle crashes who did not have a proper motorcycle license.
Do How Long Does It Take to Get a Motorcycle License in Maryland?
It should take 7-10 days after you pay the fee to receive your Maryland motorcycle license. During COVID, MVA will mail you your new license with a motorcycle endorsement.
Getting a Motorcycle Accident Lawyer
Even with the proper licensing and all the best safety education and equipment in the world, accidents still happen. True, well-trained, helmet-wearing motorcyclists tend to get into fewer accidents with fewer fatalities or permanent injuries. But even the best motorcycle rider is at the mercy of road conditions and other drivers. If you have been hurt or have lost a loved one due to the negligence of someone else, call Miller & Zois at 800-553-8082 or get a free online consultation.