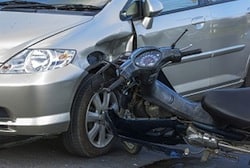 Motorcyclists who collide with passenger vehicles are at an immensely great risk of injury. Motorcycles do not provide the same structural protections that regular vehicles or trucks afford their occupants. Lacking this protection, there is little Maryland cyclists can do to absorb the impact of a collision.
This victim information report will discuss one of the most serious and deadly types of motorcycle collisions: left-turning vehicles colliding with motorcycles.
This article will address:
The Serious Risk of Injuries and Fatalities in Left-Turn Collisions with Motorcycles.
Most Typical Serious Left Turn Injury and Death Cases Our Law Firm Sees
Who Pays Any Out-of-Court Resolutions or Jury Awards?
Sample Settlements and Verdicts in Maryland Left Turn Motorcycle Accidents
The Serious Risk of Injuries and Fatalities in Left-Turn Crashes with Motorcycles
Driving a motorcycle is dangerous for many reasons. Not the least of which is car drivers who refuse to keep a lookout for motorcycles like they do for other vehicles.
The stats are pretty stunning. Motorcyclists are 35 times more likely to experience a deadly accident on the road than those in passenger cars. Every year approximately 4,810 motorcyclists are killed in road accidents.
More than half of motorcyclist deaths involved at least one other vehicle. An amazing 42 percent of two-vehicle fatal motorcycle crashes involved a vehicle turning left while the motorcycle was going straight, passing, or overtaking th vehicle.
What Kinds of Serious Injury Left Turn Cases Do We Typically See?
Accidents with motorcyclists caused by negligent left turning vehicles can happen in a number of ways. Consider the following:
A driver makes a left turn at a light and cuts off a motorcyclist in the oncoming lane of traffic, initiating a collision.
A driver proceeds through a stop sign without stopping, makes a left turn, and hits the side of a passing motorcycle.
A driver attempts a left turn at an intersection and hits a motorcyclist sitting at the adjacent red light.
Yellow light cases. Yes, it is lawful for vehicles to enter the intersection on a yellow even if it turns red once they are in the intersection. That is the smart thing to do wait for traffic to clear. But t is not lawful for the left turning car to commence a turn when there is another car in the intersection.
A Real-Life Scenario of a Left-Turn Crash with a Motorcycle
Mike has had a motorcycle for over a decade now. Over the years, he has taken numerous safety and defensive driving courses. He is therefore acutely aware of how dangerous an accident could be for him especially if that accident involved a passenger vehicle. He makes sure to always travel slightly below the speed limit to give him time to avoid any potential collisions. He wears a helmet and only rides during the daytime hours.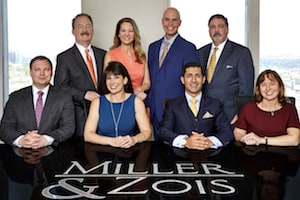 This day is no different. Mike rides down Wisconsin Avenue in Bethesda with his helmet on and his eyes focused on the road ahead. As he passes through an intersection (he has a green light), he suddenly sees a Honda Accord, driven by Danny, making a sudden left turn across his lane of traffic. He swerves to the right to avoid hitting Danny's car, and although he does avoid colliding with Danny, he flies off the road and crashes his motorcycle into a roadside fence.
Mike is ejected from his motorcycle and hits his face against the fence. He has multiple broken facial bones and will require several surgeries and speech therapy. This bike wreck is a tragic example of how someone's negligence can nearly kill even the most cautious motorcyclist. Here, it is Danny's negligent failure to yield the right of way that led to Mike's severe and disabling injuries.
Settlements and Verdicts in Motorcycle Left Turn Cases in Maryland
Maryland: $1,975,000 Settlement. Plaintiff was operating his motorcycle as Defendant was operating a vehicle in the opposite direction of the plaintiff. Defendant made a left turn into a driveway in front of plaintiff's oncoming motorcycle. Plaintiff attempted to avoid the accident, but nonetheless struck defendant's vehicle. He suffered severe leg injuries, resulting in an above-the-knee amputation. He also suffered a torn rotator cuff, which was inoperable.
Maryland: $1,800,000 Settlement. Defendant was driving a tractor-trailer on Brinkley Rd. in Temple Hills. Plaintiff was operating a motorcycle in the opposite direction. As Defendant attempted to make a left turn into a driveway he collided with plaintiff's oncoming motorcycle. Plaintiff was not wearing a helmet. Plaintiff alleged that defendant driver was negligent in failing to pay full time and attention to the operation of his vehicle, in failing to keep a proper lookout and in failing to yield the right-of-way.
Maryland: $160,000 Settlement. Defendant reportedly collided with a motorcycle operated by Plaintiff, when Defendant attempted to make a left turn from westbound Chapico Road onto an intersecting roadway in St. Mary's County. Plaintiff's minor son was riding as a passenger on the motorcycle at the time of the collision. Plaintiff reportedly died in the collision and Plaintiff's minor son suffered unspecified serious personal injuries. Plaintiff's family filed suit alleging the defendant's negligent driving was the cause of the collision.
Our Firm Handles Only Serious Injury and Death Cases. Call Us.
Some lawyers will tell you a motorcycle accident case is the same as any motor vehicle injury case. For a thousand reasons, this is just not true. We have won millions of dollars for motorcycle accident victims and their families. Please contact us immediately at 800-553-8082 to find out if you have a claim or you are welcome to get a free case evaluation online.
More Information