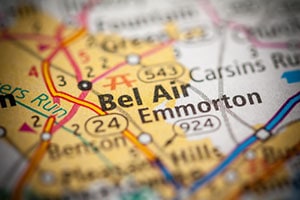 Whenever the police respond to the scene of a vehicle accident, they are supposed to conduct some level of investigation to ascertain what happened. They are also supposed to prepare and file a police report summarizing the details of that investigation along with their conclusions. This practice is standard among police officers in Harford County as well as in other Maryland jurisdictions.
Why is the Police Report Important?
The police accident report in automobile tort cases or claims following an accident is usually a key piece of evidence that you and your lawyer will both need to successfully pursue any liability claim. Responding officers to the scene of the accident are supposed to obtain statements not just from the drivers involved, but also any potential witnesses. Physical evidence at the scene like skid marks, where the vehicles are located, where the damage to the cars is located, what type of damage it is, etc. should also be examined and noted in the report by police. Using all these sources of information, the officer then will form a narrative of what most likely happened. Additionally, sometimes officers will make determinations as to who's at fault for the accident and if appropriate, they may even issue traffic citations.
The above determinations and the factual summary of what occurred are all included in the police report. Where ever you are in Maryland, all jurisdictions use the same accident form called the State of Maryland Motor Vehicle Crash Report. The Maryland VCR requires the location and other critical information to be included such as the driver's names as well as a box for a drawing of the accident scene and a written factual narrative of what happened.
The level of detail and information included in both the narrative and drawing of the scene sections is really hit or miss when it comes to police accident reports. It is not uncommon for there to only be very minimal details of what happened or supporting evidence in the report. This is particularly true for relatively minor accidents. Even if the details are limited in the report, it is still crucial to your case. Anytime the police respond to an accident and you are injured, there is going to be an accident report filed. To pursue a claim or lawsuit, you or your lawyer will need to get a copy of that report.
How do You Obtain a Police Accident Report From Harford County?
If you were involved in an accident somewhere in Harford County, you can obtain the accident report from the Harford County Sheriff's Office. You can go onto the Harford County Sherriff's Office website and select "Services" and then "Public Information Act" or simply click here and we'll take you there.
To obtain an accident report in Harford County, you have to make a request in writing by letter. You can also obtain a report by filling out a Maryland Public Information Act request form found on the department's website or at the Security Booth at 45 S. Main Street Bel Air, Maryland.
You have to include your name, address, telephone number and if you wish for the report to be sent to you by email, you must include your email. It helps to speed the process up if you include as much information as possible if you have it to help them identify the report, such as the report number, date of the incident, and location.
If you are sending them a written request, mail it to:
Central Records
P.O. Box 150
Bel Air, Maryland 21014-0150
If you do not wish to mail it or send the request by email, you can drop it off in person at 45 S. Main Street in Bel Air.
Most records only cost $5; however, you cannot pay with cash they require you to pay by check or money order. If the records you are requesting are longer than 9 pages, there is an additional cost. Additional fees are provided on the website. The website provides that most requests are handled in a few days but if not, you can expect it to be handled in no more than 30 days.
Additional Resources
Harford County as a Venue for Personal Injury Cases
Summary of what it is like to pursue personal injury claims in Harford County, the demographics, recent verdicts and settlements, and Circuit Court Judges.
How Each Maryland County Values Injuries at Trial
A close look at what it is like pursuing a personal injury claim across each Maryland county.
Baltimore City Personal Injury Attorneys
Here, you can learn what Miller & Zois is all about as well as some of the many cases we have handled.
Accidents on Route 95 in Maryland
More accidents occur on Route 95 than on any other road in Maryland, many of which occur in Harford County. Learn more about it here.