Bayer will pull Round-Up off the market in January 2023.  This post is about how this will impact the settlement amounts in future Roundup lawsuits that are not in the initial settlement.
Ever since its acquisition of Monsanto back in 2016, Bayer has been besieged by a growing tide of Roundup lawsuits. The lawsuits allege that prolonged exposure to the active ingredient in Roundup, glyphosate, can cause cancer. Bayer has steadfastly defended the safety of its iconic weed killer product. But last week the company made a drastic shift when it announced that glyphosate-based Roundup will be pulled from the retail market starting January 2023.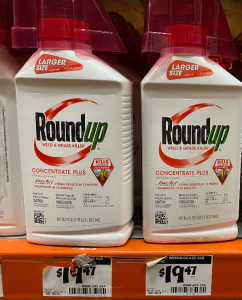 Why leave the product on the market for another year?  It is hard to defend.  Bayer seems to desperately not want to make it seems like a recall.  I'm-not-actually-doing-this-thing-that-I'm-it-seems-like-I'm-doing.