This blog provides an update on the hernia mesh lawsuits.  As of March 16, 2022, there are 16,437 lawsuits against Bard and 3,614 lawsuits against Ethicon (Johnson & Johnson) in federal court that are consolidated in an MDL class action lawsuit.
This page was last updated on April 15, 2022.
April 15, 2022 Update: Jury awarded $255,000 (which includes $5,000 to Mr. Milanesi's wife for loss of consortium).  Plaintiff won on defective design claim.  Is this the big verdict our lawyers hoped for?  No.  But for bellwether effect, this verdict will do just fine.  And a win is a win.
April 15, 2022 Update: Today is a big day. The jury resumes deliberation at 9:00 a.m. in Milanesi v. C.R. Bard in Columbus, Ohio.  It seems like the jury is out for quite a long time.  But if you apply the "one hour for every day of trial" rule, a verdict this afternoon is right on target. (No verdict yet as of late morning – now 4:00 p.m. – today.  So the theory that the jury is just processing all  the evidence is waning.)
April 14, 2022 Update: The jury is still out this afternoon.  It is 3:00 p.m. now and the jury went out at 2:30 p.m. yesterday.  So the jury has been out for a while.  You have to think this is a good sign. Hopefully, the debate is over how much for punitive damages.  But who knows?  Our hernia mesh attorneys have daily hernia mesh lawsuit updates.
April 8, 2022 Update:  The defendants are now in their case.
March 28, 2022 Update: The first week of trial in Milanesi is in the books.  Things have moved slowly – only three witnesses testified in the first week.
[
March 22, 2022 Update
: The
Milanesi v. Bard/Davo
l trial began yesterday.  Opening statements are now underway.   This is a big hernia mesh lawsuit in the long history of this litigation.
What is this case about?  Plaintiffs' lawyers filed a Bard hernia mesh lawsuit claiming that the plaintiff suffered injuries – including two additional surgeries – from Bard's Ventralex hernia patch.  His attorneys are telling the jury this morning that the Ventralex is defective.
So the risk of danger in the Ventralex outweighs the benefits of the device.  Plaintiff's argument is that hernia mesh device plaintiff received failed to perform as safely as an ordinary surgeon would reasonably expect.
Plaintiffs further allege that the defendants should have warned plaintiff's surgeon – who will testify at trial by video – should have been given warnings of the complications and risks of the Ventralex hernia patch.
How long will this trial take?  The expectation is the trial will take three weeks.
The facts of this hernia mesh lawsuit are good for the plaintiffs' victory.  Our hernia mesh lawyers are hopeful the jury awards punitive damages for gross negligence which would help the future settlement amounts for victims when there is a global settlement.
[
January 20, 2022 Update:
The mesh trial set for last Monday that we touted as the most significant hernia mesh lawsuit to
compute future settlement amounts
has been postponed. The message, as always: COVID-19 is the worst.  The new trial date is March 21, 2022.]
[December 12, 2021 Update: Mr. Johns' hernia mesh lawsuit against Bard ended earlier this fall with a defense verdict after a short jury deliberation.  It was a tough blow.  The video below provides our take on what this means for future settlement amounts in the hernia mesh lawsuits.
The MDL class action judge set last week the trial date for January 10, 2022, which will hopefully have a better outcome for the plaintiffs. ]
Hernia Mesh Verdict in September 2021
Defendant C.R. Bard scored a surprising victory in the opening round of the hernia mesh bellwether test trials. The jury in the first test trial found in favor of the defendants on all counts. Zero damages were awarded to the plaintiff.
Again, disappointingly, the jury did not wrestle with this case long before coming back with a defense verdict for Bard.
Does This Defense Verdict Impact Future Settlements?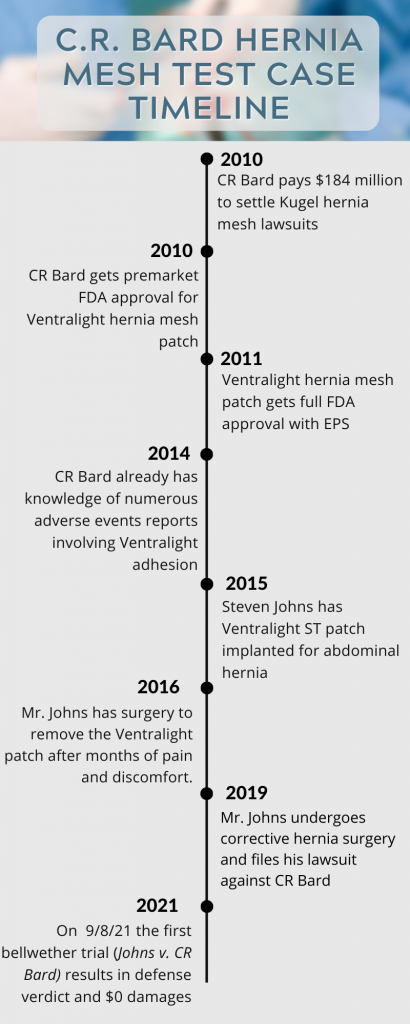 This result was surprising, but it is unlikely to change the course of the hernia mesh litigation moving forward or the amount of money ultimately paid to victims to settle lawsuits involving Bard Ventralex, Bard 3Max, Bard Ventralight, and Bard Perfix, or the Ethicon claims.
So our lawyers still predict a global settlement in the Ethicon and Bard hernia mesh lawsuits with little change in individual settlement amounts.
Defense verdicts in bellwether trials are actually common. 10 years ago when C.R. Bard was a defendant in the Kugel Mesh litigation, the first bellwether trial (Whitfield v. Davol Inc.) also resulted in a defense verdict.
But then the 2nd bellwether trial resulted in a $1.5 million verdict which prompted Bard to negotiate a global settlement of the remaining cases.
This is exactly what we are expecting to happen in the current litigation. We can probably expect to see a 2nd bellwether trial, followed by a global settlement.
Below is more commentary – a bit outdated now with the excessive optimism – on this hernia mesh lawsuit that went to trial.
The Johns Trial
We are 5 weeks into the first hernia mesh bellwether test trial in the C.R. Bard MDL (IN RE: Davol, Inc./C.R. Bard, Inc., Polypropylene Hernia Mesh Products Liability Litigation – MDL No. 2846).  Plaintiff's lawyers have rested their case.  It is now Bard's turn to present evidence.
The test case is representative of over 13,000 other lawsuits alleging that Bard's hernia mesh implants were defective and causes serious injuries and complications to hernia surgery patients.
The outcome of this initial test trial against Bard will have a major impact on how the remaining 13,000 ultimately get resolved. A large verdict for the plaintiff will probably lead Bard and its parent company, Becton Dickson, to settle the remaining cases for a decent compensation payout.
But a loss for the plaintiff could have the opposite effect and cause the litigation to drag on for years and reduce the settlement value. This post will provide an update on what is going on in the trial so far. (November 20, 2021 Update: Yes, I did just contradict this in my update above.)
Plaintiff's Motion – Looking for a Home Run
The plaintiff's lawyers were looking to knock the ball out of the park.  The plaintiff's attorneys filed a motion to clarify what is fair game for any punitive damages award.  The plaintiff believes a jury should consider all of Bard's revenues to determine a punitive damage award and prohibit defense lawyers from presenting evidence of mesh-only sales.
After the close of plaintiffs' before the Labor Day holiday, the trial judge confirmed that punitive damages are still alive.  Judge Sargus ruled that a reasonable jury could conclude that there is "clear and convincing evidence that Defendants' conduct manifested a knowing and reckless indifference toward, and a disregard of, the rights of others," which is the Utah punitive damages standard (the case is tried in Ohio but Utah law applies to this case).
So what is the difference?  Plaintiff lost.  But the quest for punitive damages is a big deal in this litigation and could be what drives Ethicon and Bard to pay reasonable settlement amounts to resolve these hernia mesh lawsuits.
About the Hernia Mesh MDL Bellwether Trial
The plaintiff selected for the first hernia mesh test trial in MDL-2846 against Bard was a Utah man named Steven Johns.
In 2015, Mr. Johns had one of Bard's Ventralight ST hernia mesh patches surgically implanted to repair an abdominal hernia. The defective design of the Ventralight mesh caused it to abnormally adhere and attach to his bowel tissue causing Mr. Johns persistent and severe pain.
In 2016, Mr. Johns underwent surgery to have the Ventralight hernia mesh implant surgically removed. Three years later in 2019, Mr. Johns was back in the operating room again for surgical repair of a recurrent hernia at the site of the previously placed Ventralight hernia mesh patch.
Mr. Johns filed his hernia mesh lawsuit against C.R. Bard in 2019 and it was later consolidated into the Bard Hernia Mesh MDL.
Mr. Johns' hernia mesh lawsuit asserted claims of negligence and strict liability based on allegations that Bard knew that its hernia mesh patches had a design defect that made them potentially dangerous and harmful but continued to sell them without any warnings.
Over the last 5 years, thousands of product liability lawsuits have been filed against manufacturers of defective hernia mesh implants. These cases have been consolidated into several different hernia mesh MDLs.
First Five Weeks of the Bard Trial
The pivotal question for the jury to decide in this case is what Bard knew (or should have known) about the problems with its Ventralight hernia mesh patch and when they knew it.
The Ventralight is a hernia mesh device made out of polypropylene with a bioresorbable coating called "Sepra Technology" ("ST") on one side. The ST-coated side of the mesh is supposed to be placed against organs (such as the bowels) to resist tissue attachment.
In the opening weeks of the trial, the plaintiff presented testimony designed to show that Bard knew that polypropylene plastic was not suitable for permanent implantation inside the human body.
Plaintiff has also presented key witnesses to establish the crux of his claim – that the ST coating on the Ventralight reabsorbs way too quickly. This exposes the care polypropylene side to internal organs where it has a tendency to attach and adhere to tissue.
So far, testimony from the plaintiff's various expert witnesses has been moving forward at a very slow pace. After almost three full weeks of trial, they are averaging about one witness per day, with a cross, redirect, and recross examination for most witnesses.
The slow progress is due in part to objections by the defense as to the permissible scope of the expert witness testimony.  (This is the first hernia mesh trial – at least the first in a long time. So they are starting over on rulings from the court.) Bard's defense counsel has made an exhaustive effort to pick away at the plaintiff's experts and narrow the scope of their admissible opinions.
What to Expect Next in This Hernia Mesh MDL Trial?
The trial seems to be running a little behind schedule, but we should expect to see the close of the plaintiff's case by the end of this week. This week should involve the highest level of courtroom drama, however, as both the plaintiff and his treating doctor are expected to testify.
Lawyers for Bard will then get a chance to present testimony from their own panel of experts with the aim of effectively rebutting the plaintiff's claims. Several Bard employees are also scheduled to take the stand in support of the company's effort to argue that the Ventralight and other hernia mesh devices were not actually defective at all.
The Impact of this Case on Settlement Value for Hernia Mesh Claims
It is widely believed that a mass settlement of all the hernia mesh lawsuits may be in the works. If these rumors are accurate, then the outcome of this test trial could have a major impact on the eventual settlement payout that hernia mesh plaintiffs receive. This was exactly what happened in an earlier round of the hernia mesh litigation involving alleged defects in Bard's Kugel Hernia Mesh device.
In the Kugel MDL, the first bellwether test case went to trial in August 2010 and resulted in a $1,500,000 verdict for the plaintiff. Shortly after this result, Bard entered into settlement negotiations and eventually agree to pay $184 million to resolve the remaining 2,600 cases. All indications are that a very similar pattern will follow after a verdict comes down in this test case.
What Will Be the Hernia Mesh Settlement Compensation Payout?
My prediction for the average settlement value of these lawsuits is between $50,000 and $100,000.  Most serious injury cases can expect to receive a much higher per person payout.  Will this trial change my view of the amount of the expected settlements for the hernia mesh cases?  It will. But probably just move my settlement amount prediction higher or lower with this same $50,000 to $100,000 range.  
Call Us About Your Hernia Mesh Lawsuits
If you have a potential hernia mesh implant lawsuit, time may not be on your side. Contact a hernia mesh attorney at Miller & Zois at 800-553-8082 for a free consultation.