There are over 250,000 plaintiffs, mostly military veterans, that have filed a 3M earplug lawsuit against 3M alleging that the company's Combat Arms earplugs were defective and failed to protect them from hearing damage. The 3M earplug lawsuits have been consolidated into the largest "class action" MDL in history – the 3M Earplugs MDL in the Northern District of Florida. Our law firm is taking these cases in all 50 states and the District of Columbia.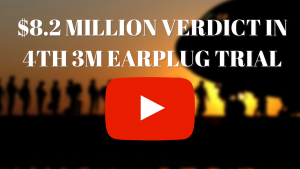 October 12, 2021 New Verdict:  Earlier this month, a federal court jury in Florida awarded army veteran Brandon Adkins $8.2 million!  This is a huge verdict in a case that was on 3M's list of earplug lawsuits it wanted to go to trial.  So the weak 3M earplug lawsuits are worth $8.2 million.  This new verdict has huge implications for an eventual 3M earplug settlement.  Juries are speaking loud and clear about what it thinks of what 3M did in these cases.
Billions of dollars are at state.  Yet, frustratingly for many victims, there are few 3M trial updates about the status of the litigation or where we are in the current 3M trial.
The next 3M earplug lawsuit is set to go to trial next week on October 18, 2021.  This is another hearing injury lawsuit that is on 3M's list of cases it submitted to the MDL judge as a case it wants to take to trial.  I assume 3M will let this case go to trial.  But my goodness, things keep getting worse and worse with every suit that goes to trial.
The purpose of the page is to get you up to speed on where we are in the 3M lawsuits as of October 12, 2021. 
3M Earplug Lawsuits Are a Class Action MDL
In MDLs, a large group of similar cases is consolidated before a single judge for a group discovery process. When the consolidated discovery phase is completed, a handful of individual cases are selected out of the larger group and scheduled for jury trials. These are called "bellwether trials" because the results of the trials are used to guide the course of settlement negotiations or further litigation.
There have already been 3 bellwether trials in the 3M earplugs litigation. Right now, we are 4 days into a trial in the 4th bellwether case. This post will bring you up to speed on the results in the first 3 bellwether trials and give a status update on the trial that is currently underway in the U.S. District Court in Sarasota.
3M Bellwether Trials: Rounds 1-3
If you are scoring the results of the opening three rounds of bellwether trials in the 3M earplug litigation, it would be 2-1 in favor of the plaintiffs.
Round 1 featured 3 plaintiffs (1 picked by 3M, one by the plaintiffs, and one by the judge) and resulted in a major loss for 3M. The jury awarded $7.1 million in total damages to the 3 plaintiffs. This included $2.1 million in punitive damage for each plaintiff. More on 1st 3M Earplug Verdict
The plaintiff in the second bellwether trial was hand-picked by the defense team. The trial, in that case, resulted in a defense verdict for 3M.
The 3rd round of the bellwether trials featured a plaintiff who was selected by the MDL judge.
The trial resulted in another win for the plaintiffs. The jury awarded $1.7 million in damages but that was reduced by 38% based on their finding that the plaintiff himself was partly at fault. More on 3rd 3M Earplug Verdict.
4th 3M Earplug Trial Underway
The 4th 3M earplug bellwether trial began last week. Originally, the plaintiff for this 4th bellwether trial was supposed to be Joseph Taylor, an Army veteran from Washington.
Like the plaintiff in Round 2, Mr. Taylor was a "defense pick" and deliberately chosen for the perceived weakness of his claims. Unfortunately, Mr. Taylor proved to be a less than diligent plaintiff from the start.
Why Atkins Instead of Taylor?
In May 2021, the MDL judge nearly dismissed Taylor's case after he failed to produce certain records in compliance with discovery deadlines. (There is some evidence he was not cooperating with his lawyers.)
In June, Taylor was penciled in for the 4th bellwether trial to begin on September 20, 2021.  Less than a month later, he filed a notice of voluntary dismissal of his case "with prejudice" and also agreed to pay 3M's defense costs in the case.
Following the dismissal of Taylor, the parties had to find another plaintiff for the September bellwether trial.
Lawyers for 3M requested that Michelle Blum, the plaintiff scheduled for the 5th bellwether trial in October, be moved up to the September slot. The MDL judge balked at that request and instead substituted another plaintiff, Brandon Adkins. Adkins was also a defense pick and, like Taylor, his case is governed by Washington law.
September 2021 3M Trial Update
The Adkins case went to trial last week as scheduled.  Today will be the 6th day of the trial, which is expected to take 3 weeks to complete. So far, the jury has heard testimony from several experts for the plaintiff.  So far they have included:
Dr. Marc Bennett, a medical doctor who testified as to Mr. Atkins bilateral tinnitus and hearing loss injuries
Rear Admiral Allie Coetzee Leslie, who testified that what 3M promised and what it delivered were not the same
Richard McKiney, a bioacoustics expert to testify that the Combat Arms earplugs were defectively designed and that Aearo/3M's quality control and assurance processes for the CAEv2 were also deficient
Dr. Lawrence Lustig, a medical doctor from Columbia University, who testified that 3M/Aearo violated general industry norms regarding the labeling on the CAEv2 did not provide adequate warnings to the military.
On Thursday of last week, Mr. Adkins himself took the stand to testify and face cross-examination. Mr. Adkin's testimony was uneventful and surprisingly short. He was only on the witness stand for 1 hour and 7 minutes.
(Looking forward to updating this graphic on Monday!)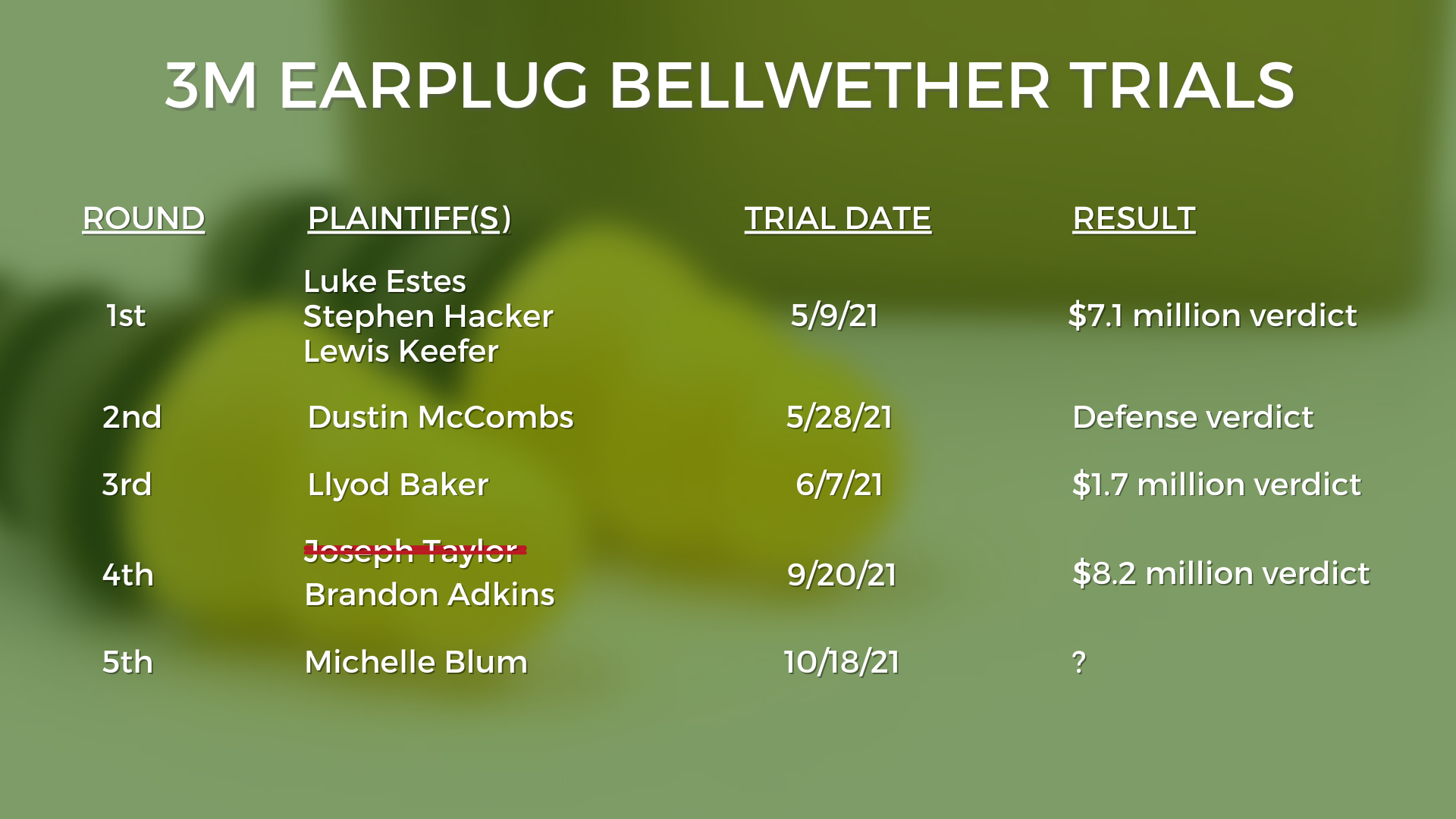 Potential Impact of the Verdict in 4th 3M Bellwether Trial
If the current bellwether trial results in a big verdict for Mr. Adkins it should have a major ripple effect on 3M and the course of the litigation moving forward. Adkins is a plaintiff who was selected by 3M's defense team. The last bellwether trial with a defense pick resulted in a victory for 3M.
If 3M loses on this second defense pick plaintiff, it will make the victory in round 2 look more like an outlier and possibly begin to erode 3M's confidence.
The Adkins trial will immediately be followed next month by the Blum trial (Round 5). We will likely see that trial take place no matter what the results in the Adkins trial are. Afterward, however, the bellwether trial schedule really heats up.
The MDL judge scheduled 6 additional bellwether trials from November 2021 to February 2022, with even more after that. If 3M loses these next 2 trials, they may decide to cut their losses and ask the judge to stay further proceedings while they negotiate a global settlement.
What Is Hidden Hearing Loss?
Hidden hearing loss is a hearing injury that does not show up on a standard hearing test. Victims usually describe difficult interpreting background noice. This makes understanding speech more difficult in certain environments.
At the 3M earplug trial, the defendants sought to exclude testimony about hidden hearing loss because the science does not support hidden hearing loss in humans.  But even the medical literature the defendants relied upon up in their Daubert motion supported the existence of HHL.
The MDL judge, however, did not allow HHL testimony in Atkins by the MDL trial by Dr. Marc Bennett or Marc Fagelson because "neither doctor performed any diagnostic test for 'hidden' auditory injuries…"
Your 3M Earplug Lawsuit
If you have a potential 3M earplug lawsuit, you should need to get a lawyer.  Today.  You can contact us online or call 800-553-8082. Or call another attorney. But do not sleep on your rights.