Over 288,000 plaintiffs have filed a 3M earplug lawsuit against 3M alleging that the company's Combat Arms earplugs were defective and failed to protect them from hearing damage.
The 3M earplug lawsuits have been consolidated into the largest "class action" MDL in history – the 3M Earplugs MDL in the Northern District of Florida.
Our law firm is taking 3M earplug lawsuits in all 50 states and the District of Columbia.
This page provides all recent updates on the 3M earplug lawsuit.  The last update was on October 2, 2022, at 10:36 a.m.
---
 3M Earplug Bellwether Trial Record
These are the trial results for all 16 MDL bellwether trials. This does not include the $77.5 million Beal verdict.
| | | | |
| --- | --- | --- | --- |
| ROUND | PLAINTIFF(S) | DATE | RESULT |
| 1 | Hacker / Estes / Keefer | May 2021 | $7,100,000 |
| 2 | McCombs | May 2021 | Defense Verdict |
| 3 | Baker | June 2021 | $1,100,000 |
| 4 | Atkins | Sept 2021 | $8,200,000 |
| 5 | Blum | Oct 2021 | Defense Verdict |
| 6 | Palanki | Nov 2021 | Defense Verdict |
| 7 | Camarillorazo | Nov 2021 | $13,062,320 |
| 8 | Finley | Nov 2021 | $22,500,000 |
| 9 | Montero | Dec 2021 | Defense Verdict |
| 10 | Stelling | Dec 2021 | Defense Verdict |
| 11 | Sloan / Wayman | Jan 2022 | $110,000,000 |
| 12 | Wilkerson | Mar 2022 | $8,000,000 |
| 13 | Vilsmeyer | Mar 2022 | $50,000,000 |
| 14 | Kelley | April 2022 | Defense Verdict |
| 15 | Vaughn | April 2022 | $2,200,000 |
October 2, 2022
The third round of settlement negotiations in 3M earplug litigation is tomorrow. The last round encouraged everyone to take another shot at settlement talks to resolve some of the lawsuits. Before trial at the end of the month, this is the moment for a 3M earplug settlement.  If it is not this month, it is hard to envision when these cases will settle.
August 31, 2022
On Monday, 3M filed an appeal of the recent ruling by the U.S. Bankruptcy Court in Indiana which denied 3M's controversial effort to force the earplug lawsuits to be resolved under the protection of the bankruptcy stay.
It will be a big hill for 3M to climb to overturn the bankruptcy ruling. The appeal will be heard either by the U.S. District Court for Indiana or by the Bankruptcy Appellate Panel and it could take six months for a decision unless the appeal is expedited.
August 26, 2022
Judge Graham denied 3M a stay on the 3M earplug lawsuits.  This means the whole bankruptcy gambit was for naught.  These trials will be back on as scheduled.
August 17, 2022
Judge Rogers issued an Order on Sunday denying a motion from one veteran seeking a ruling that 3M was solely liable for the earplug claims. The motion was an effort to block 3M's recent effort to force the earplug claims to be resolved in Aearo bankruptcy. 3M
In her Order, Judge Rogers referred to the Aearo bankruptcy as a scam – my word not the judge's but that is the gist of it – devised by 3M when it became dissatisfied with the results of the MDL and bellwether trials. Rogers points out that from the start of the litigation, 3M has assumed full responsibility and control, and "Aearo was a party to this litigation in name only."
Despite her concerns with 3M's "naked duplicity," Judge Rogers found that she was unable to grant the relief sought in the motion because 3M has not asserted a defense claiming to be the wrong party in the litigation. Until that defense is asserted, Judge Rogers believes granting the motion would be premature.
August 10, 2022
It is becoming increasingly clear that bankruptcy might not be the magic elixir 3M had hoped.  The 3M earplugs MDL judge will hold a hearing this week to hear about the details of 3M's acquisition of Aearo Technologies, the subsidiary which recently filed bankruptcy to halt the litigation.
What exactly was the deal between 3M and Aearo?  Did 3M unconditionally agree to assume all of Aearo's liabilities?  Judge Rogers might steer the 3M earplug lawsuit around this bankruptcy, maybe by just dismissing Aearo as a defendant and proceeding against 3M only.
August 4, 2022
The Judge in the 3M Earplugs MDL ordered that the moving pending cases from the inactive to the active dockets will stop until further notice due to "recent developments." This is another byproduct of the Chapter 11 bankruptcy filed by 3M's Aero Technologies. A bankruptcy judge in Indiana will eventually decide whether the automatic stay will be extended to 3M, which would stay the Earplug class action lawsuit. Our lawyers do not think this will happen.  But the decision is in the hands of a single bankruptcy judge in Indiana. Meanwhile, however, thousands of plaintiffs in the MDL will no longer need to worry about producing documents to support their claims and paying filing fees.
August 1, 2022
What everyone wants to understand right now is how the bankruptcy filing of 3M's subsidiary, Aearo Technologies will impact earplug lawsuits against 3M.   That is the big question.  It is not Judge Rodgers' call – it is the bankruptcy judge who will hold a hearing on August 18, 2022.  3M has already asked – because that is the end game – the bankruptcy court to extend the protection of the stay to include 3M.
July 29, 2022
3M filed a long brief this week contending that its new bankruptcy strategy is justified and necessary because the earplugs MDL is dysfunctional.
According to 3M, bankruptcy is now the only effective way to resolve the earplug claims because the MDL has been overrun with thousands of unwarranted claims that are not being properly vetted. 3M also denounced the legitimacy of the bellwether trials.
At a hearing on Wednesday, the earplugs MDL Judge, Casey Rogers, blasted 3M and vowed to hold a hearing to determine whether 3M acted in bad faith by filing bankruptcy days after participating in a settlement mediation. Judge Rogers also shot down 3M's claims that the MDL has become dysfunctional, noting that 80,000 plaintiffs have already been vetted out.
July 26, 2022
3M just announced today that its Aearo Technologies subsidiary (which makes the Combat Arms Earplugs at the center of the litigation) has filed a chapter 11 bankruptcy and will seek to establish a settlement trust fund to resolve future earplug claims.
3M is claiming that this will enable it to resolve the thousands of remaining earplug lawsuits more efficiently and equitably, but it will face legal challenges from the earplug plaintiffs.
If 3M is allowed to proceed with the bankruptcy strategy, the ongoing earplug litigation will be stayed.  This means the litigation would be put on pause.
So what does this mean for the thousands of 3M earplug plaintiffs with pending cases? At the end of the day, 3M earplug plaintiffs are still going to get settlements. However, if 3M is allowed to resolve the claims in the bankruptcy, it will delay the process and the settlement payouts will probably be lower.
Right now, 3M is facing pressure from the prospect of thousands of earplug trials across the country next year. The bankruptcy will immediately relieve this pressure and allow 3M to continue dragging out the settlement negotiations.
As part of the bankruptcy filing, 3M has earmarked an initial $1.2 billion to fund the proposed settlement trust. This is a paltry sum that would amount to about $5,000 for each plaintiff if divided evenly.  This is a very, very, unlikely scenario.
July 25, 2022
In the week after the failed court-ordered settlement mediation, several motions have been filed which suggest that the plaintiffs are making it clear to 3M that they are preparing for a big round of trials next year. Plaintiffs filed an 84-page motion last week seeking to exclude or limit various expert witness testimony presented by 3M in the wave 3 trial cases.
July 13, 2022
Settlements talks to bring about a comprehensive 3M earplug settlement start in just two days.  3M earplug lawyers on both sides will meet to hammer out settlement amounts for victims in this protracted litigation that has now seen 16 trials in the 3M earplug class action.
Should you expect your 3M earplug lawsuit to settle this weekend?   Realistically, it is a long shot that your lawsuit will be resolved this weekend or that an individual settlement offer will come out of it.  But we are hoping for progress to get us to that point.
June 27, 2022
The 3M lawsuit settlement talks are less than three weeks away.  3M was probably hoping that they could go into this court-ordered settlement mediation next month without much attention from investors or the public.
On Sunday, Wall Street Journal caught 3M in its searchlights and published a story under the headline 3M Faces Billions in Liabilities Over $7.63 Earplugs. The article provides readers with a brief snapshot of the massive product liability litigation over alleged defects in earplugs 3M sold to the Army.
It also explains how the immense size of the litigation means that 3M could be facing a multi-billion-dollar price tag. Until now, 3M has benefitted from the lack of attention. Investors have mostly looked at the 3M earplug lawsuit and focused on the 3M PFAS lawsuit exposure.  This puts the 3M litigation front and center heading into the settlement negotiations.
June 15, 2022
The judge in the 3M Earplugs MDL, Casey Rogers, issued a significant Order last week requiring both sides to participate in a mandatory mediation session. This is the biggest step towards a 3M earplug settlement that we have had.
The clear purpose of the mediation is to make a serious effort to "resolve as many cases as possible." That is probably the most realistic outcome.  3M will likely look to settle the worst cases to decrease settlement amount expectations.  3M will likely attack settlement lawyer-by-lawyer.
Many lawyers spend a ton of money to get thousands of these cases. That comes with debt burdens and other pressures that 3M will seek to exploit. (Sorry, I turned negative there… this is still a good development that gives hope for a real settlement for many.)
To oversee the mediation, Judge Rogers appointed Randi S. Ellis as Special Master. The mediation will last for a minimum of 3 days and must take place before July 15. In her Order, Judge Rogers explained that there are now 233,883 active plaintiffs in the MDL and these cases are now being prepared for trial. Without a settlement, these cases will start being remanded to their home districts for trial in large waves of 500 cases. That is a lot for the lawyers to endure but, as Judge Rogers points out, that is a lot for the federal court system to endure as well.
June 1, 2022 Update
The MDL judge reduced the $55 million verdict awarded to bellwether plaintiff William Wayman back in January down to $21.7 million. Wayman's damages were reduced because Colorado (where Wayman's claims arose) has a statutory cap on the maximum amount of pain & suffering damages that can be awarded.
Judge Rogers also issued CMO No. 47 identifying a 3 "wave" of 500 pending earplug cases that will now enter into trial preparation phase. Two previous waves of 500 cases have already been sent for trial prep. This means that if 3M does not find some way to settle these cases we could see 1,500 3M earplug plaintiffs go to trial in 2023.
But I just highlighted the problem, right?  Go to trial in 2023.  After a rush of trials, there will either be settlement or a lull before these cases got to trial.  My belief is the 3M earplug lawsuit will settle before there is another trial.  But 3M gets a breather before the next trial date.  If you find that frustrating, you are not alone.
May 20, 2022 Update
Wow! The 3M earplug bellwether trials ended with a spectacular bang for the plaintiffs. The last and final bellwether trial concluded this afternoon in Pensacola, Florida, with a federal jury awarding the plaintiff, James Beal, $77.5 million in damages. This is the largest amount ever awarded to a single bellwether plaintiff and it brings the total damages against 3M up to $300 million. (The link at the top of the page has the daily blow-by-blows of the Beal trial if you are interested.)
May 16, 2022 Update
While we wait for the verdict in Beal – probably by Friday – the latest 3M earplug lawsuit news is more conflict between the judge and 3M's lawyers.  MDL Judge Casey Rogers issued an order demanding that 3M's defense lawyers show cause why they should not be sanctioned for "abuse of the trial process."
The order came after 3M's lawyers sought to ignore long-standing procedural rules regarding the designation of deposition testimony in the bellwether trials. Over the last two years, Judge Rogers has repeatedly admonished and expressed frustration with 3M's attorneys over similar antics. 3M's lawyers filed a response to the show cause order today. But given their prior history, Judge Rogers may be ready to sanction them, anyway.
No doubt, the great deference trial lawyers show to judges diminishes over a long trial, much less throughout the bellwether process.  Why? Because judges are not monarchs but human beings. That becomes more apparent with greater familiarity. But 3M's lawyers seem to have chosen to ignore orders that they just don't like. That is a bridge too far and they will pay a price for it.
May 11, 2022 Update
Last Friday, Judge Rodgers dismissed a group of over 20,000 3M earplug lawsuits from the MDL class action because the plaintiffs failed to produce certain documents required to keep their case active. Most of the dismissals were due to the failure of the plaintiff to produce their official military service records.  You hate to see any claim get dismissed.  But how big a deal is it to produce your service records after filing a claim years ago?  Ultimately, this will be helpful to soldiers who were hurt and want to speed up the timetable for a 3M earplug settlement.  The lawyers need to figure out who the real victims are and the scope of their injuries to apportion settlement amounts.
May 10, 2022 Update
Yesterday was the first day in the final bellwether trial in the 3M earplug litigation. James Beal is an Army veteran. The trial will last two weeks. The judge will be Judge Robin L. Rosenberg – the Zantac MDL judge – at the federal courthouse in Pensacola. Last week, the 3M MDL judge granted a motion by Beal which prevents 3M's defense team from presenting any of their affirmative defenses at trial including contributory negligence.
If you read these updates regularly, I've been a hype man for the importance of each of these 3M earplug trials, right?
Well, this is the 16th trial.  There have been 18 plaintiffs and 15 trials.  The plaintiffs have won 12 verdicts and lost 6.  They have won 9 of 15 trials. At this point, it is hard for even me to think Beal is a critical trial to ultimate settlement amounts paid by 3M.
Another $55 million verdict would put an exclamation mark on what I believe to be great results for soldiers in the 3M earplug lawsuit.  But one more verdict it is not a game-changer anymore.  3M needs to stop the bleeding and get to work to figure out a settlement plan that offers reasonable settlement payouts to the victims.
3M is rumored to be internally trying to figure out the most efficient path to do this. But if you came here wondering how long the 3M lawsuit will take to settle, or how a settlement would be effectuated… it is still anyone's guess.  When I know more, I will let you know.
May 5, 2022 Update
Yesterday, marked a brave new era in the 3M earplug class action lawsuit.  We have one more 3M earplug trial in the MDL (Beal).
Judge Rodgers is ready for the new era, ordering 20,197 cases to be moved from the administrative docket onto the active docket. This makes them "real" lawsuits that require full discovery and pretrial workup (and plaintiffs' attorneys paying the filing fee that 3M's lawyers so desperately wanted).
After that, the trials will involve large blocks of soldiers trying their cases together in the same courtroom with the same jury.  This makes a complex trial a lot more complex.  Each of these super trials could potentially take months to complete.  The upside for plaintiffs becomes daunting to 3M, right? How would, for example, the Wilkerson jury deal with 50 plaintiffs?  A $2.5 billion verdict for 50 plaintiffs?
April 29, 2022 Update
The Jonathan Vaughn verdict is in.  The jury awarded this U.S. Army veteran and father of three a $2.2 million payout.  Was this a great case for plaintiffs to try?  It was not.  It was a tough case.  The jury saw past the nonsense and awarded over $2 million.  This case was tried under Colorado law which has a ridiculous cap on damages and that is unfair to Mr. Vaughn.  But this is a bellwether trial and the bellwether effect is another big jury award.
April 8, 2022 Update
The jury found for 3M in the 14th bellwether trial today in the Denise Kelley case. This drops the average jury compensation payout in 3M earplug lawsuits in 2022 to $38 million per soldier.  (If you think this is meant to cheer you up after a tough loss, you are correct.)
April 7, 2022 Update
On Day 7 of the Kelley trial, 3M presented testimony from 2 expert witnesses. First up was Jennifer LaBorde, a doctor of audiology and hearing aid specialist at the Hearing Center. In the afternoon 3M called Dr. John Casali to the stand. Casali is a professor at Virginia Tech University and a well-recognized expert in hearing protection and acoustics. Casali has been a witness in all the prior bellwether trials.
April 6, 2022 Update
Day 6 saw the close of the plaintiff's case and the beginning of 3M's defense, which featured the testimony of Maryland-based 3M scientist Dr. Eric Fallon. Dr. Fallon is the former chief Audiologist at Walter Reed Medical Center. 3M also filed a Motion for Judge as a Matter of Law (as they have done in all of the prior bellwether trials) arguing that punitive damages should not be permitted under Texas law.
April 4, 2022 Update
Plaintiff's lawyers have closed their case in Kelley.  3M filed a motion after the plaintiff closed her case.  They are asking for a spoliation motion because Ms. Kelley did not keep hearing aids and gun records 3M asked for in pre-trial discovery.  Spoliation is when the party that did not produce evidence gets punished in some way.  What 3M wants here is for Judge Barber to give adverse inference instructions to the jury based on the plaintiff's alleged failures to preserve and produce certain evidence during discovery.  Generally, judges are more likely to give a spoliation instruction in a case involving a company that failed to produce information than an individual. Because, in the real world, it is hard for people to get their arms around all of the things they need to produce in litigation.
3M is also asking the court to instruct the jury that the Kelley case is NOT a "class action."  I have no idea if it will be granted but it is a meaningless request.  3M seems desperate.  3M is in a lose-tie situation
March 29, 2022 Update
On the opening day of the Kelley trial, the jury was selected by lunch and both sides made their opening statements. The day wrapped up with brief video testimony from the first witness, Ron Kieper who is a former employee who tested the earplugs.
March 28, 2022 Update
The next bellwether trial gets started today before Judge Thomas Barber in Pensacola. The plaintiff will be Denise Kelley, only the 2nd female bellwether plaintiff to go to trial. A total of 10 business days and 64 hours of trial time have been set aside for the trial. The plaintiff will get 35 hours and the defense will have 29 hours to present their cases. In contrast to previous cases, 3M will not be arguing a contributory negligence defense as the plaintiff was granted summary judgment on that issue earlier this month.
March 26, 2022 Update
Game-changing 3M earplug lawsuit weekend – $8 million verdict in Wilkerson.
March 25, 2022 Update
A federal jury in Pensacola, Florida awarded $50 million today to Luke Vilsmeyer, a former Green Beret with 21 years of military service, who suffered hearing loss and tinnitus after 21 years of military service.  Our lawyers were mostly following the Wilkerson trial closely (the jury will likely render a verdict in that case on Monday).  This case was under the radar.
This is an incredible verdict and is yet another victory that should push settlement amounts higher as 3M has to be in a full-scale panic at this point.  Incredibly, the $50 million was all compensatory damages (there are no punitive damages available under Indiana law).
March 22, 2022 Update
Plaintiff's 3M earplug lawyers rested their case yesterday in Wilkerson.  3M filed a motion for judgment yesterday as a matter of law immediately after the close of Plaintiff Steven Wilkerson's case. 3M has filed identical motions in all of the previous bellwether trials. The primary argument in 3M's motion is that Wilkerson has failed to establish proof that his hearing loss was connected to 3M's earplugs. 3M points out that Wilkerson's experts admit that he already had some hearing loss even before he joined the Army. They also note that Wilkerson testified that his hearing remained consistent while he was wearing the earplugs in Afghanistan. 3M's motion also argues that punitive damages should be off the table. This motion will almost certainly be denied and these issues will be given to the jury to resolve.
One big driver of the compensation payouts in the 3M earplug lawsuits is punitive damages.  On Sunday,  Judge Mark Walker issued an order addressing the objections by both parties to the proposed jury instructions.
Lawyers also filed a stipulation stating that the company's current net worth is $12.39 billion. (3M is worth more than $12.39 billion – more like $80 billion.  But whatever.) If the jury decides that punitive damages are warranted, 3M's net worth will be used to calculate the appropriate amount.
March 8, 2022 Update
Finding Alpha has an article on 3M legal liabilities. It is not a great article.  The piece does not exclude an understanding of how mass tort litigation works and contains too many typos. (You should never trust an author with typos – except me).  But here is the money quote that is of great interest to you:
Morgan Stanley estimates $2 billion in losses in a best-case scenario, $14 billion as a base case, and $53 billion in a worst case.
Finding Alpha had an article last year (that I can't find now) that had 3M's worst-case scenario at $20 billion.  So Wall Street is waking up.
Wilkerson and Vilsmeyer on Deck
The next trials in Wilkerson and Vilsmeyer are less than two weeks away.  Judge Gary Jones held a pretrial conference in Wilkerson with both sides last week to address administrative matters including the trial schedule, protocol, and logistics.
Judge Jones also weighed in on a point of contention and ruled that the use of demonstrative aids will not be allowed during opening statements. Both sides have until 3/10 to submit their "statement of the case" in advance of the trial.
3M Appeal
3M filed its appeal of the verdict in the first trial (Estes/Hacker/Keefer).  The brief is surprisingly filled with melodramatic outrage that is unlikely to impress the 11th Circuit Court of Appeals.  This language is fine for attacking the other side's arguments. But not for attacking the legal rulings of a well-respected district court judge.
Feres Doctrine
The one haymaker that 3M throws in is brief is the Feres Doctrine which, if applied to the 3M earplug lawsuit, would be fatal for all claims.  Our lawyers break down the Feres Doctrine argument on the main 3M earplug lawsuit page on our website.  I've said from the beginning I think it is hard to argue the Feres Doctrine applies to the earplug litigation.  But judges sometimes disagree so it always makes you a little nervous when the other side's lawyer makes an argument that would destroy every claim you have. But, again, I still think it a court is unlikely to disturb Judge Rodgers' ruling.
February 18, 2022 Update
Morgan Stanley's Joshua Pokrzywinski sees a most likely 3M earplug settlement coming in at $14 billion with a range of $2 billion to $53 billion.
February 14, 2022 Update
The question I get asked most about the 3M earplug lawsuit is when will there be a settlement? I've said for the beginning, 3M will be ready to offer reasonable settlement amounts when Wall Street begins to take this litigation seriously. The biggest domino so far fell last week when JP Morgan analysts cautioned that the earplugs litigation could be a "sizeable" liability for 3M soon.
JP Morgan says that a $33 billion litigation hit has already been baked into 3M stock price from the earplug and PFAS litigation. But it estimates 3M's litigation risk is between $2 billion and $185 billion.
The more pressure 3M feels from the market, the greater the likelihood it will offer something resembling a fair settlement compensation payout for victims.
The next trial is one month from today. Could there be a global 3M earplug settlement before the next trial? I think it is unlikely. But not impossible.
February 10, 2022 Update
What is next in the 3M earplug lawsuit? Earplug trials in the Group D cases will begin again on March 14th and last thru May. The first trial up in Group D will be the case of Steven Wilkerson, which will be tried before Judge Lisa Wood in Tallahassee. The second trial in group D will begin immediately after on March 28th and will feature the case of Denise Kelley (only the 2nd female bellwether plaintiff).
February 3, 2022 Update
JP Morgan analyst Stephen Tusa believes that the 3M earplug settlement will likely range from $15 billion to $25 billion — with $1 billion as the best-case scenario – presumably if the 11th Circuit Court of Appeals bought into the government contractor defense. The worst-case scenario?  is $185 billion.
3M Earplug Lawsuit Trial Update January 27, 2022
3M Trial Day 11
Update: $110 MILLION VERDICT!  WOW!  More details tomorrow! But each plaintiff received $15 million in compensatory damages and $40 million in punitive damages.
On Day 12 of the Wayman/Sloan 3M earplug trial,  3M presented short video testimony from a selection of nine different witnesses. At 4:30, 3M rested its defense. Plaintiff's lawyer presented a short rebuttal. Then the judge heard Rule 50 motions. These are motions that argue that, as a matter of law, an issue should be decided by the judge without even going to a jury.  Judge Rogers granted plaintiffs' motions for judgment on several issues, including comparative negligence. This means 3M cannot blame the plaintiffs for their injuries.
Closing statements will be today.  So the overwhelming likelihood is that we will get a verdict today or tomorrow.
3M Trial Day 11
Day 11 of the trial featured 5 hours of testimony by another of 3M's prominent defense experts, Dr. Gregory Flamme, Associate Professor of Speech Pathology and Audiology at Western Michigan University. Dr. Flamme is an expert on hearing impairment and hearing loss prevention. Dr. Flamme will offer his opinions as to the hearing loss claims of both Sloan and Wayman.
3M Trial Day 10
Day 10 of the Sloan/Wayman earplug trial marked the beginning of the defense case on behalf of 3M. 3M's defense team began their case with live testimony from Professor John Casali from Virginia Tech.
Casali is a well-known expert in the field of acoustics and hearing protection. Casali's testimony will be used to support 3M's defense regarding the alleged design defects in the Combat Arms Earplugs. Casali has been heavily involved in the litigation and testified in the prior bellwether trials.
We are almost certain to get a verdict this week.
3M Trial Day 9
Many of us are getting used to Friday verdicts in 3M trials.  No luck today yesterday.  The plaintiffs are still in their case so we are a bit away from a verdict.  Two plaintiffs' experts and one fact witness testified today.
We have gotten many calls over the weekend asking if there will be a verdict on Monday. There will not.  But we expect one next week.
3M Trial Day 8
Today will be the continued testimony of  Dr. Chris Spankovich.
3M Trial Day 7
Yesterday, as mostly Plaintiff Wayman's trial testimony.  His therapist also testified.
3M Trial Day 6
Day 6 on January 18, 2022, the first day back from the holiday, featured the testimony of Dr. Marc Bennett, who testified about the soldiers' hearing injuries.  Two fact witnesses also provided testimony.
3M Trial Day 5
Richard McKinley, a bioacoustics engineer, testified about why the 3M earplugs are defective. His critical testimony took up most of the day.
3M Trial Day 4
Day 4 was a big day in the Sloan/Wayman trial. After hearing very short video deposition testimony from 3 minor fact witnesses, the plaintiff Ronald Sloan took the stand. Sloan testified under direct questioning from his lawyer for about 2 hours. The cross-examination by 3M's defense team lasted slightly longer and was followed by a 10-minute redirect. The jury's reaction to Sloan will play a large role in the outcome of the case.
3M Trial Day 3
On Wednesday, the plaintiffs presented the testimony of Elliott Berger (via Zoom video call). Mr. Berger is a retired scientist from 3M's Personal Safety Division and an expert in audiology. Berger was directly involved in the original product design and testing of the Combat Arms earplugs. The plaintiffs have subpoenaed Berger as a witness in all of the 3M bellwether trials because his testimony is critical to establishing that there were known design flaws in the earplugs that were not fully communicated to the Army.
3M Trial Day 2
Tuesday was the first day of witness testimony in the Sloan/Wayman bellwether trial featured the plaintiffs' expert Dr. Mark Packer. Dr. Packer is a critical witness for the plaintiffs and he spent 5 hours on direct examination explaining to the jury how defects in the 3M's earplugs caused Sloan and Wayman to suffer hearing damage. Two hours of intense cross-examination followed that challenged the basis of Dr. Packer's opinions and his methodology.
3M Trial Day 1
A jury was picked and the parties gave opening statements.
More on Sloan and Wayman 3M Earplug Trial
Ronald E. Sloan and William Wayman will be the next two bellwether plaintiffs to take their 3M earplug cases to trial. Sloan and Wayman will be tried together starting today, January 10, 2022. Sloan and Wayman are both veterans of the Army.  The hearing injury claims are typical of this litigation. Wayman is claiming tinnitus and PTSD. Sloan is alleging that he suffered hearing loss and tinnitus.  These cases are both ready to go.  The pretrial motions were ruled at the end of the month and the trial should kick off as scheduled.
[Funny side note: 3M tried to get out of the trial starting today using the most 2022 excuse possible: COVID-19.  3M lawyers filed a motion requesting a 1-week postponement because several members of their trial team tested positive for COVID-19. Judge Rogers denied that motion on Saturday.  Judge Rogers pointed out that all the lawyers who tested positive were fully vaccinated and, therefore, under the current CDC guidelines they could end their self-quarantine by Sunday, January 9. This fact, combined with the substantial prejudice to the plaintiffs and burden on the court warranted the denial of the continuance request. It is true. The logistics of getting all these witnesses and experts ready for trial is Herculean.]
Sloan and Wayman 3M Earplug Verdict Is Important in Settlement Talks
Every verdict in these cases is a path to determining the settlement amounts in the 3M earplug lawsuits.  But this consolidated trial with two plaintiffs seems particularly important.  We are on the eve of seriously expediting the pace of this litigation.
That is an exhausting prospect for every 3M earplug lawyer in the trenches.  But it is a more exhausting prospect for 3M.  Do they want to pile on millions more in verdicts?  If these cases are ever ripe for settlement, it is before these 3M lawsuits go to trial in massive numbers.
Montero Defense Verdict
Just before Christmas, 3M got a win with a defense verdict in the Montero case.  This was unfortunate and I did not dwell on it much, mostly because of the holidays.  But the massive Finley verdict still eclipses that news.
Finley Verdict on December 10th:  $22 Million
In Theodore Finley v. 3M Co., et al. (7:20-cv-170), a federal jury in Tallahassee ruled that 3M must pay a combat veteran $22.5 million.  The compensatory damages award was $7.5 million.  The jury added $15 million in punitive damages.
Keep in mind this case as a defense pick.  This was a case 3M wanted to push forward to trial.  The case had real weaknesses as we talk about below. Yet, still, $22.5 million.  It is stunning and the expected settlement amounts in these cases continue to move north.
That is now $52 million in verdicts in the 3M earplug lawsuits for 10 plaintiffs.  There are 270,000 plaintiffs.  This math is brutal for 3M. (Yet 3M stock is up in the futures market this morning after this $22 million verdict.  For the life of me, I just don't get it.)
If you intend to bring a 3M lawsuit, do not delay.  You can contact us for a free consultation online or call 800-553-8082.  But do not miss out because you missed the deadline to sue.
Results of the First 7 Bellwether Trials Against 3M
So far there have been 7 bellwether test trials in the 3M earplugs MDL. The first bellwether trial featured the claims of 3 individual plaintiffs (1 defense pick, 1 plaintiff pick, and 1 picked by the Judge) and resulted in a major loss for 3M. The jury awarded $7.1 million in total damages to the 3 plaintiffs. This included $2.1 million in punitive damage for each plaintiff.
The 2nd bellwether trial was held in a case picked by 3M's defense team (Dustin McCombs v. 3M Co.). 3M won a defense verdict in this case. Round 3 involved a plaintiff selected by the Judge (Llyod Baker v. 3M Co.) and the trial resulted in a solid victory for the plaintiffs. The jury awarded Baker $1.7 million but found him partly at fault and reduced that award by 38%.
The 4th bellwether trial was another case picked by 3M's defense team (Brandon Atkins v. 3M Co.), but it resulted in a decisive win for the plaintiffs. The jury awarded Atkins $8.2 million in compensatory damages.
The 5th and 6th bellwether trials were defense picks and both cases resulted in disappointing losses for the plaintiffs. This setback was quickly followed by the 7th bellwether trial which generated the largest verdict to date. Plaintiff Guillermo Camarillorazo was awarded $13 million in total damages including $12 million in punitive damages against 3M.
Preview of 8th Bellwether Trial (Finley)
The next bellwether trial (Round 8) in the 3M earplug MDL will be held in the case of Theodore Finley v. 3M Co. (7:20-cv-170) and it is scheduled to kick off tomorrow. The trial will be held before Judge Mark Walker in the Tallahassee division.
Finley Was a Distinguished Combat Solider
The plaintiff in this bellwether trial is Theodore Finley. Finley served in the Army from October 2006 to May 2014. He used the 3M Combat Arms earplugs during that entire time. Finley served in Afghanistan and was involved in actual combat duty.  War hero level stuff. He was exposed to loud noises from a variety of weapons and equipment.
Finley's medical experts performed differential etiologies and determined that his bilateral tinnitus and noise-induced hearing loss were caused by a lack of protection from the 3M earplugs. He is seeking compensatory damages and punitive damages.
3M's Defense in Finley
3M's defense in the Finely case will have two focal points.
Hearing Injury Not from Earplug Use
First, 3M is going to argue that Finley's hearing damage was caused by other factors and was not related to the effectiveness of his 3M earplugs. In support of this defense, 3M will present evidence highlighting apparent inconsistencies in his allegations versus his medical treatment records.
Alternative Sources of Pain and Suffering
3M is also prepared to introduce evidence of various events in Finley's personal life that could be sources of his alleged pain and suffering. Judge Rogers also put some major limits on the extent to which 3M will be allowed to put Finley's personal life on display to show potential causes (other than his hearing loss) for his emotional pain and suffering.
So 3M's lawyers will attack Finley's claim that he has suffered emotional stress and mental suffering as a result of his hearing loss and tinnitus. 3M will present evidence to suggest that Finley's emotional pain and suffering is due to other factors or events in his life and has nothing to do with his hearing damage.
For instance, 3M will present medical treatment records showing that before filing his lawsuit against 3M, Finley never claimed that his hearing loss was a source of stress. 3M is also going to use this argument as a platform to challenge Finley's general credibility. If the appropriate opportunity presents itself, 3M is going to suggest that Finley is fabricating or exaggerating his claims simply to make money.
Once again, Judge Rogers has already put some limits on the extent to which 3M's defense team can attack Finley's credibility. For instance, Judge Rogers has blocked 3M from presenting evidence of Finley's financial problems to attack his credibility or imply that he is exaggerating his injuries for financial gain.
Judge Rogers also ruled that 3M cannot introduce videos from Finley's YouTube channel showing him playing violent, first-person shooter video games. 3M will be permitted to present some of Finley's social media posts if they are relevant to claims in his case.
Predictions for the Finley Case
The Finley case is a little bit of a one-off. There are maybe more crosswinds in this case than any other that has gone to trial.  Finley's valor in combat might move the jury – to the extent his military records come into evidence – or it might be frustrated by the inconsistencies in his story.
The outcome of this bellwether trial will hinge largely on Finley's testimony and how the jury views him. Most of 3M's defense strategy, in this case, seems to be based on the implication that Finley is just fabricating his claims for financial gain.
If 3M can convince the jury that Finley is making things up or twisting facts to cash in on his lawsuit, we may see another defense verdict. On the other hand, if Finley comes across as a good, honest person during his testimony, the jury will probably overlook some shortcomings in his case and rule in his favor.
More 3M Lawsuit Updates
November 15, 2021:  The 6th and 7th bellwether trials in the 3M earplugs litigation delivered both disappointment and major success. On Friday, a jury in the case of Joseph Palanki came back with another defense verdict in favor of 3M.
Today, this setback was followed by the biggest victory yet for the 3M earplug plaintiffs. After a 2-week trial in Tallahassee, the jury found in favor of the plaintiff (Sgt. Guillermo Camarillorazo) and awarded $800,000 in compensatory damages and a staggering $12 million in punitive damages. 
Our 3M earplug lawyers have to see any victim lose – but an average jury compensation payout of over $6 million in these two cases sends a loud message to 3M, right? Why the 3M shareholders are sleeping on the risk this litigation poses to 3M is a mystery to me. (3M stock dropped today on the verdict. But not much. )
November 11, 2021 (Veterans Day): Our lawyers believe we will see verdicts in two trials tomorrow (update: wrong!).  Both cases are being tried in Florida with one using Texas law and the other Tennessee law.  In the next few months, you will see several 3M earplug lawsuit verdicts and these cases will be used to calculate the settlement amounts in these claims.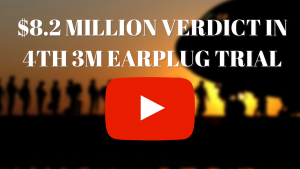 October 29, 2021, Blum Trial Update:  Defense verdict in Blum this afternoon.  I don't enjoy giving this update. 
For a while, I was thinking that maybe the facts were so bad for 3M in this litigation that plaintiffs would win even the tough cases like Blum that were selected by 3M defense lawyers to try.  Maybe that thinking was a reach. We will know more in two weeks when we should get two more earplug verdicts. 
3M's victory in the 6th bellwether test trial came after a two-week trial.  The jury found that the plaintiff, Army veteran Michelle Blum, failed to prove her case against 3M alleging that the company's defective earplugs caused her to suffer hearing damage.
The defense verdict is a small setback for the remaining 270,000 plaintiffs in the 3M earplug lawsuits. But maybe we all got a little too giddy after the $8.2 million verdict in Adkins.  Blum had a comparatively weak case against 3M with legitimate questions about the extent of her alleged hearing loss.
3M's defense lawyers hand-picked Blum out of thousands of other cases for exactly this reason. Fortunately, two more bellwether trials started today simultaneously in separate courtrooms and should give a chance for two better outcomes.
Take home message: Our lawyers still believe that soldiers will win a lot more 3M earplug lawsuits than we lose.  Again, keep in mind that the defense experts were prepared to give Ms. Blum a hearing loss rating of 0% in both ears.  Cases like that are tough to win under any circumstances.  
We get back at it next week with a new trial.  I'll write more about those cases today or tomorrow.  
Below is my pre-Blum verdict update that includes my thoughts on how long it will take to get 3M to make meaningful compensation payouts to victims.
Could the Blum Verdict Approach the Adkins Verdict?
Hopefully, the Blum result will be similar to the $8.2 MILLION VERDICT earlier this month.   That huge verdict was in a case on 3M's list of earplug lawsuits 3M wanted to go to trial.  Why did 3M put the Adkins case on a list of cases it wanted to go to trial?    Because 3M thought that case was a good draw for the defendant.  (Slight warning: Blum was on that same list but 3M wanted to try Blum more than Adkins.  But… punitive damages are available in Blum so the chance of a blowout verdict is higher.)
So a weak 3M earplug lawsuit is worth $8.2 million.  This new verdict has huge implications for an eventual 3M earplug settlement.  Juries are speaking loud and clear about what it thinks of what 3M did in these cases.
Billions of dollars are at state.  Yet, frustratingly for many victims, there are few 3M trial updates about the status of the litigation or where we are in the current 3M trials.
I assume 3M will let this case go to trial.  But my goodness, things keep getting worse and worse with every suit that goes to trial.
The purpose of the page is to update you on the latest in the 3M lawsuits as of October 28, 2021. 
The Blum Case
Plaintiff Michelle Blum served in the United States Army Reserves, National Guard, and Army from 1989 through 2009.
While in the Army, she used 3M earplugs at issue in this litigation both in training at Fort Drum and South Korea and when deployed to Afghanistan.  During training and in Afghanistan, she was exposed to loud noises from weapons fire, grenades, and mortars. Today, she suffers from bilateral hearing loss and tinnitus.
3M Expert Opinions Tossed in Blum
3M had two experts — Derek Jones and Jennifer LaBorde — set to testify that Ms. Blum had no hearing loss in either ear, a 0% permanent impairment rating for hearing loss. These expert opinions were based on the 1996 Florida Uniform Permanent Impairment Rating Schedule ("FUPIRS") that the court ruled should only be used in workers' compensation cases (and inapplicable to Ms. Blum anyway because her hearing loss is admittedly progressive and not stable and FUPIRS is not applicable in those cases even if this were a workers' compensation case).
It is pretty remarkable how many expert witnesses 3M lawyers have brought to these trials only to have the experts' expected testimony gutted by the judge because the witness is unqualified or their testimony is not grounded in good science.
To be honest, plaintiffs' lawyers usually have this problem more than defense lawyers in mass torts.  In this litigation, the roles have reversed and the defense lawyers are struggling to find credible witnesses who are qualified to say what they want to say.  (In a definitely related story, the average verdict in the 3M earplug lawsuits is over $2.5 million.)
3M Earplug Lawsuits Are a Class Action MDL
In MDLs, a large group of similar cases is consolidated before a single judge for a group discovery process. When the consolidated discovery phase is completed, a handful of individual cases are selected out of the larger group and scheduled for jury trials. These are called "bellwether trials" because the results of the trials are used to guide the course of settlement negotiations or further litigation.
There have already been 3 bellwether trials in the 3M earplugs litigation. Right now, we are 4 days into a trial in the 4th bellwether case. This post will bring you up to speed on the results of the first 3 bellwether trials and give a status update on the trial that is currently underway in the U.S. District Court in Sarasota.
3M Bellwether Trials: Rounds 1-4
If you are scoring the results of the opening three rounds of bellwether trials in the 3M earplug litigation, it would be 2-1 in favor of the plaintiffs.
Round 1 featured 3 plaintiffs (1 picked by 3M, one by the plaintiffs, and one by the judge) and resulted in a major loss for 3M. The jury awarded $7.1 million in total damages to the 3 plaintiffs. This included $2.1 million in punitive damage for each plaintiff. More on 1st 3M Earplug Verdict
The plaintiff in the second bellwether trial was hand-picked by the defense team. The trial, in that case, resulted in a defense verdict for 3M.
The 3rd round of the bellwether trials featured a plaintiff who was selected by the MDL judge.
The trial resulted in another win for the plaintiffs. The jury awarded $1.7 million in damages but that was reduced by 38% based on their finding that the plaintiff himself was partly at fault. More on 3rd 3M Earplug Verdict.
The 4th round was the best!  An $8.2 million verdict for Brandon Adkins! (Of course, the $13.1 million verdict topped Adkins just a month later.)
Why Atkins Instead of Taylor?
In May 2021, the MDL judge nearly dismissed Taylor's case after he failed to produce certain records in compliance with discovery deadlines. (There is some evidence he was not cooperating with his lawyers.)
In June, Taylor was penciled in for the 4th bellwether trial to begin on September 20, 2021.  Less than a month later, he filed a notice of voluntary dismissal of his case "with prejudice" and also agreed to pay 3M's defense costs in the case.
Following the dismissal of Taylor, the parties had to find another plaintiff for the September bellwether trial.
Lawyers for 3M requested that Michelle Blum, the plaintiff scheduled for the 5th bellwether trial in October, be moved up to the September slot. The MDL judge balked at that request and instead substituted another plaintiff, Brandon Adkins. Adkins was also a defense pick and, like Taylor, his case is governed by Washington law.
September 2021 3M Trial Update
(This is dated now but I will leave it up because the information is helpful.) The Adkins case went to trial last week as scheduled.  Today will be the 6th day of the trial, which is expected to take 3 weeks to complete. So far, the jury has heard testimony from several experts for the plaintiff.  So far they have included:
Dr. Marc Bennett, a medical doctor who testified as to Mr. Atkins's bilateral tinnitus and hearing loss injuries
Rear Admiral Allie Coetzee Leslie testified that what 3M promised and what it delivered were not the same
Richard McKinney, a bioacoustics expert testified that the Combat Arms earplugs were defectively designed and that Aearo/3M's quality control and assurance processes for the CAEv2 were also deficient
Dr. Lawrence Lustig, a medical doctor from Columbia University, Dr. Lustig testified that 3M/Aearo violated general industry norms regarding the labeling on the CAEv2 and did not provide adequate warnings to the military.
On Thursday of last week, Mr. Adkins himself took the stand to testify and face cross-examination. Mr. Adkin's testimony was uneventful and surprisingly short. He was only on the witness stand for 1 hour and 7 minutes.
What's Next in the 3M Lawsuits?
Next is hopefully settlement.  We will see what happens in the October 2022 settlement negotiations.
Who Are the Defense Experts in the 3M Earplug Lawsuit?
3M has two kinds of experts in the Combat Arms earplug lawsuits.  One set of experts testifies as to plaintiffs' injuries or lack thereof.  The other set offers testimony on the 3M earplugs and whether the design is defective and whether 3M failed to warn of the risk associated with its earplugs.  This is a partial list:
Dr. John Casali (design, development, and performance of the CAEv2)
Dr. James Crawford (expert opinions related to the Department of Defense and Army's hearing conservation efforts – he also offered case-specific opinions in Adkins)
Dr. Gregory Flamme (blames individual hearing problems on the Army's inadequate implementation of its hearing conservation program)
Dr. Mark Stephenson (same as Dr. Famme to the point where the judge calls their opinions Flamme-Stephenson)
Dr. Harri Kytomaa (an electrical engineer who used a software program to model the CAEv2 0- the judge has limited much of the testimony Dr. Kytomaa intended to give)
Dr. Richard Neitzel (industrial hygienist and exposure scientist who offers opinions related to the Army's hearing conservation efforts and also has case-specific opinions for some plaintiffs, including Michele Blum (the judge excluded much of his testimony based on "qualifications grounds and/or as lacking a reliable basis, unhelpful, speculative, improper conduits for hearsay, and/or impermissible legal conclusions").
Lt. Col Vickie Tuten (opinions related to lack of resources in the Army and Department of Defense Hearing Program and its regulations and requirements – she specifically cannot testify about any Army Public Health Command relating to any recommendation to roll the last flange of the plug back to get a better insertion.
Dennis Driscoll (a mechanical engineer and board-certified noise control engineer whose testimony was severely limited by the court – but he is permitted to testify about the noise exposures of individual plaintiffs and the impact that exposure might have on that plaintiff)
Dr. John House (board-certified otolaryngologist and neurotologist who offers case-specific testimony that the solider's hearing loss was not from military service)
Dr. Douglas Jacobs (board-certified psychiatrist and associate professor at Harvard Medical School [nice guy, I've met him before in another piece of litigation] –  testifies that many of the complications individual soldiers are suffering are from underlying psychiatric conditions)
Dr. Derek Jones (wanted to offer permanent hearing impairment ratings but was prohibited by the judge)
Dr. Jennifer LaBorde (same as Dr. Jones)
What Is Hidden Hearing Loss?
Hidden hearing loss is a hearing injury that does not show up on a standard hearing test. Victims usually describe difficulty interpreting background noise. This makes understanding speech more difficult in certain environments.
At the 3M earplug trial, the defendants sought to exclude testimony about hidden hearing loss because the science does not support hidden hearing loss in humans.  But even the medical literature the defendants relied upon up in their Daubert motion supported the existence of HHL.
The MDL judge, however, did not allow HHL testimony in Atkins by the MDL trial by Dr. Marc Bennett or Marc Fagelson because "neither doctor performed any diagnostic test for 'hidden' auditory injuries…"
3M Earplug Litigation MDL
3M is defending over 250,000 product liability lawsuits filed by military veterans claiming that they suffered hearing damage because the 3M earplugs they were issued failed to protect them. The 3M earplugs cases have been consolidated into a class action MDL before Judge M. Casey Rogers in the Northern District of Florida.
In mass tort MDLs, similar cases are consolidated before a single judge for purposes of pre-trial discovery. After the discovery phase is completed, a handful of individual test cases are selected for "bellwether" trials. The outcomes of the bellwether trials are very significant because they are generally used to facilitate the terms of a global settlement of all pending cases.
Your 3M Earplug Lawsuit
If you have a potential 3M earplug lawsuit, you should need to get a lawyer.  Today.  You can contact us online or call 800-553-8082. Or call another attorney. But do not sleep on your rights.