The popular infant formula Similac has recently been the subject of numerous product liability lawsuits filed around the country over the last 12 months.
There are two big lawsuits pending involving Similac:
NEC lawsuits for premature babies who suffered necrotizing enterocolitis
The Similac recall for contaminated baby formula from their plant in Michigan
Our focus on this page is the NEC Similac lawsuits based on current scientific and medical evidence establishing that cow-milk-based formulas are dangerous for premature infants because they significantly increase their risk of developing a deadly infection called necrotizing enterocolitis (NEC).
The manufacturer of Similac, Abbott Laboratories, Inc., has been aware of the evidence linking its formula to NEC in preemies but deliberately failed to include any warning on its product labeling. Parents of premature babies who developed NEC from Similac and died or were permanently harmed are now holding Abbott accountable and seeking financial compensation for their loss.
Similac is Dangerous for Premature Infants
Similac is the most well-known brand of infant formula in the U.S.  Similac is manufactured by Abbott Laboratories, Inc., a large medical device and health product company headquartered in the Chicago area. Abbott makes a wide range of different infant formula products under the Similac brand name. Almost all Similac formula products are made from cow milk.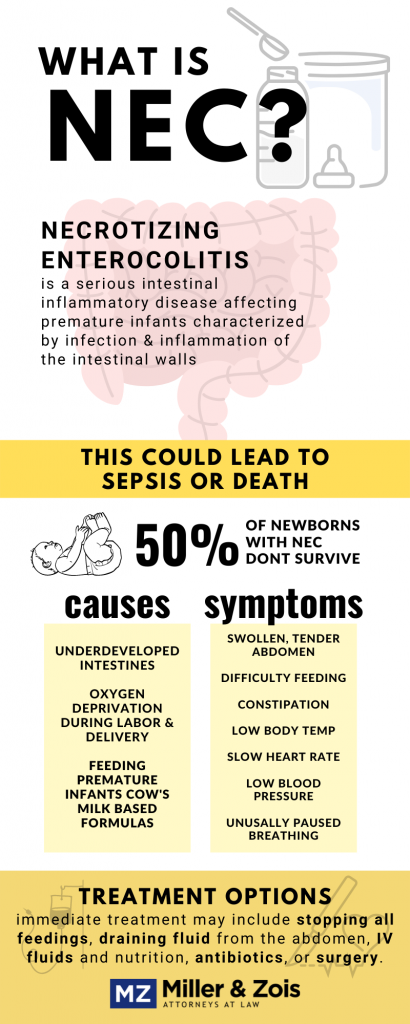 The medical community now recognizes that infant formula made from cow milk is potentially dangerous for premature infants.
This conclusion is based on years of scientific research and clinical studies showing that premature infants who are fed with cow-milk formulas such as Similac are 10 times more likely to develop a condition called necrotizing enterocolitis (NEC).
NEC is a type of gastrointestinal infection caused by very aggressive and dangerous bacteria that can infect the intestinal wall tissue in young infants.
What makes NEC particularly dangerous is that the bacteria can rapidly eat away at the intestinal wall tissue causing necrosis and eventually leading to a hole or perforation in the intestine.
This can allow harmful bacteria usually contained in the gastrointestinal tract to leak out and infect the abdominal cavity. This eventually leads to a systemic bloodstream infection and death.
The overall mortality rate for NEC is around 15-20%, but for very young, small, underdeveloped preemies the mortality rate is much higher.  For premature infants under 1500 grams in birth weight, NEC has a 50% mortality rate. For preemies weighing under 1000 grams, the mortality rate is close to 100%. Even when NEC is not fatal, it can result in permanent health complications.
Scientific Evidence Linking Similac to NEC
It has long been understood that NEC is a condition that is closely linked to infant formula and almost never occurs in breast-fed babies.
The first clinical study on the link between NEC in premature infants and formulas made from cow's milk date back to the early 1990s. Over the last decade, scientific evidence has conclusively proven that bovine formulas can cause NEC in premature infants.
Several studies have found that feeding Similac or similar infant formulas to premature babies makes them 10 times more likely to develop NEC. This has prompted prominent public health organizations such as the American Academy of Pediatrics and the U.S. Surgeon General to warn the public about the dangers of feeding premature infants with Similac or other bovine formulas.
Abbott's Failure to Warn About the Risk of NEC
Abbott has been fully aware of the medical evidence showing that its Similac products significantly increase the risk of NEC in premature infants. Despite being aware of this potential danger, however, Abbott has never included any type of warning about NEC and premature infants on the product labeling for Similac.
Not only has Abbott failed to include any type of warning on the product labeling for Similac, but they have also actively promoted Similac as a safe alternative to breast milk and mislead doctors and consumers. Abbott has refused to include a warning label about NEC on Similac because they don't want to hurt the marketability of the product as a safe alternative to breast milk. Abbott's failure to warn about NEC in premature infants is at the heart of the legal claims in the Similac lawsuits being filed against the company.
Similac Lawsuits
Abbott's failure to warn about NEC in premature infants is at the heart of the legal claims in the Similac lawsuits being filed against the company. Around 50 Similac lawsuits were filed in 2021 and many more are expected to be filed this year. These Similac lawsuits are asserting product liability tort claims against Abbott based on negligent failure to warn and strict product liability.
Most of the Similac lawsuits are being filed in Illinois state court because this is Abbott's home jurisdiction. Other Similac cases are being filed in federal courts around the country. As the number of Similac lawsuits grows in 2022, we could see consolidation into a new Similac "class-action" MDL.
Potential Settlement Value of Similac Lawsuits
There have been no verdicts or settlements in any Similac NEC lawsuit. The litigation is young. This makes projecting settlement amounts for a Similac lawsuit challenging. So take any estimates given here we a grain of salt.
Still, we can project Similac NEC lawsuit settlements amounts using common sense, history, and recent payouts in medical malpractice cases in which NEC in a premature infant was the primary injury.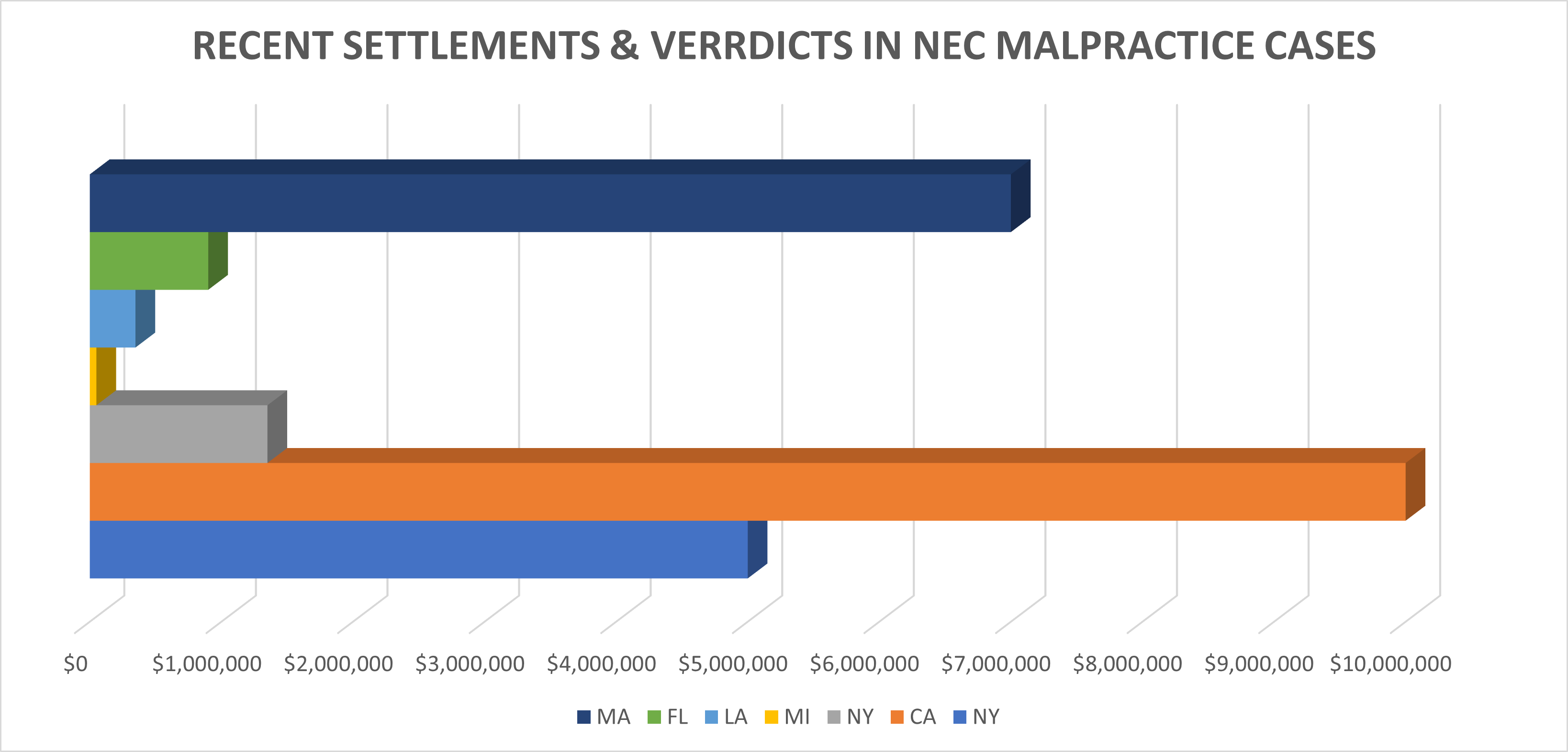 What NEC Malpractice Lawsuits Tell Us
The average verdict or settlement payout in a sampling of recent malpractice lawsuits for NEC in premature infants was around $3.5 million. The median awarded in these NEC cases was $1.3 million. These are just verdicts and settlements in NEC cases we researched.  But I think they are instructive when looking at potential trial value.
Do these numbers suggest misleadingly high compensation awards in Similac NEC lawsuits?  I don't think so.  If anything, these compensation amounts values are probably lower than the potential settlement or verdict amounts we could see in Similac NEC lawsuits. Why?  The defendant you have in a jury trial has an impact on the compensation award.   The defendants in the NEC malpractice cases were doctors or nurses who probably made honest mistakes.  Juries are willing to award high damages in those types of lawsuits, obviously.  These types of defendants get much more sympathy from juries than big companies (like Abbott).
Why Similac NEC Lawsuits Have Such a High Potential Settlement Value
The Similac product liability lawsuits have a very high potential settlement amounts compared to other product liability cases because they are essentially birth injury claims. The underlying injury in all the Similac lawsuits is NEC in a premature baby. NEC is an extremely dangerous neonatal medical condition that is often fatal.
The mortality rate for NEC in preemies varies from 20% to over 90% depending on the baby's size and stage of development. Most of the Similac NEC lawsuits that have been filed so far have involved cases where the infant passed away after developing NEC. This makes the Similac lawsuits comparable to wrongful death birth injury malpractice cases. These are very sad cases that can generate massive verdicts if they go to trial, which drives up their potential settlement value.
Cases, where the baby develops NEC and survives, might actually have an even higher settlement value than the wrongful death NEC cases. When a preemie survives NEC, they often have serious long-term health consequences, such as short-gut syndrome. These cases can have a higher average settlement payout because damages may include years of future medical expenses. Birth injuries that leave a child with lifelong medical needs, such as cerebral palsy, have the highest potential value of all personal injury cases.
The other reason why the baby formula NEC lawsuits have such high potential payouts is that the defendants are big corporations who do not get – and shouldn't get – sympathy from juries. In birth injury malpractice cases, the defendants are doctors or nurses who made honest mistakes. These types of defendants get a lot of sympathy from juries in medical malpractice cases which drives down the average settlement value. The defendant in the Similac NEC lawsuits, Abbott Laboratories, will not benefit from any jury sympathy.
And then you have to remember this – it cost an average of $500,000 to treat a baby with moderate NEC.  Medical bills on that level push settlement payouts higher.
Similac Class Action Lawsuit
This week, Mead Johnson notified the Judicial Panel on Multidistrict Litigation (JPML) that they agreed with plaintiffs' lawyers that there should be an NEC baby formula class action lawsuit for all claims pending in federal court.
We could have a new MDL in the infant formula NEC litigation very soon. Earlier this year, Abbott Laboratories filed a petition with the Judicial Panel on Multidistrict Litigation (JPML) seeking consolidation of all NEC infant formula lawsuits into a new MDL.
There is one fight remaining and from the tone of Mead's motion, the company is angry about these cases and ready to fight. Mead prefers the District of Connecticut, while the plaintiff's first choice would be the Northern District of Illinois.  (Mead will lose this battle. Because Connecticut makes zero sense for anyone.)
Contact Our Similac NEC Lawyers Today
The product liability lawyers at Miller & Zois are actively seeking Similac NEC lawsuits from parents of premature infants who were fed with Similac (or another cow milk-based formula) and subsequently developed NEC.