Yesterday I googled the name of our personal injury law firm "Miller & Zois."  I was doing some research and I knew our page had the answer I needed.  When I did the search, I found a paid ad result for "Big Al Legal Team – Car Accident Lawyer Baltimore."
When something shows up as an ad result in a Google search page, it means that whoever owns the website in that result is paying Google to have their site pop up on the SERP anytime someone searches for certain keywords. This system of selling spots on the SERP is called Google Adwords (also commonly known as "pay-per-click").
So the Big Al Legal Team – Car Accident Lawyer Baltimore is I guess trying to pick off people that are looking for our website and then decide to hire the Big Al law firm?  Okay…
Google Adwords
In case you are not already familiar, this is how Google Adwords system works. You have a business to repair widgets. You sign up for Google Adwords and pay for a "campaign" for the key phrase "widget repair." Now anytime someone searches the term "widget repair" on Google, your website will appear on the first page of search results. It will appear at the very top of the page, with the "Ad" designation next to the URL to identify it as a paid result.
Each time someone clicks on this "Ad" link you have to pay Google a certain amount of money. This is called "pay-per-click" and it can get tremendously expensive. The amount you pay for each click (known as "cost-per-click" or CPC) is based on a free-market bidding system similar to the stock market. The CPC for certain keyword phrases goes up or down depending on the level of demand for that keyword from other bidders. In business sectors where internet search results are highly profitable, competition can easily drive the CPC for certain keywords to several hundred dollars. So if you are paying $200 per-click to get on the SERP for "widget repair" and you get 60 people clicking on your link month (which is a low average) you will owe Google $12,000 for the month.
So when I did a Google search for my firm "Miller & Zois" and saw an Adword result for the "Big Al Legal Team" it made me cringe. A little, anyway. Big Al Legal Team in Baltimore is running a pay-per-click Adword campaign for the name of my law firm (and probably other firms with name recognition).
What Is the Big Al Law Firm in Baltimore?  
After discovering that the Big Al Legal Team was poaching some of our search traffic (or at least trying to), I wanted to know exactly who Big Al and his "Legal Team" were.  I had never heard of Big Al.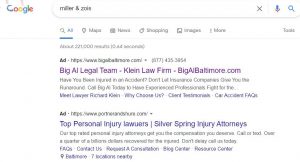 Apparently "Attorney Big Al" is not someone who will be handling your Baltimore car accident lawsuit.  "Big Al" is the fictional persona behind a legal marketing brand that was originally started by a lawyer in Miami named Alon Barzakay.
Barzakay invented the "Big Al" character and trademarked the 1-800-HURT-123 phone line to create some memorable TV commercials and marketing materials. Then Barzakay started licensing the "Big Al" persona like a franchise for independent law firms around the country.
At one point there were "Big Al Legal Teams" or "Attorney Big Al" firms in 9 states across the country and 12 franchises.  The first Big Al lawyer, Michael Rosenbloum, now has a non-Big Al website (but still mentions AKA "Big Al" in his Google listing.  I could not figure out if there are still as many of these franchises.  The main Big HURT 123 website lists about six or seven states.
Richard Klein Law Firm
The Maryland "Big Al" law firm that was doing pay-per-click for "Miller & Zois" is the Klein Law Firm in Pikesville, which is headed by attorney Richard Klein in Pikesville.
Klein appears to have some type of license to operate as the "Big Al" law firm for the Maryland and Virginia region.
It is not exactly clear what the Klein Law Firm is getting from being part of the Big Al legal network. They are using the 1-800-HURT-123 phone line and, presumably, they have some sort of TV commercials that the franchise uses.  Personally, I think the Richard Klein Law Firm sounds more credible than Big Al.  But I'm sure they know what works for them.
Pay-Per-Click on Another Law Firm's Name
One question arises is can a lawyer target a competitor's name as a keyword in Google's PPC advertising program without running afoul of the Maryland Rules of Professional Conduct?
The argument is that buying "the recognition associated with one lawyer's name to direct consumers to a competing lawyer's website is neither fair nor straightforward. Therefore, it is a violation of Rule 8.4(c) for a lawyer to select another lawyer's name to be used in his own keyword advertising."
North Carolina and some other states took this position as have some recent commentators ("attorneys who have spent decades cultivating a practice, deepening their knowledge of the law and obtaining tremendous results on behalf of their clients can lose a client to someone who uses their name as if it were a consumer product."
My Conclusion on Big Al Buying the Miller & Zois Name
I think what the Big Al Legal Team is doing here is poor form and it annoys me.  I also think saying "talk to Attorney Big Al" is in similar bad taste because they will not actually be talking to Big Al since he seems to be made up, at least for Baltimore car accident victims. (It also has to be an awkward conversation explaining how there is no actual Big Al, right?)
But I don't think all poor form from a lawyer is illegal or rises to an ethical violation.  So I guess – and I formed this conclusion while writing this post – I'm okay with it although I think I have a similar right to point to why I think this is a bad idea.
More commentary on the confusion that can come with CPC with law firm names