Chicago-based CNA is the 7th largest U.S. commercial insurer and the 13th largest property and casualty insurer in the United States. CNA provides insurance to a large number of Maryland businesses, including large big-rig trucks that travel through Maryland. CNA has offices in Maryland in Timonium, but all of the CNA insurance adjusters we deal with are in Chicago. Although it does not have a significant market share in Maryland, CNA is also the third-largest medical malpractice insurer in the country.
How Does CNA Value Accident Cases for Settlement?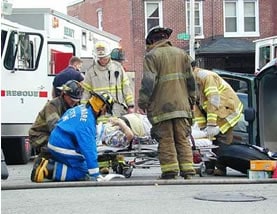 In general, it is fair to say that commercial carriers are easier to deal with than private auto insurers like CNA, State Farm, GEICO, and the like. There are a few reasons for this.
First, commercial cases are valued higher than claims against individual insureds simply because juries generally give somewhat larger verdicts against corporations than individuals. This is because many jurors fear giving a larger award against an individual. After all, they are not sure that insurance stands behind the defendant. This is because, in most states, the jury is not told the defendant has insurance at trial. Jurors are less worried about the economic loss of the defendant if the defendant is a corporation.
Second, it is also generally – for lots of reasons beyond the scope of this page – more expensive for commercial insurance companies to defend claims. As a result, they are less likely to draw ridiculous lines in the sand against seasoned lawyers who they know will simply file suit if the offer is not reasonable.
Commercial insurers like CNA are also more vulnerable to the pressure from their clients to settle the case so they can put the claim behind them. If an individual squawks about having to be drawn into litigation because it causes them either time or embarrassment, that is one thing. It is quite another when a large Fortune 500 company wants a case to be completed.
Finally, commercial insurance companies value some cases higher because they are used to seeing bigger numbers. Commercial vehicles tend to be larger – including the extremely large – and, as a result, the higher verdicts commercial adjusters see gets them used to larger settlement numbers in significant cases.
Sample Verdicts and Settlements
Here are a few non-representative outcomes in motor vehicle crash claims defended by CNA. These are not meant in any way to be representative of the value of your case or your client's case. It is also important to note that this page was updated in 2019. The last CNA-reported verdict we could find in Maryland was in 2014. This tells you the CNA is not racing to the courthouse steps to try cases.
$36,000: 2014 Maryland Verdict – Plaintiff: Plaintiff, a 35-five-year-old professional driver, is on his route in a residential neighborhood in Rockville when a truck towing a cement mixer crosses over the center line at a bend in the road and strikes him head-on. Plaintiff suffered various soft tissue injuries including sprains/strains of his lumbar and cervical spine. He did not require surgery but underwent physical therapy and chiropractic treatment. Plaintiff alleged that his injuries were permanent but he was fully able to return to work. He claimed $28,000 in medicals and $36,000 in lost wages. Counsel for CNA disputed the severity of the injuries and claimed that the plaintiff should have been able to return to work much sooner. After a 2 day trial in Montgomery County, the jury agreed with CNA awarded $36,000 in total damages which included only $6,000 for lost wages.
$500,000: 2010 Maryland Verdict – Plaintiff, a 50-year-old laborer, is riding his bicycle when he is struck by a dump truck. Plaintiff suffers multiple rib fractures, a fractured acetabulum, fractures of T5-T11, a comminuted four-part fracture of the proximal humerus, and a torn MCL. Plaintiff additionally has a partial shoulder replacement and will likely require a total knee replacement in the future. Plaintiff filed suit against the dump truck driver and owner alleging that the defendant driver made a right turn into his path. He claims that when the light turned green, he began to pedal straight through the intersection. He further states that as he pedaled straight, the dump truck driver made a right-hand turn into his path, dragging him nearly the entire length of a city block. Defendants deny liability for the accident and the plaintiff's alleged injuries, contending plaintiff was in the truck's blind spot and was contributorily negligent, supported by the defendants' accident reconstruction expert. Plaintiff claims $149,732 in past medicals with $38,600 in future medicals. A Prince George's County jury awards the plaintiff $500,000. Not for nothing: the CNA pre-suit offer was zero.
$107,029: 2010 Maryland Verdict – Plaintiff, a 44-year-old massage therapist, is rear-ended on the Chesapeake Bay Bridge while slowing for traffic. Plaintiff sues the defendant driver and his employer alleging they are liable for failing to keep an appropriate distance between their vehicles and failure to stop in time to avoid the accident. Plaintiff claims significant back injuries with an anticipated future spinal surgery. Defendants do not admit liability, but the court grants the plaintiff a directed verdict on the issue. Defendants maintain that the plaintiff could not have suffered a serious injury in the accident and that no future surgery is required. Plaintiff claims $37,029 in past medicals and $70,000 for future, as well as damages for pain and suffering. A Queen Anne's County jury awards $107,029 to the plaintiff for past and future medicals only. No pain and suffering damages are awarded.
$750,000: 2009 Maryland Wrongful Death Settlement. A man is killed when his motorcycle is hit by a truck in Prince George's County, Maryland. Defendant alleges contributory negligence because he is driving his motorcycle too fast and did not have a motorcycle license. This wrongful death/survival action claim settled for $750,000.
I think it is also fair to say that CNA is not letting many good cases go to trial in Maryland. You may need to sue CNA's client and work up the case but there is a reasonable chance of getting good settlement value in most CNA motor vehicle tort claims without a trial.
Negotiating with CNA Claims
As discussed above, CNA is on the more reasonable side on pre-suit settlements. Arguably pulling numbers out of the air, you are going to get a fair offer from CNA before filing a lawsuit at least one-third of the time. (If that sounds low, try dealing with most of the others.)
I think the one difference that is CNA specific is that they do not cut to the chase. The first CNA offer is usually ridiculous, but the second offer is generally much higher. In other words, CNA seems quicker to back away from a low offer and the disparity between their first and second offer is much higher than we see with most insurance companies.
Another important reason why lawsuits matter to CNA is that more than other insurance companies, CNA Insurance is particularly sensitive to verdicts in accident cases that exceed the at-fault driver's insurance limits. CNA is loath to expose their insured to a verdict that is going to give them personal exposure. All insurance companies have this concern; we think CNA is – for whatever reason – more concerned than most others about the potential of a bad faith claim for their refusal to act reasonably and settle the case within the policy limits.
Who Your Lawyer Is Matters to the Value of Your Claim
CNA uses Colossus to value personal injury cases. We have written a lot about Colossus and what a poor job it does evaluating claims. To CNA's credit, they do seem to have recalibrated Colossus – as the program does allow you to do – to provide somewhat more reasonable offers than some of the other insurers – Allstate and USAA to name a few – that use Colossus. You also want to keep in mind that Colossus keeps track of your attorney's trial record and willingness to file lawsuits. If your lawyer settles all of his personal injury accident cases, Colossus is going to know that and, by extension, so is CNA.
Who Defends Lawsuits Against CNA?
Unlike most commercial insurers, CNA has a small in-house counsel in Maryland: the Law Offices of Anthony D. Dwyer (Chris Mangold is there). The attorneys at the firm are CNA employees. Dwyer's office is a small, three lawyer office – all good lawyers. But they are spread thin; three lawyers covering all of Maryland and Washington, D.C. Accordingly, CNA still sends out much of its serious personal injury cases – particularly cases that may exceed the policy limits – to outside counsel. Outside law firms for CNA in Maryland have included Whiteford Taylor Preston (Baltimore/Towson), Thompson O'Donnell (Washington, D.C.), DeCaro Doran (Bowie), and Walker & Murphy (Rockville). It seems like CNA leans heavily on Thompson O'Donnell in motor vehicle accident/premises liability cases and Walker & Murphy in malpractice/nursing home lawsuits.
Our Lawyers Can Help You with Your Accident Claim Against CNA
Our firm has successfully handled many accident claims involving CNA. If you have been injured in an automobile accident where the at-fault driver is insured by CNA, or if you are considering filing an uninsured motorist claim or a lawsuit against CNA, call our accident attorneys at 800-553-8082 or click here for a free consultation.