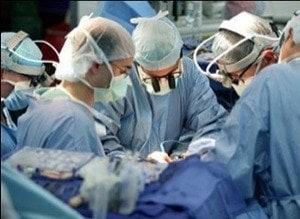 The University of Maryland's St. Joseph Medical Center is located in Towson, Maryland (Baltimore County). After the stent scandal that rocked this hospital's reputation, it was sold to the University of Maryland Medical System in 2012, hopefully for a new beginning. It joins Maryland General Hospital, Baltimore Washington Medical Center, Harford Memorial Hospital, Upper Chesapeake Medical Center and the University of Maryland Medical Center as one of the largest hospital groupings in Maryland.
St. Joseph's offers services in cancer care, cardiology, orthopedics, emergency medicine, and obstetrics. It is also pushing hard on the da Vinci robotic surgery. It claims to have performed more da Vinci surgeries than any other community hospital in Maryland. It is a 263 bed, Catholic acute care hospital. It has approximately 1,100 doctors and 2,300 nurses and staff. St. Joseph sees 45,000 emergency room patients every year, and 13,500 surgeries per year.
Where To File St. Joseph Medical Malpractice Lawsuits
The bulk of St. Joseph medical malpractice lawsuits end up in Baltimore County Circuit Court. It doesn't stop many lawyers from attempting creative ways to get the case in Baltimore City, which plaintiffs' lawyers typically believe is better for good verdicts. We know, however, that deserving clients and cases of clear negligence are viable in any Maryland county. The main disadvantage of Baltimore County is the long wait times to get to trial. The pretrial conference sometimes takes place around a year after filing, and the trial date is chosen at that conference. It can be another year or more before a trial is available, and those are never date-certain trials.
St. Joseph Medical Center's Defense Team
St. Joseph is typically defended by Goodell, DeVries, Leech & Dann, LLP, a Baltimore-based law firm that defends a large volume of medical malpractice claims in Maryland against doctors and hospitals.
To serve St. Joseph Medical Center, you will serve:
The University of Maryland St. Joseph Medical Center
7601 Osler Drive
Towson, Maryland 21204
Serve On:
Meagan M. Arthur, Esquire
Resident Agent
250 West Pratt Street, 24th Floor
Baltimore, Maryland 21201
Ordering Medical Records from St. Joseph Medical Center
Medical records are the most important requirement for deciding whether you have a valid medical malpractice lawsuit. You can have your lawyer order the records, but if you want to get a jump on things, send correspondence to:
St. Joseph Medical Center Medical Records Department

7601 Olser Dr. Towson, Maryland 21204

(410) 337-1169

(410) 337-1162 (Fax)
St. Joseph's After the Stent Debacle
Both doctors and patients fled St. Joe like it was on fire after the stent scandal in 2009. After the UMMS purchased the hospital in 2012, doctors and patients have begun to return. Still, the hospital is reportedly losing $3 million a month, and there is some question about the morale of the medical staff. What this means is the quality of the medical care you get at this hospital in 2016 is unknown. Certainly, they have a core of loyal doctors and patients and hopefully they can turn it around. In the meantime, are you at greater risk of getting injured or killed at this hospital from medical malpractice? The honest answer is no one knows.
Recent Lawsuits Against St. Joe
These are recently filed lawsuits against St. Joe and a quick summary of plaintiff's allegations in the lawsuit.
2019: Kennard v. St. Joseph – failure to treat patient's prostate cancer until it has metastasized
2019: Flynn v. St Joseph – wrongful death claim involving failure to treat foot infection that leads to sepsis
2019: Perry v. St. Joseph – medical malpractice involving incorrectly placing tourniquet on thigh
2018: Sears v. UMD St. Joesph's – breast cancer misdiagnosis
2017: Barnaba v. UMD St. Joesph's — wrongful death claim involving failure to control bleeding after a cervical fusion
2017: Rasheed v. Kimar — breast reduction surgery malpractice case
2016: Williams v. UMD St. Joseph – failure to diagnose sudden death arrhythmia case
2016: Compton v. UMD St. Joseph – failure to remove ureteral stent malpractice case
2016: Hylton v. UMD St. Joseph – IV infiltration lawsuit
2016: Havrilak v. UMD St. Joseph – patient developed pressure ulcer at the hospital
2016: Williams v. UMD St. Joseph – negligent failure to treat arrhythmia
2015: Montalvo v. UMD St. Joseph – failure to treat hypertension
2015: Martinez v. UMD St. Joseph – negligent care of patient resulting in death
2015: Abid v. St. Joseph's Hosp.

Doctors at St. Joseph's Hospital allegedly miscalculated the gestational age of a baby to be 36 weeks when the mother was only 33 weeks pregnant.

The baby was delivered prematurely at 33 weeks and her lungs were underdeveloped.

As a result of the oxygen deprivation caused by her underdeveloped lungs, the baby suffered brain damage and was diagnosed with cerebral palsy. The jury awarded $2 million as a result of this birth injury.
In 2019, a jury rendered a $1.75 million verdict against Osler Drive Emergency Physicians Associates as the result of an alleged failure to diagnose an
aortic dissection
. In
2017, St. Joe took a $500,000 verdict in a bedsore case. The patient had unresolved bedsores and developed necrosis, requiring removal of extensive tissue in his buttocks tissue to be removed. The hospital tried to blame the patient's underlying conditions for the bedsores but the jury did not buy it.
Contact Us
If you believe that your health care provider negligence claim against St. Joe or another provider, call us at 800-553-8082, or send us a request for a FREE case evaluation.
Hospital Malpractice Claims in Maryland
Emergency Room Malpractice