Maryland Uninsured Motorist Coverage – Your Questions Answered
The attorneys at Miller & Zois have handled hundreds of uninsured motorist cases. Our law firm has been instrumental in shaping Maryland uninsured motorist law in Maryland's appellate courts. Our Maryland uninsured motorist lawyers have addressed so many different uninsured motorist issues in our firm's 19-year history.
Maryland's uninsured motorist coverage gives insurance coverage for the harm that is done to the "insured" when they are injured by the negligence of an uninsured motor vehicle. If you define "insured" using common understandings of the term, you miss out on a lot of victims who can bring claims under the Maryland car insurance statutory scheme.
In this law, the word "insured' is construed very broadly. The purpose of this page is to give Maryland accident attorneys and victims a better understanding of who is entitled to recovery in cases where the victim is hurt by a driver who is uninsured, does not have enough coverage to satisfy the victim's losses, i.e. underinsured, fled the scene of the accident, or is otherwise unknown
These are the most common questions victims frequently ask.
When Do I Have an Uninsured Motorist Claim?
There are two scenarios where you can bring an uninsured motorist claim. First, if the other driver has no insurance and you have suffered a physical injury (or property damage). Second, if the other driver has inadequate insurance which means that you believe your claim is more than the at-fault driver's insurance limits.
What Does Uninsured Mean?
The term uninsured has a broad meaning under Maryland law. It includes a phantom vehicle or hit and run accidents if the defendant has sovereign immunity, insolvent insurance companies, or the at-fault insurance company disclaims coverage because of non-permissive use of the vehicle or because the driver disappeared. In most cases, you will be able to find uninsured motorist coverage in Maryland if there is not an insurance company to stand up for the at-fault driver for whatever that reason might be.
Does Maryland Law Require Drivers to Have Uninsured Motorist Coverage?
Maryland law requires that all motor vehicle insurance purchased in Maryland have the state minimum of $30,000 per person and $60,000 per accident in coverage for personal injury in damages. Typically, the policy mirrors your liability coverage although we see in truck accident cases instances where the trucking company has $1 million in coverage and the driver only has the minimum $30,000/$60,000 policy.
What Is Enhanced Underinsured Motorist (Euim) Coverage?
Maryland auto insurance policies have traditionally not stacked. That means that your uninsured motorist coverage is the difference between your policy and the defendant's policy. So if you have the same amount as the defendant you did not have any coverage.
In 2018, Maryland passed a law that requires the insurance company to offer EUIM which is the stacking of the policies. With this coverage, the policies stack instead of overlapping.
In 2022, our uninsured motorist lawyers have seen two clients in the last four years who have enhanced coverage.
What Damages Can I Recover From My Insurance Company?
What does uninsured motorist cover in terms of damages is a common question our lawyers get from car wreck victims. You can recover the damages you would have recovered if the at-fault driver had as much insurance as you do. So your claim is for your:
medical bills (even if they were paid by insurance or PIP),
lost wages (even if you were paid by your employer already)
pain and suffering damages
any other losses you may have
Can I Just Submit My Claim to My Insurance Company and Let Them Sort It Out?
No. You must first submit a claim to the at-fault driver's insurance. They must pay all of your damages up to their driver's insurance limits. If the at-fault driver's insurance company tenders those limits and you still believe you are entitled to more money either for your injuries or your property damage, you then have an uninsured (we call it underinsured) motorist claim.
Can I Settle With the Other At-Fault Driver and Make an Uninsured Motorist Claim?
The answer is no and all this gets a little tricky. First, if you settle for less than the insurance policy limits, by definition you have no uninsured or underinsured motorist claim.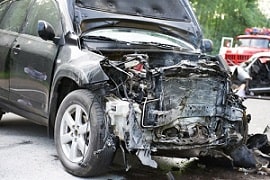 But to take the policy limits from the insurance company, you have to follow some slightly complicated Maryland legal procedures. Under Maryland Insurance Code § 19-511, some procedures must be strictly followed before you settle a case that allows you to continue to pursue your underinsured motorist claim.
Plaintiffs' lawyers call this the "pay to play" statute. Under this law, after the at-fault offers the policy limits, the uninsured motorist carrier gets 60 days to "consent" to acceptance of the offer. If the carrier does not agree to the settlement, then it must pay the amount of the offer to its own insured/victim.
Raise your hand if that makes sense to you. If you are not an accident attorney who regularly handles these cases, it seems crazy. Why would your insurance company choose to pay your claim against the at-fault driver? You don't need to understand the underlying rationale. But the short version is that it can eventually get that money back, and it also gives the insurance company some tactical advantages when defending the underinsured motorist claim.
What you do need to understand is you must comply with the letter of this statute, or you are not going to be able to bring an underinsured motorist claim after you settle your case with the at-fault driver.
Do I have to give the insurance company a recorded statement or a medical exam to bring a claim?
The answer to this question is tricky? The best answer is "probably not" because this is one of those "Yes, the policy language says we do but it is not a requirement to bring the claim under Maryland law" type issues.
Our Maryland accident lawyers believe a plaintiff would win if these issues were brought to the Maryland Court of Appeals. Should you take this chance? Unless there was some unbelievably compelling reason, the answer is no. But these are the kind of issues that are foolish to tackle without an attorney who knows where the minefields are.
What if the insurance company disagrees about how much my case is worth?
This is exactly what 95% of our uninsured motorist cases are about: a disagreement over what the claim is worth. The insurance company almost always greatly undervalues serious injury cases before a lawsuit is filed.
I have a workers' compensation case, too. Can I bring a UM claim?
In what is a bad law, the uninsured motorist carrier in Maryland gets a dollar-for-dollar set off of its liability by deducting all paid workers' compensation benefits. You can find this draconian law in Section 19-513(e) of the Maryland Insurance Law.
Do the insurance policies stack on top of each other?
In back-to-back questions, we highlight two significant weaknesses of Maryland law. While Maryland law does allow stacking in certain cases when the insured has more than one insurance policy, it does not in the classic case we face 98% of the time. The best way to explain this is by example. If the at-fault driver has a $500,000 policy and you have a $1,000,000 policy, the most you can get from your uninsured motorist carrier is $500,000.
So your maximum recovery is $1 million not $1.5 million. So the amount of coverage is calculated by subtracting the underlying policy. The law in many other states is different. We field calls from lawyers in other states who are representing Maryland drivers asking us to explain Maryland uninsured motorist law and they are stunned to hear that we can't stack the policies on top of each other.
But the law in this area is very well settled.
Do I need to be in my vehicle to be eligible for uninsured motorist benefits?
While there are some exceptions, the answer is no. So if you are driving your friend's car and that vehicle has less uninsured motorist coverage than you have, you can tap into your insurance. The law is designed to provide protection when you are smart enough to get more insurance coverage than the other driver.
Do I have to sue my insurance company to get UM benefits?
You can get a judgment against the at-fault driver and then get the uninsured motorist carrier to pick up the difference even if the UM carrier is not a defendant at trial. But they have to be aware of the lawsuit and they can choose to intervene in the case.
Can the insurance company make me arbitrate my case?
Without question, insurance companies would much prefer to arbitrate their personal injury cases in Maryland. Arbitrations are generally favorable to insurance companies. It is just a fact.
In Maryland and 22 other states, insurance companies are prohibited from imposing arbitration. There is a statute – § 19-509 of the Maryland Insurance Code – that forbids insurance companies from inserting binding arbitration clauses in insurance contracts with their insureds. In other words, Maryland public policy rewrites these contracts.
This is a good rule. Maryland's court system is a good one. It has well-established rules of evidence and procedural safeguards that plaintiffs are not going to get in arbitration, even with a fair and reasonable arbitrator because, by definition, arbitration is a shortcut procedure to justice.
Does this mean arbitration is not an ineffective tool for plaintiffs in personal injury cases? No. Our law firm arbitrates (and mediates) many personal injury car accident cases with insurance companies because it is often an effective means of resolving the dispute. But we do so on our terms without bowing to the insurance companies and their handpicked arbitrators.
Do You Need a Lawyer for Your Uninsured or Underinsured Motorist Claim?
In some instances, severe injury or wrongful death claims, there are a few hurdles you have to climb with care because the law governing these cases is somewhat involved.
Our law firm is very familiar with the issues you face in these claims. If you want to discuss your accident case with an experienced Maryland trial attorney, call 800-553-8082 or get a free online consultation.
Maryland Uninsured Motorist Law Information
More on Miller & Zois Uninsured Motorist Cases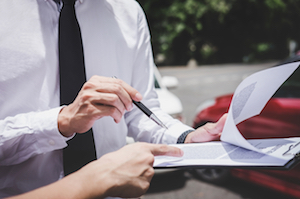 News Article on one Miller & Zois UM victory in Baltimore City where the insurance company refused to pay their policy limits.
Contact us online or call 1-800-553-8082
More Commonly Asked Maryland Uninsured Motorist Questions
What is Required to Bring an Uninsured Motorist Claim in Maryland?
State of Maryland law mandates uninsured motorist coverage for damages that:
the insured is entitled to recover from the owner or operator of an uninsured motor vehicle because of bodily injuries sustained in a motor vehicle accident arising out of the ownership, maintenance, or use of the uninsured motor vehicle, or
a surviving relative of the insured…entitled to recover from the owner or operator of an uninsured motor vehicle because the insured died as the result of a motor vehicle accident arising out of the ownership, maintenance, or use of the uninsured motor vehicle.
What does this mean? It can be distilled down to this:
The victim must be an insured, a broad term that does not require you to be the policyholder or, sometimes, even knows who the actual insured is.
The person must be entitled to recover damages for bodily injuries caused by the at-fault driver. There is also coverage for the victims who are wrongful death or survival action beneficiaries. In this case, the plaintiffs must be the relatives of the deceased who would have been entitled to uninsured motorist coverage.
The injury or death must be the result of the "ownership, maintenance, or use of the uninsured motor vehicle." Sometimes, what constitutes this is difficult to say for certain, and the Maryland courts have addressed this issue on multiple occasions.
The victim cannot be excluded by a warranty in the insurance contract or for any other reason.
What Does the Word "Insured" Really Mean?
An insured can mean any of these:
Policyholders and any family members You and your family are covered unless someone is excluded for some reason.
Any other person occupying your covered auto Maryland law has not fully flushed out the legal meaning of occupied, but it is not an issue in 99% of cases. It generally means anyone in or driving an insured vehicle with permission. It strikes people as odd that they are a "covered insured" in a vehicle they do not own. Maryland law tries to liberally construe who is covered in these kinds of cases because the law bends towards finding coverage.
Any person entitled to recover for "bodily injury" that was sustained by a person described above This allows people who did not suffer bodily injuries to bring their derivative claims. Examples of this would be wrongful death beneficiaries, parents making claims for the medical bills of their minor children, and spouses making loss of consortium claims.
All in all, the law is written expansively to cover as many people as possible.
"Maryland law is written such that as many people as possible can claim uninsured motorist benefits, protecting Maryland drivers in the event of an accident."
What Is the Minimum Required Uninsured Motorist Coverage in Maryland?
In Maryland, drivers must carry car insurance that covers both the medical expenses acquired from bodily injuries and property damage costs. It is, of course, a good idea to carry as large of a policy as possible. No matter what, there is a minimum amount of coverage that policies must meet. The minimum policy limits for uninsured motorist protection are the same as the minimum general liability insurance requirements:
$60,000 for bodily injury per accident and $30,000 for bodily injury per person
$15,000 for property damage per accident
Can I Bring an Uninsured Motorist Claim without Bringing a Claim Against the At-Fault Driver?
In Maryland, a victim who has been injured in a car accident may directly sue their insurance company without suing the at-fault motorist. See Nationwide Mutual Insurance Co. v. Webb, 291 Md. 721, 736 (1981).
Why would I sue my insurance company when somebody else caused the damage? Though the idea seems counterintuitive, this is simply how Maryland insurance law works. When you pay your insurance premiums every month, you are paying for coverage if someone hurts you who has no insurance or has inadequate insurance to cover your loss.
"Maryland law allows drivers to directly sue their own insurance company for benefits."
Filing directly against the provider of uninsured or underinsured motorist coverage when no action has been filed against the at-fault driver is a type of breach of contract action. Typically, though, our Maryland personal injury lawyers simultaneously bring a negligence claim against the at-fault driver and a breach of contract against the client's insurance company. In the case of under insurance, the injured victim's insurance company pays only for damages in excess of the negligent driver's insurance policy limits.
Does Uninsured Motorist Insurance Cover Hit and Run and Road Rage Incidents?
Yes. Uninsured motorist insurance covers you when the at-fault driver flees the scene and when someone intentionally causes you harm about the use of a motor vehicle.
In 1997, the Maryland high court decided Harris v. Nationwide. That case was about a criminal who drove through a parking lot and grabbed the plaintiff's purse, dragging her for about 15 feet before speeding away. The robber was never found, and the plaintiff made an injury claim under her own policy with Nationwide. Nationwide argued that it was not responsible because (1) the intentional theft was not an "accident," and (2) the plaintiff's injuries did not arise out of the "ownership, maintenance or use of an uninsured motor vehicle." Because Nationwide refused to pay, Plaintiff Harris filed a lawsuit against them for breach of contract, and she won the case.
As for the first point, whether she was involved in an "accident," the plaintiff argued that "accident," defined in the statutes, means "any occurrence involving a motor vehicle, other than an occurrence caused intentionally by or at the direction of the insured, from which damage to any property or injury to any person results." Under that analysis, as long as Ms. Harris did not intentionally injure herself, the incident qualified as an accident. That reading of the law makes sense—Maryland wants innocent people who are injured in traffic collisions to be compensated.
"Intentional torts, when someone intentionally harms you, as well as hit and run crashes often fall under the uninsured motorist statute."
The second issue is whether the injuries arose out of the "ownership, maintenance or use of an uninsured motor vehicle." Prior court cases looked at similar circumstances and decided that if the accident bears a direct or substantial relation to the use or operation of the car, it is covered. Examining Ms. Harris's situation, the Court decided that her injuries were directly related to the use of an uninsured motor vehicle. Not all intentional injuries are related. The Court also examined a prior case where, after a fender bender, one driver got out of his car and attacked the other driver. That was held to be too far removed from the use of a motor vehicle to allow coverage.
In general, though, this ruling established a good rule for Maryland citizens. We can continue to protect ourselves with uninsured/underinsured motorist coverage. Even where we are harmed intentionally by a driver using a car, we are covered by our own policy. We recommend that you get as much UM/UIM insurance as you can. There are a lot of uninsured drivers out there, and even more drivers with policies that are only worth $30,000. With a small increase in premiums, you can get significantly higher coverage. High uninsured motorist coverage is good protection for you and your family.
Important Uninsured Motorist Cases
There is a very specific statutory scheme to govern uninsured motorist cases in Maryland. Still, there are a lot of gray areas open to interpretation. Maryland appellate courts have had many opportunities to interpret our uninsured motorist laws to give attorneys guidance on how to use the statute. Below is a list of key Maryland uninsured motorist cases:
Buckley v. Brethren Mutual Insurance Company, 437 Md. 332, 86 A.3d 665 (2013): A release executed by the victim did not prejudice her uninsured motorist claim against her own insurance company. Miller & Zois handled this case. You can read more about it here.
Mundey v. Erie Insurance, 396 Md. 656, 914 A.2d 1167 (2007) Plaintiff left his parents' home in Lusby and moved to Waldorf. Almost a year later, he was injured in a car crash. He tried to get coverage under his parents' policy with Erie. The court rejected his claim that his parents' uninsured motorist coverage would apply because he intended to return home at some point in the future.
Bushey v. Northern Assurance., 362 Md. 626, 766 A.2d 598 (2001): In a Charles County wrongful death case involving the tragic deaths of two high school sisters, the Court found the vehicle's $1,000,000 UM policy should cover family members of a named insured as an unincorporated entity.
Gorham v. Guidant Mutual Insurance, 80 F. Supp.2d 540, 546 (D.Md. 2000): Federal court opinion that found that "in process of getting in a van" is tantamount to "occupying" the vehicle for the purpose of UM coverage.
Forbes v. Harleysville Mutual Insurance., 322 Md. 689, 589 A.2d 944 (1991): In this Anne Arundel County fatal car accident case, the court adopted the "totality of the circumstances" to determine residency in Maryland uninsured motorist cases. The court also found Maryland uninsured motorist statute applies to wrongful death claims
Schuler v. Erie Insurance Exchange, 81 Md. App. 499, 568 A.2d 873 (1990). In this Montgomery County pedestrian collision case, the court shot down a victim's effort to get UM coverage from his wife's commercial policy as opposed to his coverage with MAIF. The court found in dicta that a permissive user pedestrian should be covered even if they are not in the vehicle at the time of the collision. You can read more about this case here.
Hire a Lawyer to Fight for You
At our law firm, Miller & Zois, our auto accident lawyers are highly experienced in handling uninsured driver cases. If you or a loved one were injured in a car accident, call us today at 800-553-8082 or fill out a brief online form for a free consultation of your claim.
More Information About Uninsured Motorist Insurance
Sample documents
Statute
Opinions