The article gives both attorneys and victims information on State Auto Mutual Group to help maximize the value of motor vehicle crash injury cases.
Overview of This Insurer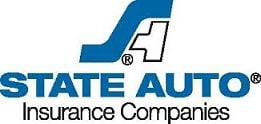 State Auto Financial Corporation is the umbrella that owns State Auto Mutual. Founded in 1921, this Columbus, an Ohio-based company is a large publicly traded company on the NASDAQ stock exchange.
State Auto has a truckload of related businesses in addition to the auto division we primarily deal with in Maryland: State Auto Ohio, State Auto Wisconsin, State Auto Property & Casualty, Milbank, Meridian Security, Patrons Mutual, Litchfield Mutual Fire, Meridian Citizens Mutual, Rockhill Insurance, Plaza Insurance, Bloomington Compensation, and American Compensation.
In Maryland, State Auto ranks 15th in market share which accounts for less than 1% of the market in our state. Still, State Auto funds an in-house office in Maryland to defend cases where they don't expect there is a grave risk that the judgment will exceed the policy limits.
Settlement with State Auto in Motor Tort Cases
State Auto does not make good settlement offers before trial. Their adjusters are tough, and they often push you to file suit. But State Auto does not seem eager to go to trial and will pay fair value for cases before letting a case go to the jury. What does this mean? It means you often have to sue a State Auto insured if you want to maximize the value of your injury case.
What is the basis for this opinion? Two things. First, our own experience. Our last case with State Auto involved no settlement offer until we filed suit. Zero. The adjuster evidently thought the case was worthless. Before trial, the offer went from zero to $135,000. No new facts were uncovered. It was what we thought it was. What changed was the trial date was rapidly approaching.
Second reason why we think this insurer tends to reevaluate cases dramatically before trial is by looking at jury verdict reports. You just do not see State Auto taking very many verdicts.
Who Defends Lawsuits Against State Auto?
We are not afraid of State Auto. In our last major case against them (2014), they made no offer before we filed suit. But we believed in the client and the case settled before trial. If you have a serious injury motor tort case, let Miller & Zois fight back for you. Call 800-553-8082 or get an online consultation.
Most State Auto lawsuits in Maryland are defended by O'Conor, Grant & Samuels, a law firm located in Towson. This sounds like a regular law firm but the lawyers at this firm – there are three – are all employees of State Auto. Why don't they just say that? Well, you do not want to tell the insurance company at trial that you are a law firm that works for this insurance company, and the jury is never told, except in an uninsured motorist case, that the defendant has auto insurance.
In the State Auto cases our office has had, we have primarily dealt with Herb O'Conor who is the managing partner. Our experiences with him over the last ten years or so has been very good. He is also well respected by other plaintiffs' attorneys in the community.
Claims Phone Number and Address in Maryland
State Auto has it claims office in Pennsylvania. You can find them here:
49 Ritter Road P.O. Box 2006
Mechanicsburg, PA 17055

717-697-1121
You can find their in-house counsel in Maryland here:
O'Conor, Grant & Samuels

401 Washington Avenue, Suite 400

Towson, Maryland 21204

410-832-2883

410-832-2780 (fax)
Our Lawyers Can Help You with Your Accident Claim
Our firm has handled hundreds of auto accident claims involving State Farm. If you have been hurt in a traffic collision, and you are up against this insurer, call our attorneys at 800-553-8082 or click here for a free consultation.
More Information on Your Case
Learn About Us