Uterine cancer is the abnormal (malignant) growth of any cells that comprise uterine tissue. The two main cancers of the uterus are uterine sarcomas (in the muscle layer or supporting connective tissue of the uterus) and endometrial carcinomas (in the cells of the inner lining of the uterus).
Early and accurate diagnosis of uterine cancer is critical to successful treatment.  Diagnosis is usually with uterine and endometrial cancer is usually made early, leading to a very high success rate. But sometimes doctors miss this increasingly diagnosed disease because a physician incorrectly diagnosis the symptoms.
Uterine cancer misdiagnosis claims are often viable medical malpractice cases. If you live in the Baltimore-Washington area and believe you or a relative have been a victim of medical negligence in the diagnosis or treatment of uterine cancer in Maryland, call 800-553-8082 or get a free online medical malpractice consultation.
Symptoms of Uterine and Endometrial Cancer
Uterine cancer usually comes about when women have abnormal bleeding or bleeding after menopause. About 90% of women diagnosed with endometrial cancer have abnormal vaginal bleeding, such as a change in their periods or bleeding between periods or after menopause.
Other symptoms include pelvis or back pain, abnormal vaginal bleeding, bloating, weight loss, or irregular uterine bleeding. To diagnose cervical cancer, doctors usually use ultrasound or endometrial biopsy. This cancer is also found often during a dilation and curettage (D&C).
Treatment and Prevention of Uterine Cancer
The main treatment for uterine cancer is surgery to remove the uterus. Other treatments include radiation therapy, hormonal therapy, and chemotherapy. Although surgery is the main treatment used, under certain situations a combination of these treatments may be used.
The typical treatment of endometrial cancer is a total hysterectomy bilateral salpingo-oophorectomy (BSO)) with surgical staging. This includes a pelvic and para-aortic lymph node dissection.
The choice of treatment depends mainly on the type of cancer and stage of the disease when it is found. Other factors could play a part in choosing the best treatment plan. These might include your age, your overall state of health, and whether you plan to have children.
Uterine and Endometrial Cancer
There is confusion about the difference between uterine and endometrial cancer. They are used interchangeably. The vast majority of uterine cancers are endometrial cancer. Endometrial is a little more specific. It refers to cancer in the lining of the uterine lining.
A less common type of uterine cancer is uterine sarcoma. There has been a lot of attention focused on uterine sarcoma recently because of concern that morcellators used during a hysterectomy can cause the spread of the disease.
Mass Torts Involving Uterine Cancer
There are currently several active class action lawsuits going on right now that involve uterine cancer as one of the primary injuries being alleged by the plaintiffs. Below is a brief summary of these mass torts and their relation to uterine and endometrial cancer.
Hair Relaxer Lawsuits: In 2022, new scientific evidence was released which showed that long-term use of chemical hair relaxer products could significantly increase the risk of uterine cancer. Chemical hair relaxers have also been linked to ovarian cancer and other female reproductive health conditions. Hundreds of women who were diagnosed with uterine cancer after using hair relaxers are now suing the manufacturers of these products. The hair relaxer lawsuits have been consolidated into a class action MDL in Illinois.
Talcum Powder Lawsuits: Talcum powder products such as baby powder have recently been linked to uterine cancer and ovarian cancer. Women who regularly used these products on their vaginal area are particularly at risk because talc products contained small traces of asbestos. Thousands of talc lawsuits have been filed across the country resulting in massive verdicts.
Camp Lejeune Lawsuits: From the 1950s to the late 1980s, the water at the Marine Corps base at Camp Lejeune in North Carolina was contaminated with carcinogenic chemicals. Exposure to this water has been linked to increased rates of many types of cancer, including uterine cancer. 
Uterine Cancer Verdicts and Settlements
2022 Pennsylvania – $1,750,000 Settlement (Endometrial Misdiagnosis): A 58-year woman died from undiagnosed endometrial cancer. She had been under the care of the defendant OB/GYNs for several years for the treatment of uterine fibroids, an enlarged uterus, long menses, hot flashes, mood swings and later, uterine itching and painful sex that felt like 'barbed wire." The lawsuit alleged that the defendants were negligent in failing to obtain appropriate and timely diagnostic tests including ultrasound and radiographic imaging, failing to provide progesterone for a patient receiving estrogen in order to reduce the risk of endometrial cancer.
2020 Illinois – $1,800,000 Settlement: (Uterine Cancer Misdiagnosis): A 41-year-old woman suffered abnormal uterine bleeding. She underwent dilation and curettage (D&C). It revealed complex atypical endometrial hyperplasia. The hospital failed to send the pathology report to the woman's physician. The woman's abnormal uterine bleeding continued. Four years later, she was diagnosed with metastatic uterine cancer. She underwent several treatments and a hysterectomy. The woman experienced premature menopause. She alleged that the hospital's failure to send her pathology report to her physician delayed her uterine cancer diagnosis. This case settled for $1,800,000.
2018 Washington – $500,000 (Endometrial Cancer Misdiagnosis): A 71-year old woman with a history of other cancers went to an OB/GYN for a suspected colo-vaginal fistula. A CT found a hypo-enhancing mass in her right kidney. The radiologist suggested further tests but the OB/GYN did nothing. Without any urgency, surgery for the fistula was planned five months out.  The surgeon repairing the fistula found endometrial cancer.  She received chemotherapy.  Her lawsuit alleged her treatment would have been different has the cancer been addressed five months earlier.
2015, New York: $600,000 Settlement: This is another failure to communicate case. A 35-year-old woman presented the defendant with complaints of abdominal pain. The defendant internist recommended a pelvic ultrasound and abdominal ultrasound which was performed by an outside company. The tests showed endometrial thickening, which could represent endometrial hyperplasia, inflammation, or neoplastic involvement. An MRI for further evaluation was recommended by the outside company. The defendant claimed never received the pelvic ultrasound report from the radiology facility and was unaware of the radiologist's findings. The outside clinic established that it sent the report to the defendant. The plaintiff contended that the defendant internist was negligent for failing to follow up for the results of the pelvic ultrasound that he ordered. The case settled for $600,000.
2014, Minnesota: $430,000 Settlement: A 60-year-old female went to the defendant with complaints of abnormal bleeding. The defendant reported that a pap smear came back atypical, and an ultrasound showed markedly abnormal endometrium. He unsuccessfully attempted a hysteroscopy D&C. The defendant wrote a note about one month later regarding the need to contact the plaintiff's regular physician. But he never did. The plaintiff returned two years later with increased bleeding and was diagnosed with stage 3C cancer. The plaintiff asserts the delay in diagnosis of her endometrial cancer allowed cancer to potentially advance from stage one to stage three which decreased survivability. The parties agreed to a $430,000 mediated settlement.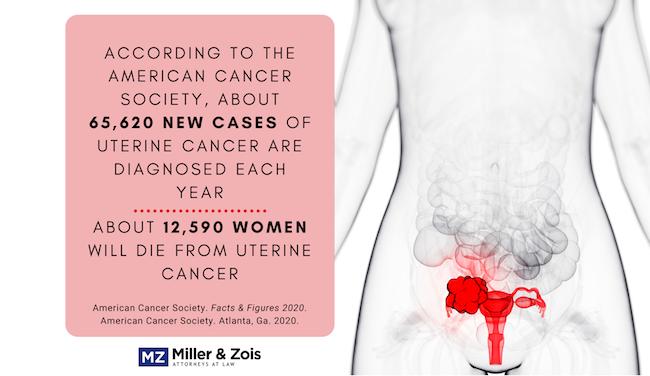 October 2013, California: $750,000 Verdict: A 68-year-old woman visited her gynecologist at the University of California in Sacramento after she began spotting. An endometrial biopsy came up as negative. After two months of consistent physician visits with no diagnosis, she sought out a second opinion from a gynecologist at U.C. Davis Medical Center. The physician conducted a dilation and curettage which led to a diagnosis of endometrial cancer. A hysterectomy alongside a removal of the fallopian tubes and ovaries was conducted almost immediately. A year later she is diagnosed with metastatic cancer of the pelvis. She passed away within the year as a result of cancer. Her husband sued the medical center for negligent care and treatment of the decedent. Plaintiff alleged the physician who performed the hysterectomy failed to properly obtain informed consent before the procedure. Plaintiff's
counsel claimed that both gynecologists failed to timely diagnose the woman's condition while the second OB-GYN failed to inform the decedent of the significant risk of the cancer spreading. Defendants claimed they all operated within the standard of care. A Sacramento County jury found the Defendants were negligent in treatment and awarded the Plaintiff $750,000.
April 2013, Massachusetts: $1,750,000 Settlement: After she had undergone a dilation and curettage procedure to remove polyps, a 52-year-old woman had tissue samples sent to a pathologist. The pathologist determined the samples were benign; yet, the woman continued to experience heavy vaginal bleeding and required an additional dilatation and curettage six months later. This time, the tissue samples showed uterine cancer. The woman was diagnosed with terminal Stage III uterine sarcoma which had spread to her lungs. She sued the pathologist for failing to timely diagnose uterine cancer. Defendant denied negligence, claiming the cancer was rare and aggressive.  He fought on causation, arguing that if he had made an earlier diagnosis, it would not have changed Plaintiff's prognosis. The parties agreed to settle for $1,750,000.
August 2012, New York: $1,850,000 Settlement: A 45-year-old flight attendant had to undergo surgical removal of her uterus and ovaries after they were found to have a cancerous tissue. The oncologist who performed the surgery believed that the cancer had not progressed beyond the first stage and chemotherapy was not necessary. Two years pass, with regular examinations with her treating gynecologist, when she began experiencing overwhelming pain in her abdomen. A hospital test found she was suffering from stage IV metastatic cancer. She sued the oncologist and gynecologist for failing to eradicate her cancer. Plaintiff's counsel claimed that chemotherapy should have immediately begun after the surgery, and the doctors should have performed regular tests that would have discovered any recurrence of cancer. The doctors pointed at each other.  The oncologist contended that the chemotherapy was not necessary, and gynecological evaluations should have been properly conducted. The gynecologist claimed the oncologist should have provided a more precise prescription of necessary treatment. The parties agreed to settle for $1,850,000. Tragically, the woman lost her battle with cancer during settlement negotiations.
January 2012, Massachusetts: $820,000 Settlement: A woman had returned to her gynecologist only two months after an initial visit with concerns of vaginal staining. A vaginal ultrasound was conducted and read as the beginnings of a pre-polyp due to the onset of menopause. She returned the following year with concerns of more frequent vaginal bleeding. An ultrasound showed a 4 cm mass that was diagnosed as a large endometrial polyp. Although the radiology reports recommended the woman undergo a hysterectomy, the gynecologist advised her that it was more than likely a polyp and there was no need to do an immediate biopsy and scheduled the procedure two months after the appointment. A pathology report showed the woman was suffering from uterine cancer. Unfortunately, even after a series of radiation and chemotherapy treatment, the cancer has spread to her lungs and she died shortly thereafter. Her estate sued the gynecologist on her behalf, claiming the defendant failed to timely diagnose the uterine cancer. Defendant denied negligence, claiming that even if the cancer had been diagnosed earlier, it would not have changed the decedent's prognosis. The parties agreed to settle for $820,000.
January 2010, Virginia: $ 1,050,000 Settlement: A woman was informed by a pathologist that a recently removed uterine fibroid was benign. However, she continued to experience unusual bleeding and cramping for two years. She underwent a hysterectomy where another large fibroid was discovered. A second tissue sample was taken, and once again determined to be benign. A year passed before a CT scan revealed a lesion in her lung and spine, which led to a diagnosis of Stage III uterine cancer. She sued the two pathologists for failing to diagnose the cancer. Plaintiff claimed that had a timely diagnosis been made the cancer would not have spread and she would have had a higher chance for cure. The first pathologist argued that he had correctly interpreted the initial slides while the second pathologist argued that by the time the Plaintiff received the hysterectomy, the cancer had already spread outside the uterus. The parties agreed to settle for $ 1,050,000.
There are not many of these uterine cancer verdicts. Our uterine cance rlawyers included only the plaintiffs' verdicts. Please do not walk away thinking that every one of these cases ends with a plaintiffs' victory.  But there is no doubt that you can learn something learning about these verdicts.
But someone else's success really has nothing to do with your case. Every uterine and endometrial cancer case is different and the quality of your case is very dependent on a variety of factors that cannot be fully explored by looking at average verdict statistics or jury verdicts even in similar cases.
How Is Uterine Cancer Diagnosed?
Uterine cancer and endometrial cancer are initially identified with a transvaginal ultrasound. If suspicious lesions are found on the ultrasound the next step is to perform a hysteroscopy. This process enables the doctor to see inside the uterus with a tiny camera and take tissue samples of suspicious masses. Tissue biopsies are then sent out for final confirmation of a cancer diagnosis.
Can Uterine Cancer be Missed on an Ultrasound?
Yes. Uterine cancer tumors can be visible on a transvaginal ultrasound. However, just as with any medical imaging tool the ultrasound results are imperfect and reliant on subjective interpretation by the doctor.
According to an ACOG study, ultrasound fails to diagnose uterine cancer in about 1 in 239 cases. Our attorneys think this number is a great deal higher than the ACOG statistics suggest.
Can Uterine Cancer Be Treated If Diagnosed Early?
As long as uterine cancer is diagnosed early in its progression, it is a very treatable form of cancer. Treatment typically involves surgery combined with chemotherapy. When uterine cancer goes undiagnosed for a prolonged period, it can spread to other parts of the body and become far less treatable.
Are Malpractice Cases for Failure to Diagnose Uterine Cancer Hard to Win?
Medical malpractice cases involving failure to diagnose uterine cancer are not particularly difficult to prove compared to other types of cancer misdiagnosis claims. Uterine cancer misdiagnosis cases typically involve missing the tumor on the ultrasound or failure to order additional diagnostic testing. Too often, uterine cancer is mistaken for adenomyosis.
Finding a Uterine Cancer Lawyer
If you live in Maryland or Washington, D.C. and believe you or a loved one have been a victim of medical negligence, call 800-553-8082 or get a free online medical malpractice consultation.
More Information