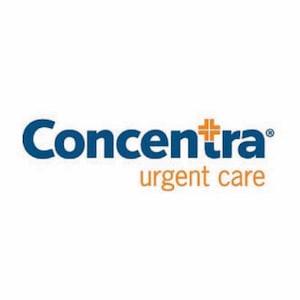 Concentra is a national health care company with locations in 44 states providing occupational care, physical therapy, and urgent care. Concentra has a total of 18 urgent care locations in Maryland & Virginia. Like Patient First. Righttime and ExpressCare, Concentra Urgent Care facilities provide a full range of primary and urgent care to patients on a walk-in basis. Concentra Urgent Care centers provide walk-in, clinic treatment for common illnesses such as fevers, colds or the flu. They are also equipped to provide critical for medical emergencies such as cuts, broken bones, sprains and similar traumatic injuries. Concentra employs a full staff of doctors and other health care professionals at its urgent care locations. All Concentra Urgent Care locations are equipped with x-ray machines and other diagnostic equipment similar to a hospital emergency room. The also offer in-house labs and onsite pharmacy services.
Concentra Urgent Care Locations
Concentra currently has 5 locations in Baltimore City and Baltimore County including Downtown Baltimore, Timonium, Arbutus, Rosedale, and Dundalk. Another 3 Urgent Care facilities are located in Howard&Anne Arundel Counties (Columbia, Jessup and Glen Burnie). There are 4 Concentra Urgent Care locations in the DC area suburbs: Gaithersburg, Beltsville, College Park, and Capitol Heights.
Corporate Ownership of Concentra Urgent Care
Concentra's Urgent Care facilities are owned and operated by Concentra Health Services, Inc., a Nevada corporation with its headquarters in Addison Texas. Concentra was originally founded in 1979 by a group of doctors in Texas and focused on providing occupational health care and treatment. It subsequently grew in a large health care organization. Concentra's Urgent Care business was initially launched in 2007 and now has over 300 locations in 35 states. Concentra is currently a wholly owned subsidiary of a private equity fund – Select Medical Holdings.
Malpractice Claims Against Concentra Urgent Care
Concentra is a health care provider and can be sued for medical malpractice on much the same grounds as a hospital. The doctors and other licensed health care professionals who are employed by Concentra can also be sued independently for medical malpractice. So if you receive negligent medical care at a Concentra Urgent Care facility you can potentially sue both the Concentra Health Services Inc. and the individual doctors for medical malpractice. Unlike doctors at hospitals, however, the doctors at Concentra's Urgent Care facilities are full-time employees and agents of Concentra. So when you sue a Concentra doctor its essentially the same as suing Concentra directly.
Concentra Urgent Care locations provide emergency room services and also care similar to what a primary care office would provide. This is because many people use walk-in, urgent care places like Concentra as primary care office instead of having a regular doctor. In any event, this business model generates the same types of malpractice claims that we often see getting filed against hospital emergency rooms and against primary care physicians. The primary care part Concentra's services gives rise to malpractice claims based on failure to diagnose or misdiagnosis.
Venue for Lawsuits Against Concentra
Under Maryland's jurisdictional venue rules, Concentra can be sued in any Maryland jurisdiction in which it "regularly does business." Concentra Urgent Care facilities are located in Baltimore City, Baltimore County, Anne Arundel County, Howard County, Montgomery County, and Prince George's County. Prospective plaintiffs can potentially choose to file suit in any of these jurisdictions. Not surprisingly, most malpractice actions against Concentra have been filed in the plaintiff friendly venues of Baltimore City or Prince George's County.
Recent Malpractice Cases Against Concentra
2015 – Ulrich v. Concentra Health Services Inc (Baltimore City): This was a failure to diagnose malpractice case. Plaintiff alleged that Concentra doctors negligently misdiagnosed his workplace injury as a shoulder sprain when it was eventually diagnosed as a ruptured biceps requiring surgery. The case was initially filed in the Baltimore City Circuit Court. The Concentra doctors (presumably Maryland residents) were not listed as defendants so the case was promptly removed to Federal Court based on diversity jurisdiction. The case was settled in December 2015, 9 months after being filed.

2012 Adejoro vs Concentra Medical Centers (Howard County): This medical malpractice action was filed Howard County. After about 18 months of discovery the case eventually settled 2 months for trial was set to begin in June 2013.
Defense Counsel for Concentra Urgent Care
In almost all of the medical malpractice cases filed against Concentra in Maryland, the company was defended by attorneys from the Baltimore defense firm of Wilson Elser Moskowitz Edelman & Dicker LLP. Although the sample size of cases is somewhat limited, the defense strategy appears to have focused on efficient discovery followed by settlement usually within 12-14 months.
Requesting Medical Records from Concentra
Medical records from Concentra can be requested by completed their required form and submitting it directly to the Concentra location or locations where you received treatment. The records department for that location will sign the form and submit to the central records department for processing. For more information visit the Concentra HIPAA policies webpage.
Contact Miller & Zois About Concentra Urgent Care Malpractice
The medical malpractice attorneys at Miller & Zois focus entirely on delivering results to our clients. If you think you might have a malpractice claim against Concentra contact us for a free investigation and evaluation of your potential claim. Call the Miller & Zois medical malpractice team at 800-553-8082 or click here for a free online consultation.