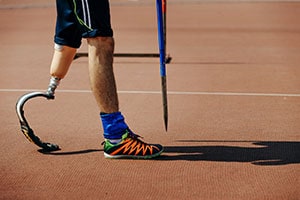 One of the worst physical injuries a person can suffer from medical malpractice is an amputation of the leg. Losing a leg can literally destroy a person's quality of life in so many ways, starting with leaving them unable to walk independently.
On this page, our lawyers look at medical malpractice resulting in a leg amputation and talk about the typical settlement amounts in these cases.
Amputation Caused by Medical Negligence
There two reasons why it might become medically necessary to amputate a person's leg.
The first reason for an amputation is if the leg is crushed or so badly damaged in an accident that it cannot be medically repaired.
The second medical situation that might require amputation would be an infection or other event that causes extreme necrosis in the leg that cannot be reversed.
When a leg amputation is caused by some sort of medical negligence it involves cases where amputation is necessitated by infection or some other medical condition that causes the cells in the leg to decay and die beyond the point of regeneration.
Only certain types of medical mistakes in certain treatment settings have the potential to cause leg amputation. There are two primary categories of medical errors/negligence that account for over 90% of all malpractice cases resulting in leg amputations: (1) surgical errors; and (2) failure to diagnose.
Leg Amputation Surgical Errors
This category of malpractice includes more than just botched surgeries or mistakes by the surgeon during a procedure.
A surgical error is negligent medical care related to a surgical procedure and the post-operative recovery and treatment. Most cases involving leg amputations involve treatment errors in the post-surgery recovery phase.
One common example of this is failing to properly monitor, diagnose and manage post-operative infections or other complications arising after the surgical procedure is performed. Post-operative complications are not limited to infection and can include blood clots or conditions which disrupt blood circulation to the legs.
Leg Amputation from Failure to Diagnose
The most common type of medical malpractice associated with leg amputations involves failure to diagnose.
Diagnostic errors occur whenever doctors negligently fail to diagnose, take too long to diagnose, or misdiagnose a medical condition.
The key here is that the misdiagnosis or delay in diagnosis must be negligent. This means that a reasonable doctor would have made the correct diagnosis under the same circumstances. When a negligent delay in diagnosis leads to a loss of a limb, the misdiagnosis is usually in a hospital emergency room.
The classic of limb example is where a person comes to the emergency room with generic symptoms and doctors diagnose them with something simple only to find out they had a blood clot or some serious circulatory condition.
Leg Amputation Settlements Verdicts
Summarized below are recent verdicts and reported settlements in leg amputation lawsuits from actual medical malpractice cases.
These stories are helpful in better understanding the range of possible settlements and verdict in leg amputation cases. But you cannot assume you will get a similar settlement compensation payout. There are so many factors that go into a verdict or the settlement amount the victim receives. So you could get a very different result – higher or lower – under very similar facts.
Doe v Woe Hospital (Virginia 2020) $175,000: A man underwent a leg amputation. He suffered a gastrointestinal bleed while at a rehabilitative facility. The man was hospitalized for five days. His stump area became necrotic. He underwent a revision procedure. The man alleged negligence against the hospital. He claimed its staff failed to assess his stump area and change his dressing. This case settled for $175,000.
Doe v Roe (California 2020) $1 million: A 65-year-old woman underwent a hysterectomy. Following the procedure, she was put on Lovenox. The woman discontinued it after being discharged. Two weeks later, she fell in her bathroom. The woman was brought to the hospital. She was diagnosed with femoral arterial clots and bilateral pulmonary emboli. The surgeons attempted a thrombectomy. However, the woman decompensated in the operating room. As a result, the surgeons halted the procedure. They also discovered that a patent foramen ovale caused her blood clots. After several days, the woman's right leg became ischemic. She underwent an above-the-knee amputation. The woman hired a leg amputation malpractice lawyer who filed a lawsuit alleging the staff should have continued to administer Lovenox. This case settled for $1,000,000.
Plaintiff v Defendant (Michigan 2020) $2.4 million: A 7-year-old boy suffered lower right leg pain. He presented to the emergency room. The boy's X-rays were negative. He was splinted before being discharged. Three days later, the boy presented to another hospital. He was diagnosed with a right lower leg clot. Lab tests revealed a staph infection and thromboembolic disease. The boy was diagnosed with compartment syndrome and sepsis. He was transferred to a children's hospital, where underwent a below-the-knee amputation. His parents alleged negligence against the initial treating hospital. They claimed its staff failed to order additional tests, failed to properly diagnose his condition, and prematurely discharged him. This case settled for $2.4 million.
Ocasio v. Yeh, M.D. (New Jersey 2020) $12.5 million: A 5-year-old boy suffered complications after undergoing a tonsillectomy. The surgical team resuscitated him by establishing an arterial line. They punctured his femoral arteries. The boy subsequently underwent ventilation. His right leg lost circulation and experienced discoloration. Its condition worsened after 12 hours. The boy underwent an emergency vascular procedure. It failed to restore his right leg's circulation. One month later, he underwent right leg and left big toe amputations. The boy now wore a prosthetic leg. He occasionally used a wheelchair. The boy's parents hired a medical negligence attorney and alleged negligence against several physicians. They claimed they failed to timely diagnose and treat acute compartment syndrome. This case settled for $12.5 million.
Hemphill v Boyd, M.D. (California 2019) $850,000: A 51-year-old man suffered shortness of breath and chest pain. He presented to the ER. The man underwent a right superficial femoral artery catheterization. Following the procedure, he suffered a femoral artery occlusion. The man underwent an above-the-knee amputation. His amputation lawsuit alleged negligence against the P.A. and ER physician for inadequate care. This case settled for $850,000.
Lockhart v Bloom, M.D. (Georgia 2019) $4.75 million: A 50-year-old woman attempted suicide by ingesting blood pressure medications. She was brought to the hospital. The woman received fluids. An ER physician attempted to administer epinephrine by placing a catheter in her jugular vein. This attempt failed. The woman underwent anesthesia and ventilation. An ER physician placed a catheter on her groin. He placed it in her artery. This caused diminished arterial flow. The woman's leg became blue and necrotic. She underwent a below-the-knee amputation. The woman alleged negligence against the ER physician. She claimed he failed to place the catheter in her vein, order an arterial study, and timely consult a vascular surgeon. The defense contested liability. They argued her leg could not be saved. The jury awarded $4.75 million.
Menapace v Mem. Hosp. of Sweetwater (Wyoming 2018) $10.1 million: A man goes to a hospital emergency room with severe leg pain and is diagnosed with diabetes and peripheral vascular disease and sent home. Just 4 days later he is rushed back to a different hospital where this time he is diagnosed with acute limb ischemia, sepsis, and renal failure requiring emergency amputation of both of his legs. He sues the first hospital for failing to timely diagnose and treat the vascular condition that later led to the amputation of his legs. The jury found the hospital and its doctor 90% at fault and awarded $10.165 million in damages.
Sfameni v Ryan (Rhode Island 2018) $62 million: A 55 year-old man goes to the hospital for back pain and sudden weight loss. He has been on blood thinner medications for years for a genetic blood clotting condition. The doctors send him home with instructions to stop taking his blood thinners in preparation for further testing. After being off the blood thinners for 17 days, he develops substantial blood clotting in his legs and lungs. The clotting causes gangrene in his right leg requiring immediate amputation. He brings a malpractice suit against the doctors for negligently taking him off his blood thinners and after an 8-day trial in Providence a jury awards him $62 million in damages.
Gartrell v Aiken Regional Med. (South Carolina 2018) $13.2 million: A woman in her mid-50s goes to the hospital with difficult breathing and other symptoms. Doctors take chest x-rays and initially diagnose her with pneumonia. After suffering cardiac arrest she is transferred to another hospital where doctors diagnose her with sepsis (a dangerous infection of the blood). Both her legs are amputated above the knees. She hires a medical negligence amputation lawyer who sues the first hospital and its doctors for failing to timely diagnose her sepsis, which would have prevented the amputations. After a week-long trial, the jury takes only two hours to award the plaintiff $13,750,000 ($10,000,000 in non-economic damages – Pennsylvania has no cap – and $3,750,000 in economic damages).
Glasgow v Brassubaman (Pennsylvania 2016) $4.2 million: man in his 70s undergoes bilateral knee replacement surgery at Temple University Hospital. The surgery is successful but during his post-operative recovery, he develops pressure sores on his legs which eventually lead to a serious infection leading to emergency amputation of his left leg above the knee. He sues the hospital for negligent post-operative care. A jury in Philadelphia awards damages totaling $4.2 million.
Tolson v St Agnes Hosp (Maryland 2014) $5.2 million: Our client, a really great guy, goes to the hospital after getting his leg stuck in an automatic gate. Emergency room doctors diagnose him with a sprained knee and send him home. He returns to the hospital two days later with no feeling in his leg. The doctors realize the injury tore all the ligaments in his knee so badly that his popliteal artery was permanently damaged. The artery damage restricted blood flow to his leg and the tissue in his leg is mostly dead, requiring an emergency amputation. After a 2 week-long trial in Baltimore City, the jury awards him over $5 million in damages.
Many states have caps on pain and suffering or non-economic damages. Maryland, for example, has a cap on pain and suffering in a case that does not involve wrongful death of $845,000.
So the key to increasing the settlement compensation in leg amputation lawsuits is presenting economic damages to the jury. In most jurisdictions, you can claim future expenses even if you anticipate those expenses will be paid by insurance.
In a leg amputation lawsuit, the key is marshaling the evidence to show all of the costs that comes with a leg amputation. These future expenses can get into millions of dollars. Our lawyers have presented this kind of evidence both to insurance companies and their lawyers and to juries at trial.
Contact the Medical Malpractice Lawyers at Miller & Zois
Miller & Zois has a team of highly effective medical malpractice lawyers. We have a long track record of delivering meaningful results to the victims of poor medical treatment. A few years ago, a jury awarded our client $5.5 million in an amputation malpractice case. Our lawyers know the science and the medicine in these lawsuits.
If you have a case involving an amputation resulting from medical malpractice call us today at 800-553-8082 or get a free online consultation.