Settlements in Left Turn Car Accidents
Determining fault in a left-turn car accident is rarely difficult. Every left turn carries risk. The reason for this is simple. We drive on the right side of the road. So a left turn usually involves crossing over one or more lanes of traffic going the opposite direction against drivers who have the right-of-way.
The vehicles in the opposite lane are also often traveling at high speed. If you make a left turn in front of another car going 50 mph, it can result in a very serious accident, particularly for occupants nearest to the impact.
How to Win a Left Turn Accident Lawsuit
Our attorneys rarely struggle to win a left-turn accident case. But we never represent the left-turning vehicle.
Fault is usually pretty easy for our car accident lawyers to determine in left-hand turn car accident collisions. Our attorneys have never lost a left-hand turn accident case. When you make a left turn, the traffic in the opposite lane almost invariably has the right of way. Who is at fault is rarely an issue. When making a left turn across traffic, it is your responsibility to make sure the coast is clear and that you can complete the turn without getting struck by oncoming vehicles.
So if you make a left turn and someone in the opposite lane hits you, the accident will always be your fault. There are a few exceptions to this rule that the left-turning vehicle is responsible for the crash our attorneys talk about below. But not many.
Left Turn Accident Statistics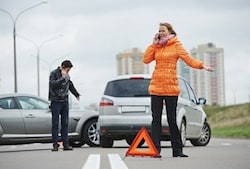 Turning left is one of the leading causes of car accidents according to the U.S. National Highway Traffic Safety Association (NHTSA). The left-hand turn accident statistics we found surprised our car accident lawyers in writing this page. Approximately, 22% of all car accidents involve a left-turning vehicle and 53% of all cross-path accidents are the result of left turns. Our lawyers see a lot of left-turn accident claims. But, proportionately, not this many.
The NHTSA estimates that almost half of the 6 million auto accidents that occur each year are "intersection-related" and that the majority of these are left turns. The risk of left turns is so great that UPS uses a route-optimization strategy for its delivery drivers that virtually eliminates left turns entirely.
Over 53% of crossing-path accidents involve left turns. Less than 6% of the crashes involve right turns. Think about that. That's nearly ten times as many car accidents involving left turns as right.
Is the Car Making a Left Turn Always at Fault in Maryland?
In the vast majority of cases, the driver making a left-hand turn is at fault for the crash. These injury cases are easy to win against the left-turning driver. The most notable exception is when the driver proceeding straight runs a red light or a stop sign and the left turning vehicle has the right-of-way or has a free left turn.
In Maryland, the left turn driver has an even more difficult time recovering because under Maryland's contributory negligence law, the plaintiff cannot recover if she is 1% at fault. So if you take a left-hand turn in front of a driver who is driving at an excessive speed for good visibility for the left-turning vehicle, a jury would likely still find the driver making the left turn was at least partially responsible for the car crash. The take-home message: it is very hard to win a left turn case for the driver making a left turn in Maryland even when there are extenuating circumstances.
Conversely, Maryland's contributory negligence law is used against the driver with the right-of-way hit by a truck making a wide left turn. Still, the car driver is likely to win most of these cases, notwithstanding the contributory negligence law, if she made some effort to slow down her vehicle before the collision.
Maryland Left Turn Verdicts & Settlements
Below is a summary of various reported settlements and verdicts in auto accident cases involving left-hand turns in the Baltimore-Washington area. These injury claims illustrate the trial and settlement range of serious physical injuries that can result from left-turn accidents.
Owen v. Miller (Maryland 2019) $379,975: The defendant struck the vehicle of the plaintiffs (a married couple) head-on while attempting a left turn against oncoming traffic. The wife sustained spinal fractures and a neck tear and she claimed should have permanent pain. The husband sustained a shoulder sprain. The jury awarded $379,975 in damages.
Burns v. Schildtknecht (Maryland 2019) $120,429: While attempting to make a left turn, the defendant struck the plaintiff's vehicle from behind. The plaintiff sustained a concussion and neck/rib sprains. He also alleged aggravation to his pre-existing back condition. He underwent treatment that included steroid injections and physical therapy. But plaintiff's expert testified that he would need to undergo surgery to eliminate his continued pain. The jury awarded $120,429 in damages.
Plaintiff v. Defendant (Maryland 2019) $15,000: The plaintiff was struck by the defendant's vehicle while attempting to make a left turn. An ambulance took him to the hospital, where X-rays showed no fractures. Plaintiff only sustained hand, neck, and back injuries, but claimed that he still experiences pain and soreness. This case settled for $15,000.
Plaintiff v. Defendant (Maryland 2019) $86,633: In this case, the defendant struck the plaintiff (a pedestrian) while turning left at an intersection. Plaintiff sustained a torn rotator cuff and torn biceps tendon and also claimed aggravation of her existing back condition. The plaintiff testified, convincingly, that her injuries prevented her from doing things she loved like running, gardening, and yard work. The jury awarded $86,633 in damages.
Left Turn Accident Verdicts & Settlements (nationally)
Hall v. Hollis (Georgia 2020) $584,000: The plaintiff sustained multiple when she was struck by an armored car attempting a left turn. She sustained spinal sprains and a humerus fracture. Despite surgery and physical therapy, she continued to experience residual pain and was unable to return to work as a nursing assistant. The jury awarded her $584,000.
Jiles v. Diallo (New York 2020) $75,000: Plaintiff taxi passenger suffered a broken nose, septum deviation, and soft tissue injuries to the shoulder, neck, and back in a left-turn collision. He underwent surgery and physical therapy. He claimed permanent damage to his ability to smell and taste. The jury awarded the plaintiff $75,000.
Plaintiff v. Defendant (California 2020) $615,000: In this case, the plaintiff was struck by the defendant attempting a left-hand turn. The plaintiff sustained fractured toes and a midfoot injury. Doctors would eventually amputate his hallux. Plaintiff's expert testified that he would likely need a leg amputation and a spinal cord stimulator implant in the future. Case settled for $615,000.
Plaintiff v. Defendant (Michigan 2020) $1,800,000: An on-duty police officer collided with the plaintiff's car while making a left turn. Plaintiff suffered a traumatic brain jury as well as right leg tendon tears and ruptures. Despite surgery and physical therapy, the plaintiff continued to suffer headaches, chronic pain syndrome, and sleep interruption. He was not able to return to work. The case resolved for a settlement amount of $1,800,000.
Trapasso v. Brown (New Jersey 2019) $500,000: In this case, the plaintiff suffered a cervical sprain as well as right elbow and knee contusions. He would also be diagnosed with multiple disc herniations and cervical radiculopathy. Despite undergoing physical therapy and spinal surgery, he continued to experience permanent neck injuries, exacerbated by weather changes, physical activity, and mental stress. This case settled for $500,000.
Ismail v. Givens (Wisconsin 2019) $21,446: The defendant's failure to yield right-of-way while making a left turn caused a head-on collision with the plaintiff's vehicle. As a result, the plaintiff sustained right leg pain and a soft tissue back injury. She would undergo chiropractic treatment. The plaintiff was awarded $21,446 in damages.
Basargin v. State Farm (Alaska 2018) $85,400: Plaintiff, a 38-year-old female, was a passenger in her friend's car when it struck another vehicle that made a left hand turn directly in front of them. As a result of the accident, the plaintiff fractured her arm and her shoulder and had to undergo reduction and fixation surgery. The jury awarded $55,000 for pain and suffering and $30,400 for past medical expenses.
Jenkins v. Downing (New York 2017) $425,000: Plaintiff was riding a motorcycle through an intersection. The defendant made a left turn in front of the plaintiff and was almost completely through the intersection when the plaintiff stuck her on the rear side. Plaintiff was not wearing glasses as required by his license, but he disputed that this contributed to the accident in any way. As a result of the accident, the plaintiff fractures his femur and had to undergo orthopedic surgery to repair it. Although the plaintiff was back to work in 6 months he claimed that he continued to suffer pain and lack of movement in his knee. Plaintiff's orthopedic expert also testified that he will suffer permanent discomfort and will likely require knee replacement in 10 years. Plaintiff rejected pre-trial settlement offers of $100,000 and later $300,000. The jury in Suffolk County awarded $425,000 in damages.
Bienemy v. United States (Louisiana 2017) $311,900: A U.S. postal truck made a bad left turn at a highway intersection and caused a collision with the plaintiff. Plaintiff's injuries included multiple disc herniations in the cervical spine area (C4, C5, C6) with pinched nerve roots; bulged discs in the lumbar region, and disc herniations in the thoracic spine. Defendant admitted liability but disputed the extent and validity of the plaintiff's various injuries.
Pearson v. Sarmiento (Michigan 2017) $458,000: Plaintiff was a postal truck driver. Defendant made a left turn through an intersection despite a red light arrow and struck the plaintiff in his postal truck as he entered the intersection on a green light. Plaintiff alleged injuries including T11-T12 and L1 fractures, bulging lower discs, fractured ribs, and a traumatic brain injury from hypoxia. Defendant denied liability and disputed the plaintiff's injuries, particularly the neurologic injuries. Defendant claimed that the plaintiff was contributorily negligent. The jury determined that the defendant was 90% at fault and awarded $509,000. The payout was reduced to $458,100 based on the plaintiff's 10% share of negligence.
Ball v. First Floridian Auto and Home Ins. (Florida 2017) $650,000: An uninsured driver made a negligent left turn in front of the plaintiff and struck the plaintiff's car on the left front bumper. The collision caused the plaintiff's vehicle to spin around and collide with a second car. The 65-year-old plaintiff claimed that the accident caused him to suffer a posterior vitreous detachment which resulted in a torn retina in his right eye requiring surgery to repair. The injury allegedly left the plaintiff with permanently impaired vision in the right eye. Defendant's expert disputed that the eye condition had anything to do with the auto accident. The jury disagreed and awarded the plaintiff a $650,000 compensation payout.
Marinaccio v. Colton (Connecticut 2017) $115,000: Defendant attempted to make a left turn in front of the plaintiff on her motorcycle and caused an accident. The plaintiff alleged that the accident caused her to suffer a fractured vertebra with radicular pain. Plaintiff also fractured her arm. Defendant admitted liability but disputed damages. The jury rules in favor of the plaintiff and awarded $20,000 for lost wages and medical expenses plus $95,000 for pain and suffering.
Plaintiff Pedestrian v. Defendant Transit Bus (Massachusetts 2017) $1 million: The defendant was making a left turn in a transit bus at a busy intersection in downtown Boston. The plaintiff was a pedestrian walking through a crosswalk with the right of way. The bus driver's view was obstructed and he did not see the plaintiff in the crosswalk. The bus struck and crushed the plaintiff and she died from her injuries. The parties resolved the claim for a settlement amount of $1 million.
Dickson v. UZHCA Langer Transport Co. (Pennsylvania 2017) $675,000: Defendant was driving a tractor that was hauling a fuel tanker when he made a left turn from a stop sign and caused a collision with the plaintiff who was driving in the opposite lane. The 22-year-old plaintiff suffered head trauma resulting in permanent mental disabilities. The defendant claimed that the plaintiff should have seen the truck making the turn and been able to stop in time to avoid the collision. The case settled just before trial.
Contact Miller & Zois About Your Car Accident Case
The Maryland personal injury attorneys at Miller & Zois have handled hundreds of auto accident lawsuits, many of which were battles in left-turn crashes. If you or someone you know has been injured by the negligence of another driver call us today at 800-553-8082 or get a free consultation online.
More Resources